Indonesia's Reformasi activists were burned, beaten, electrocuted – and they still fear for their country
Twenty years after Indonesia's Reformasi movement started, the activists who were persecuted under the dictator Suharto warn that the country could be backsliding into authoritarianism
February 4, 1998, was a day that would change Desmond Junaidi Mahesa's life forever and he never saw it coming. The social justice activist had left his office to attend a gathering after the Muslim festival of Eid in Jakarta, but he never made it to the celebration. Instead, he was approached by two men who grabbed him, threw a bag over his head and forced him into a car. About 40 minutes later, he found himself in a 2 x 2.5-metre room in an undisclosed location where he would be kept for the next two months.
His abductors grilled him about his activism, zeroing in on his support of then opposition leader Megawati Sukarnoputri, the daughter of Indonesia's founding father Sukarno.
Twenty years have passed since that Wednesday, but Mahesa still vividly recalls the torture he endured under the authoritarian rule of the dictator Suharto.
To get Mahesa to speak, they beat him and gave him electric shocks.
"I was electrocuted by the kidnappers … I haven't been able to grow hair ever since," he told This Week in Asia at his office in parliament. "After I was released in April 1998, my friends told me not to go out in public because I was still being targeted by police."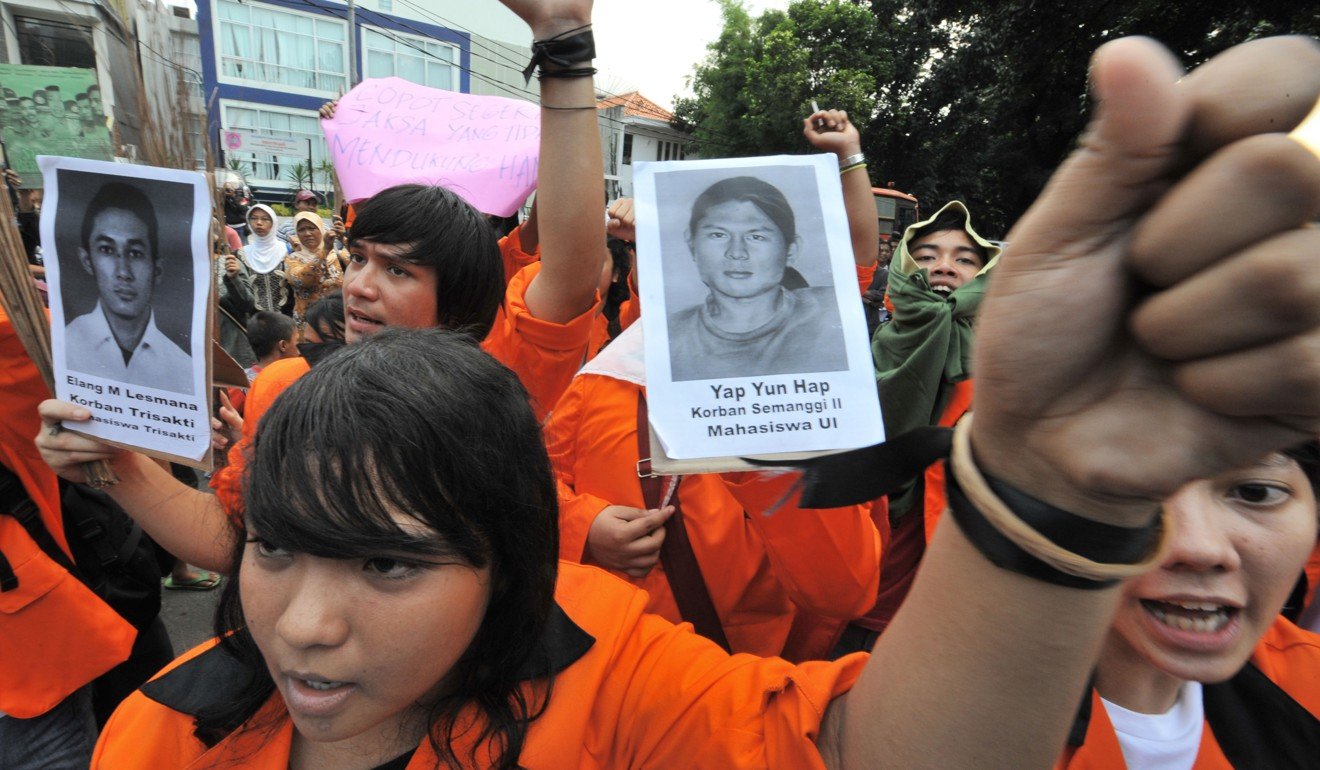 Mahesa shared that cell with other prominent Indonesian activists such as Pius Lustrilanang, Andi Arief, Haryanto Taslam, Raharja Waluya Jati, and Faisol Riza.
According to testimony given to Jakarta Legal Aid Institute in 1998, the activists were burned, beaten and electrocuted while they were held captive. They were also stripped nude and forced to sit on blocks of ice.
Their captors were believed to be soldiers from "Team Rose", a notorious unit of the country's Kopassus special forces, led by Suharto's much-feared former son-in-law, Prabowo Subianto.
Mahesa and the others were part of a group of 23 students, activists, and critics who were kidnapped during the twilight of Suharto's 32-year rule, which the dictator dubbed the New Order, in late 1997 and early 1998. Suharto stepped down on May 21, 1998, after months of student-led protests driven by economic and political crises that plunged Indonesia into chaos. These historic events are commonly known as the country's Reformasi (Reform) era.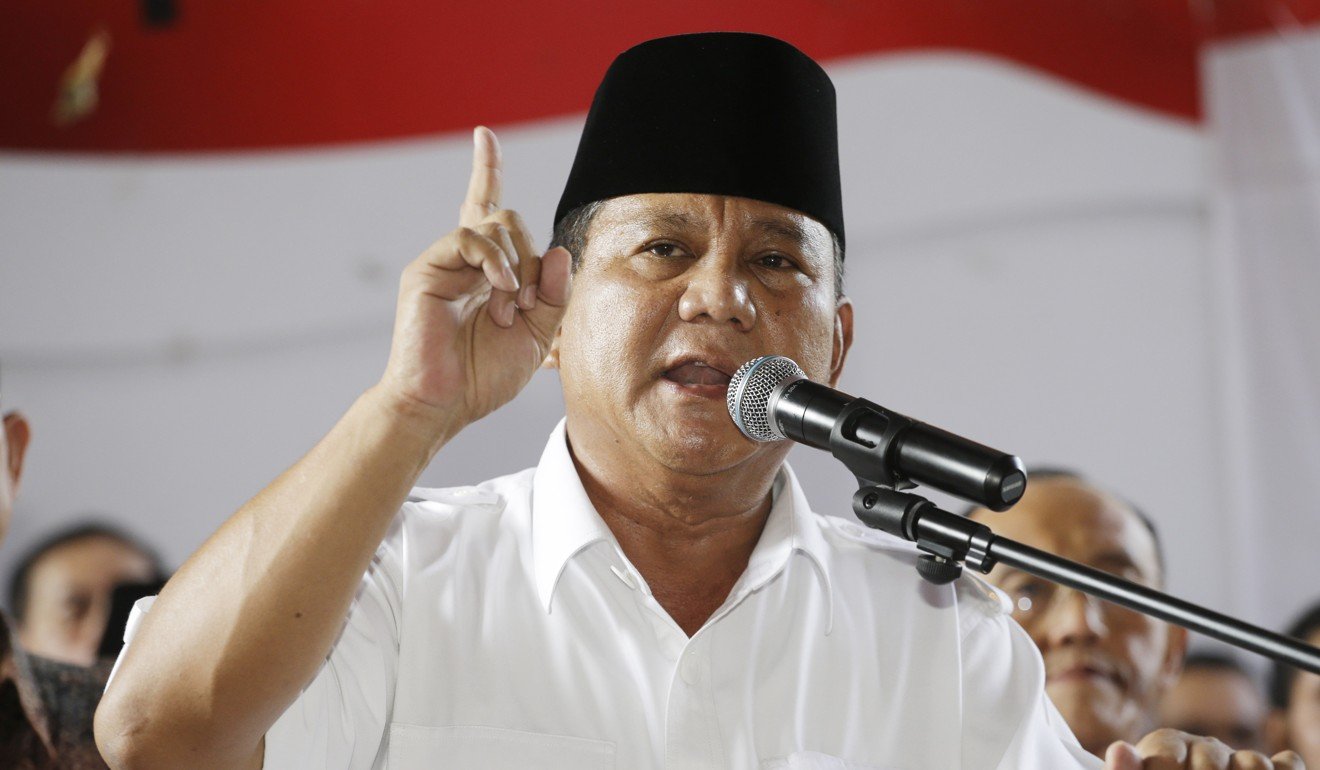 Among the kidnapped group of 23, only nine were released. One was found dead and the rest are still missing.
"I feel like I escaped through a pinhole," says Raharja Waluya Jati, co-founder of The People's Democratic Party, which was among Suharto's top critics. "If there wasn't Reformasi, I'm sure I'd still be inside … not sure if I'd be alive or dead. I could only pray, we never knew whether we would make it out alive."
Sine Reformasi, the political careers of the abducted activists have shone brightly, much like the republic they helped save two decades ago. However, in a stunning twist, Mahesa, along with three fellow victims, has joined the Great Indonesia Movement Party (Gerindra), founded by the very man that many suspect was behind the kidnapping: Prabowo.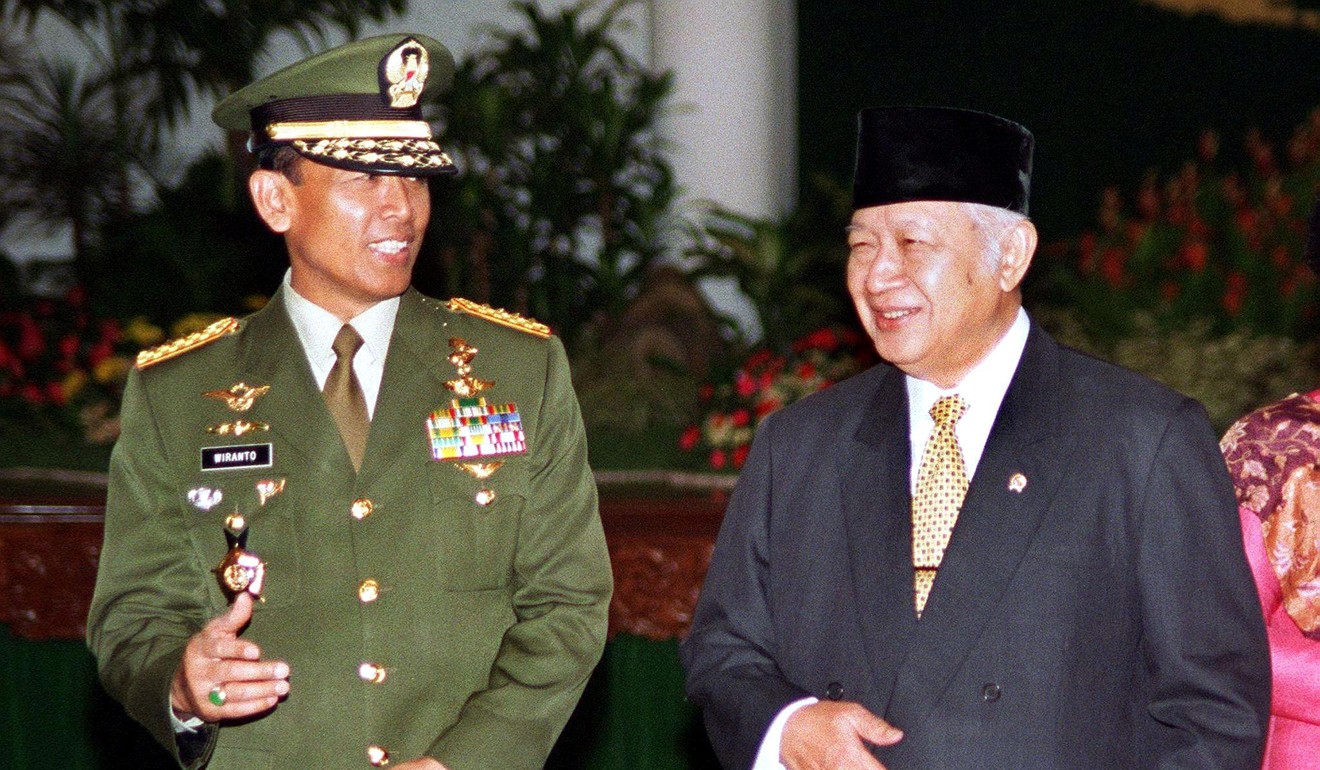 "After my kidnapping, I learned that Kopassus wasn't the only perpetrator," Mahesa explained. "Andi Arief was taken by the police, not Kopassus. From this I conclude that the kidnapping was ordered by the former military chief at that time, Feisal Tanjung." Feisal was replaced by General Wiranto in February 1998.
It is quite possible the country will never know the truth behind the kidnappings because of a lack of evidence. Prabowo, who was sacked soon after Suharto resigned, and many of his supporters believe that former generals at ABRI – the entity under which the police and military fell in Suharto's era – masterminded the kidnappings and he was merely a scapegoat.
Nobody has been brought to trial for the kidnapping. Wiranto is now a minister in President Joko Widodo's administration.
Those who joined Gerindra, including Mahesa, have dismissed suggestions that they are suffering from Stockholm syndrome, a condition that causes hostages to show sympathy towards their captors.
"I really don't care about that, I don't think it's funny. [The suggestion] always surfaces during election years … I'm sure if Prabowo was no longer around these statements would eventually die down," Mahesa said. "Honestly I'm waiting for the military to come out and admit this … this is character assassination" against Prabowo.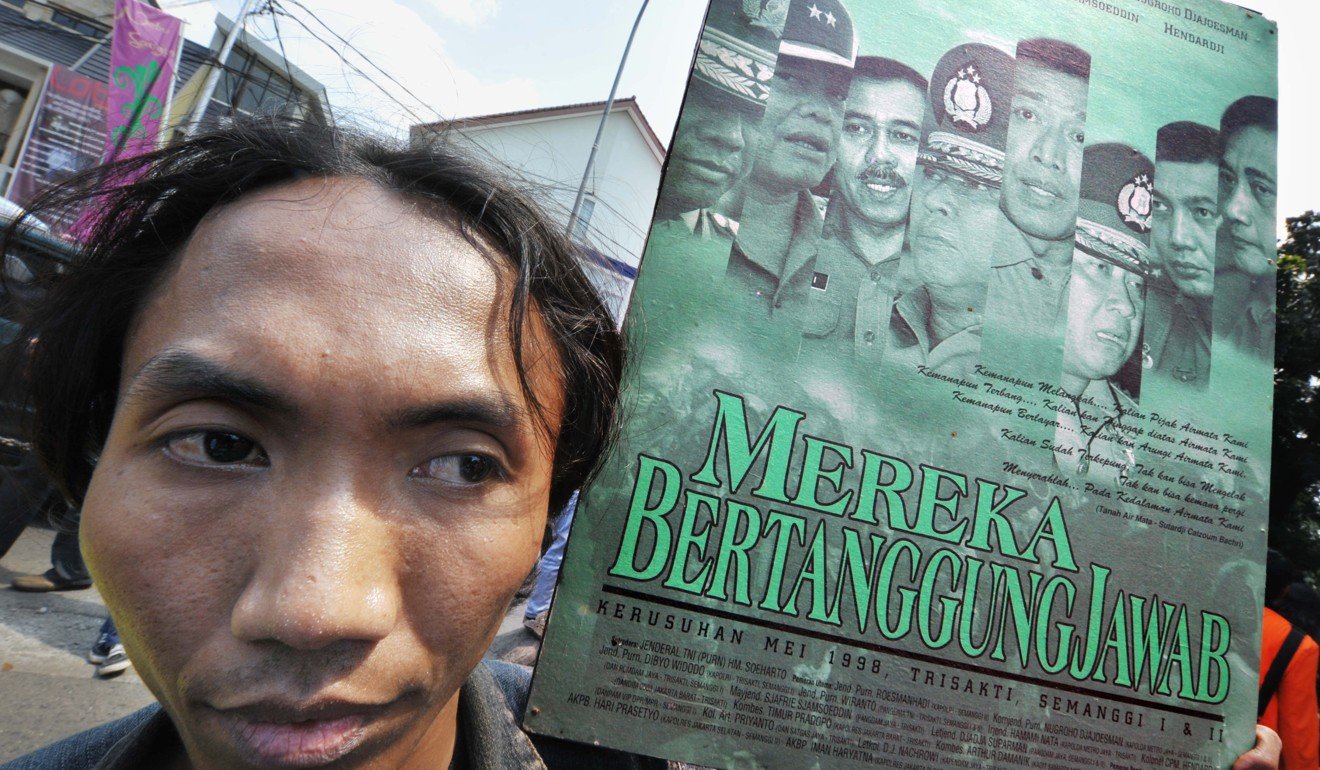 Other victims' political paths have been less controversial. Jati, for example, played a significant part in Widodo's 2014 presidential election campaign. Arief is the deputy secretary general for the Democratic Party, which was founded by former president Susilo Bambang Yudhoyono, while Faisol Riza is currently a legislator backed by former president Abdurrahman Wahid's party.
While the victims might have chosen different political paths, they agree that the main goals of the Reformasi movement have yet to be achieved.
These include bringing Suharto and his cronies to trial, amending the 1945 constitution, widening regional autonomy, removing the armed forces' dual function, eradicating corruption and maintaining the rule of law.
"I think many people consider Reformasi was completed after the fall of Suharto. But the biggest question we face now, 20 years after Reformasi, is, 'What's next?'" said Hendri Satrio, political analyst and lecturer at Paramadina University in Jakarta, who was a student activist in 1998. "We still have homework to do … in theory, a democratic country's biggest challenges are economic equity, legal equality and political maturity."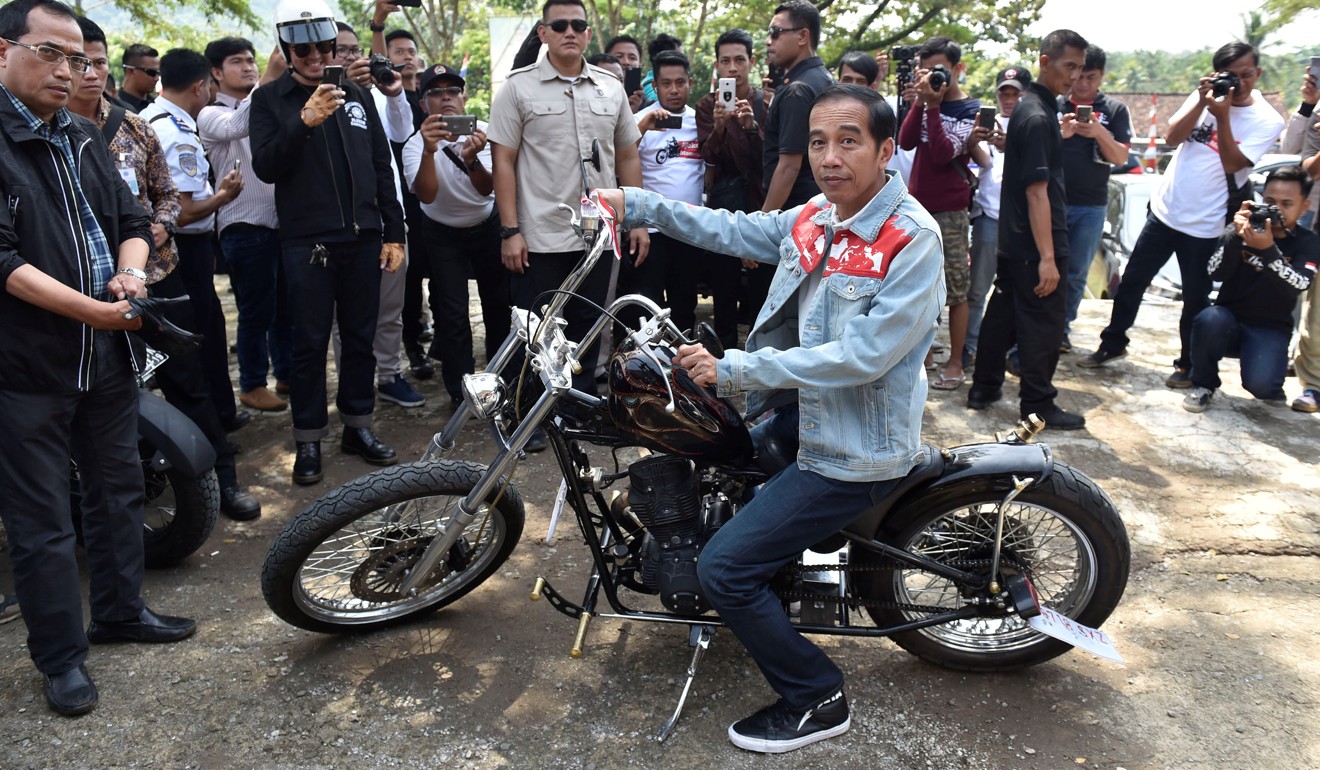 Others argue that the very freedoms that were fought so hard for are now under threat from the democratically elected government. In a much criticised move, the Widodo administration and parliament passed a regulation last year that allows officials to disband groups deemed a threat to national unity without judicial proceedings.
In a blow to free speech last month, legislators passed a controversial amendment to the 2014 Legislative Institutions Law that effectively shields politicians from public criticism by opening up criminal charges against individuals or organisations that "disrespect the dignity of the House or its members".
These laws "are like giving the next administration a blank cheque [to oppress their political rivals]. There's not much of a chance of me supporting Jokowi again next year if there's no real change," said Jati, referring to Widodo by his nickname.
Others fear Indonesia's young democracy is under threat from rising religious conservatism that has permeated the nation in the past year. This week, at least 27 people were killed in suicide bombings in East Java. The attacks were carried out by 13 people who pledged allegiance to the Islamic State militant group, including children as young as 8 years old.
"Twenty years ago it was difficult to find women wearing niqab. Now you can find them easily. Even in the mall," says former student activist Syafiq Alielha from the country's largest moderate Islamic group Nahdlatul Ulama.
"In the future this will undermine democracy [because] the conservative perspective doesn't accept diversity of faith."
To Widodo's credit, however, infrastructure, health care and education have improved since he was elected in 2014, analysts and former Reformasi activists said.
But income inequality remains and could trigger the country's next big upheaval as the country prepares for a presidential election next year, which is expected to be a repeat of 2014 when Widodo defeated Prabowo.
"I think this country's most urgent problem is the social and economic gap between the rich and the poor. In the remote areas of Indonesia many people still do not know what it means to live free … they are still imprisoned by limitations such as economy, education, health and access to the world," Jati said. "If we don't address this soon, then there's always a chance for the next revolution."■