In a return to roots of sorts, Cambodian Prime Minister Hun Sen is using the armed forces to solidify his one-party rule while systematically destroying all nascent democratic institutions. In the past year, his son Hun Manet has continued his rapid rise through the military ranks, the highest-ranking generals are slated to run for office, and the premier has threatened to personally order the army to attack his political rivals.
A detailed human rights report this week sheds light on this strategy of further enmeshing the military with Hun Sen's political party.
This week also marked the 67th anniversary of Hun Sen's historically militarised ruling party, the Cambodian People's Party (CPP), which was first founded as a splinter branch of the Vietnamese Communist Party. Opposition figures such as Sam Rainsy maintain the party has Vietnamese roots and links to the murderous, ultra-Maoist Khmer Rouge. In a recent Facebook post, Rainsy said the CPP was the descendant of the "Vietnamese communist army".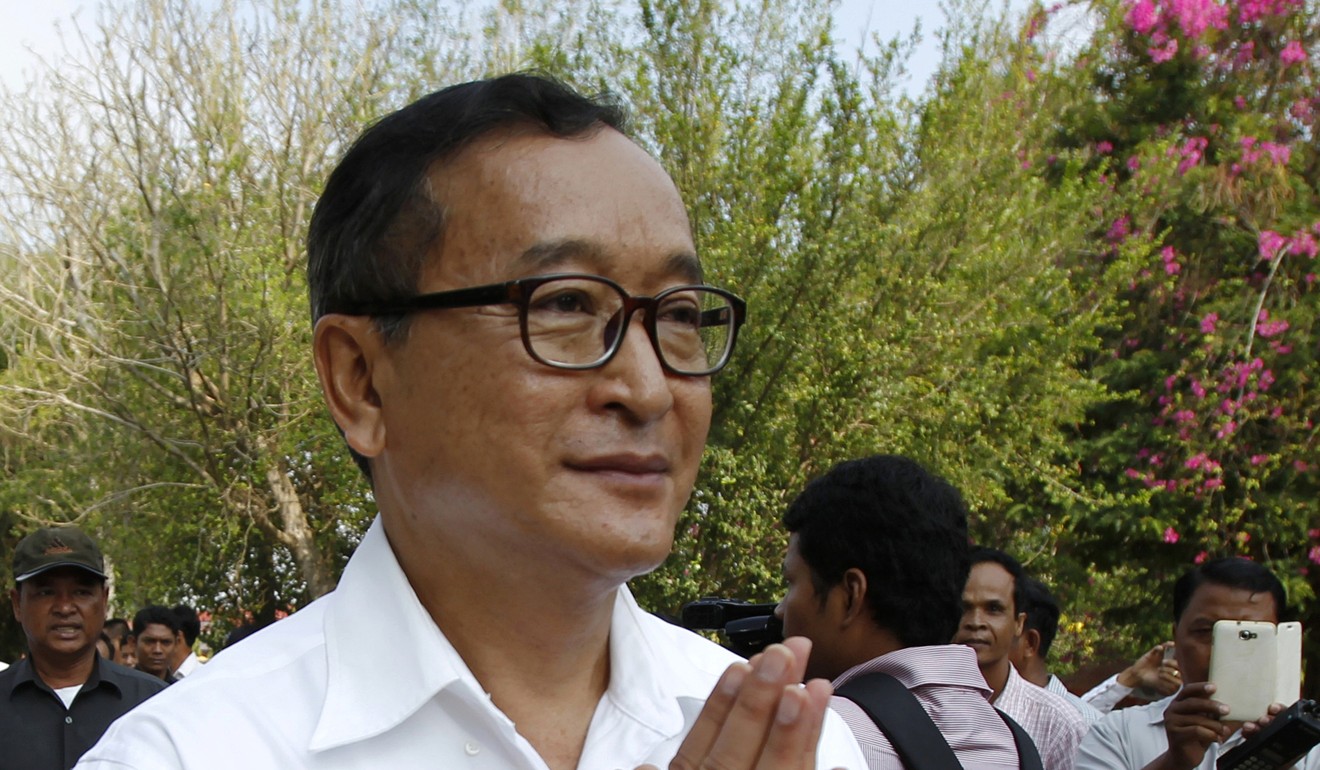 David Chandler, the pre-eminent historian on modern Cambodia, confirmed that the first iteration of the CPP was organised by Vietnam following the dissolution of the regional Indo-Chinese Communist Party. "In 1965, after visiting North Vietnam and China, Pol Pot … changed the party's name to the Communist Party of Kampuchea (CPK)," he said. The CPK is the more formal name of the Khmer Rouge.
Hun Sen and other Khmer Rouge commanders eventually defected, overthrowing their former leaders with Vietnam's support. Eventually, the United Nations stepped in to organise Cambodia's first elections in 1993. Even then, it was clear democracy was a facade, as Hun Sen refused to accept the election results and forced his way into a "co-prime minister" position. In 1997, soldiers personally loyal to him and the CPP moved against the election winners, the Funcinpec Party, in a bloody coup.
Chandler said while the name of the party and its political philosophy changed to signify a shift away from communism in the 1990s, the major players stayed the same. On the day of the party's anniversary, Human Rights Watch (HRW) released an extensive report detailing how Hun Sen had used abusive military and police officials to maintain his grip on power – a fitting birthday gift to a political party that still uses many of the same internal mechanisms as the Khmer Rouge.
"These 12 men are the backbone of an abusive and authoritarian political regime over which an increasingly dictatorial Hun Sen rules," says the report, titled "Cambodia's Dirty Dozen", which paints a picture of a political party with characteristics of a militia.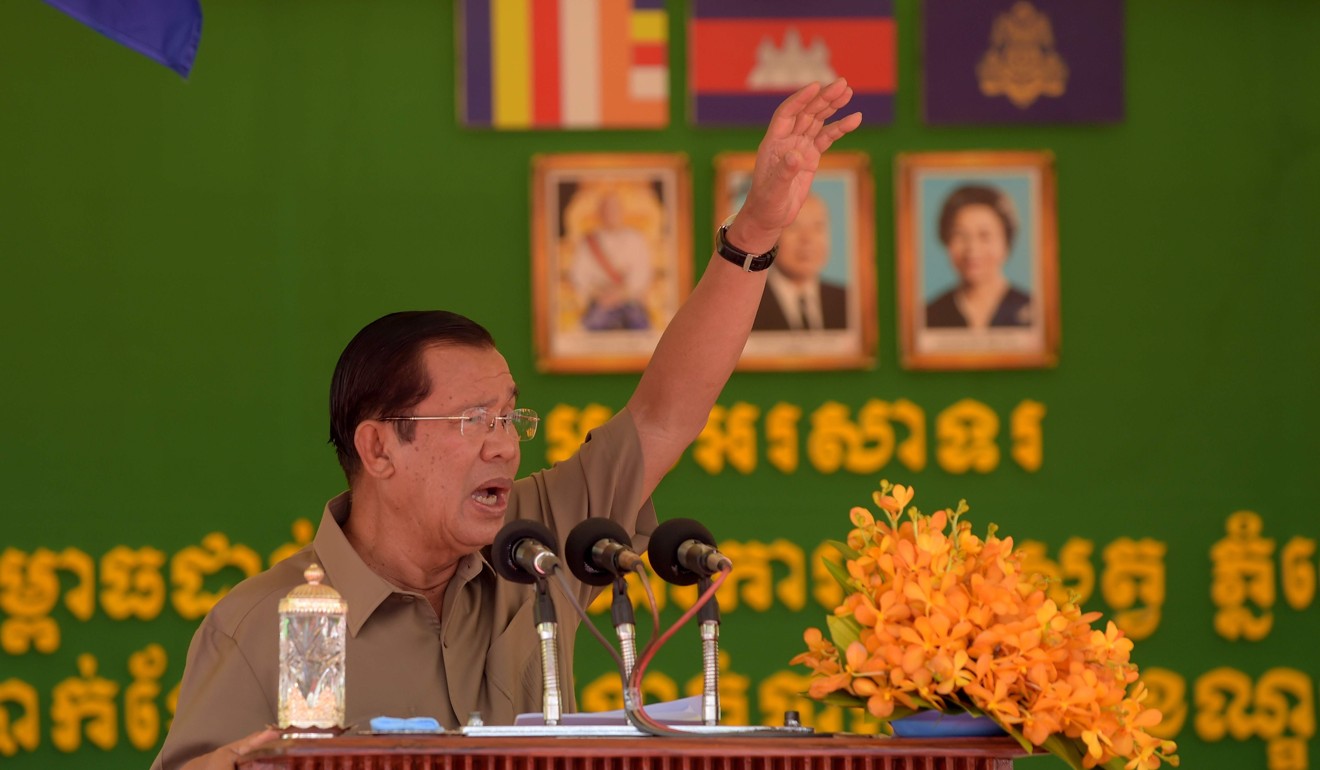 All 12 men profiled are members of the CPP's Central Committee, all are politically or personally close to Hun Sen, and all have played a key role in helping him maintain control over the country. Most were instrumental in the 1997 coup that returned him to power and the violent crackdowns on protesters in 2013-14.
Included in the report are major players such as General Pol Saroeun, commander of the Royal Cambodian Armed Forces, Deputy RCAF Commander Kun Kim, and National Police Commissioner Neth Savoeun. In the 1970s, Pol Saroeun oversaw a Khmer Rouge prison where suspected traitors were tortured, re-educated, and executed. After defecting from the Khmer Rouge, he ran the Takeo provincial security apparatus, this time imprisoning and torturing suspected Khmer Rouge members. He was also a major figure in Hun Sen's camp during the 1997 coup.
Kun Kim is a former Khmer Rouge militiaman who played a "key role" in political violence leading up to Cambodia's first election in 1993, says the report. Soon after, he helped Hun Sen establish a political and military headquarters in Kandal, seemingly in preparation to move against Funcinpec. During the coup, Kim was Hun Sen's "chief lieutenant and tactical commander".
"Although these officials have a legal responsibility to represent the state instead of a political party, and to carry out their duties in an impartial and neutral manner, all have acted in an openly and highly partisan manner," the report notes. While Hun Sen signed a pledge to end party control of the armed forces, HRW says "the CPP has never relinquished control over the military" or police.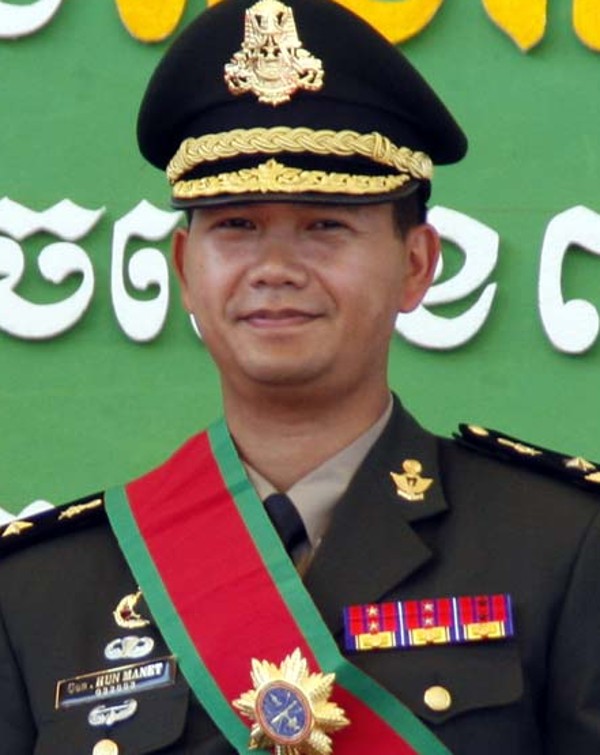 Moreover, both Kim and Saroeun are leaving their positions to run for National Assembly seats, further intertwining Hun Sen's government with military figures that have dominated Cambodia's political arena for decades. Hun Sen's son is stepping into the power vacuum left behind, promoted to acting chief of staff and acting chief of the armed forces. It is widely believed that Hun Manet is being groomed for succession, with his rapid rise through the military seen as a way to guarantee the Hun family's personal control over the armed forces.
"The civil-military evolution continues," said Ear Sophal, associate professor of World Affairs and Diplomacy at Occidental College, pointing out that the lines between Cambodia's government and military have always been blurred. "You have the head of his bodyguard unit holding the rank of a four-star general, and the head of his National Disaster Committee also a four-star. I mean, there are so many stars out there, it's not clear if they fall under an actual branch of something or another. It's all paramilitary with even private bodyguard units having military ranks," he said.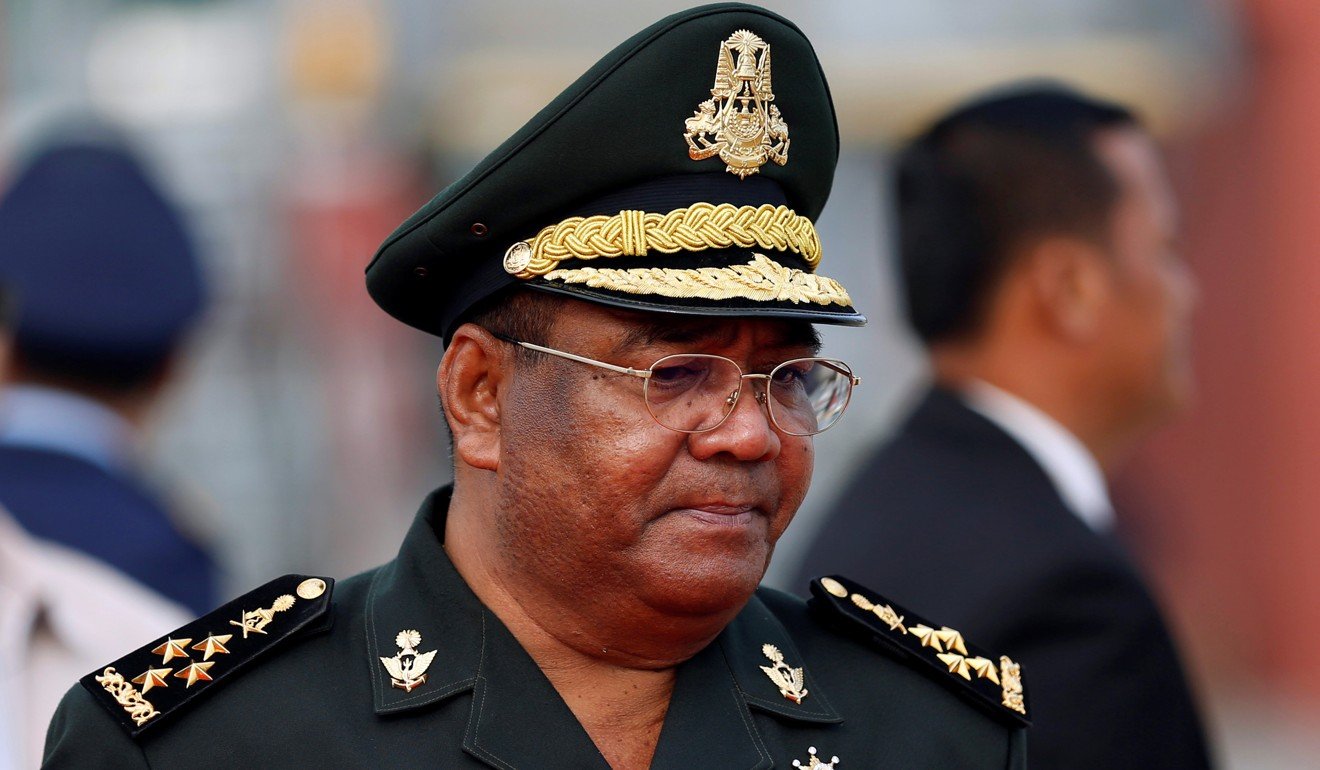 The reshuffle comes amid a political crackdown. With China's backing, Hun Sen has stopped paying lip service to human rights concerns such as free speech, free press and freedom of association. In November, the Cambodia National Rescue Party was forcibly dissolved and its president, Kem Sokha, jailed for treason. The media landscape has been reduced to a shell of its former self, with independent newspapers and radio stations closed and multiple journalists arrested for spying.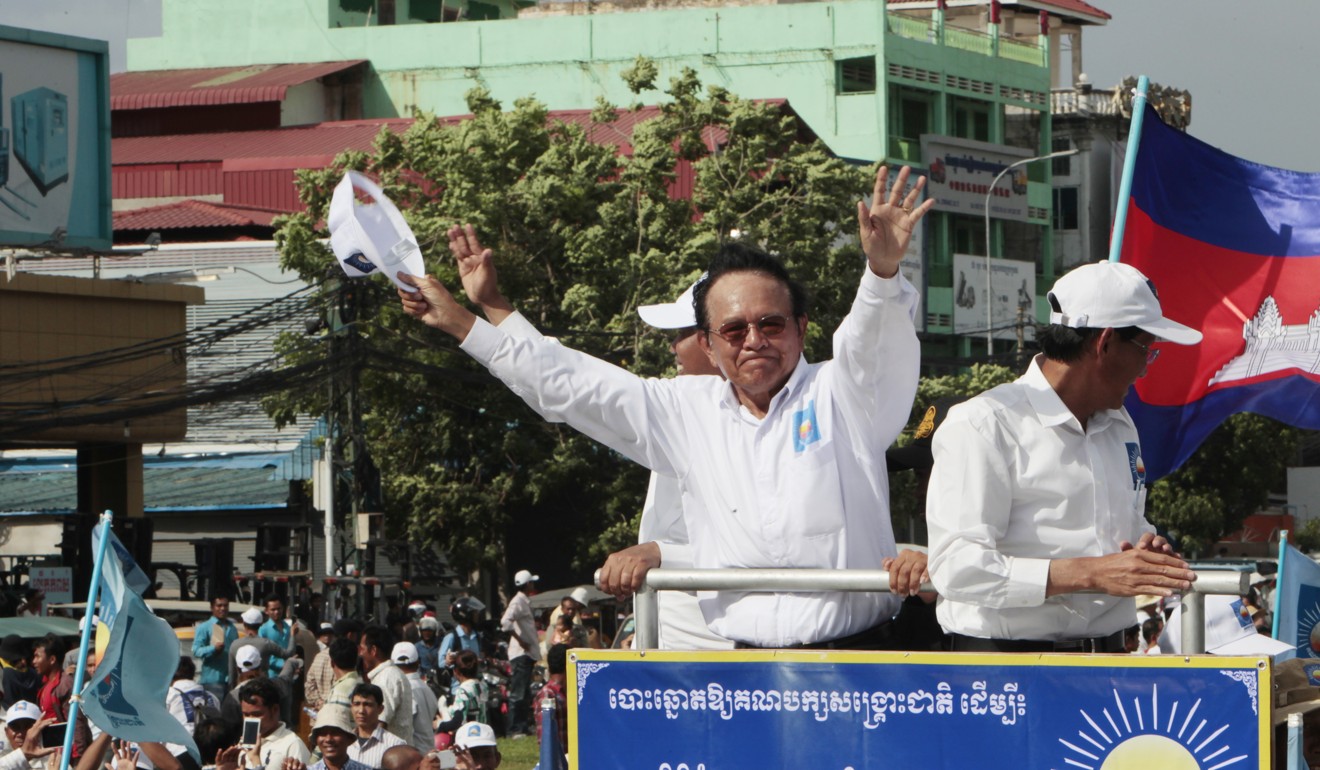 HRW claims CPP's alignment with the military has become more blatant in recent years, probably due to the threat the CNRP posed to Hun Sen's rule. The CNRP was seen as a viable electoral challenger to the CPP, but Hun Sen accused them of trying to organise a revolution or start a civil war. Rather than face the CNRP in a vote, Hun Sen framed the party's rise as a security threat.
As a CNRP co-founder, Rainsy was charged with inciting and demoralising the military in January, after urging soldiers not to fire on unarmed protesters. Hun Sen said this request was tantamount to treason and threatened to attack Rainsy – who lives in exile in France – with BM-21 rocket launchers. He also warned the military was not neutral when it came to the CNRP.
In an email, Rainsy said Hun Sen could only survive through "violent repressive methods". "There is effectively an enduring tradition of violence and impunity inherited from the Khmer Rouge regime, which Hun Sen used to serve as a military commander," he said.
Paul Chambers, a lecturer at Thailand's Naresuan University, said Hun Sen was finally taking what he's wanted from the start: "personalised control over a CPP and military, in which the RCAF acts as a partisan militia for the CPP". Rather than a new development, Chambers said Hun Sen was simply reverting back to Cambodia's traditional political status quo. Other than the brief period between the UN's occupation and Hun Sen's coup, all Cambodian leaders have tried to co-opt the military via personalised political parties.
"Hun Sen's attempt to merge senior military officers into the CPP can be seen as trying to resurrect the complete control which he possessed over Cambodia's military from 1985 until 1992," Chambers said. ■