ONE MORNING IN April last year, Novel Baswedan, Indonesia's leading anti-corruption investigator, was walking home after praying at his local mosque in North Jakarta. He heard a noise behind him, turned his head, and had a vial of hydrochloric acid thrown into his face.
At first, he thought the liquid might be water. But then came the burning sensation, and the realisation that – not for the first time – he had been attacked by unknown assailants. Baswedan was rushed to hospital in Jakarta and then transferred to Singapore, where he would spend months having surgery to save his sight. He still bears the scars of the attack in his heavily repaired left eye, turned white by the process.
"I have undergone five major operations on my left eye and now I have vision, even though my field of vision is limited, very narrow," he said this week. "More surgeries are still needed."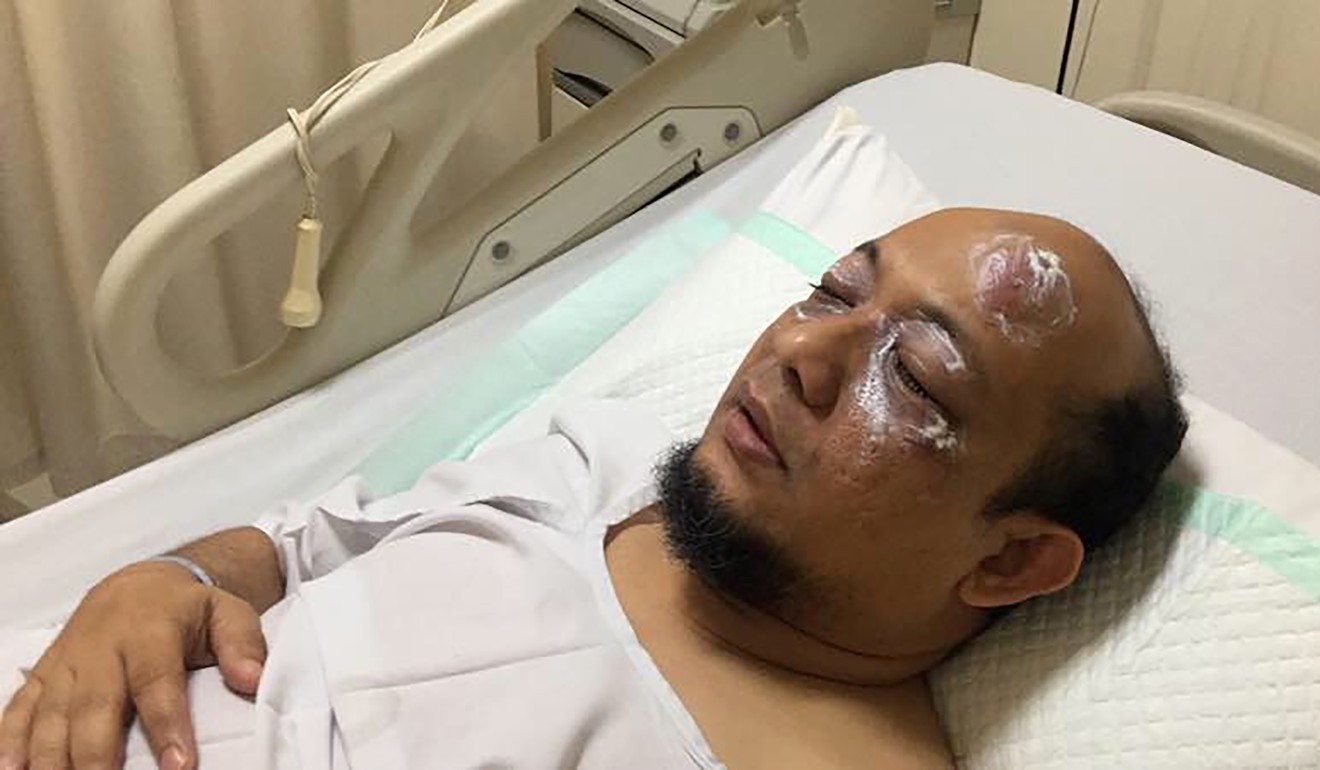 Yet more than a year after the incident, despite the huge publicity and a police investigation involving 167 officers, his attackers have still not been officially identified, much less brought to justice.
Baswedan, 41, has no doubt that the attack was connected to his role in the Corruption Eradication Commission (KPK), the Indonesian anti-graft watchdog, where he has only recently returned to work.
"I'm convinced that the attack has to do with the graft cases that we handled," he told reporters at the Jakarta Foreign Correspondents' Club. "However, I can't tell you in detail which corruption cases resulted in the attack against me because I was dealing with many big cases."
Baswedan's assault has come to symbolise the impunity the rich and connected appear to enjoy in Indonesia. "Leakages" due to corruption have been cited as a major reason Indonesia has failed to develop at the pace of its neighbours such as Malaysia and Thailand. Despite some recent improvements in transparency and fighting money-laundering that have been acknowledged by Transparency International and the World Bank, bribes and kickbacks are still endemic and many of the country's billionaire elite seem to see financial propriety as optional, not desirable.
The whole judicial system of the country must be restructured so that the investigation is good from beginning to end
"Corruption in Indonesia is not insignificant, it is massive, it's pervasive and it is prevalent everywhere," Baswedan says. "It's not that we do nothing to try and stop it … but our efforts have not produced the necessary extraordinary results."
Past anti-corruption efforts failed "due to political interference" from vested interests which sought to protect the status quo, he adds. "The problem remains the same, recurrent intervention, again and again, only this time the interventions are more massive and conducted in increasingly sophisticated ways."
The KPK has investigated nearly 200 politicians since it was formed in 2003, including ministers, members of parliament, mayors and local officials. Since corruption is seemingly everywhere, the KPK has investigated a wide range of cases, from beef imports to forest management to the price of medicines, despite its limited budget. In this context, Baswedan has good reason to believe he and his colleagues have made enemies.
Having previously forged a reputation for prosecuting corrupt establishment figures, at the time of the acid attack, Baswedan was investigating suspects including Setya Novanto, former speaker of Indonesia's parliament, for embezzling an estimated 2.3 trillion rupiah (US$170 million) from a national electronic identity card project. After multiple efforts to evade justice, Novanto is now serving a 15-year jail sentence for his role in the crime.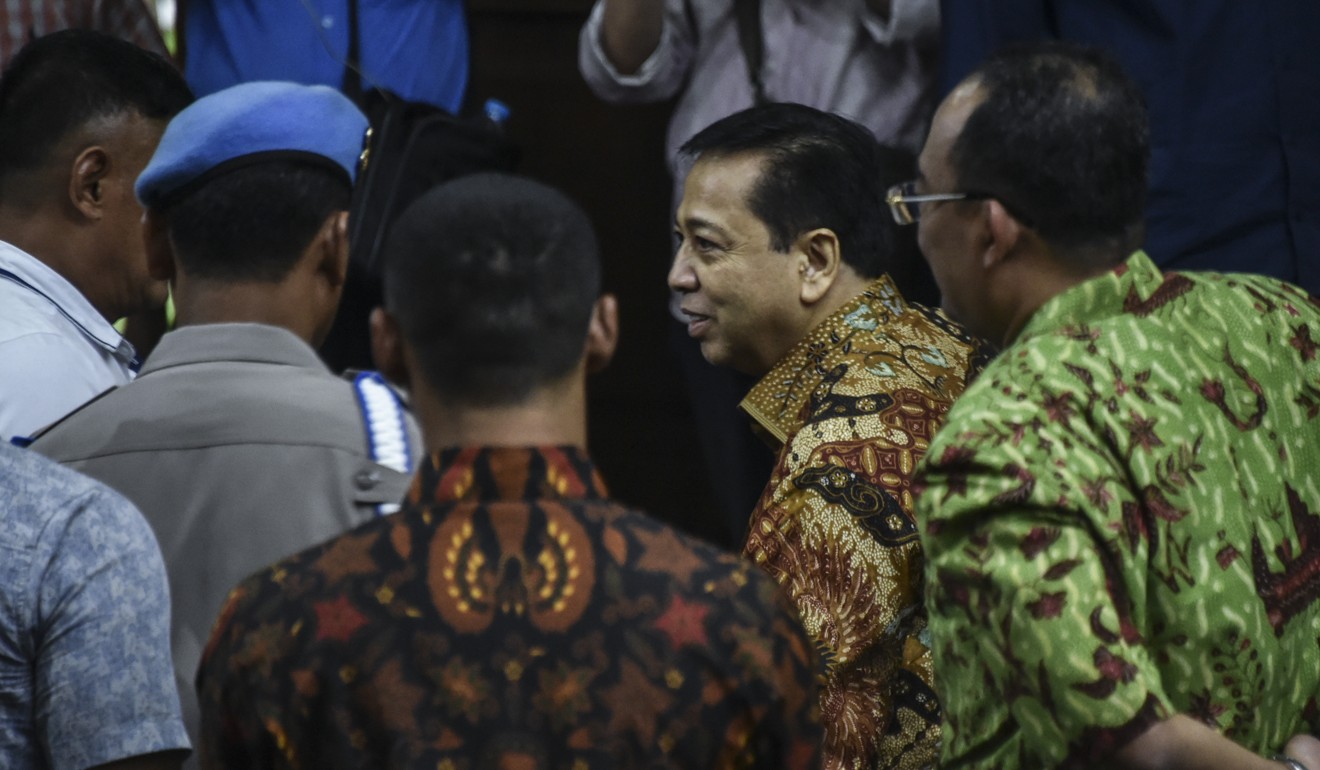 Baswedan also caused rancour among law enforcement colleagues after criticising Indonesian police officers for not doing enough in fighting corruption.
He now says he has evidence of "irregularities" that show the Indonesian police did not take his own case "seriously", having conducted a private investigation with his lawyers since returning from Singapore.
"I myself was a policeman but I retired early, I still have contact with colleagues at the Indonesian National Police so I know what they are doing," he says. "Initially I fully supported the investigation … [But] then I came to know telling information – and I have proof thereof – that they are not serious about dealing with my case and so, what happened officially remains unresolved."
What is resolved – or at least publicly acknowledged – is that Baswedan felt that he was being watched during the weeks leading up to the attack. Neighbours noticed at least two strange men who appeared to be monitoring his house. One of them – or potentially a third suspect – described as a "stocky man with curly hair" visited the house in the guise of buying an outfit from Baswedan's wife, who runs her own Islamic fashion business, and was apparently captured by CCTV cameras.
Following the attack, the police waited several months before issuing two sketches of possible suspects – which witnesses said looked nothing like the men they had seen. Officers also questioned the two men who had been implicated by neighbours, but they denied any involvement. Meanwhile, despite the police interviewing a reported 66 witnesses, all corroborating evidence appeared to have melted away.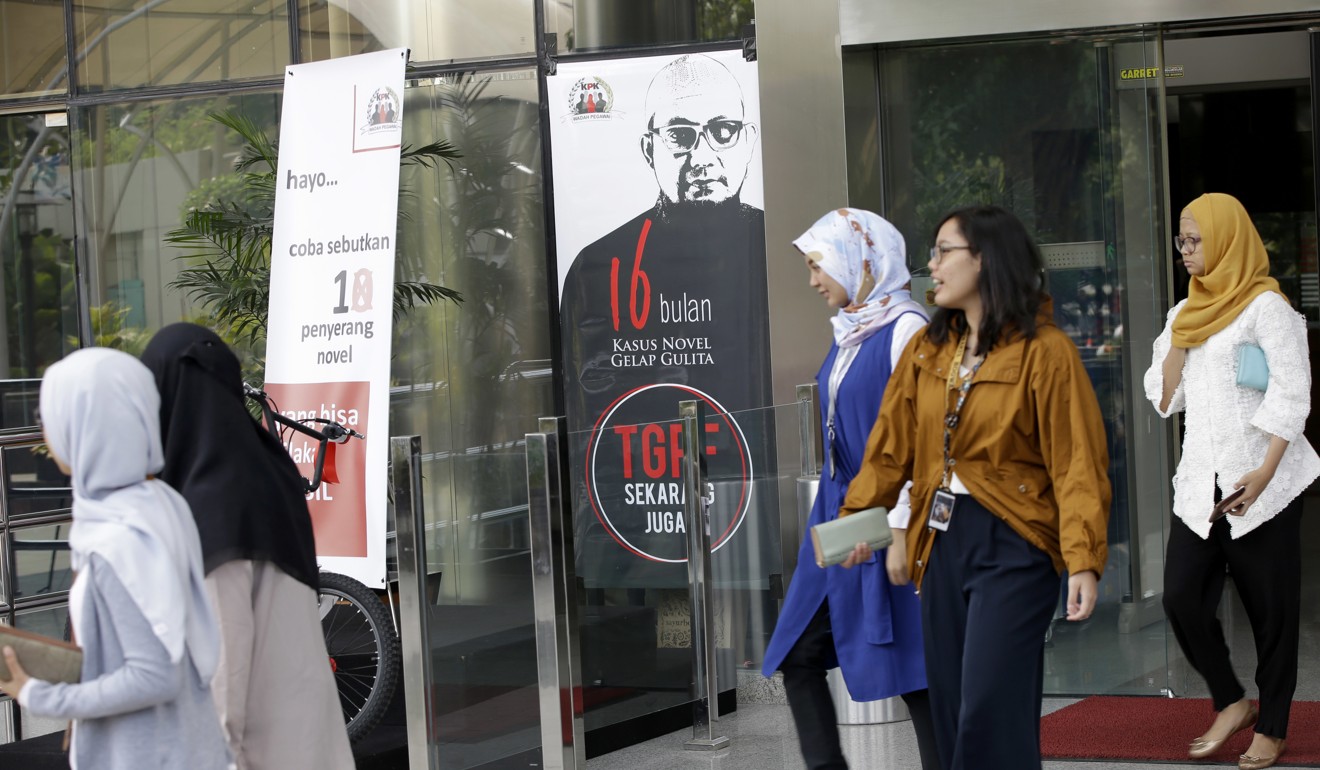 Baswedan finds this suspicious. "I know that this is not a very difficult case," he said, speaking through an interpreter. "[But] there are items of evidence that were eliminated, CCTV records that were not used and there were witnesses who were intimidated. I have reported this to Komnas Ham [the Indonesian National Commission on Human Rights] … My own investigation confirmed that there had been an intention not to disclose the identity of the perpetrators."
He is now considering whether to make his own findings public, but is wary of being drawn into a political debate as Indonesia prepares for presidential elections next year. "I expect that my case will be resolved under the current president's administration," he says, when asked what the prospective candidates might do to turn the tide against corruption in future.
However, Baswedan has strong words for the Indonesian justice system in general, where the police and judges are suspected of seeking bribes to let wealthy suspects off, while convicted perpetrators can seemingly buy their way into a cushy jail with access to their own cell door keys.
"The whole judicial system of the country must be restructured so that the investigation is good from beginning to end," he argues. "Sometimes, the case is handled properly but the judge gets bribed and cannot see things objectively. This is a cause for worry."
Meanwhile, he fears the KPK will continue to face attacks. The father-of-four now has a discreet security detail to protect him, but says it is not practical for KPK personnel to be guarded 24 hours a day: "I think the best protection for KPK personnel is to prosecute those who seek to carry out the attacks and identify them to the public, that would create a deterrent."
Despite the risks, Baswedan says the KPK's work will continue. "This [the cases made public] is just the tip of the iceberg, underneath there are more corruption cases that have never been disclosed." ■