Senator Antonio Trillanes IV is now Philippine leader Rodrigo Duterte's public enemy number one. Last week, the president ordered his arrest to face a military court for trying to unseat a former president when he was a 32-year-old navy lieutenant. But the officers sent to detain the 47-year-old senator were stopped by the Senate president because they had no arrest warrant.
Duterte's action may have looked sudden but it wasn't. A year ago, the president told the nation's top businessmen that Trillanes "is bent on destroying me". "So I destroy him or he will destroy me. That's just the way it is," he said.
Duterte wants to arrest Trillanes over the 2003 siege he led on Oakwood Premier Ayala Centre (now Ascott Makati), demanding military reforms and the resignation of president Gloria Macapagal-Arroyo. The day-long Oakwood siege failed and Trillanes along with 323 soldiers who called themselves the Magdalo group surrendered and were jailed.
Trillanes was pardoned in 2010 by Duterte's predecessor, president Benigno Aquino III. But Duterte, an Arroyo ally, revoked that pardon last week. The senator now is holed up in the Senate building in Manila. He said he tried to leave on Thursday but stayed after staff saw men on motorcycles following his official car.
Duterte revoked Trillanes' pardon on the grounds his application form was missing; he never expressed guilt or apologised; and Aquino did not sign the amnesty papers. Trillanes is contesting all three grounds in court.
The hostility between Duterte and Trillanes is palpable. It started during the 2016 presidential campaign when Trillanes accused the former Davao City mayor of not declaring a secret hoard of 211 million pesos (US$3.9 million). Duterte shot back, calling Trillanes "ambitious" because he had earlier offered to be the would-be president's running mate.
Duterte has a history of getting rid of his critics. In February last year, using convicts as witnesses, he succeeded in jailing opposition Senator Leila de Lima for drug trafficking. And last May he got the Supreme Court to remove chief justice Maria Lourdes Sereno for failing to disclose her assets and wealth. Duterte also desperately wants Leni Robredo replaced as vice-president by ally Ferdinand "Bongbong" Marcos Jnr. The president has repeatedly said he will step down once Marcos is made his deputy.
But Duterte has reserved special venom for Trillanes. He initially tried to frame the lawmaker with money laundering in Singapore – charges Trillanes squashed by asking a Singapore bank to certify he had no accounts there. Duterte admitted he had "invented" the accounts to catch Trillanes lying.
This was after the senator summoned the president's son Paolo Duterte to a Senate probe on the smuggling of 6.4 billion pesos worth of crystal meth from China. Paolo Duterte denied having Chinese triad links, but also refused to show his bare back to Trillanes, who claimed there was a tattoo to prove the allegations.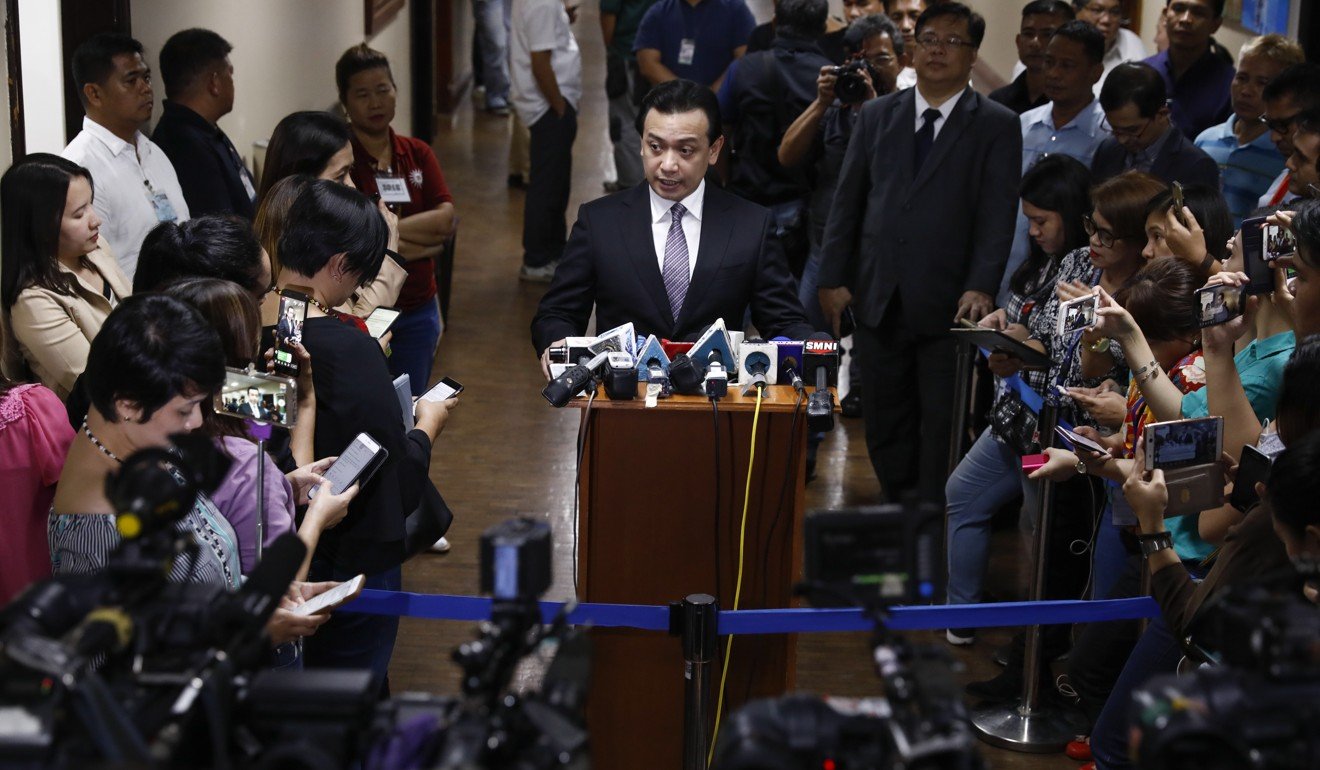 With a reputation as a mutineer and troublemaker, Trillanes divides opinion.
Mikko Perez, CEO of tech company Ayannah, said: "I did not like Trillanes back in 2003 … I thought he was a troublemaker and bad for business.
"But when he staged the next 'mutiny' at the Manila Peninsula in 2007, I began to see why principled men like him had to resort to such measures to bring public attention to rampant corruption in government.
"Now, I wish we had more leaders like him," he said.
Retired General Jose Almonte, the former right-hand man of president Fidel V Ramos, agreed.
"I think he is a patriot," he said. "You know, the decision to rebel is a major decision, especially if you are a junior officer. Because you jeopardise your career, even your family. No one would risk his life if the reason is not bigger than himself."
One stock market analyst, who didn't want to be identified, said he thought the senator was "being used by someone, like Chavit [Singson]", referring to the high-powered Ilocos Sur province governor.
But Trillanes, now 47, insists he is his own man.
"That's the impression, largely because people see me as being young," he told This Week in Asia. "[It] is very much inconsistent with the realities."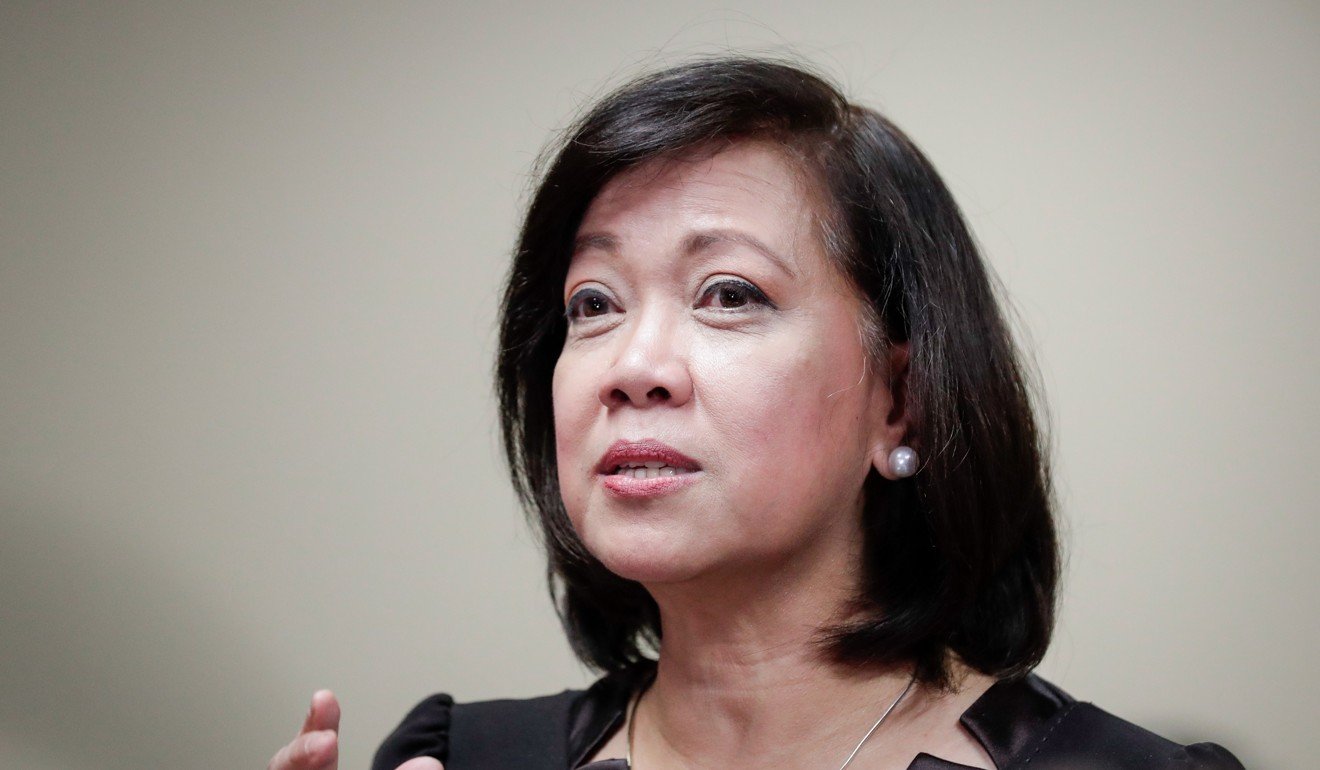 He said when the Magdalo mounted Oakwood, they had "looked up to" former army colonel turned senator Gregorio Honasan. "At that time, as soldiers, we don't have any policy prescriptions. Our primary concern was the reforms in the armed forces and to expose corruption. So Senator Honasan then had this set of policy prescriptions we believe seemed sound."
Looking back, Trillanes said seven years in jail and 11 years in the Senate had reshaped his thinking and that of his comrades in the Magdalo. One thing that you don't learn in the military, he said, is "consensus building".
"You just do as you're told to accomplish your mission. But in the case of the Senate your mission is to pass laws ….in order for you to accomplish that mission you need to build consensus."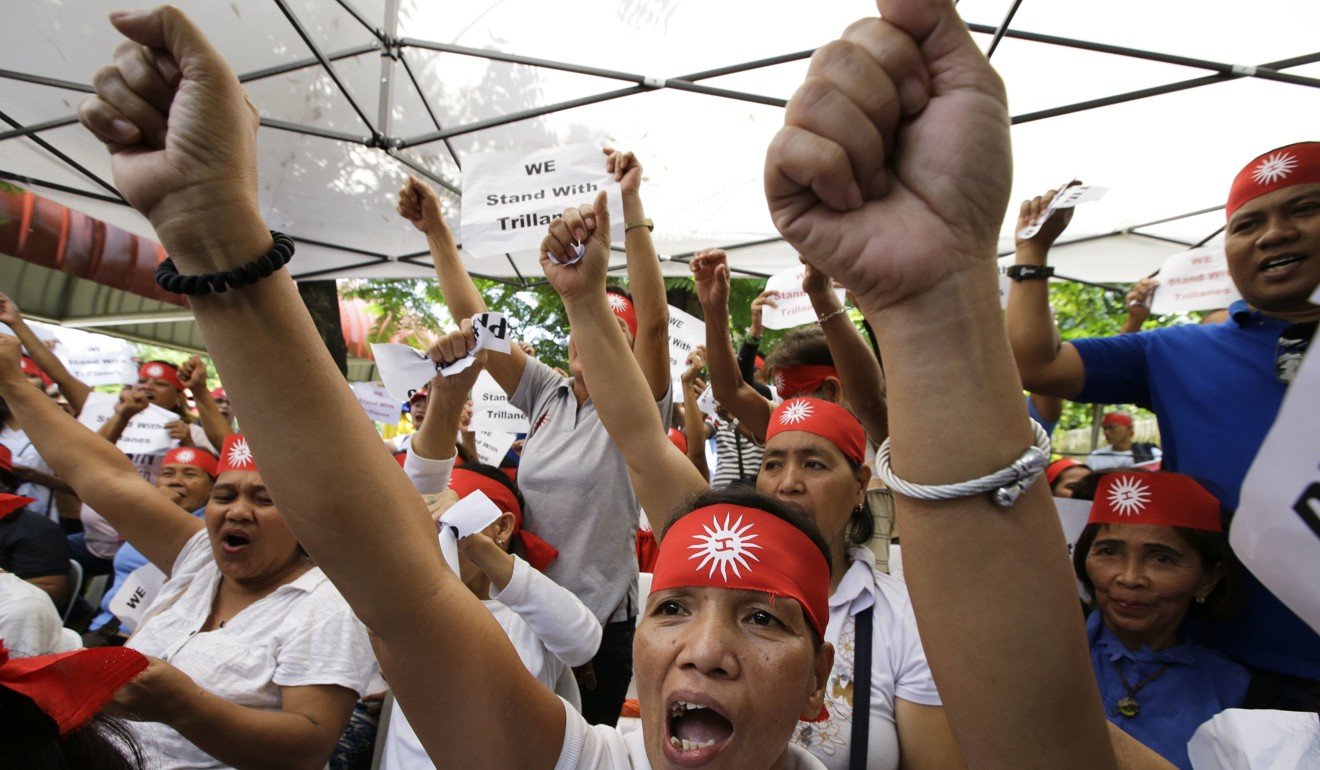 Focused on "making sure there will still be a democracy by 2022", he said he sees Duterte possibly declaring martial law nationwide, then shifting to a revolutionary government.
He called Duterte's governance "the ampaw presidency", a reference to the crispy puffed rice ball with a hollow core. "It looks firm and solid from the outside, but there's nothing inside … This administration would crumble very, very fast because their base is not that solid," he said.
"And Duterte himself does not have the leadership and management skills to deal with the complex problems of a national government," he added.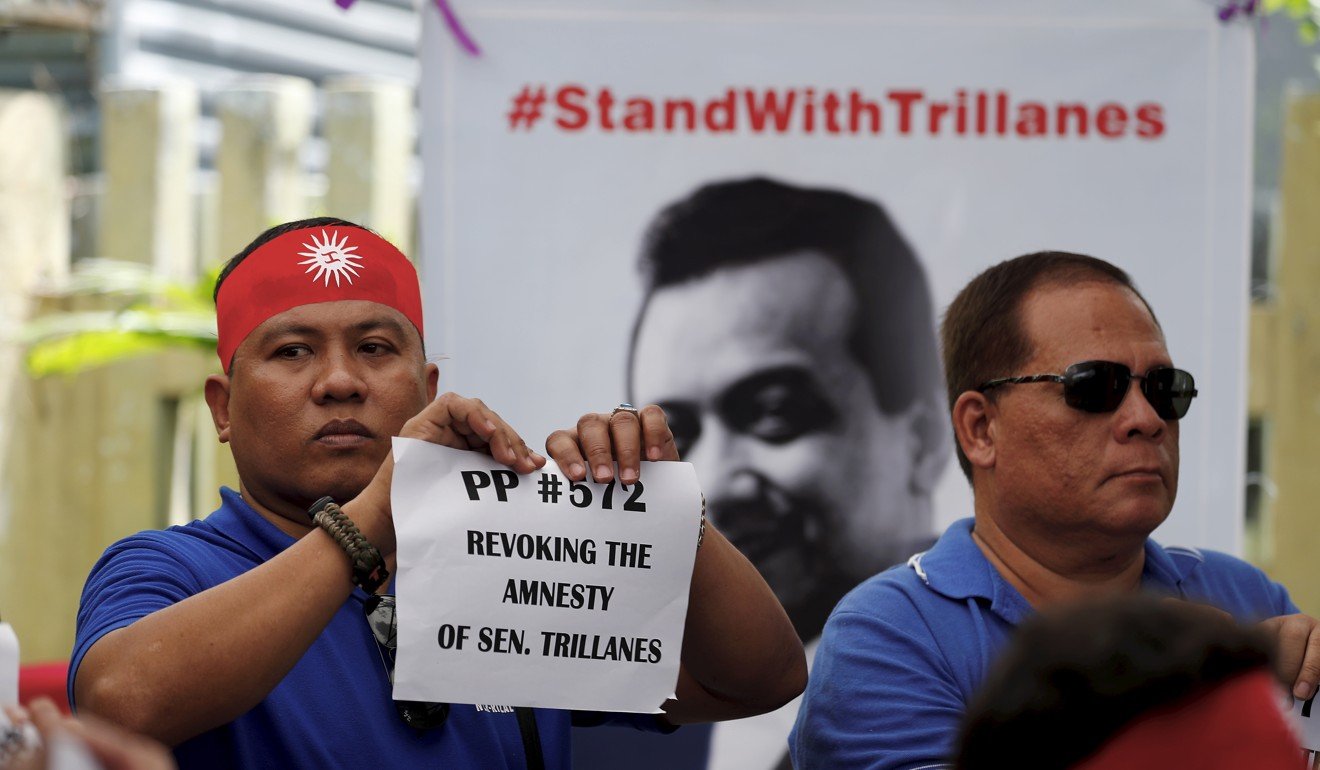 "Now, should there be a presidential election in 2022, I would rather rally people under Vice-President Leni Robredo as the opposition leader," he said.
Trillanes, according to Duterte's office, is a spent force with no following in the armed forces. But Trillanes said there were at least a hundred Magdalo still in active service and "if Duterte leads them in a direction that is entirely beyond their constitutional mandate, then they can choose to either follow him, or follow the people".
"Historically, the armed forces as an institution knows the answer," he said.
Duterte's campaign could end with Trillanes back in jail. But this may not be such a bad thing for the senator. Rather than destroying him, it may energise his political career, according to Jose Antonio Custodio, a military historian who once worked in the armed forces planning office. He said Duterte's "illegal act" of stripping the opposition lawmaker of his amnesty and ordering his arrest "practically guarantees Trillanes will be in the limelight until 2022".
"The correct way to deal with Trillanes is simply to tolerate him and allow him to fade into oblivion following June 2019 when he steps down, but it's too late for that," Custodio said. ■