With the winner of the Nobel Peace Prize to be decided on Friday, many pundits are beginning to think the once unthinkable.
Could US President Donald Trump and North Korean leader Kim Jong-un really be about to become laureates – possibly as part of a three-way ticket with South Korean President Moon Jae-in?
An idea that was lampooned when first mooted by Trump has become all too credible. Bookmakers have slashed the odds on Trump winning, either alone or jointly, for his historic summit with Kim in Singapore. Even Moon himself has said Trump should win the prize.
Yet South Koreans seem unmoved by all the hype, their enthusiasm perhaps dampened by past disappointments and doubts over whether a prize can deliver real peace. After all, a Korean president received the peace prize in 2000, but peace never came. In fact, the North grew more heavily armed than ever.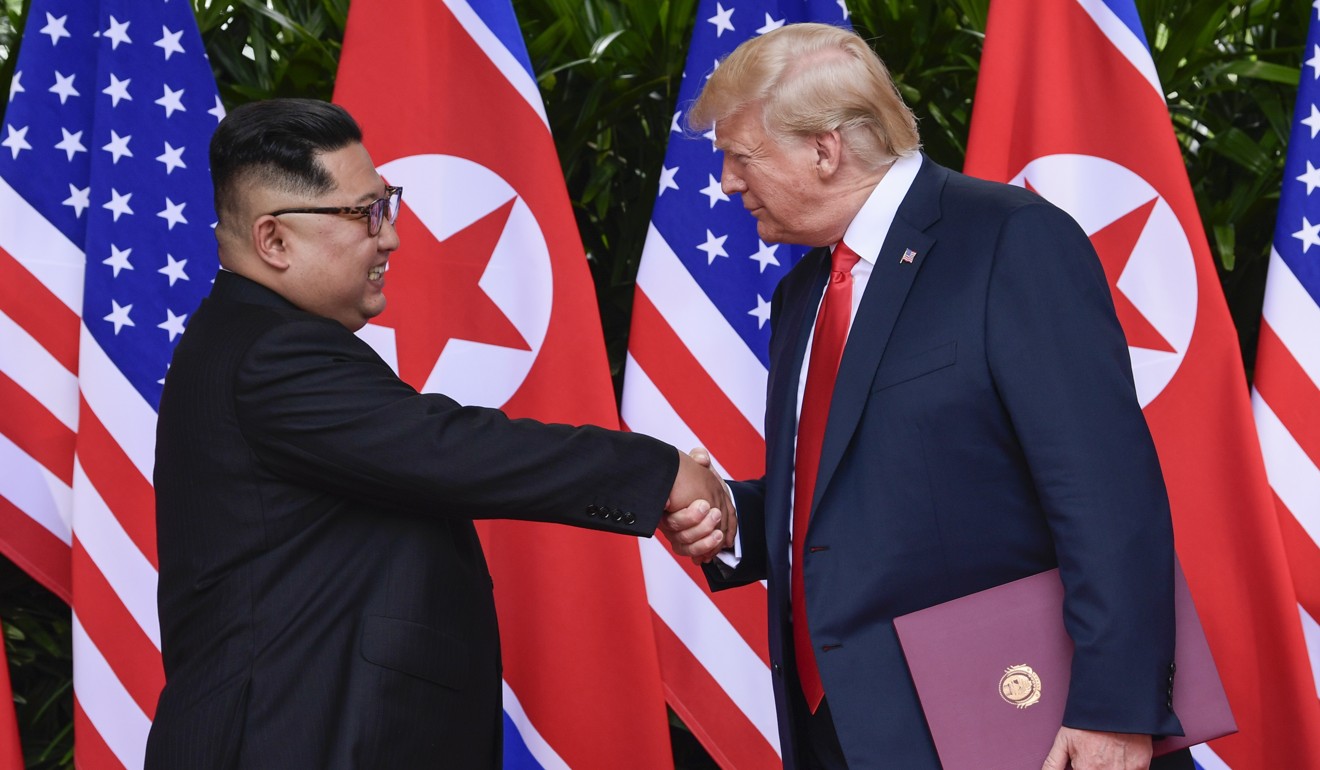 "People criticise the entire Nobel Peace Prize itself," said Ryu Yongwook, professor of international politics at Yonsei University in Seoul. "They say the former President Kim Dae-jung received the prize [in 2000] for helping North Korea develop nuclear weapons [with the aid money and economic support offered during his "Sunshine Policy" era]."
Moon is also a devotee of the Sunshine Policy, and many believe his softer stance on the North has paid off. Thanks in part to his diplomatic efforts, in a few short months Trump and Kim have gone from threatening to destroy each other's countries over social media and UN podiums, to posing for photos together in Singapore and exchanging what Trump refers to in his tweets as "beautiful letters".
But Moon doesn't seem to be doing any of this in hopes for a prize. Like the rest of South Korea, he seems uninterested in it. A former human rights lawyer and the son of North Korean refugees, his prize is more likely to be peace itself.
Moon has dedicated most of his political career to improving relations on the peninsula, holding positions in the North-friendly Roh Moo-hyun administration before winning the presidency. Now he appears to be throwing everything he's got at building a lasting peace between the Koreas.
In an odd way, though, the peace prize could play a part in building real lasting peace – if Moon helps Trump to win the award. According to Lonnie Edge, assistant professor at Seoul's Hankuk University of Foreign Studies, using Trump's desire to win the peace prize might be a key part of Moon's diplomacy efforts.
"If Moon can get Trump to cooperate based on helping him win a peace prize … then I think Moon is smart enough to know that's in the interest of his own political career and the Korean people," said Edge.
Moon was quoted in April as telling senior secretaries that "President Trump should win the Nobel Peace Prize. What we need is only peace", suggesting that he may already understand the importance Trump and his constituents place on winning the prize.
Others think the prize should be awarded to Moon, Trump and Kim together, seeing it as a way to encourage the three leaders to work even harder.
"One expectation is that the prize could bind [Trump and Kim's] hands, and lock them into the path of peace," said Yonsei University's Ryu.
Since denuclearisation is yet to happen, the prize would be given out in hopes the three leaders follow through. And pre-emptive prizes have been given out before. Former US President Barack Obama received the prize in 2009 before he had done anything more than talk about reducing nuclear stockpiles, leading him to joke on Stephen Colbert's The Late Show that even he was unsure why he won. And yet many believe he did eventually earn the award later, with his work on the Iran nuclear deal and the Cuban thaw of 2016. But with Trump and Kim, the committee could be taking a much bigger gamble.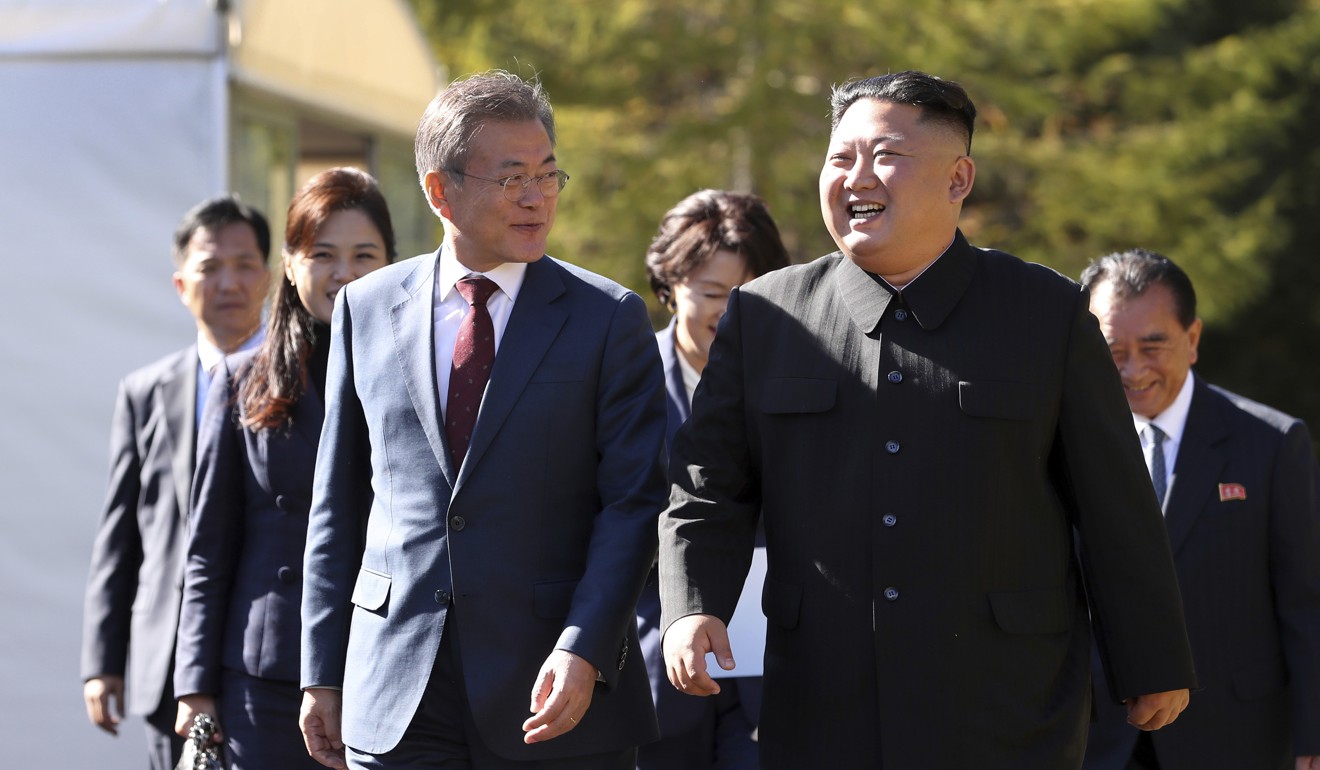 Ryu also notes how unpredictable both leaders are, saying it's entirely possible they could win the prize and then return to their threats of war. Ryu points to other peace prizewinners like Aung San Suu Kyi, state counsellor of Myanmar, who won the award in 1991, but has since been hit with calls to be stripped of the award after failing to protect minority rights in the country.
The Nobel committee itself is also likely to be more cautious this year. Recent sexual assault allegations have prompted them to cancel their literature prize, making it unlikely they will take any more risks on their reputation. Handing the award out to Trump, Moon or Kim only to see them return to war threats could deal a fatal blow to the award's status.
Whoever wins this year's award, Ryu thinks if it's one of the three leaders working towards peace on the peninsula, it has to be all of them.
"I think if the award is given to any of these people, then it should be given to all three. Peace on the Korean peninsula cannot be achieved by one person."