Malaysia's reformist icon Anwar Ibrahim, jailed twice since 1998 in politically charged prosecutions, cemented his return to frontline politics on Monday when he was sworn in as a lawmaker, fresh from a sweeping by-election victory.
The eyes of the country's commentariat were on parliament proceedings as Anwar took his seat in the legislature's government benches alongside Prime Minister Mahathir Mohamad – who two decades ago had booted him from cabinet over sodomy and corruption allegations.
Anwar's parliamentary return was the latest milestone in the ruling Pakatan Harapan coalition's plan to have him succeed Mahathir as prime minister two years from now.
Anwar, however, insisted that for now he did not want a role in cabinet or to put a definitive timeline on his elevation as prime minister, despite speculation of an emerging power struggle with Mahathir.
The leader-in-waiting said he wanted his former mentor to have the space and latitude to "continue unaffected by these constraints of time or pressure".
Now allies once again, the two men sat opposite Najib Razak, the former prime minister – also a former Mahathir protégé – who was toppled in the May 9 general election and is now part of the opposition.
Najib goes to trial in February on corruption charges relating to a scandal that rocked sovereign wealth fund 1MDB.
The swearing-in ceremony coincided with the opening of a new meeting of parliament – the second time it has convened since the watershed polls.
Proceedings are being closely watched for the major policy moves the Mahathir government is expected to make. The session will see the administration repeal the colonial-era Sedition Act – used by previous administrations to muzzle the opposition – and abolish the death penalty.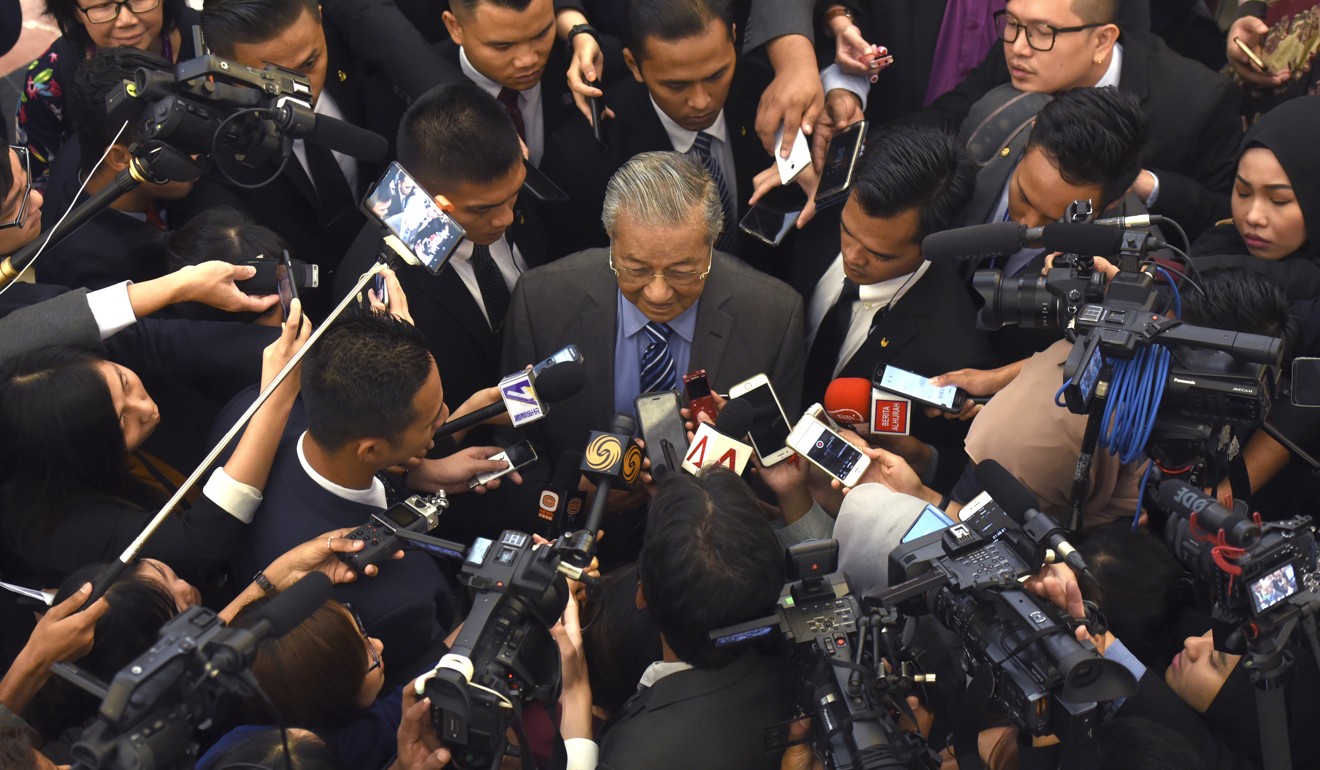 On the economic front, it will unveil the 2019 budget and a review of a five-year economic strategy previously set by Najib. Foreign policy is also set for debate.
Foreign minister Saifuddin Abdullah said the government would move a motion calling for the country's future foreign policy to be based on Mahathir's speech at the United Nations General Assembly last month.
In the address, Mahathir condemned "inward-looking nationalism" around the world, preached Malaysia's "non-aligned" stance, and called for greater global action in support of the Palestinian people and Myanmar's Rohingya population.
Anwar, in his first day back in parliament since 2015, told reporters he planned to stay out of the government's way, and focus on parliamentary reform.
"Our parliament in the past has been considered a rubber stamp. But we envisage a new approach to ensure that parliament is more effective through the formation of select committees or various other discussions prior to debates and tabling of laws," he said.
Anwar said he was happy to be back in action after being "deprived of his rights" – a reference to his two stints in prison in the past two decades.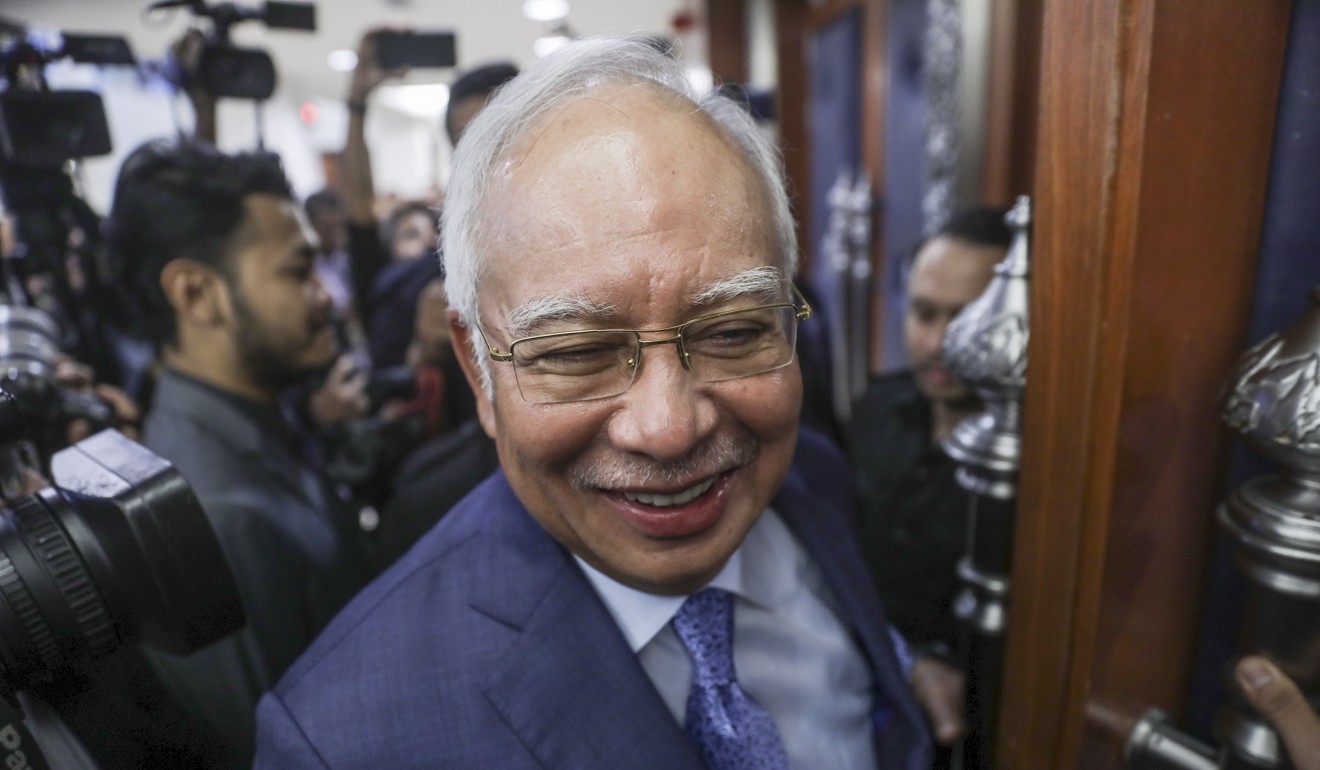 His first stint in prison – from 1998 to 2004 – came after Mahathir, then serving as prime minister, sacked him as deputy over claims of Anwar's homosexuality and corruption.
After Anwar's release in 2004, he jumped ship from the Barisan Nasional coalition, of which he was once a leading member, to galvanise the country's once-disparate opposition into a potent force.
He was again jailed for sodomy in 2014 during Najib's tenure as prime minister.
Anwar insists criminal charges were trumped up both times to keep him out of frontline politics, but has said he has forgiven Mahathir.
The 93-year-old defected from Barisan Nasional in 2016 to topple the scandal-tainted Najib.
"I was a serving MP every time I was sent to prison. I was dismissed and had no avenue to appeal to a just court or to be adjudicated fairly," Anwar said, adding that he shared a sense of vindication and pride with the people of Port Dickson, his new constituency.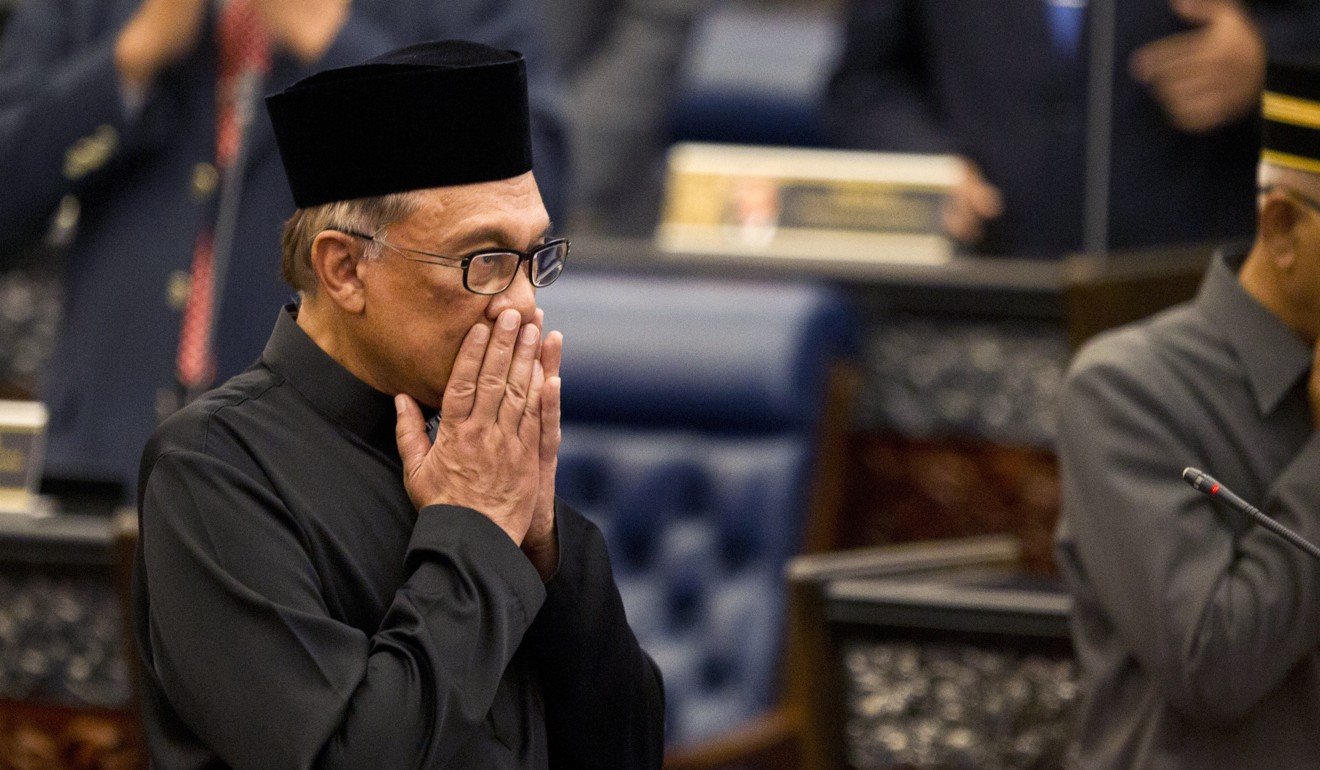 Asked about Anwar's return, Mahathir said: "Of course, I am happy he is back. He is from the same party … we expected him to come back. We knew he was going to win."
Earlier, the prime minister fielded questions on his August visit to Beijing and the effect on the country from the ongoing US-China trade war.
Mahathir emphasised that Malaysia had a non-interference policy on "any type of war" and would not interfere in the dispute.
"For the time being there are no adverse impacts on Malaysia. If there is an impact, we hope it will be the transfer of investments from the United States or China to Malaysia. So there is a possibility of some positive impact from the US-China trade war," he said.
In brief comments to reporters, Mahathir said the government last week freed 11 ethnic Uygur Muslims – despite protests from China – because they did nothing wrong.
They were held in Malaysia after breaking out of a Thai jail.
Malaysia sent the 11 to Turkey instead of Beijing. China's foreign ministry last week said it "resolutely" opposed Malaysia's decision.