The actions of a Philippine congressman who represents overseas workers, including those in Hong Kong, have fuelled questions on whether his interests lie with workers' rights or serving recruitment agencies – putting his portfolio at home as well as his perception abroad at risk.
Congressman Ancieto "John" Bertiz – from the Alliance for Community Transformation-Overseas Filipino Workers, which has had a seat in parliament since 2016 – first sparked public anger when a video of him at the Ninoy Aquino International Airport went public late last month. When asked to take off his shoes, standard procedure for anyone going through airport security, Bertiz first ignored the officer, then proceeded to rudely boast about his credentials as a representative of migrants' rights while shoving his identification in the officer's face. As a final insult, he grabbed the officer's identification.
The video went viral, moving even lawmakers to comment on his actions. "Being a member of congress is not a licence to act indecently," said Senator JV Ejercito. Days later, Bertiz publicly apologised, but his words appeared more an attempt to justify himself – he claimed the airport was being too lenient towards "Chinese nationals" and too hard on Filipinos.
But Bertiz wasn't done yet. He then irked women's groups when he tried to play down the incident, saying: "For the past three years I have been a member of congress, and maybe once a year I get my monthly period." Lawmakers from the Gabriela Women's Party labelled him a "misogynist", retorting: "It's your arrogance, not our monthly period."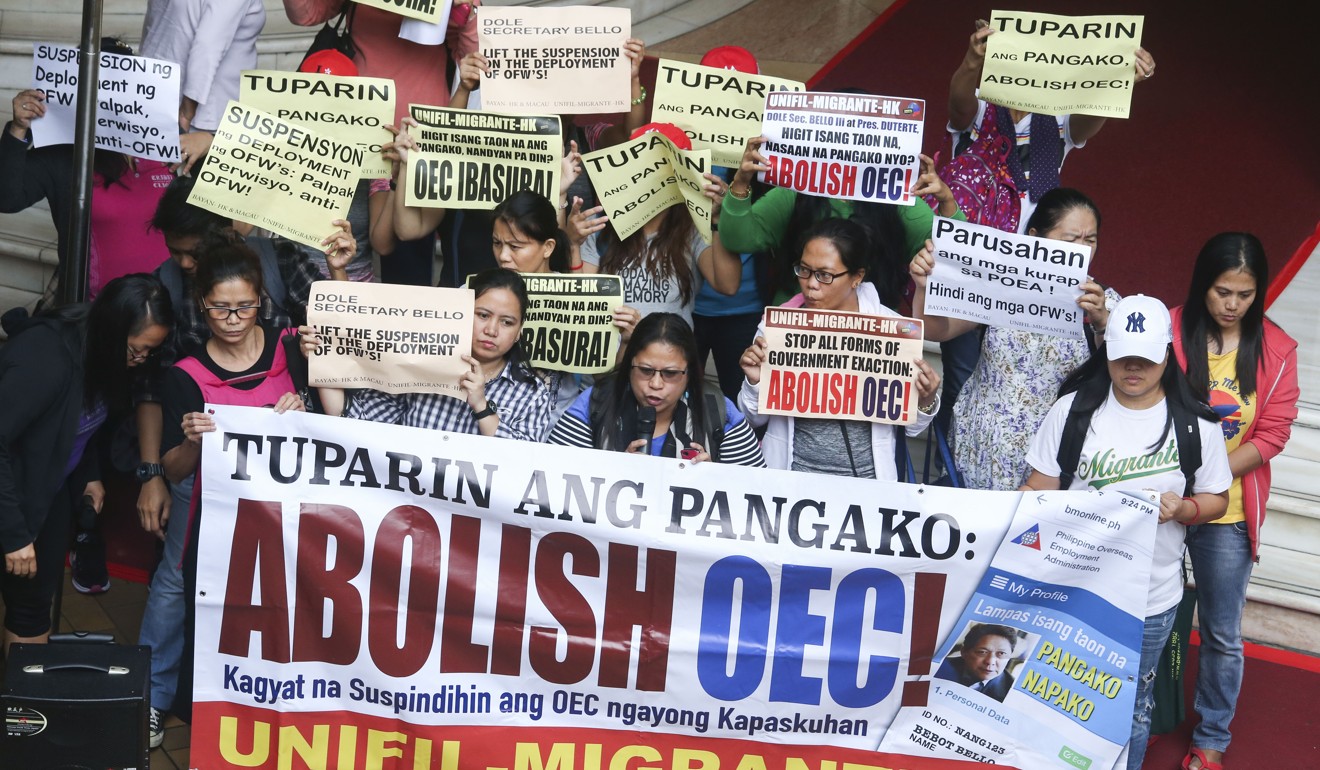 Congress voted to reprimand Bertiz, but as this was his first offence, his actions did not yet warrant a suspension or expulsion from the House of Representatives, according to the House minority leader.
During the same period, more details of Bertiz's background and his previous behaviour towards migrants surfaced. In January last year, he was involved in a heated argument with Filipino migrants in Hong Kong after he showed up, uninvited, to a dialogue.
Dolores Balladares-Pelaez, chairperson of UNIFIL-Migrante-HK or the United Filipinos in Hong Kong, said the dialogue was supposed to be between the migrant community and the Philippines' Department of Labour and Employment regarding the Overseas Employment Certificate (OEC) requirement for Filipino workers as well as the 550-peso (US$10) terminal fee they were being charged.
According to a 2016 Hong Kong government report, Filipinos make up more than half of the foreign domestic helpers in the city – 163,500 workers out of 320,700.
Balladares-Pelaez was in opposition to the OEC, saying workers were forced to obtain the document through long, arduous queues with arbitrary procedures, not to mention the added expense. She said the terminal fee – which has since been waived – was also in conflict with existing laws that exempted migrants from such taxation.
During the dialogue, Balladares-Pelaez said, she was repeatedly interrupted by Bertiz. When he finally got the chance to speak, he spent almost 20 minutes defending the OEC and presenting his own ideas on the need for a separate identification document for Filipino overseas workers, which could replace the OEC. Balladares-Pelaez, however, said this new proposal would not solve anything.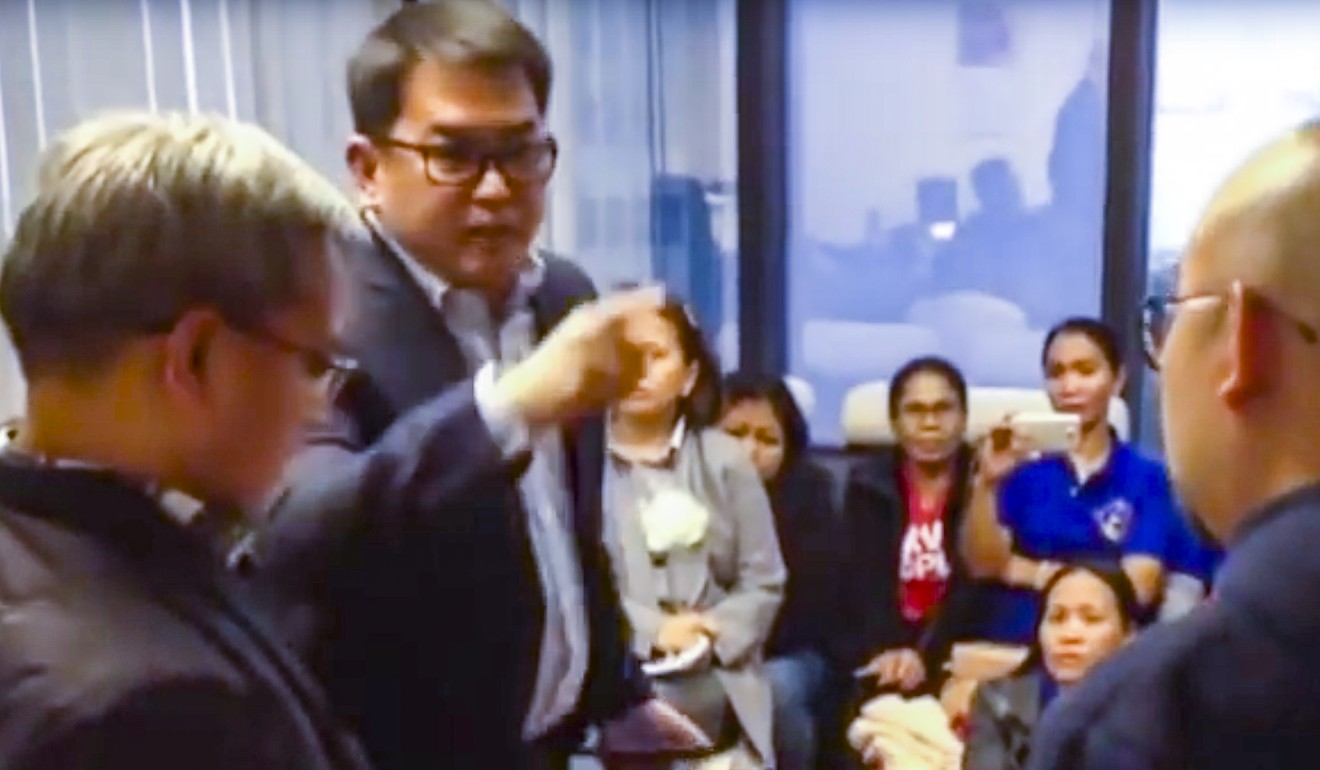 According to Eman Villanueva, United Filipinos in Hong Kong secretary general, Bertiz was taking up too much time and when Villanueva urged him to wrap up, Bertiz snapped.
"Don't insult me. You had your time, let me finish!" he yelled, thus beginning what Villanueva dubbed a "shouting match", in which Bertiz claimed to represent 10 million overseas workers and that he flew from Manila just to listen to the dialogue. Villanueva countered by saying Bertiz stood for big corporate recruiters and did not speak for migrant rights; Bertiz then retorted that they should be thanking recruitment agency owners and proceeded to verbally attack Villanueva, claiming that he was "undocumented". The two had to be separated and much of the encounter was caught on a video that also went viral.
"By sharing our story and encounter with Congressman Bertiz, we hope we can shed light for the ethics committee of Congress as they deliberate the appropriate sanctions," Villanueva said. "We feel he should be punished and expelled from Congress."
Migrante International, the Philippines-based parent organisation of United Filipinos in Hong Kong, said Bertiz was also currently the chairman and chief executive of recruitment agencies Global Asia Alliance Consultants and Key's Placement. Migrante spokesman Arman Hernando said this signified a "conflict of interest" between the official and the migrants he claims to represent.
The companies have allegedly engaged in unscrupulous practices in the past; Global Asia Alliance Consultants was temporarily suspended in 2016 by the Philippine Overseas Employment Agency, and has recently been caught up in another scandal.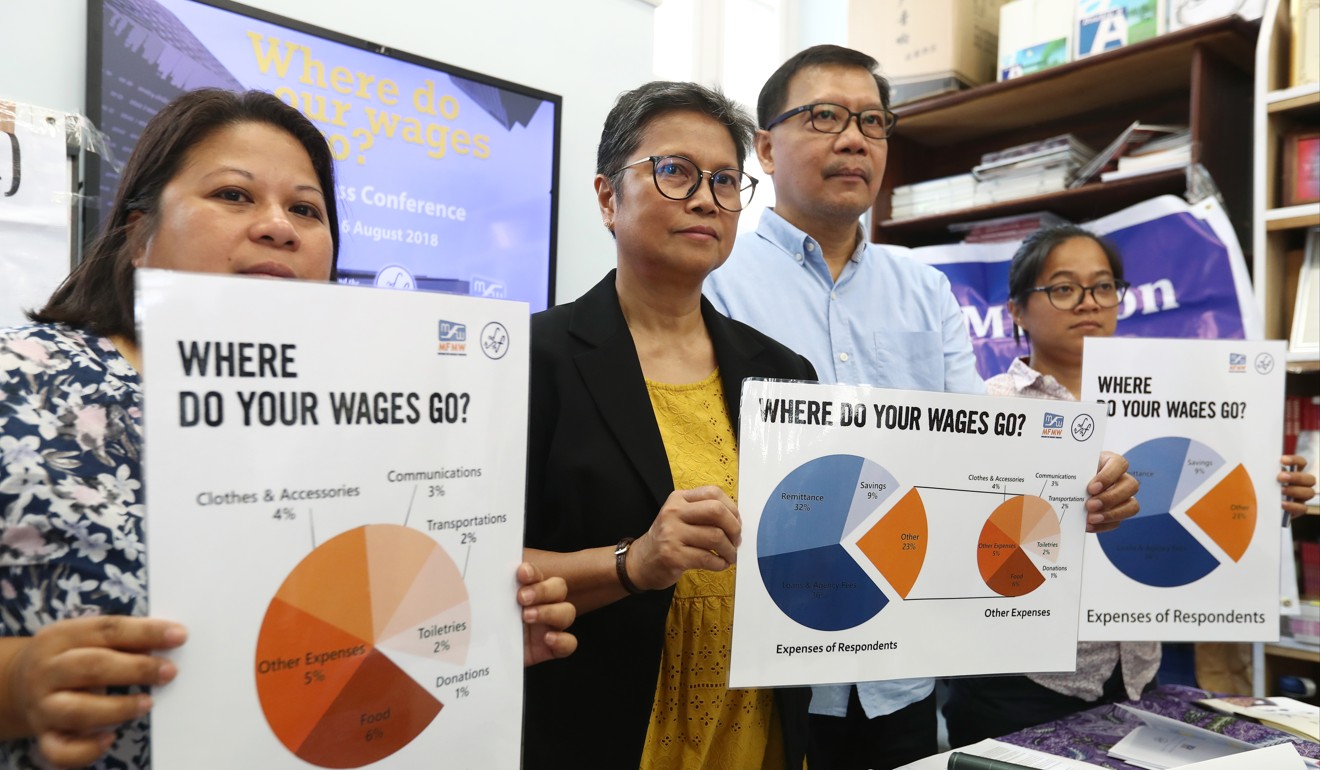 Migrante had helped in the case of Sheila Mabunga, who had come to them amid the media storm surrounding Bertiz's conduct. Mabunga's account served as the main basis of the complaint filed by Migrante to Congress' ethics committee on October 4.
According to Mabunga, in 2014 she was sent to Saudi Arabia by Global Asia Alliance Consultants. She was surprised to learn that the name of her employer was different from the one written on her contract. Throughout her stay, she was forced to endure slave-like conditions, with unreasonable hours, low pay and multiple incidents of abuse that eventually led to paralysis in half of her body.
She accused Bertiz' company of being deaf to her pleas for help as he himself dismissed her family as merely "asking for money".
Migrante has also launched an online petition for his expulsion from Congress, bearing the hashtag #BertizAlis or "Bertiz Out". Balladares-Pelaez said this movement was steadily gaining ground and they were also planning petition-signing activities for migrant workers in Hong Kong every Sunday.
Bertiz was admitted to hospital earlier this month, after two weeks of intense backlash following his videos and statements. In an apology for the airport incident, he characterised his actions as "uncalled for".
Meanwhile, regarding Mabunga's testimony, Bertiz's chief of staff Francisco Aguilar Jr has said the allegations were unfair since Mabunga's case had already been "settled", according to Global Asia Alliance Consultants management.