President Rodrigo Duterte needs his political allies to win all 12 seats in the 2019 Philippine Senate race if he is to make good on an election promise to break the grip of "Imperial Manila" on funding and resources.
That's according to analysts, who have some bad news for the strongman leader: his chances of doing so are "nearly nil".
One of the election promises that swept Duterte to power in 2016 was his pledge to replace the country's highly centralised, presidential form of government with a federal system in which the country's 17 administrative regions would become autonomous states.
But to fulfil that promise Duterte will have to scrap much of the 1987 Constitution, a move the Constitution says would require the backing of 18 of the 24 senators. Critics say the provisions for Duterte's proposed constitution (drafted by his hand-picked committee) would impose something more akin to authoritarian rule, while his plans have also come under fire for relaxing restrictions on foreign ownership of land and on joint ventures on oil exploration with foreign governments such as China.
At present, he is thought to be able to rely only on nine or 10 senators, and the terms of three of his allies – Gregorio Honasan, Loren Legarda and Francis Escudero – will expire next year, leaving him as few as six guaranteed allies.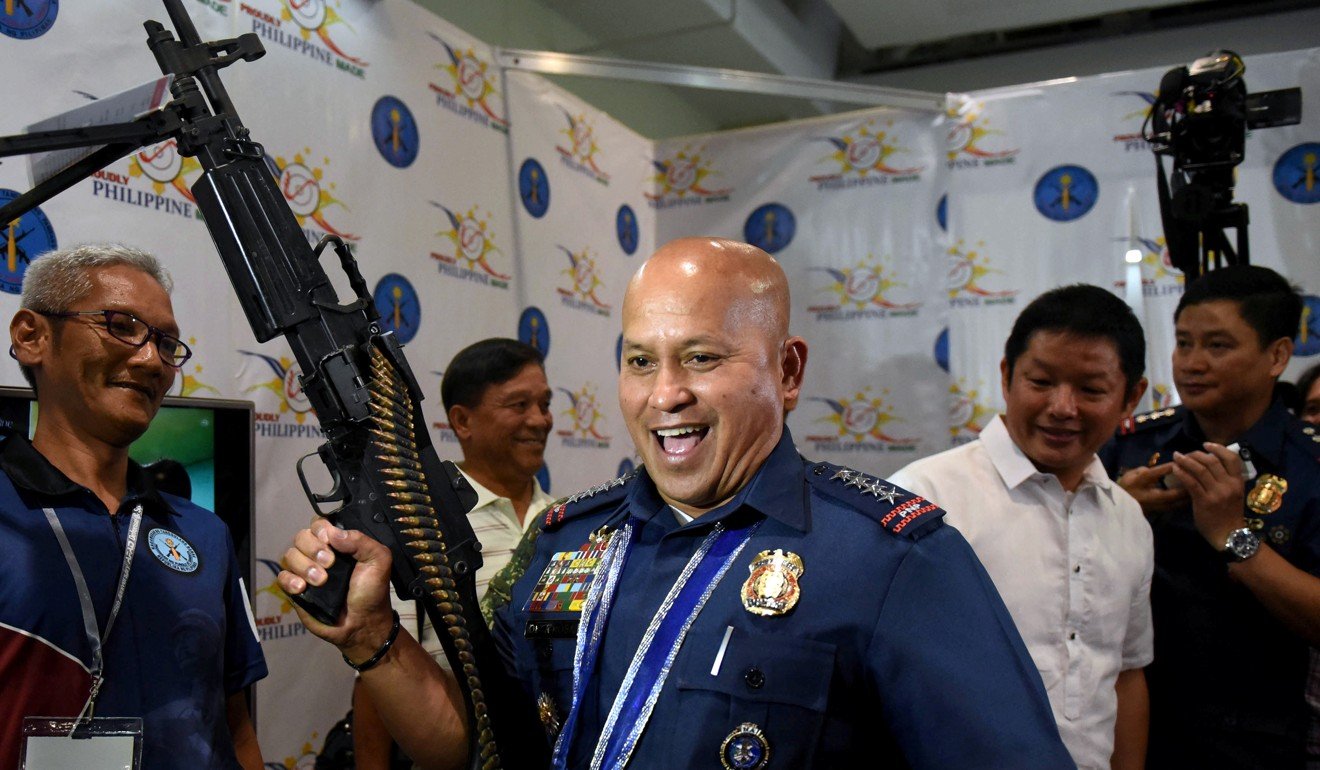 That means for Duterte to reach the magic number 18, his allies would need to win every one of the 12 seats up for election on May 13 next year.
In the Philippines, not only are senators often seen as future presidential material, but under the Constitution they wield oversight powers over the president and his cabinet. They also confirm international treaties signed by the president and sit as judges in the event of an impeachment trial.
PDP-Laban spokesman Ronwald Munsayac told This Week in Asia that "of course" the party was targeting a "12-0" win.
However, as the party is officially fielding only five candidates it would have to rely on allies to take the other seven seats.
"But we have to be realistic. Maybe our minimum is nine to 10 [wins]. But our target is 12," Munsayac said.
He named the party's official candidates as: incumbent Senator Aquilino "Koko" Pimentel III; Duterte's special assistant Christopher Lawrence "Bong" Go; former police director General Ronald "Bato" Dela Rosa; Duterte's political adviser Francis Tolentino; and Congressman Zajid "Dong" Mangudadatu.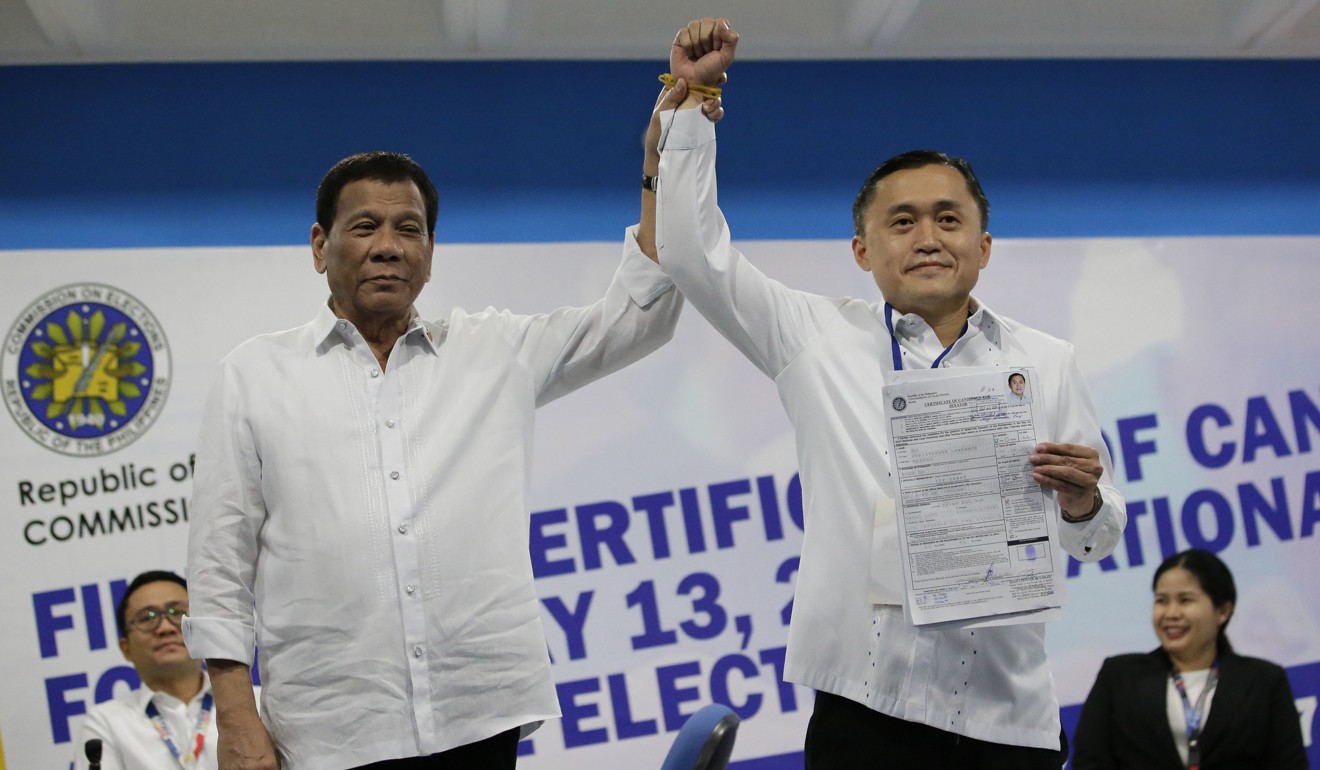 Of these, only Pimentel and Dela Rosa were identified by pre-election surveys as likely to win.
That means Duterte will need to hope for a strong showing by the regional party of his daughter, Sara, who is the mayor of Davao City.
Her party, Hugpong ng Pagbabago (HNP) or Faction for Change, is fielding five incumbent and former senators: Senators Cynthia Villar, Joseph "JV" Ejercito, and Juan "Sonny" Angara; and former senators Jinggoy Estrada and Pia Cayetano. Surveys predict all except Ejercito to win.
Intriguingly, the regional party's candidates also include Ilocos Norte Governor Imee Marcos, daughter of the late strongman Ferdinand Marcos, who once jailed the PDP-Laban founder Aquilino "Nene" Pimentel Jnr for opposing his dictatorship.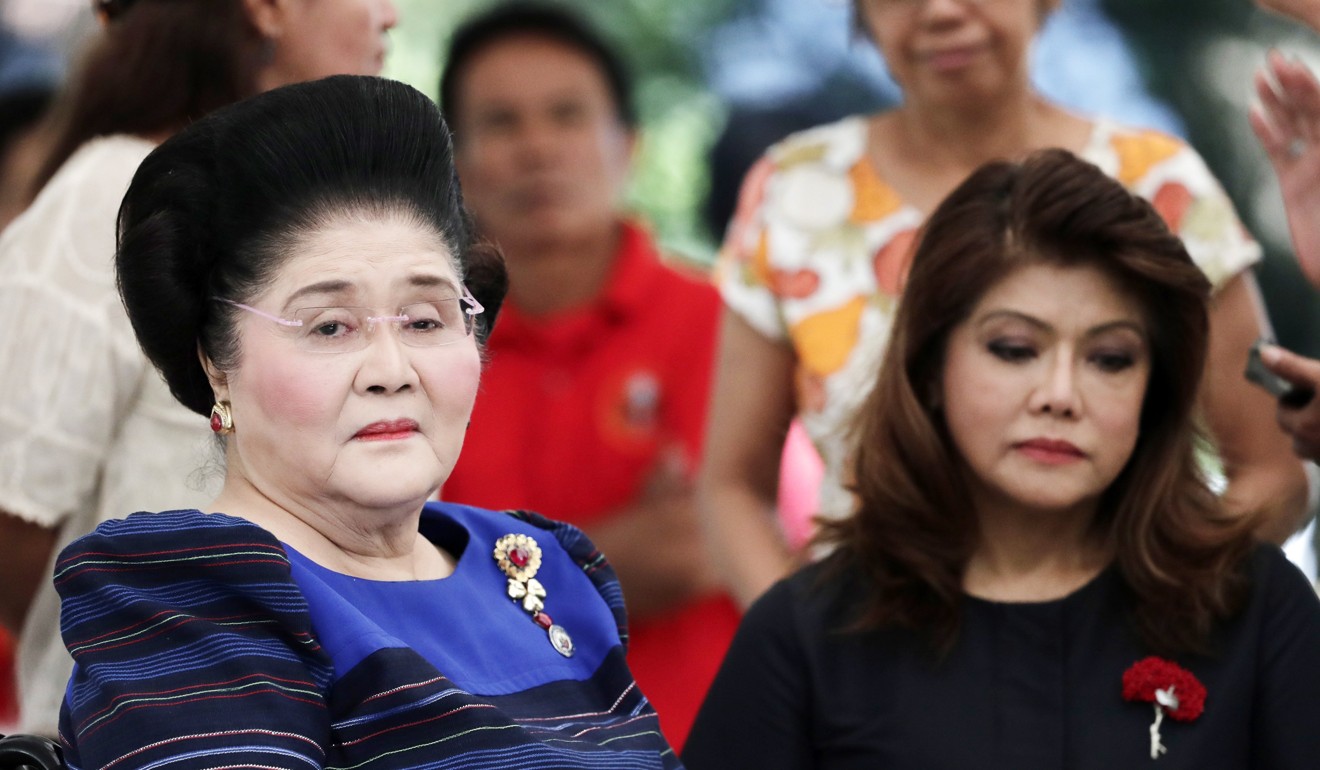 Ramon Casiple, executive director of the Institute for Political and Electoral Reform, said the polls were "not really a popularity contest [for Duterte] because no one is saying he's unpopular. It's really for consolidation of power because he is pursuing an agenda, which is charter change."
"Basically he has to get all of these 12 seats because remember, four minority senators are still seated in the Senate and a considerable number [of the eight other sitting senators] are either not that identified with the administration or they have their own agenda," Casiple said.
Casiple said the chances of this happening were "nearly nil" and that Duterte would have to pin his hopes on getting the opposition to agree to forming a Constitutional Convention, an ad hoc body whose members would be directly elected by the people to craft a new charter. This route would require the backing of just 16 of the 24 senators.
Threatening to dash Duterte's hopes are eight candidates from the opposition Liberal Party of Vice-President Leni Robredo.
These include: Senator Paulo "Bam" Aquino, the cousin of former President Benigno Aquino III; Congressman Gary Alejano, who once staged a failed coup d'etat along with Senator Antonio Trillanes; former Congressman Erin Tañada; De la Salle University law dean and human rights lawyer Jose "Chel" Diokno; election lawyer Romulo Macalintal; former Solicitor General Florin Hilbay and Muslim civil society leader from Marawi City Samira Gutoc-Tomawis.
Meanwhile, the sudden entry into the race by Mar Roxas, who lost to Duterte in the 2016 presidential election, could be a game changer for the Liberal Party. A video posted by Roxas on his Facebook page on Monday announcing his comeback has had three million views already and surveys suggest he should win a seat.
Some opposition figures are urging people to vote "straight LP" to prevent Duterte from changing the constitution or forming a revolutionary government, but analysts warn that Filipino voters are notoriously fickle and sometimes rebellious, often voting for various parties, sometimes just to ensure the Senate is "fun to watch".
Meanwhile, Casiple, who has personally met Duterte to discuss constitutional reforms, said there were allies in the president's camp urging him to declare a revolutionary government. "But [even] in his own camp, many don't like one-man rule."
Casiple also played down rumours Duterte would impose martial law nationwide before the polls. "That would ruin him," Casiple said. He said inflation was the main problem for Duterte's candidates, while the South China Sea was a "non-issue".