On May 13 and 14, 28 people were killed and dozens more injured in multiple bombings carried out by three families in Surabaya, East Java.
It was Indonesia's deadliest terrorist strike in more than a decade. And it was the first time that entire families, including children, had been involved in such attacks in the country.
Authorities tightened security in response, passing a new counterterrorism l aw and making hundreds of arrests.
But experts warn that the Surabaya suicide attacks may be just a preview of what is to come, with extremist elements in Indonesia likely to regroup, support for Islamic State (IS) likely to continue and new alliances set to emerge.
"The government needs to pay particular attention to Jamaah Ansharud Daulah members [the pro-IS group linked to the Surabaya attacks] who are about to be or have been released, because this is the pool from which new leaders will be drawn," says Sidney Jones, director of the Institute for Policy Analysis of Conflict (IPAC) in Jakarta.
"The Surabaya bombings show that the decline of IS in the Middle East has in no way diminished the fervour of its supporters in Indonesia," IPAC's latest report reads. "Jamaah Ansharud Daulah members in East Java and elsewhere took to heart the exhortation from IS to wage war at home, and no one should think that the police crackdown has put an end to that determination. If past patterns hold, there may well be a period of dormancy until surveillance eases and complacency returns. But the problem is far from over."
Seventy convicted extremists were released between January 2017 and August 2018, according to IPAC, while some 400 have been arrested – more than 280 of them since May. Among the clusters of prisoners out or due to be released by the end of 2019 are groups from West Java and Solo. This comes at a politically sensitive time, as the Muslim-majority nation is preparing to go to the polls to elect its next president in April.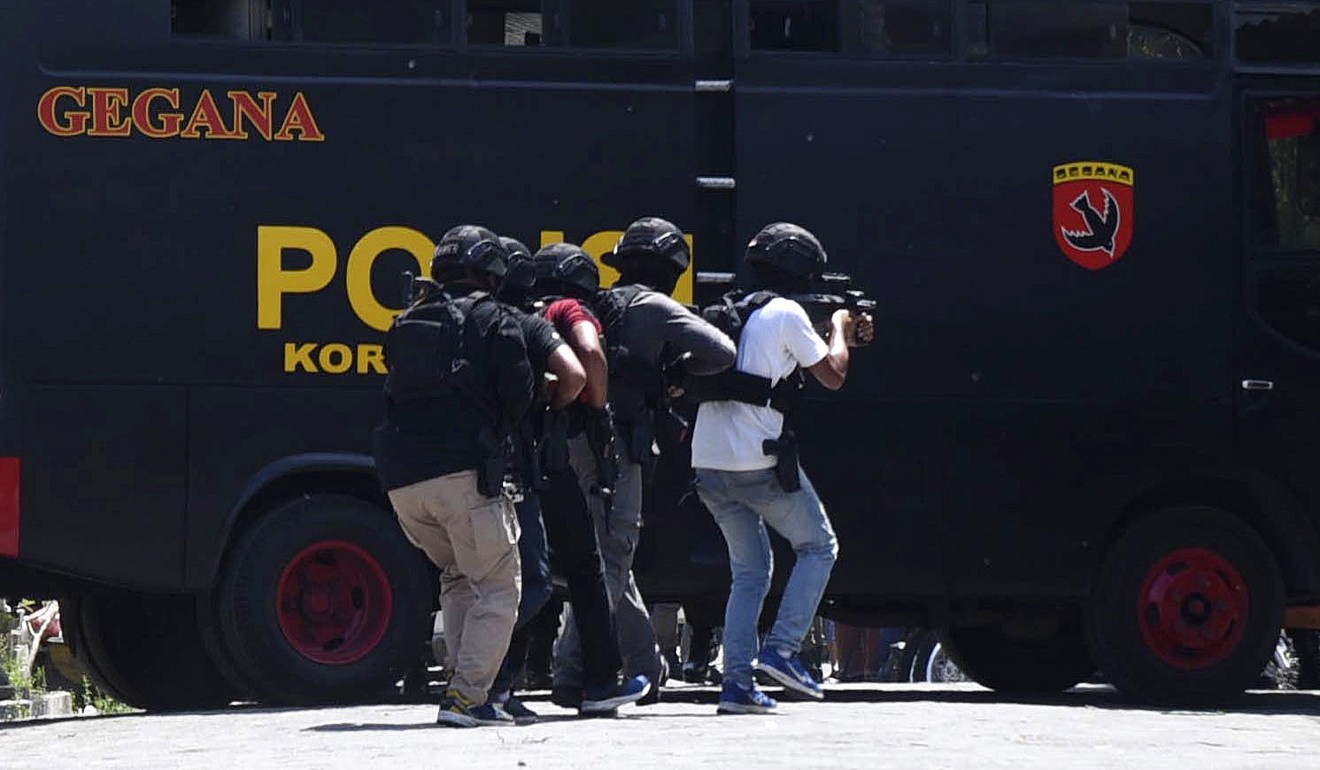 "Given the number of arrests, the government should expect a backlash," says Taufik Andrie, executive director of the Institute for International Peace Building in Indonesia. "Law enforcement is working well, but the fight against radicalism and the terrorism narrative in Indonesia is not sufficient yet. It takes a lot of effort not only from the government, but also from non-government actors, Muslim groups and the rest of the society."
FURTHER CHALLENGES
The Surabaya attacks sparked fears to which the authorities have struggled to find solutions.
The communities hit by the bombings were left in disbelief. On a Sunday in May, a couple and their three children, who seemed to lead a normal life, carried out attacks on three churches. An explosion erupted in a flat complex a few hours later, killing a couple and their 17-year-old daughter. The day after, another family of five detonated explosives at the Surabaya Police Headquarters.
The incidents were described as the deadliest terrorist attacks in Indonesia since the 2002 Bali bombings.
"The greatest impact [of the Surabaya attacks] on counterterrorism strategy was to force the hand of lawmakers to finally pass the updated legislation, which has provided greater powers of arrest, prosecution, and longer sentences," says Cameron Sumpter, an associate research fellow at the Centre of Excellence for National Security at the Nanyang Technological University in Singapore, referring to the legislation approved on May 25.
The anti-terror law grants the police wider grounds to arrest suspected terrorists and allows more time for investigation. Authorities can now detain suspects for 14 days before charging them with a crime. After charges have been brought, prosecutors can also apply for various extensions that allow for about nine months of pre-trial detention.
Another example of the crackdown on extremism came on June 22, when radical cleric Aman Abdurrahman, an Indonesian recruiter for IS, was sentenced to death for instigating terror attacks in the country.
Experts say that the Surabaya bombings transformed the map of violent extremism in Indonesia, posing further challenges to the government. With an increasing number of people linked to Islamic extremist movements getting arrested, the country's criminal justice infrastructure is on the brink of collapse and prisons are not only overcrowded but also understaffed.
"It's difficult to say how many of the suspects will be successfully prosecuted, but releases among the roughly 300 prisoners currently serving sentences, and particularly those who have refused to cooperate with authorities while behind bars, could represent significant potential problems for the authorities," Sumpter warns.
RADICALISING FAMILY MEMBERS
Greg Barton, a professor of global Islamic politics at Deakin University in Australia, notes that the Indonesian government, despite the new legislation, has not fundamentally changed its counterterrorism strategy, though it "did sharpen the focus on small groups flying under the radar".
Those small factions, says Andrie of the Institute for International Peace Building, warrant the most concern. Such groups are not particularly sophisticated or well resourced, but their networks are tighter and harder to track down.
"Even though there are so many arrests, there are groups that continue to grow here and there," he says. "They may be small, but they are more militant. They have the willingness and the courage to act. Their power is not as big as, say, 10 years ago – they have less resources and funding. But it's still concerning … These small cell groups can manage to do anything."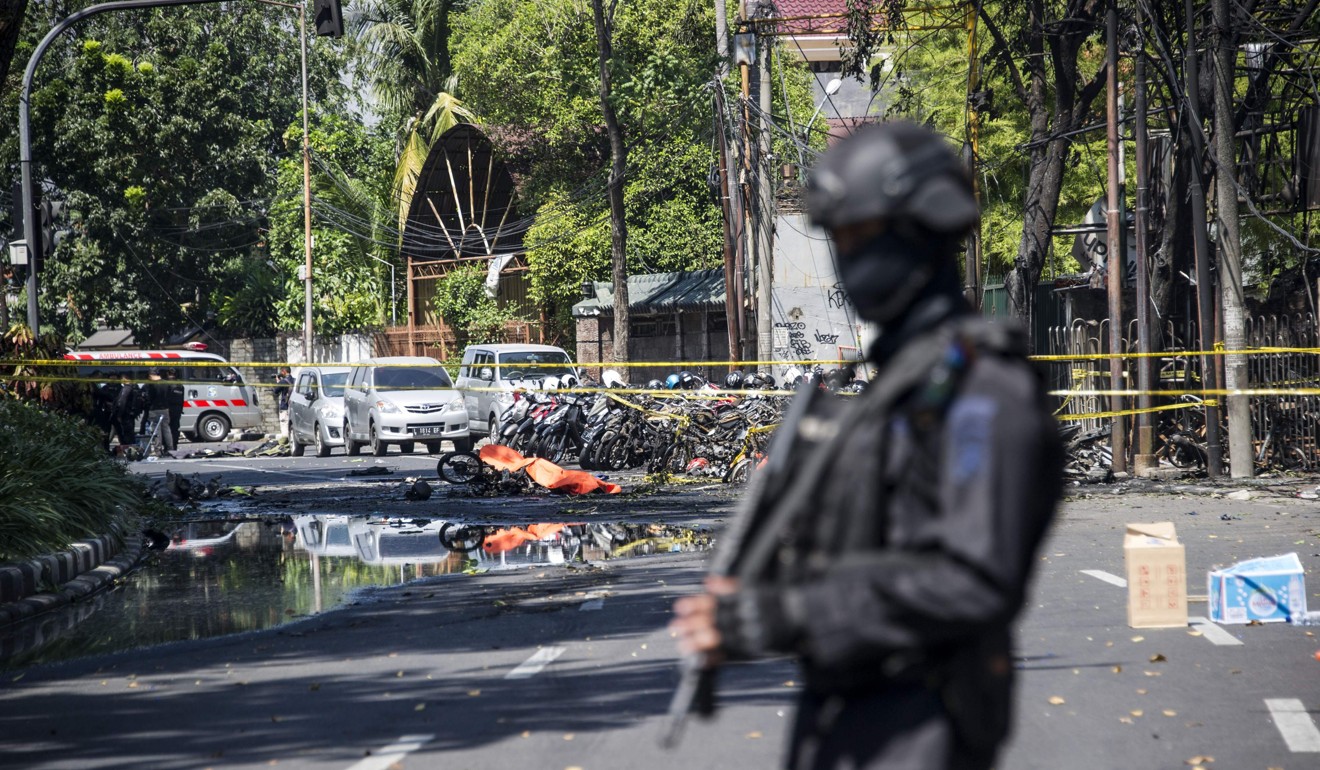 This trend towards smaller terrorist groups has not escaped the notice of Indonesian Chief Security Minister Wiranto.
"Terrorists have modified both their strategies and patterns of attack. They used to act as one organisation, but now their attacks come from smaller units, or from self-initiated plans or lone wolves, also involving women and children," he told a multi-country meeting on counterterrorism strategies held in the Indonesian capital earlier this month, according to the Jakarta Globe.
Andrie says that such groups have been spreading radical ideology though online and offline platforms, particularly among youths. But in recent years they have also targeted their own family members.
"It's easier mostly because of their loyalty. They can control everything under their family. The husband recruiting the wife and the kids makes the planning much smoother," he says.
"This is also worrying, because when we talk about the children, many are choosing to homeschool them. We cannot rely on schools to address this issue."
After the Surabaya bombings, authorities said that several children who had been involved were home-schooled, so their exposure to the outside world had been limited.
According to experts, relatives have also been used as couriers. Those arrested since May have mostly been denied the use of mobile phones in prison, but some have sent messages to their followers through their family members.
Sumpter hopes that the new legislation will help to prevent further attacks where children are used.
"The new legislation includes stipulations on prevention initiatives, which may bring about more effective coordination between relevant stakeholders, who will hopefully increase their attention towards the role of women and the vulnerability of children," the researcher says.
Sumpter notes that the legislation includes a clause stating that individuals who involve children in their crimes will see their sentence extended by one-third.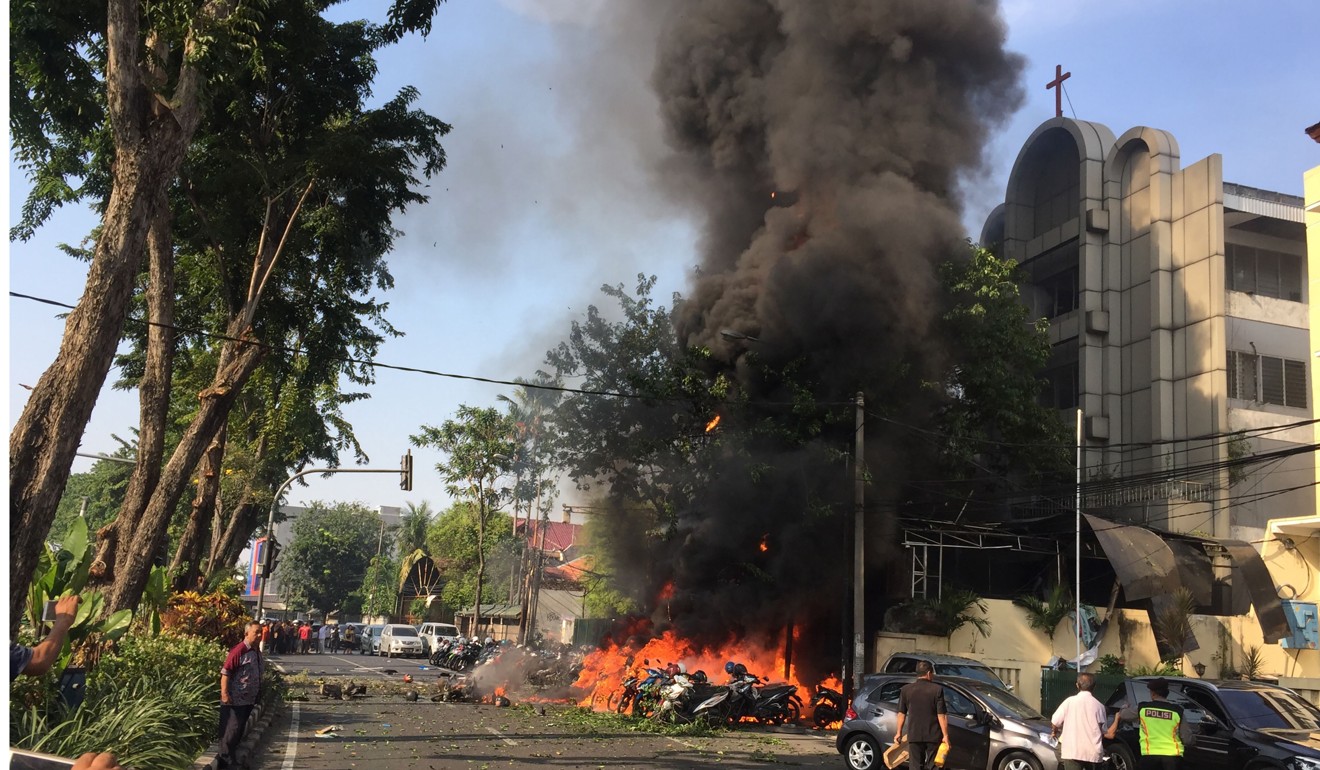 The national police and counterterrorism agency has been engaging with and assisting the families of convicted terrorists for a number of years, but the active role of women in extremist activity is still relatively recent and questions have emerged about the effectiveness of current rehabilitation programmes.
"The repatriation of Indonesian women and children suspected of extremist activity abroad over the past couple of years has obliged an evolution of approach to prevention-type efforts," Sumpter says, arguing that current programmes have much room for improvement. "The tragedies in Surabaya will hopefully lead to more tailored social interventions involving women and young people."
The growing role of females in extremism was highlighted in December 2016, when Indonesian authorities arrested two women who were believed to be planning a suicide bombing at Jakarta's presidential palace and another in Bali.
Last year, IPAC released a report saying that at least 50 Indonesian female domestic workers in East Asia – most of them living in Hong Kong – were turning to radicalism and taking part in extremist discussion groups. Experts warned at the time that even though the number involved was believed to be low, it was something that could not be ignored.
The months ahead, experts say, will be particularly challenging when it comes to security in Indonesia. "We are in an uncertain and sensitive period, especially between now and April's elections," Barton says.
According to Andrie, December and January are traditionally high-alert periods. "This time is a priority for authorities because it has to do with the narrative that the radical groups follow of attacking non-Muslims: Christmas, the New Year's party, things they hate … They still talk about it on online forums. Whether they will do it or not, it's hard to say," he says.
Soon after the festive season, another sensitive time is set to arrive: the presidential election in which incumbent Joko "Jokowi" Widodo will be running alongside cleric Ma'ruf Amin, chairman of the Indonesian Ulema Council and leader of the country's largest Islamic organisation Nahdlatul Ulama.
"I imagine there will be a small number of people who see the elections as an evil process of Western influence and may seek to disrupt proceedings with violence," Sumpter says. "But this year's crackdown on jihadist networks and the likely heavy police presence at campaign events will probably make any potential attack unlikely to meet much success."
Sumpter says he does not expect radicalisation to be among the central campaign issues.
"But if there's an attack leading up to the elections it will surely propel the problem to the forefront of discussions," he says.
Barton also says he does not think extremism will take centre stage in the elections.
"The choice of Ma'ruf Amin as Jokowi's running mate makes it harder for his opponents to exploit this issue. But a lot will depend on circumstances," he says. "A repeat of the Surabaya attacks could change things, particularly if [it] occurs close to election day." ■