AS NORTH KOREAN Foreign Minister Ri Yong-ho met Vietnamese Prime Minister Nguyen Xhan Phuc on Friday, speculation was rife that Kim Jong-un had sent Ri to Hanoi to learn tips on economic reform.
While details of the four-day trip are sparse, South Korea's Yonhap News Agency has described the trip as a fact-finding mission to learn about doi moi, a series of economic reforms initiated in Vietnam in 1986.
Similar to the reforms initiated by former Chinese leader Deng Xiaoping, doi moi, which continues to this day, stresses devolution of economic power under the uninterrupted control of a single party communist state.
Kim, it has been reported in South Korean media, has several times mentioned his desire to emulate Vietnam's economic model during meetings with South Korean President Moon Jae-in.
US Secretary of State Mike Pompeo has also encouraged Kim to look to Vietnam for inspiration.
"Your country can replicate this path," said Pompeo, addressing North Korea, during a July visit to Hanoi following a trip to Pyongyang.
"It's yours if you'll seize the moment. The miracle could be yours, it can be your miracle in North Korea as well," he added.
Le Dang Doanh, a former senior economic adviser to five Vietnamese prime ministers, said it would not be the first time the North Koreans had probed Vietnam for advice.
Doanh himself has been invited to speak to North Korean delegations on economic development in recent years, and from all indications, he said, Pyongyang had been eager to learn from Hanoi's success.
Like North Korea, Vietnam was once a pariah state facing a US embargo in the aftermath of a bloody war against American forces. While the same Communist Party is still in power, Vietnam has since become one of Asia's fastest-growing economies and a strategic partner of Washington.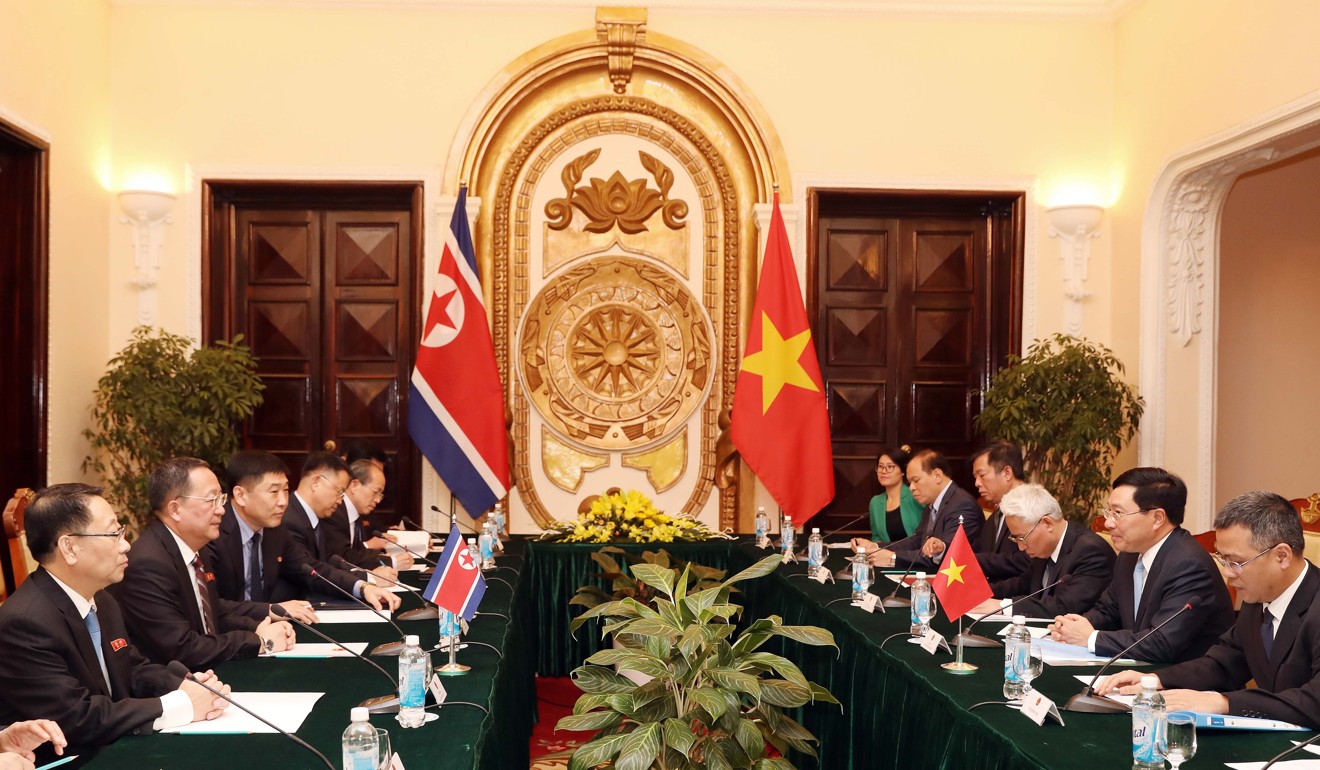 "They could learn how Vietnam has moved to a market economy, and to allow the development of a nascent private sector, but also the experience of being integrated into the world economy, and to develop a multilateral economic system," said Doanh.
What Doanh does not expect, however, is for Pyongyang to move away from a government centred on the Kim family. North Korea has been ruled by the Kim family since its founding, whereas Hanoi's Communist Party has historically opted for collective leadership, with institutional divisions of power enforced within the top echelons of the party.
"I do not think it is the interest of North Korea to adopt Vietnam's collective leadership model, and I do not think it is in Vietnam's interest to spread it," said Doanh.
Carl Thayer, an emeritus professor at the University of New South Wales and an expert on Vietnam, expressed scepticism about North Korea harbouring grand ambitions to imitate Vietnam. While Vietnam's government is based on collective leadership within the Communist Party, he said, North Korea is "dynastic".
"The main aim is not regime survival as in Vietnam but dynastic/family survival," said Thayer.
Nevertheless, he said, some reforms could be on the horizon.
"I think there are signs, perhaps no more than straws in the wind but signs nonetheless, that Kim is considering some kind of economic reforms," he said, adding that any reform from Kim is likely to be modest.
"I do not think he contemplates anything on the scale of doi moi. It would be economic reform with North Korean characteristics," said Thayer.
Zachary Abuza, professor at the National War College in Washington, said the visit may be less of an economic fact-finding mission and more an exercise in damage control. In February 2017, a Vietnamese woman, Doan Thi Huong, was arrested in Malaysia for her alleged involvement in the assassination of Kim Jong-nam, the brother of Kim Jong-un, at Kuala Lumpur International Airport.
Huong, who is currently standing trial in Malaysia, admitted to spraying Kim with the lethal nerve agent VX, maintaining she did so unknowingly as part of what she believed to be a prank.
Vietnam's leaders, said Abuza, were enraged by Huong's alleged role in an assassination widely believed to have been ordered by Kim Jong-un.
"I think we also need to factor in just how angry Hanoi was at the use of a Vietnamese national in the assassination of Kim Jong-nam at the KLIA. My guess is that Pyongyang is trying to repair some of the damage done," he said.
Otherwise, said Abuza, the trip may be part of the legacy relationship between two of the world's only remaining communist states forged during the cold war.
"There are not a lot of places for the respective communist party external relations departments to go," he said.