Mongolian Prime Minister Ukhnaagiin Khurelsukh last week survived a vote of no confidence – but now he must juggle party and opposition interests to retain power and fulfil new promises to fight corruption, and his success or failure in doing so will have lasting implications for the country.
The unsuccessful attempt to oust him follows weeks of unrest in the capital, Ulan Bator, as Mongolians protested against government embezzlement.
Friday's vote of no confidence was initiated by the Prime Minister's own party, the Mongolian People's Party (MPP). Despite the MPP's 85 per cent majority in Mongolia's 76-member parliament, the Ikh Hural, he survived the vote with only 40 parliamentarians voting in his favour and 33 against. This factional public infighting is unprecedented for the MPP, a party long seen as a disciplined and united force compared with the rival Democratic Party (DP).
This vote comes on the heels of a scandal involving 14 parliamentarians, two cabinet members, and other high-ranking officials who channelled more than US$1 million in government funds to their family and friends. The money was intended for the development of small- and medium-sized enterprises (SMEs) that are crucial to the country's development, as it tries to move away from its reliance on mineral resource exports.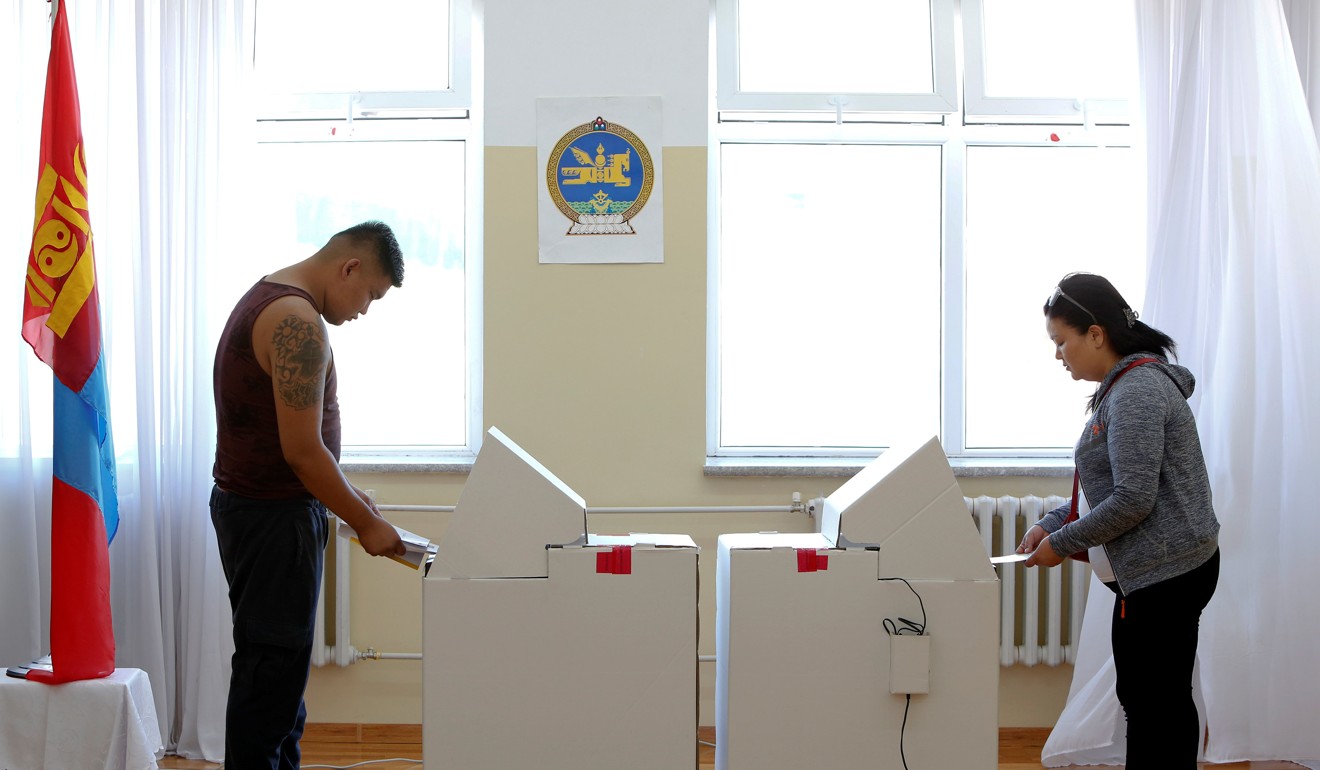 The Khurelsukh vote followed 10 hours of intense debate, where the 27 MPP members who revolted against their party demanded the Prime Minister step down for failing to provide repercussions for implicated politicians.
In a fierce defence, Khurelsukh declared the vote a ploy by MANAN – the Mongolian word for "fog", which is also an acronym combining the Mongolian abbreviations for the MPP and the DP. MANAN refers to what Khurelsukh and others have described as Mongolia's "30 families", an elite group he claims controls both parties.
He alleged that this group, led by current Speaker and former prime minister Miyegombyn Enkhbold, is attempting to topple the government because it is interfering with their business interests. Echoing the populist rhetoric that was effectively used by current President Khaltmaagiin Battulga's 2017 election campaign, the Prime Minister depicted himself as a champion of the people intent on fighting elitism and grand corruption in Mongolia's government.
Mongolians generally perceive their government as having high levels of corruption, and ranked political parties as the country's second most corrupt institution in a recent Asia Foundation survey. The SME scandal has given the public a focal point for their mistrust, and on November 14, protesters braved frigid temperatures to gather in front of parliament to demand accountability for the missing funds.
The Mongolian National Chamber of Commerce and Industry has called on its 3,500 member companies to boycott tax payments until the scandal has been resolved, and is demanding a constitutional amendment to increase public oversight of government finances.
To date, the head of the fund, the state auditor, and the minister overseeing the fund have been dismissed, while others are under investigation. In his comments on Friday, Khurelsukh vowed to audit Mongolia's 20 other state funds in an effort to root out corruption.
Mongolia's leading political commentator, Jargalsaikhan Dambadarjaa, told the South China Morning Post that the turmoil of recent weeks will ultimately lead to "cleaning the public government of its bad features" and bolster democracy. He predicts this will be reflected in the 2020 parliamentary elections when new, perhaps less experienced, members are elected for their outsider status.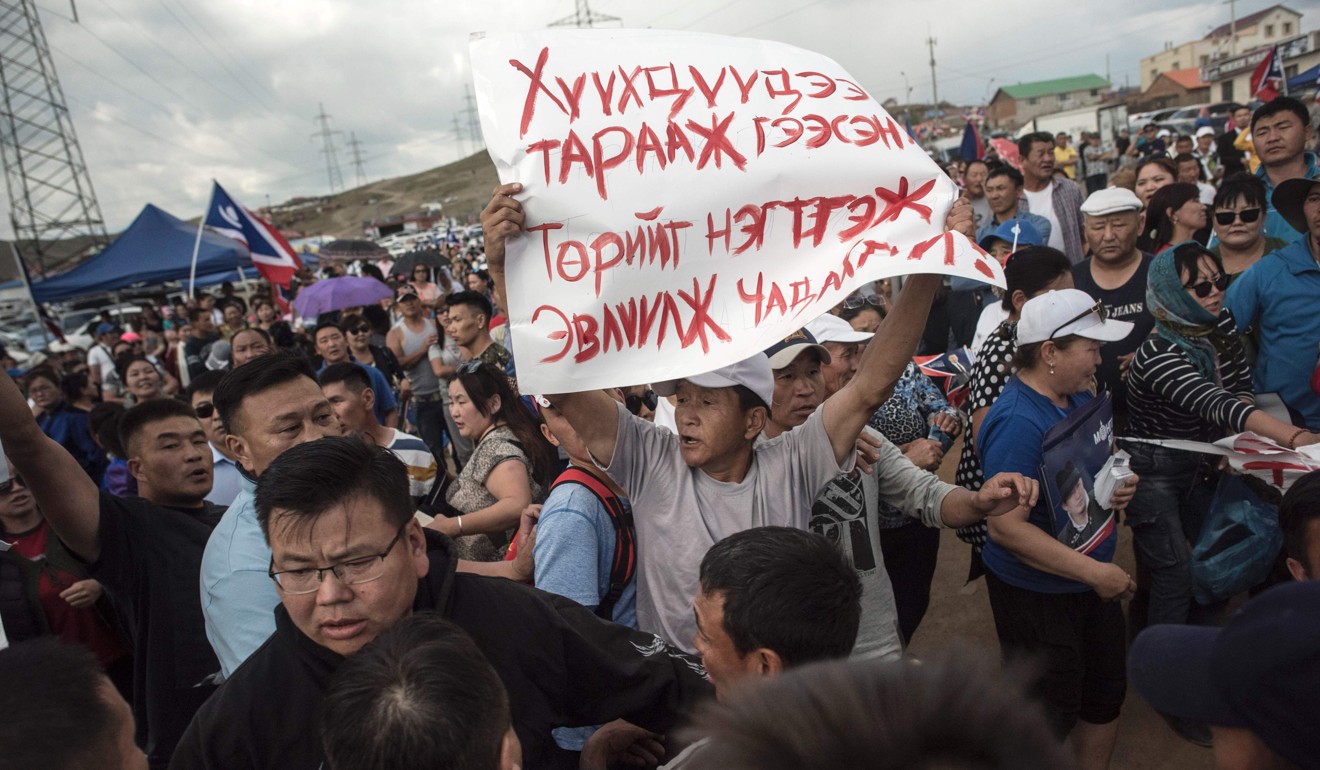 Three members of the opposition, DP, broke ranks to vote in favour of Khurelsukh. Parliamentarian Jalbasürengiin Batzandan has been stripped of his party membership, and in a Monday press conference accused DP party boss Sodnomzunduin Erdene of being a "puppet of MANAN", and vowed to fight to reform his former party.
The two others have been barred from running on the party's ticket in the 2020 election. One of them, Lu Bold, has announced his resignation from DP, leaving it with no official caucus representation in parliament.
While Prime Minister Khurelsukh retained power with promises to address grand corruption, the politicking necessary to save himself in the vote of no confidence may tie his hands. Of the 14 parliamentarians implicated in the SME scandal, eight voted to retain Khurelsukh as Prime Minister.
"The PM has made some difficult bargains to survive the no-confidence vote, both within his party and the opposition," warns Mogi Badral Bontoi, the chief executive of market intelligence newswire Cover Mongolia. "How much the taxpayers will pay for those promises this time is anyone's guess."
Mongolia is no stranger to political turmoil – it has had 13 Prime Ministers in 26 years, which means fewer than half of its prime ministers have served terms longer than two years. A new poll by the Independent Research Institute of Mongolia shows that 70 per cent of citizens are highly dissatisfied with the current political situation.
This instability and predictability has compromised foreign investment to some extent – one example is how mining giant Rio Tinto's copper and gold project has been delayed by disputes over profit sharing and nationalist rhetoric by some politicians.
But relations with its neighbour and largest trading partner, China, remain warm.
Over the past decade, Mongolia has steadily increased exports – mostly copper and coal – to China, hitting a high of US$759.8 million in May this year. As a landlocked country with poor infrastructure, it is hoping to benefit from China's Belt and Road infrastructure initiative.
Officials are also currently working to build a Russia-Mongolia-China economic corridor by modernising railroads and highways connecting the three countries.
"Short-term political instability should obviously be making our investors and trading partners nervous, but this should not affect the government position and outstanding relations with our largest trading partner, [China]," said Bontoi.