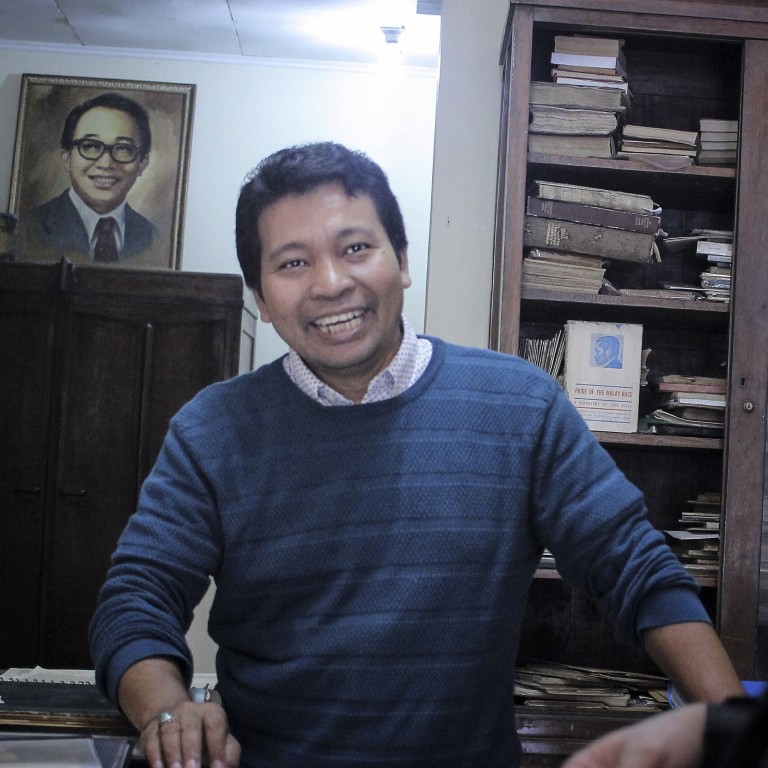 Indonesian Chinese still face discrimination. Can one Muslim make a difference this election?
Azmi Abubakar hopes the Indonesian Solidarity Party can lower the level of prejudice among young people and disrupt older parties' comfort zone
He faces an uphill struggle to get elected in the April 17 polls, but there is hope in the community that his message of tolerance will take root
A
zmi Abubakar is
a Muslim and ethnically Acehnese, sharing a heritage with the residents of
Indonesia
's westernmost province – the only one in the country that enforces Islamic or sharia law.
But for his maiden outing at the April 17 general election, Azmi, 47, has joined a party with progressive views and a commitment towards fighting for the rights of religious and ethnic minorities.
Azmi's membership in the Indonesian Solidarity Party (PSI) is not surprising given his background. He was a student activist who rallied for the downfall of the late dictator Suharto in 1998 when deadly anti-Chinese riots raged across the country.
In 2012, the real estate entrepreneur set up the Museum Pustaka Peranakan Tionghoa (Chinese Indonesian Literature Museum) in South Tangerang city, which houses more than 30,000 books and documents produced or once possessed by members of Indonesia's Chinese community. There are no exact official figures but ethnic Chinese are thought to make up about 2 per cent of Indonesia's population of more than 260 million.
Azmi will be one of PSI's 574 candidates, a small percentage of the 7,968 legislative candidates from 16 Indonesian political parties competing for 575 seats. PSI says about half of its candidates have at least a bachelor's degree, and have held senior roles in diplomacy, law enforcement and the media. Their ages range from 20 to 74. Party members include well-known business analyst Christianto Wibisono and environmental activist Silverius Oscar Unggul.
"The way I see it, I am running for parliament as a representative of the nation, not just as an Acehnese. I am highlighting national issues that should be everyone's problem," Azmi said, adding that PSI's agenda is to end intolerance in Indonesia. This would, he said, include underlining that ethnic Chinese, also known as Tionghoa, have a rightful place in Indonesian society.
Rising intolerance has marred Indonesian politics and society in recent years. For example, there has been a rise in by-laws discriminating against women and minorities enacted by regional governments against the backdrop of growing Islamic conservatism.
Last year, the Indonesian Survey Institute found a slight uptick in Muslims expressing discomfort with non-Muslims building religious facilities or performing religious rites compared with the previous year.
In 2016, public pressure from hardliners led to the downfall of Jakarta's ethnic Chinese governor Basuki Tjahaja Purnama after the widespread circulation of a doctored video in which he purportedly told voters not to be fooled by a verse in the Koran that says Muslims should not vote for non-Muslims. Purnama was controversially jailed for two years and released this year.
PSI was set up five years ago after President Joko Widodo was elected and Purnama, his close associate, took over as Jakarta governor. The party is led by former television journalist Grace Natalie, 36, a vocal advocate of religious freedom. PSI has come out to support Widodo's bid for re-election.
In November, after Natalie pledged that her party would not support discriminatory local laws based on "the Bible or sharia", a politician from the National Mandate Party who supports presidential contender Prabowo Subianto reported her to the police, claiming her position on sharia went against the Koran and was potentially blasphemous.
Political analyst Arif Susanto said PSI's ideas appealed to younger voters, who were thought to be "creative, confident and connected".
"These people grew up in a more liberal setting so egalitarianism and ethical issues are more important to them than to older generations," said Arif, from research firm Exposit Strategic.
But PSI faces an uphill battle to gain votes, for various reasons.
Arif said the political preferences of the more than 192 million eligible voters tended to be conservative, while urban youngsters tended to be more sceptical about public institutions and political activities.
There is already talk that millennial voters, who form nearly half the electorate, might stay away from the polls. Previous elections show young voters are more likely to abstain from voting, and a 2017 survey by the Jakarta-based Centre for Strategic and International Studies found only a quarter of 1,400 millennial respondents had an interest in political news or issues.
Arif said the PSI had no strong affiliation with mass organisations, unlike more established parties such as the National Awakening Party, whose membership overlaps with the Nahdlatul Ulama, Indonesia's largest Muslim organisation.
"PSI seems to be trying to overcome these challenges with the coattail effect strategy from their support for Jokowi. In addition, by recruiting popular figures, they are expecting widespread support from young groups," Arif said, using Widodo's nickname.
Wasisto Raharjo Jati, a researcher at the Centre for Political Studies at the Indonesian Institute of Sciences, said PSI was not expected to win more than 1 per cent of the national vote, according to national surveys.
Indonesia's parliamentary threshold is 4 per cent – a party must capture at least that percentage of the popular vote for any of their winning candidates to enter parliament.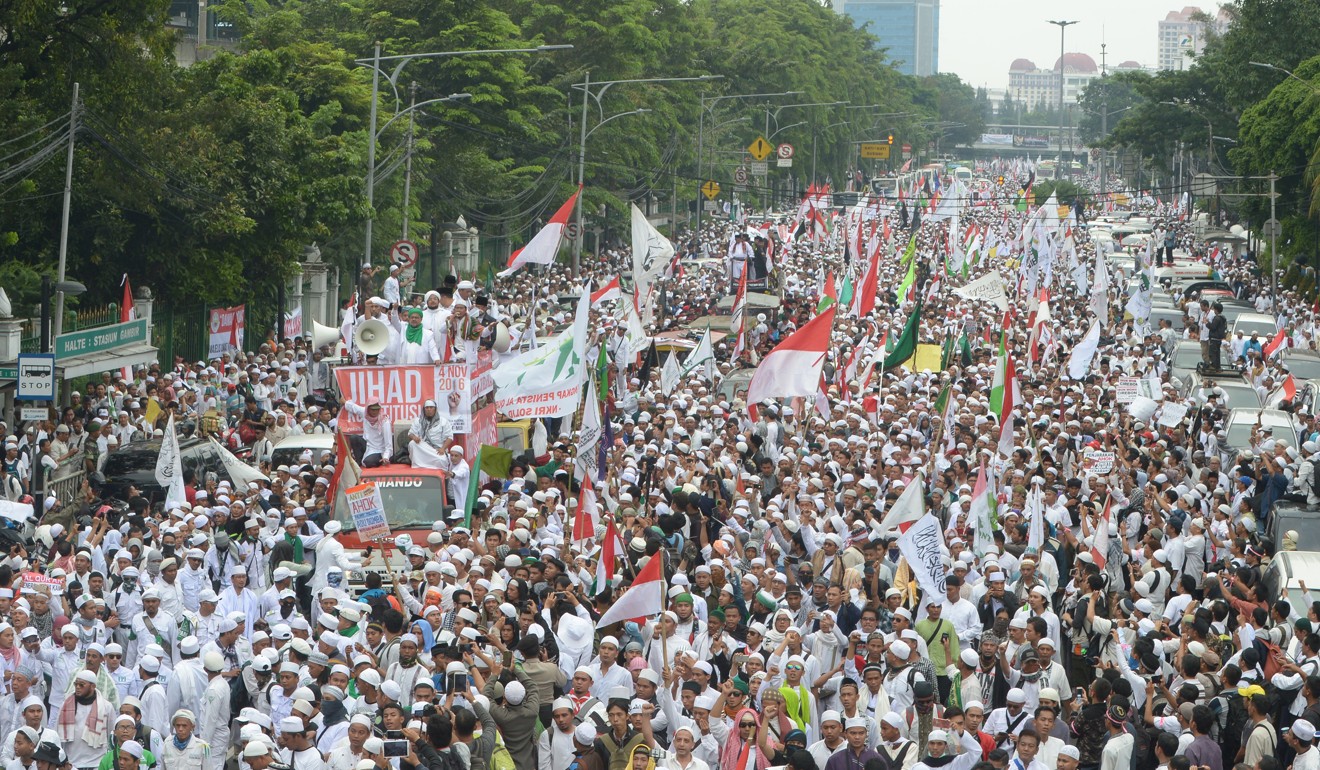 PSI was hoping to capitalise on the young professional and college student voting segments, Wasisto said, but the real issue was whether the party could change mindsets.
"Can PSI lower the level of intolerance among young people? Because when I read various research results, the level of intolerance among young people is high. So it turns out that if they are more settled [in life or in their career], the more intolerant they are," he said. "Here I see some kind of discontinuity between the party's claim and the reality of the demographics."
PSI's value, Wasisto said, was that it was vocal in raising issues that other new political parties had not dared to touch. "PSI also disrupts the older parties' comfort zone."
Azmi acknowledged that "resistance against intolerance" and even rooting out discrimination was a hard sell, and he might very well be rejected at the polls. He is gunning to be one of the 22 representatives of Banten province in the national parliament, and has to woo more than 4.2 million eligible voters across three districts with a healthy mix of Chinese and other ethnic groups, including Javanese and Betawi.
But someone, Azmi said, had to start dismantling set ideas that had been spread through "hoaxes", such as the notions that ethnic Chinese had caused "economic disparity" and a "social gap" in the country.
"These terms are the legacy of
[Suharto's] regime
that are inherent in everyday language until today," he said, in reference to how the Chinese were banned from practising their religion and customs under the strongman leader's regime due to a belief it hindered their assimilation into Indonesian society. Suharto's presidential instruction was revoked by his successor, the late Abdurrahman Wahid.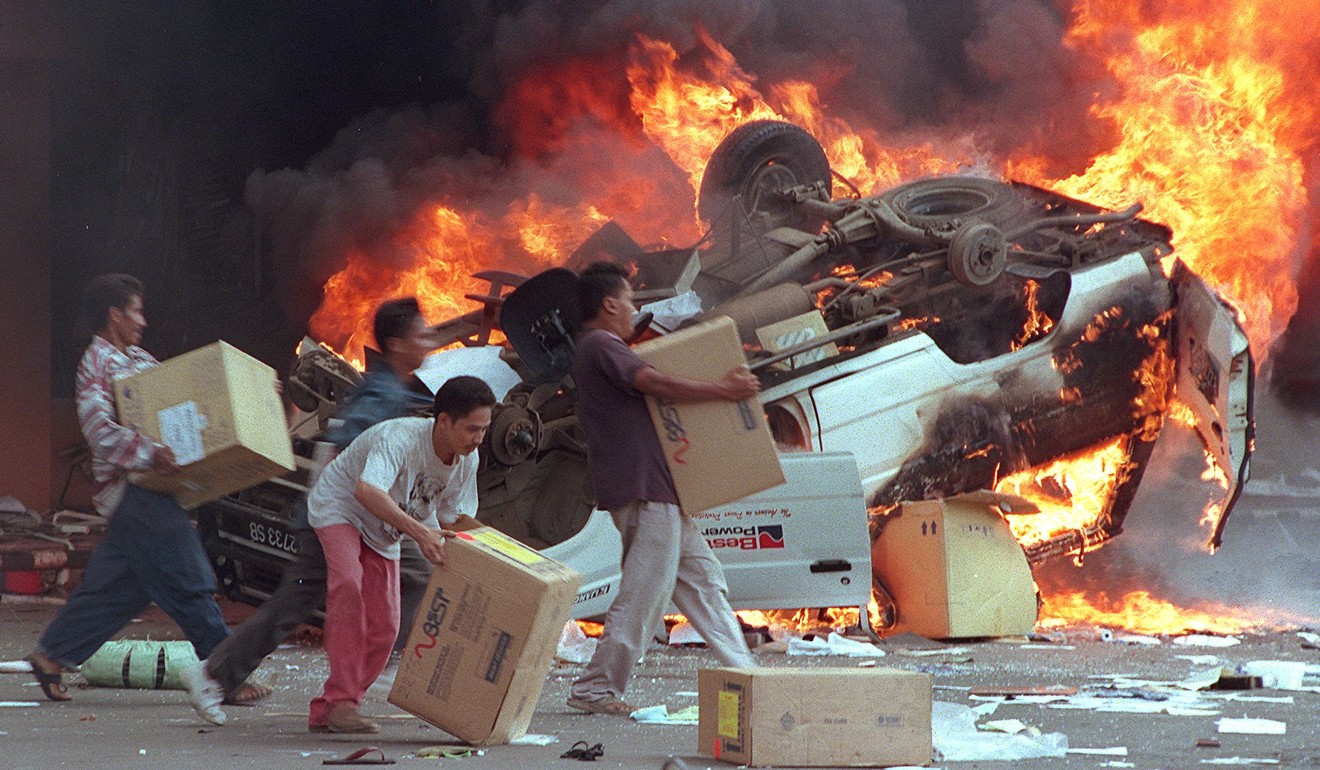 If elected, Azmi will push for an anti-intolerance commission, similar to the government's Corruption Eradication Commission.
Heroes from Indonesia's ethnic Chinese community still do not feature in school history books, he said. "No one asks who the community's heroes are. This cultivates discriminatory behaviour because it fuels ignorance. So this knowledge needs to be accessible … intolerance can be fought with knowledge."
Azmi tries to live this mantra by posting about the history of Chinese Indonesians on Facebook, but sometimes gets comments such as, "How much did the Chinese community pay you for every post?"
"I know these people aren't the majority in society but no one fights back and corrects their views. I fight, but I fight using information. They usually lose … because I talk facts, they talk hoaxes and opinion."
Gabriel Matthew, 23, an ethnic Chinese freelance tour leader who lives in South Tangerang, the seat Azmi is contesting, said the politician was unique. According to Matthew, no politician in the 20 years since Indonesia's return to democracy had said they wanted to elevate the Chinese from being second-class citizens to equals. "If figures like Azmi can be exposed to the public, I hope people like him who have the same ideology dare to come forward," Gabriel said. "In the future, there is no need for discrimination just because of racial differences." ■