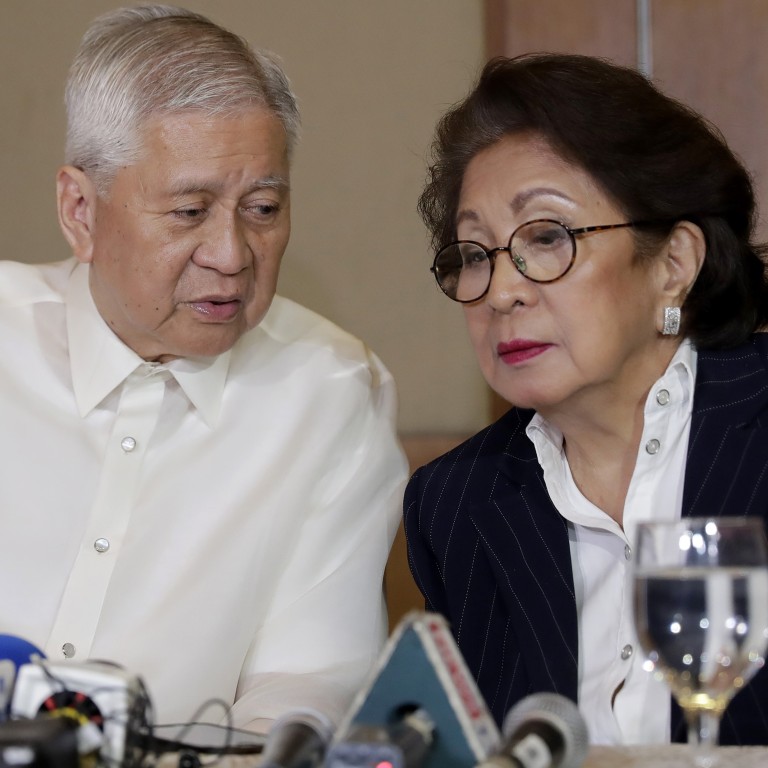 'David vs. Goliath' in South China Sea: Beijing must take us seriously, say ex-Philippine officials seeking ICC probe into Xi Jinping
Albert del Rosario and Conchita Carpio-Morales say their aim is to improve the lives of Filipino fishermen
Beijing says the situation in the South China Sea is stable and the move won't harm its positive relations with Manila
The two former Philippines officials asking the International Criminal Court to investigate Chinese President
Xi Jinping
for his "crimes against humanity" in the South China Sea say their aim is to improve the lives of Filipino fishermen and Beijing should take their move seriously.
Former Philippine foreign secretary Albert del Rosario and former ombudsman Conchita Carpio-Morales filed the complaint last week before Manila's withdrawal from the ICC took effect.
In a press conference on Friday night, Rosales said: "I think if I were China I would take this seriously because this is not our first encounter with them. It's our second encounter and we are very serious about winning this encounter as well."
He was referring to the Philippines legal challenge against Beijing's territorial claims at the Permanent Court of Arbitration in The Hague in 2013. The court ruled in Manila's favour in 2016.
China and the Philippines are among the countries that have overlapping claims in the
South China Sea
. Beijing has stepped up its military deployment there in recent years, leading to close encounters between Chinese and US naval vessels.
In their request, Rosario and Morales accused Xi and other Chinese officials of turning seven disputed reefs into islands in a massive engineering feat, causing extensive environmental damage, and of blocking large numbers of fishermen, including about 320,000 Filipinos, from their fishing grounds.
Del Rosario, who served in the administration of former president Benigno "Noynoy" Aquino III, indicated that the reaction to his and Morales' move was similar to six years ago when many were sceptical that the arbitration case would prosper.
Morales described the ICC request naming Xi, Foreign Minister Wang Yi and China's envoy to Manila Zhao Jianhua, as a case of "David and Goliath".
"That he [Xi] is powerful does not deter anyone to file a case against him. Don't be fascistic. Let's all be optimistic."
Asked by sceptical reporters to gauge their chances of success, Del Rosario said, "It may or may not work but at the very least, we should explore it."
But Philippine
President Rodrigo Duterte
downplayed the significance of the request, pointing out that China was not a member of the ICC to begin with. Neither would this move affect bilateral relations.
At a regular Chinese Foreign Ministry briefing, spokesman Geng Shuang said Beijing appreciated Duterte's statement.
China's position on the South China Sea issue had always been consistent and clear, he said, noting that Beijing's joint efforts with countries in the region had ensured developments in the South China Sea had gone in "the right direction".
"In this context, the actions of a few people to stir up a fuss won't result in any big trouble. Neither will it affect or damage bilateral ties.
"China is willing to work with the Philippines to continue to promote the sustained, stable and healthy development of China-Philippine relations," he said.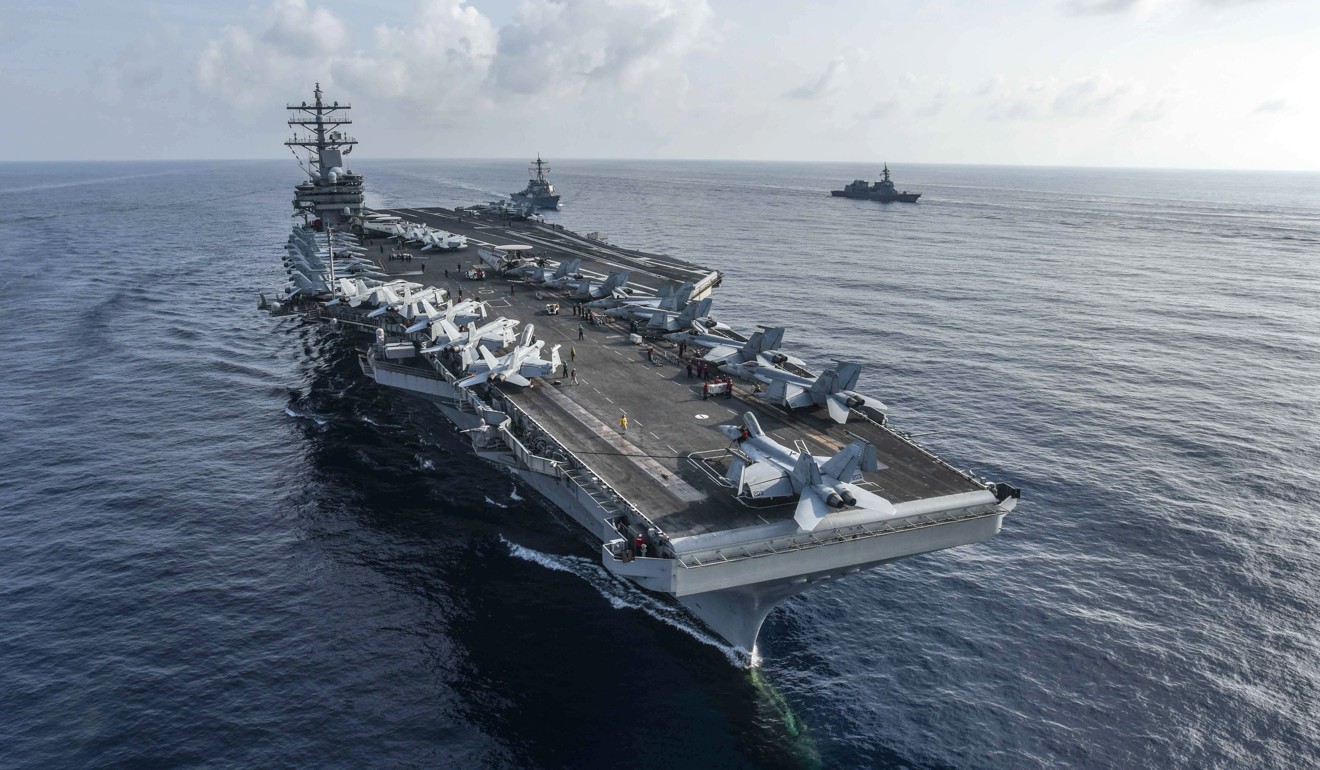 Del Rosario said the decision to name Xi and not Duterte was because the former "directly caused … the building of artificial islands, the deterioration of fishery resources" that harmed 320,000 fishermen".
Both former officials maintained that "while China is not a party to the Rome Statute, the Court can take jurisdiction over Chinese nationals, who commit ICC crimes in the territory of the Philippines, during the time when the Philippines was a State Party to the Rome Statute."
Duterte was not included in the investigation request because he is already the subject of a separate case before the ICC on extrajudicial killings, he said.
He painted a scenario where "theoretically" if the ICC did launch a formal investigation that resulted in a warrant of arrest, this document could be served by any one of the 120 state parties of the ICC. They could compel Xi to go to The Hague to face charges.
If he remains in China, "there are 123 countries he cannot visit for the rest of his life. He has to stay home instead" along with Wang and Zhao, Del Rosario said.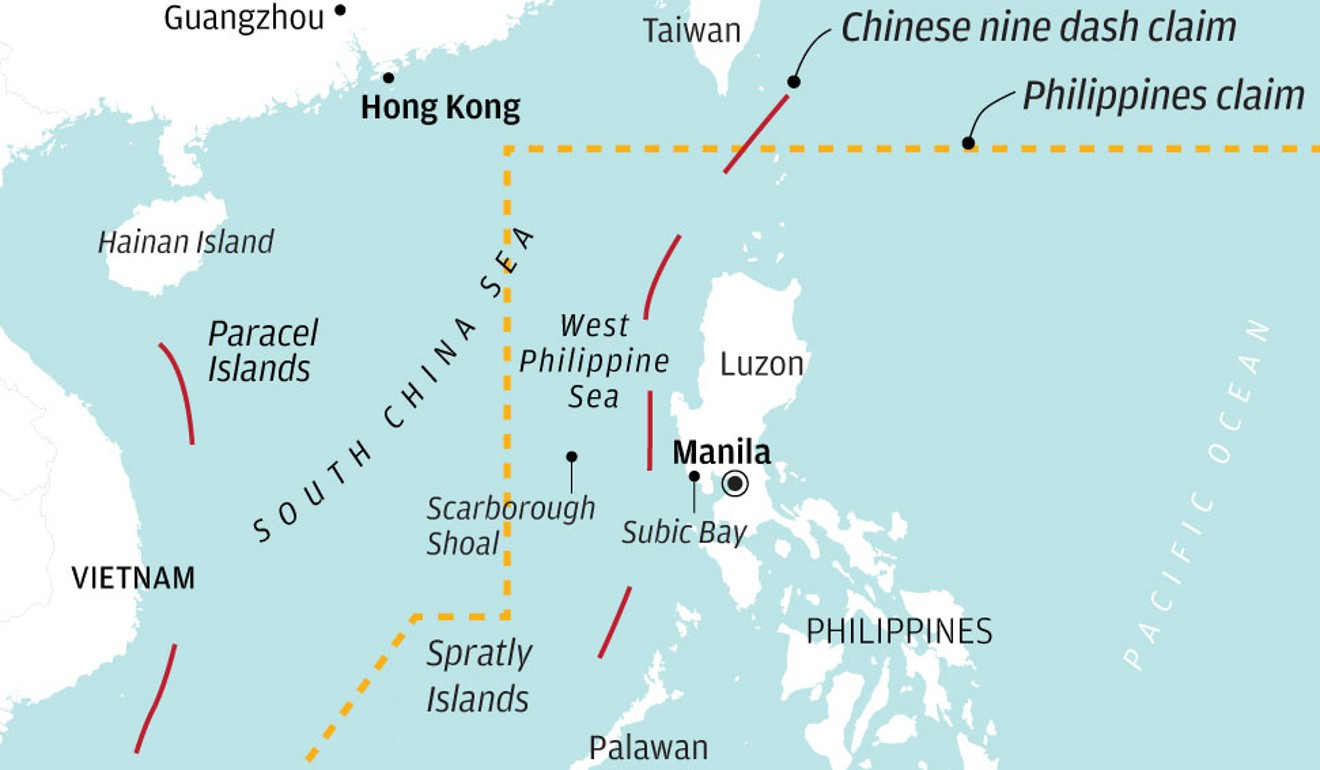 However, Del Rosario added that instead of jail time, the court might impose penalties instead.
"That's not bad if it can be used to improve the lives of our fishermen."
According to Morales, the decision to approach the ICC first came about while Del Rosario "and some of his friends" were having breakfast of omelette, fresh juice and coffee. They mulled over it and made their move before the withdrawal took effect on March 17.
Opposition senatorial candidates welcomed the move of Del Rosario and Morales while those in Duterte's camp remained mum on the issue.
This article appeared in the South China Morning Post print edition as: bei j i ng ur ged to Take court m ove seri o u sly