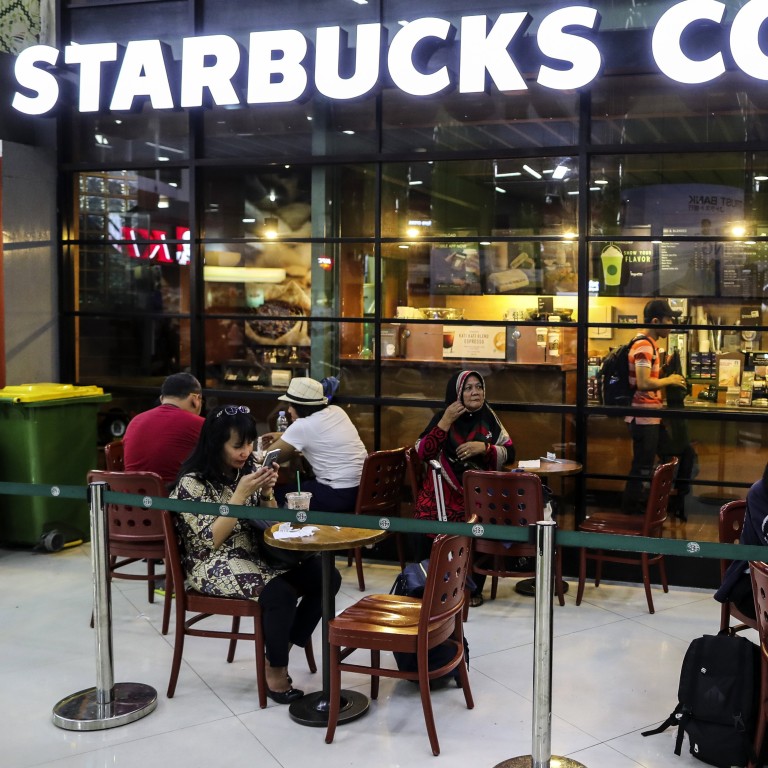 How social media inspired Indonesia's born-again 'hijrah' Muslim millennials
From Islamic reality TV shows to Facebook celebrities, social media is playing a key role in encouraging Indonesian millennials to turn their backs on flawed, sinful lives and embrace religion in a process known as hijrah.
That has raised the hopes of politicians hoping to harness the younger generation's voting power, but there's a problem – some now see democracy as haram
A
s he types
away intently on his laptop at a coffee shop in Jakarta, Andi Mardiansyah looks for all the world like a typical middle-class
Indonesian
millennial.
The IT salesman, 34, embraces flexible working and as it's raining heavily outside, it's only natural that this comfortable spot in the lobby of a five-star hotel might appeal to someone like him.
Except that it was not the rain that brought him here, but a different kind of guidance from above altogether. This is a locally owned cafe that gets Mardiansyah's seal of approval because he prefers not to give his money to Western, non-Muslim, companies like Starbucks. And besides, there is something else about it that strikes a chord.
"I chose this place because they don't play music here," he says, explaining that he recently came to view music as haram (forbidden). "I really don't want to hang out at the malls because of the music, and I would prefer not to drink coffee at Starbucks, but that doesn't mean that I avoid them altogether. If I had another place to go to, I'd go there."
Mardiansyah is among a growing number of young Indonesian Muslims who have chosen to leave behind flawed, sinful lives for purer, more Islamic ones in a social movement that has come to be known as hijrah , which takes its name from the historical migration of the Prophet Mohammed from Mecca to Medina in the seventh century to avoid persecution.
"In Indonesia, hijrah recently shifted from its theological meaning to a cultural one that marks a moment when a person abandons their bad behaviour for a better lifestyle according to Islam," explains Muhammad As'ad, lecturer at the University of Hasyim Asy'ari in East Java. "Those [involved] are typically middle-class young people, particularly university students. They're educated and financially wealthier than people in rural areas, so are more inclined to hijrah as it is popularised online via social networks."
For IT salesman Mardiansyah, the shift in lifestyle has been particularly pronounced. In high school and at university, he had played guitar in a punk band, spending much of his time drunk and high with his band mates and other friends in the vibrant music scene of Palembang, in south Sumatra, and Bandung, a city about two hours' drive from Jakarta. "Before we performed, we used to get drunk backstage. We would use drugs, too. I think the only sin I haven't done is killing somebody," he says, laughing. Even following his graduation, Mardiansyah continued his "sinful" lifestyle when he landed a job in Jakarta, spending most of his free time in the city's many nightclubs. It was not until the middle of 2017, after much soul searching about his purpose in life, that Mardiansyah – father to a five-year-old son – decided to turn his life around.
CELEBRITY WORSHIP
Helping to drive the hijrah phenomena are mass religious gatherings, known as kajian musawarah or (for the biggest gatherings) tabligh akbar , at which local celebrities and popular Muslim clerics broadcast their piousness and encourage others to follow their example. Among those to have attended such events are the cleric Abdul Somad, who has more than 10 million followers on YouTube, Instagram, and Facebook, and celebrities including the actor and former MTV video-jockey Arie Untung, his wife Fenita Jayanti, and the television personalities Teuku Wisnu and Dude Herlino.
While the phrase hijrah has also been used as a rallying call in recent years by Islamist political groups such as the Prosperous Justice Party and now-disbanded Hizbut Tahrir Indonesia, driving the conversions of Mardiansyah and most of his fellow millennials in the world's most populous Muslim-majority nation is a proliferation of Islamic content online, as well as television shows, movies and music. There is even a dedicated television reality show called Hijrah , which tells the stories of public figures who have been born again as Muslims, while in November tens of thousands of people attended a three-day hijrah festival.
However, the involvement of celebrities has made some observers cynical, particularly when famous figures promote their Islamic lifestyles alongside online businesses selling umrah pilgrimage tours and Islam-friendly clothing.
Quinton Temby, a research fellow at ISEAS-Yusof Ishak Institute in Singapore, says one of the debates within the movement is the "commercialisation of hijrah ".
"Many people, including Nahdlatul Ulama [Indonesia's biggest Muslim organisation], are very cynical about that kind of hijrah , which may seem like a way for celebrities to try to rejuvenate their career by claiming to be a born-again Muslim," he says.
"[Hijrah attracts young Muslims because] it promises a redemption, a way to reconcile this tension between how you can be faithful to your religion but also still enjoy the best aspect of globalised youth culture, the aspect that the two main Muslim organisations, Nahdlatul Ulama and Muhammadiyah, can't deliver because they are out of touch and not as savvy online."
Those youth who embrace hijrah do so to varying degrees. Many men, like Mardiansyah, will grow beards and wear trousers that end above the ankles; women often wear a veil. But the degree of piousness depends on the type of Islam they follow.
Mardiansyah, for example, follows Salafism – a strict form of Islam considered by its adherents as the purest. Mardiansyah sees both celebrating the birth of the Prophet and music as haram , to the point where he even burned his acoustic guitar. He is also against doing anything to boost the profits of Western social media companies, though in his eyes using such websites can also serve a legitimate purpose – spreading dawah (proselytising).
"[The hijrah movement] is more like a spectrum, on one side is a form of Islamic revivalism, which is very middle-class and university campus-based and it's just young people seeking expressions of their faith by reconciling Islam and all kinds of youth culture including music," says the research fellow Temby, referring to the Shafi'i school of Islam that is followed by most Muslims in Indonesia. "At the other end of the spectrum is Salafism, which is much more intolerant of some aspects of contemporary culture, especially music."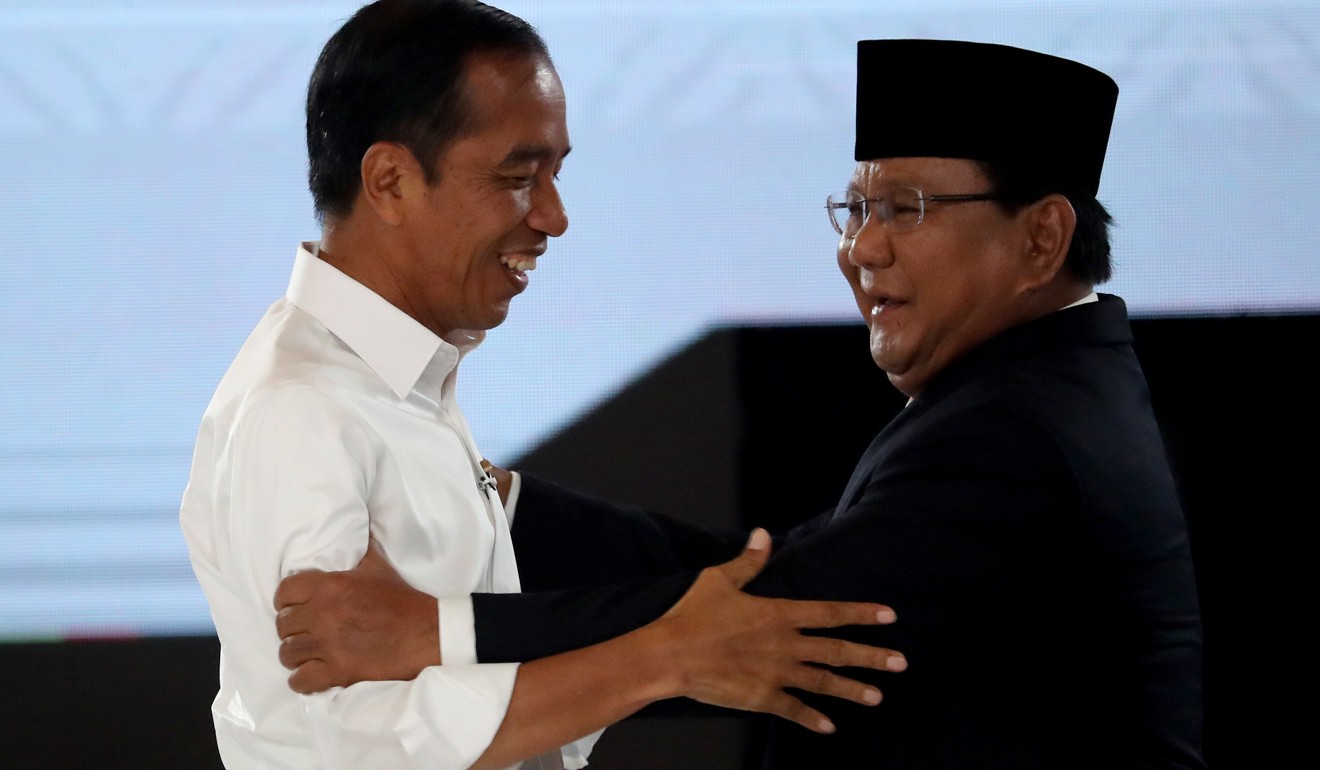 A VOTE WINNER?
Given the country is hurtling towards a
general election
on April 17, the significance of this youth movement hasn't been lost on Indonesia's politicians.
Most analysts think votes from the
hijrah
demographic are likeliest to go to the opposition leader, former general
Prabowo Subianto
, and his running mate, the young tycoon Sandiaga Uno. While Prabowo has been revamping his image as a pious Muslim to gather support from Islamists, Sandiaga has been revamping his as a born-again modern
santri
[student of an Islamic school] – fitting with his liberal background as a successful, US-educated businessman and investor.
"When Sandiaga was first announced as Prabowo's running mate on August 10, 2018, a Prosperous Justice Party leader dubbed him 'a post-Islamist santri ', the embodiment of rising conservatism among the educated middle class, though the appellation was widely ridiculed," notes a recent report by the Jakarta think tank Institute for Policy Analysis of Conflict.
"The Prabowo team began crafting a new image for Sandiaga as a pious born-again Muslim. Stories and images of him praying, visiting the graves of Nahdlatul Ulama's founding fathers and doing non-mandatory fasting began to be widely circulated on social media. By late February 2019, some of his supporters on social media were comparing him to the Prophet Mohammed, who was known as a pious businessman. In one video, it was suggested a divine cloud hung over Sandi's head to protect him from the sun, just like the special cloud sent by God to protect Mohammed when he walked through the Arabian Desert."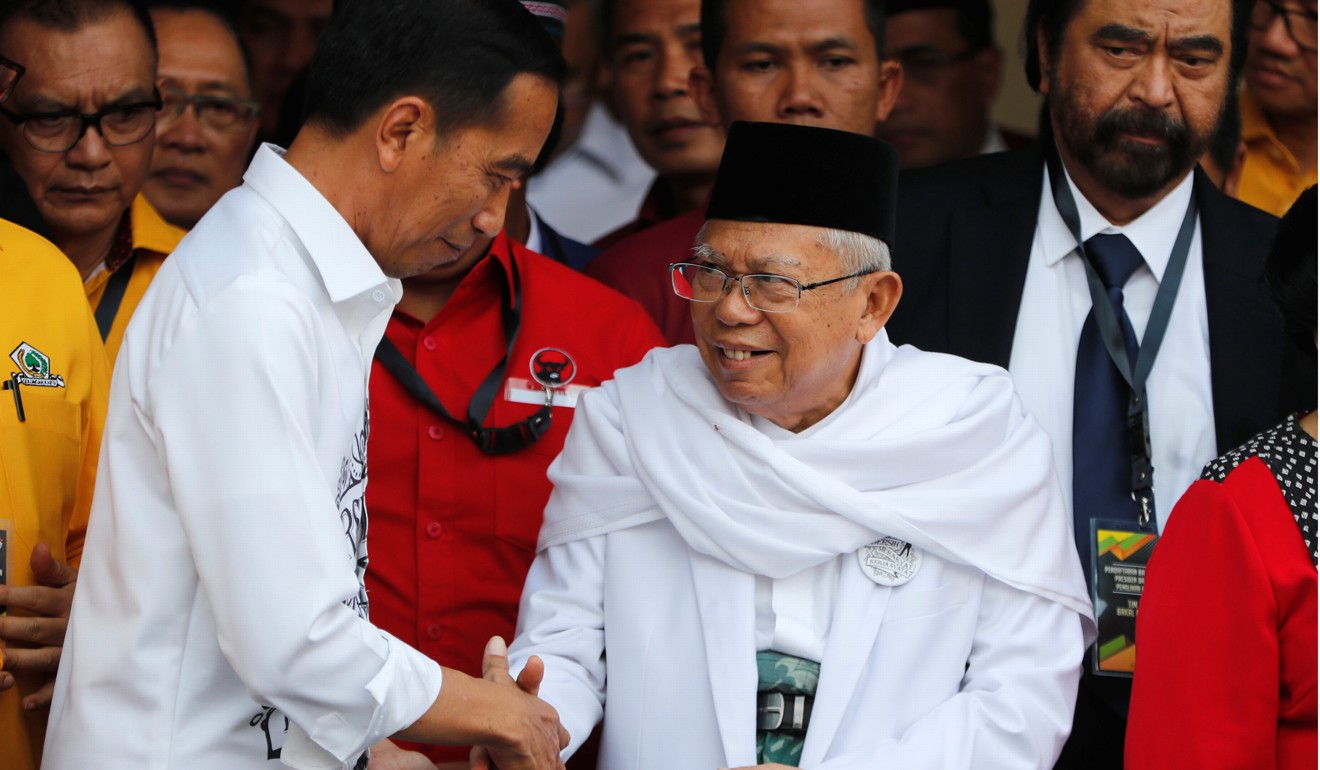 Still, with just weeks to the elections, most polls have the opposition trailing the incumbent President
Joko Widodo
and his running mate, the conservative
ulama
(scholar) Maruf Amin. A survey released on March 17 by Jakarta-based pollster Saiful Mujani Research and Consulting found Widodo leading with 57.6 per cent of the votes, compared to the opposition's 31.8 per cent. Pollster Litbang Kompas last month found a narrower gap, with Widodo on 49.2 per cent and Prabowo about 12 percentage points behind. The same pollster found Sandiaga was more popular than Amin with voters in four out of six age categories, including first-time voters, millennials, and members of Generation X.
"I think that the hijrah movement connects culturally very well with Sandiaga Uno because he is known as someone who has a liberal past but is now religious. From what I've seen he can successfully connect to those aspirational pious young Muslims," says Temby from the ISEAS-Yusof Ishak Institute.
"I think it's one of a number of important factors that will help the Prabowo and Sandiaga campaign. I don't think it will necessarily change the outcome of the election, but it will solidify the support [for] Prabowo and Sandiaga in
West Java
[the country's most populous province], which is where Prabowo beat Widodo in 2014."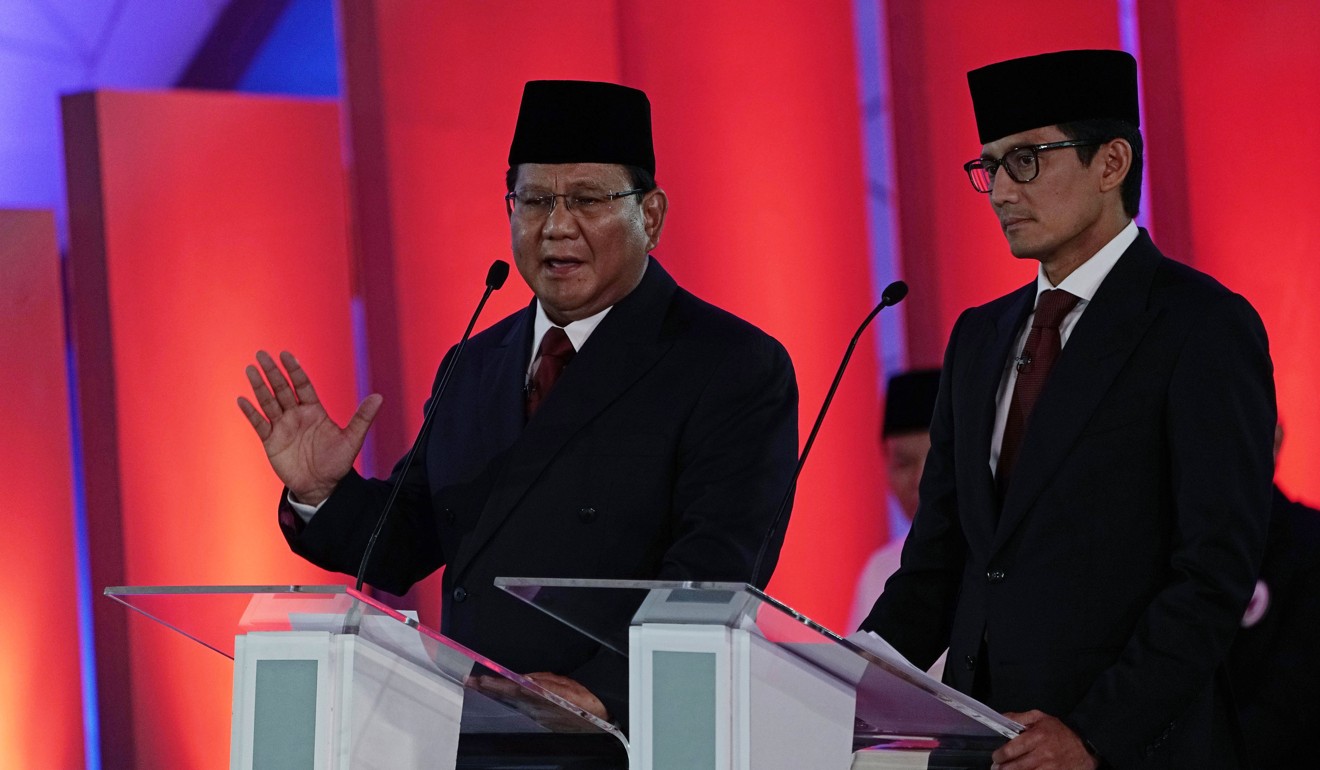 However, analysts say that even if born-again Muslims throw their weight behind Prabowo, they will probably be outnumbered by the members of more traditional Muslim organisations – such as Nahdlatul Ulama and Muhammadiyah – who are more likely to vote for Widodo.
"The turnout from grass-roots voters is likely to be bigger than that of educated Muslim voters, but the poll might be contested in Jakarta due to the influence of the hijrah celebrities who are leaning towards Prabowo," says As'ad, the university lecturer.
And there is another problem for any politician hoping to pick up the pious vote – some Muslims cite their religion as a reason for not taking part in the election. Arya Fernandes, a researcher with the Centre for Strategic and International Studies Indonesia, estimates about 5 per cent of eligible
voters will stay away from the poll
for this reason, including former members of Hizbut Tahrir Indonesia.
And then there are Salafis like Mardiansyah, who have been taught that democracy, with its roots in ancient Greek politics, is by its very nature haram .
"I haven't agreed with democracy since even before my hijrah ," Mardiansyah says. "Whoever the president is won't be able to save the entire ummah [community]. He won't help you to get in to heaven.
"I have never voted in my life, not once." ■
This article appeared in the South China Morning Post print edition as: young reject 'sinful' living to embrace Muslim purity