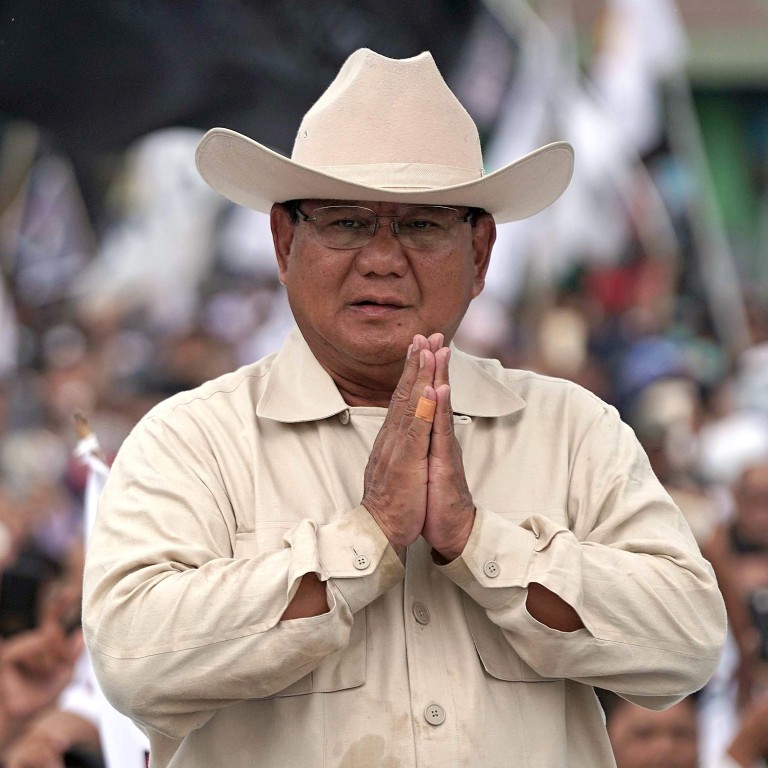 Indonesia election: radical Islamist groups express support for Prabowo Subianto, sparking concerns of further conservatism
Hardline Islamists, including some calling for the establishment of a caliphate in secular Indonesia, have pledged support for Prabowo, a nationalist and moderate Muslim
Experts and activists believe the push for wider implementation of Sharia laws throughout the country will strengthen with a Prabowo win
As
Indonesia
's presidential contender Prabowo Subianto, 67, addressed a massive crowd last Sunday at a stadium in Jakarta, the face of Habib Rizieq Shihab – the hardline Muslim leader of the radical Islamic Defender's Front (FPI) – fluttered in the wind, emblazoned in huge posters.
Towards the end of the rally, Rizieq appeared on a large video screen, listing out 10 reasons why people should support
Prabowo
and his running mate,
Sandiaga Uno
, popularly known as Sandi.
"Because Prabowo-Sandi love and respect ulamas [Muslim clerics] and are against criminalising them," said Rizieq.
Prabowo, a retired three-star general and former commander of Indonesia's elite special forces, left the stadium before Rizieq's speech ended, local media reported.
The sight of Rizieq, whose organisation campaigns for the establishment of a caliphate in secular Indonesia, was a stark contrast to the nationalistic Prabowo, who is known to be a moderate Muslim and comes from a plural family where his mother, brother and sister are Christians.
FPI has been implicated in multiple acts of harassment, intimidation, threats and mob violence against religious minorities, according to Human Rights Watch (HRW).
Several FPI members went to Syria to join
Islamic State
, and were involved in terror activities, such as the second Bali bombings in 2005 and Jakarta Marriot Hotel blast in 2009, a counter-terrorism source told the
Post
.
The group is also notorious for attacking nightclubs, bars and other purveyors of alcoholic drinks, particularly during the annual Muslim fasting month of Ramadan.
Sympathisers of the now-banned Hizbut Tahrir Indonesia (HTI), another Islamist organisation, which campaigns for a global caliphate, have also expressed support for Prabowo.
The outpouring of support from hardline and Islamist groups for Prabowo has raised concern among nationalists, moderates and minorities, including
LGBT groups
, who worry the current trend of conservatism in Indonesia will accelerate.
Just last Monday, Indonesia's Supreme Court upheld an 18-month jail sentence for a 44-year-old Buddhist woman in North Sumatra who was convicted last year on
blasphemy charges
after she said the noise level from her neighbourhood mosque was too high.
The past two years have also seen a rise in attacks against Indonesia's
LGBT community
.
Moderate Muslim scholars and activists believe the push for wider implementation of Sharia laws throughout the country will strengthen with a Prabowo win.
"As an activist of NU, I believe that if Prabowo wins, the political forces that promoted the formalisation of Sharia law – like FPI and HTI, who also promote the establishment of an Islamic caliphate – will strengthen," said Syafik Alielha, referring to Nahdlatul Ulama, the country largest Muslim organisation.
"That is what will threaten the future of democracy and diversity in this country," said Alielha, the founder and director of two moderate Islamic websites, Islami.co and NU Online.
NU claims 90 million followers and is the face of moderate Islam in Indonesia. Ma'aruf Amin, a senior NU cleric, is the running mate of the incumbent President
Joko Widodo
.
"If Prabowo wins ... [there will be a push] for elements of Sharia criminal codes to be part of the national laws," said Ahmad Suaedy, director of Wahid Foundation. "Whether it will succeed or not is left to be seen because the majority may reject it."
Analysts say FPI and HTI, despite their high profile and loud rhetoric, are a small group compared with other Muslim organisations.
Their influence comes not from their numbers but their "framing" of the narrative that Widodo is not "friendly" to Islam to discredit him.
"The members and sympathisers of FPI and HTI are not many. Both organisations have relentlessly been framing [the narrative] that Widodo's government is unfriendly to Islam. It is that framing that has done well and had much effect," said Dodi Ambardi, principal researcher at the pollster Indikator Politik.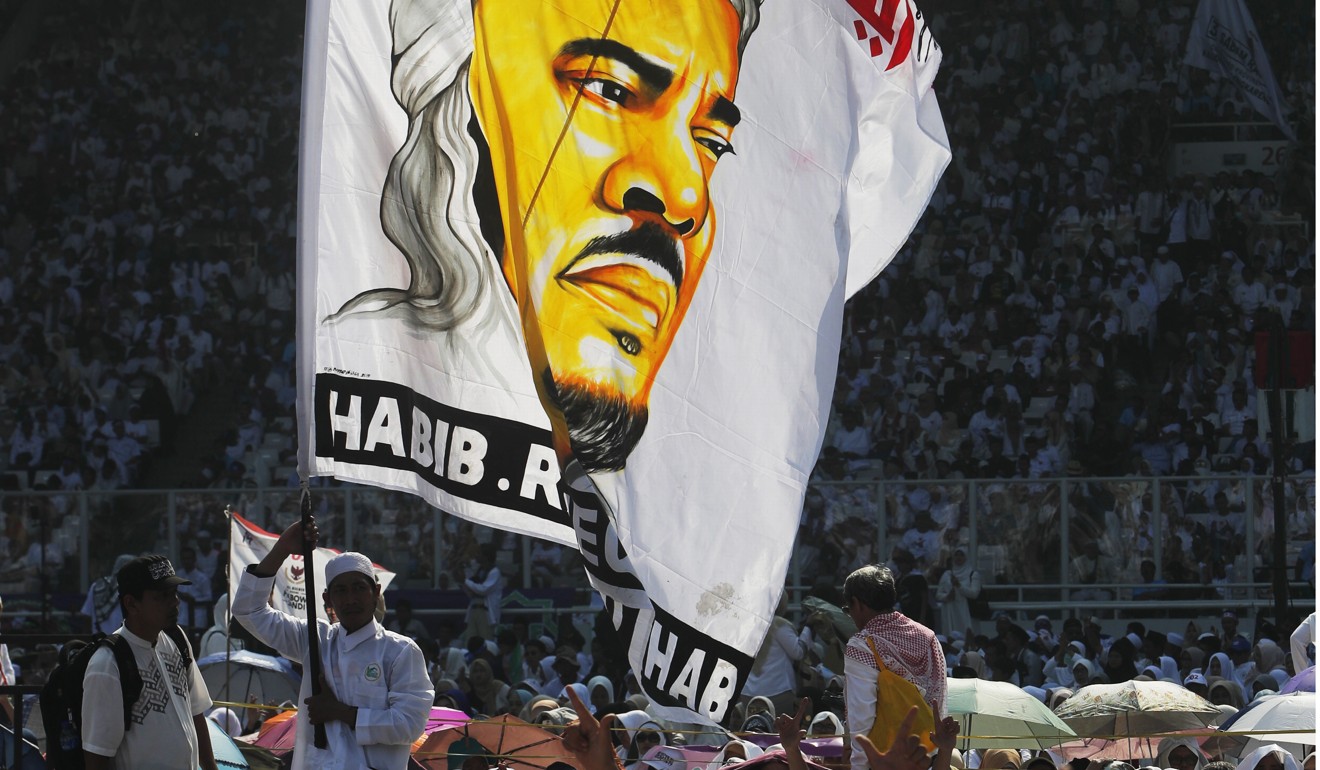 When contacted, the former spokesman of the now-banned HTI, Ismail Yusanto, was at first reluctant to speak but later said he supported Prabowo as he does not "criminalise" Muslim clerics.
He hoped that if Prabowo becomes president, the ban on HTI would be lifted so that the group could continue preaching about Islam from "A to Z".
"I hope that the presidential decree that banned HTI will be annulled if Prabowo becomes president," Yusanto told the Post.
In July 2017, HTI was banned via a presidential decree that gives the government powers to disband groups deemed a threat to national unity.
Prabowo's younger brother and deputy director of his election campaign, Hashim Djojohadikusumo, said no commitment has been given to any Islamist groups and Indonesia will remain a plural state.
"I want to make it very clear, neither my brother or Sandi has ever made any commitments to any [Islamist] organisations of that sort," Hashim in a phone interview from Jakarta.
"I have said on the record, if other organisations and their members want to support us, whether they are the extreme left or extreme right … that is fine, but we will make no compromises," said Hashim.
"My brother is on the record, I am on the record, Sandi is on record [that] we intend to defend and maintain Pancasila as the state ideology.
"There is no mention at all from my brother to abolish Pancasila and to set up an Islamic state … That's never my brother's intention. Never was and never will be," Hashim said. "That's disinformation, slander perpetuated by the other side and we know who they are."
Pancasila, or five principles, is Indonesia's state ideology, which includes belief in god, the unity of the country, social justice and democracy, and which enshrines religious diversity in an officially secular system.
Hashim highlighted his family's Christian background to illustrate the plural and moderate nature of his brother.
"I am a Christian, I am not just a nominal Christian, I am a God-fearing Christian. My sister is a Roman Catholic. Not too many foreigners know that and they think we are a bunch of rabid Islamists," said Hashim.
Prabowo is the former son-in-law of the late autocratic president Suharto, who ruled for 32 years until he was ousted following mass student-led protests in 1998.
According to Prabowo's internal polling, supporters expect him to win by over 50 per cent of the votes, in contrast to other polls, which gives Widodo an 11 percentage lead over his rival.
"We believe we are in the mid-50s to high-50s for the presidential elections," said Hashim.
This article appeared in the South China Morning Post print edition as: radical muslim drive feared if prabowo elected