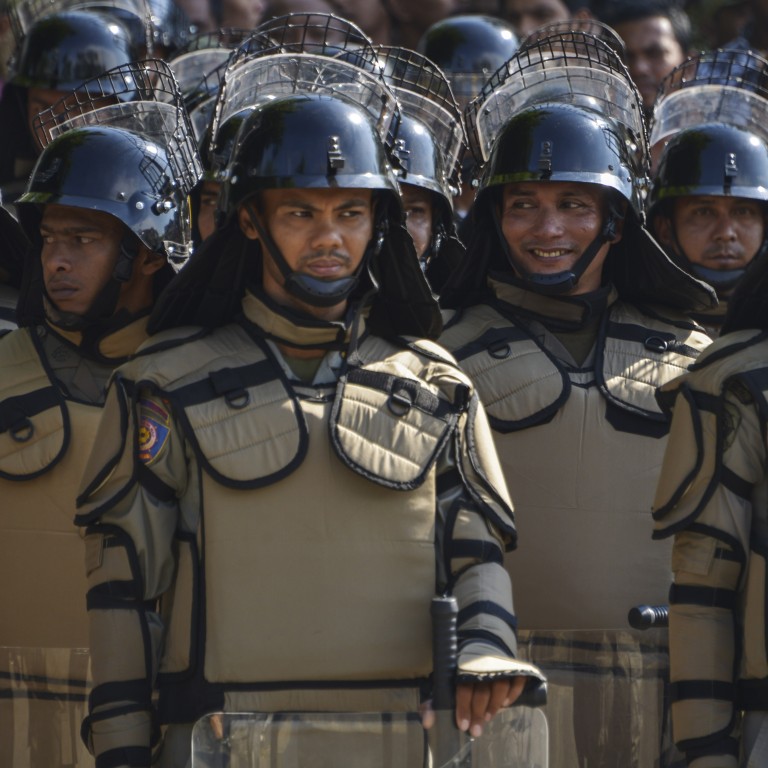 Widodo thinks he won the election, as does Prabowo. Is Indonesia on the verge of a 1998-style uprising?
Initial polls suggest Joko Widodo is set for victory, but challenger Prabowo Subianto has repeatedly insisted he won, accusing the president's party of electoral fraud
With support building for the opposition leader, concerns are rising about the threat of a people-power movement similar to the one against Suharto – this time with backing from extremist Islamic groups
In the past week, the spectre of Indonesia's deadly May 1998 protests has been whispered about with alarm among the intelligentsia as the nation awaits the final count of last week's presidential election.
Memories of that dark chapter in Indonesia have flooded back as Prabowo Subianto's camp has become increasingly restless, with supporters insisting he won the ballot despite exit polls showing him trailing behind incumbent President Joko Widodo.
"Prabowo's campaign team can accuse whoever of whatever," said Adian Napitupulu, an MP from Widodo's Indonesia Democratic Party-Struggle (PDIP), and one of many lawmakers who have dismissed the opposition's claim. "But up until today, I don't see them being able to prove any of those accusations or even show to the public the data that they possess."
Exit polls, which have had a reliable track record in the past three elections,
showed Widodo leading Prabowo by 5 to 8 percentage points
. But Prabowo has repeatedly insisted his party's own internal survey showed he won, with 62 per cent of the vote. He made similar claims in the 2014 election when he lost to Widodo.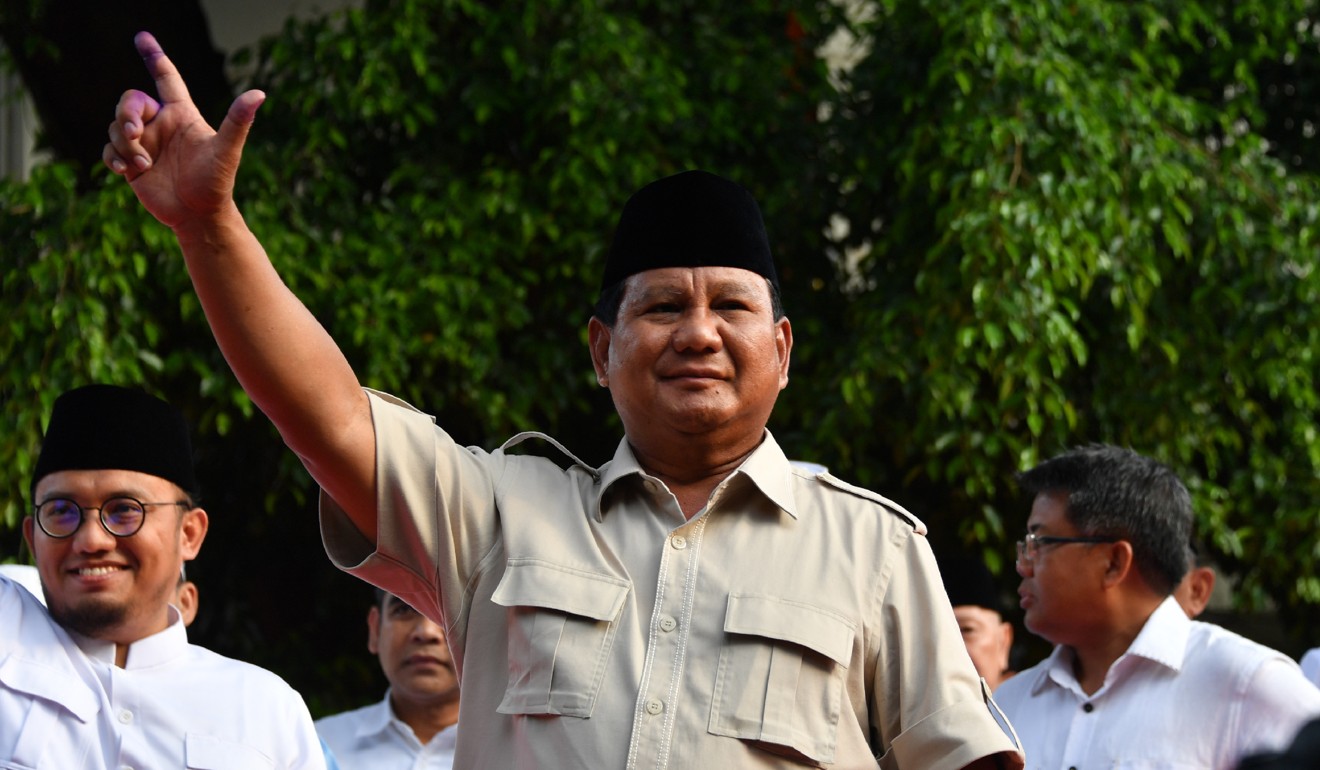 "Don't give up, we won. We will save the future of Indonesians. God is always with us," said Prabowo, who has publicly proclaimed victory three times since April 17 when votes were cast.
Prabowo's ally, Amien Rais, an opposition leader, also called for a show of "people power" if there is any hint of electoral fraud, saying there would be little point in taking such a case to the constitutional court.
Last week, Prabowo's running mate Sandiaga Uno was quoted by local news portal Kompas.com as saying the elections have been "fair , honest and safe", in a departure from Prabowo's stance.
Still, Prabowo's continued challenge has prompted some supporters to even call him "president". Appearing in a video that trended in the news last week, Indonesian writer Tasniem Fauzia Rais introduced him as "our president for 2019-2024".
This groundswell of support has fuelled concern over how the millions of people who voted for Prabowo might react when the Election Commission (KPU) officially announces the results on May 22.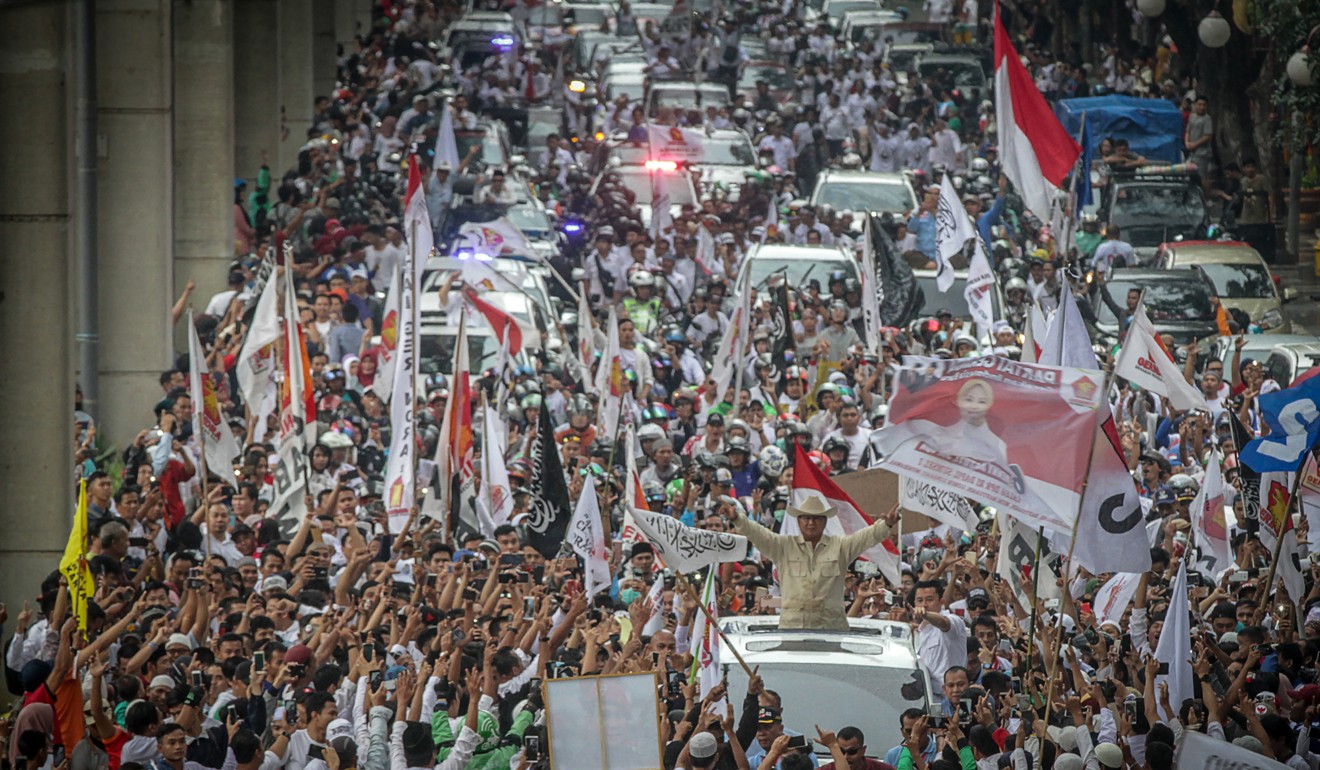 "The short-term risk for Widodo is an attempt to foment chaos in Jakarta through arson, sabotage and violence," former Environment Minister Sarwono Kusumaatmadja warned. "Attempts to delegitimise the Election Commission appear to have failed."
The concept of "people power" has long been an especially evocative rallying call in Southeast Asia.
Mass riots were sparked
in Indonesia
in 1998 after the Asian financial crisis plunged the country into deep economic paralysis. People waged large-scale demonstrations that descended into violence and chaos. An estimated 1,200 people died during those few days in May, now called "Peristiwa Mei 1998", which eventually led to the resignation of authoritarian leader Suharto after 32 years in power. A decade earlier, in 1986, millions in the Philippines banded together to launch a revolution to oust the corrupt regime of Ferdinand Marcos.
The situation today – a combination of restive masses, an adamant Prabowo and calls for a show of "people power" – is potentially combustible, according to an official security source, who spoke on condition of anonymity.
"If a people power [movement] should materialise during or after the announcement of election results, there is little chance of it being peaceful as past experiences have shown it was destructive, resulting in deaths, injuries, damage to property," the official said.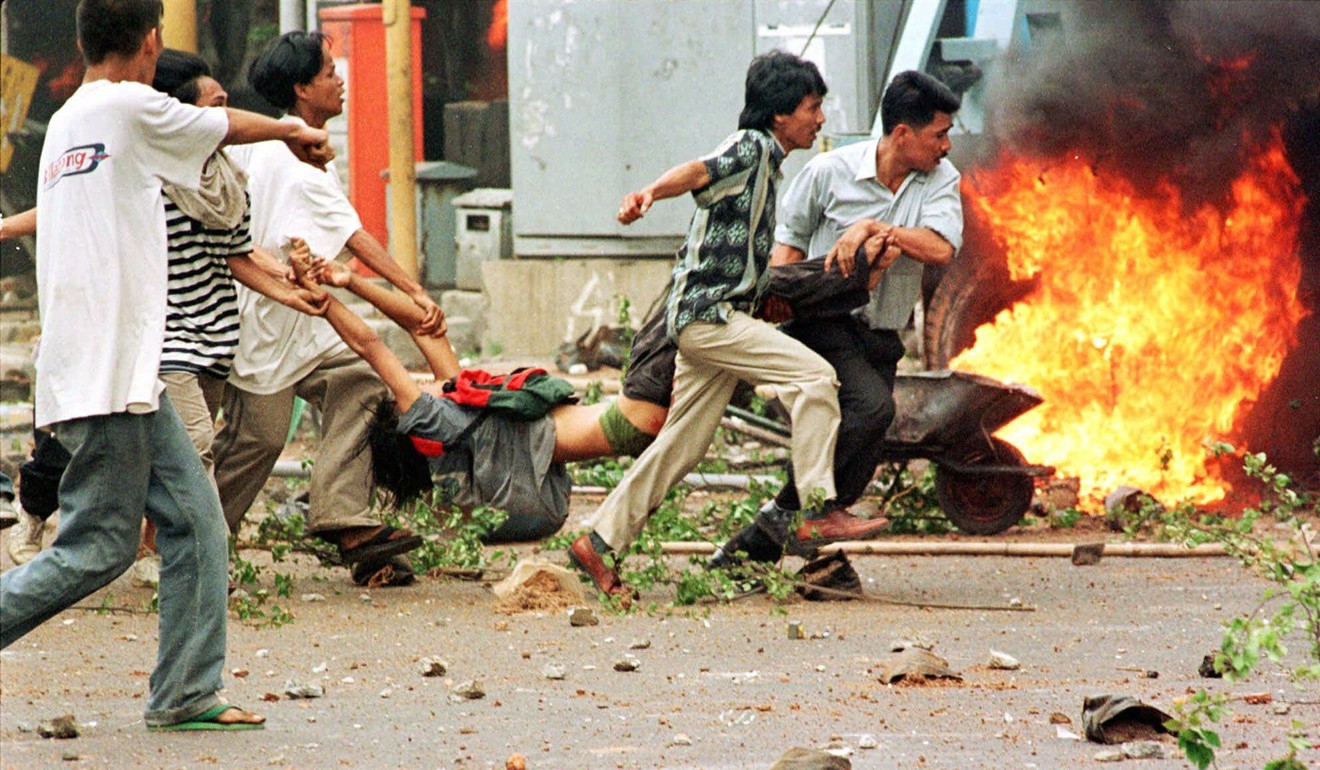 It is unlikely that many politicians and the general public would support a "people power" movement, the source added, with the events of 1998 still fresh in many memories.
"But hardline Islamic groups who support Prabowo, like FPI, and the radical Jamaah Ansharusy Syariah and others are for a people's power [movement]," said the security source, referring to the Islamic Defenders Front.
"They [extremist Islamic groups] view chaos as a situation which will benefit them as they can then get themselves involved on the ground with the excuse that they are fighting infidels."
According to Sofyan Tsauri, a former member of al-Qaeda Southeast Asia, militant groups may even be seeding to take advantage of the social unrest stirring in Indonesia. Across Asia, tensions are especially high following last week's horrific suicide bombings in Sri Lanka.
"Jihadist groups are watching. They are waiting for chaos. They will use a chaotic situation to strike. It is difficult for them to grow without chaos," Sofyan said.
Indonesian authorities have mobilised thousands of police from the provincial headquarters in Maluku, Kalimantan, Jambi and others to Jakarta to strengthen security in the country's capital. A massive military and police presence has been deployed to the iconic National Monument in central Jakarta since last week, in numbers not seen since the civil unrest of 1998.
In an eerie replay of that year, Prabowo is again facing off with retired general Wiranto, currently the country's chief security minister, who warned the opposition that "if there is any mass movement that disrupts public order, we will take action".
In 1998, Wiranto was the head of the country's armed forces and defence minister – the most powerful figure after Suharto. At the time, the general dismissed Prabowo from the military after a special military council found the current presidential challenger guilty of kidnapping anti-Suharto activists.
Prabowo was then the chief of the Strategic Army Command (Kostrad) and the son-in-law of Suharto. He has since divorced his wife Titiek, who remains a staunch political supporter.
"If masses are mobilised, I am confident the security apparatus will be able to handle the situation," said Benny Mamoto, a retired inspector-general of Indonesian police.
"The military, police and Wiranto are sending out a very strong signal to Prabowo that they will not tolerate any extralegal protests and violence," said Zachary Abuza, who specialises in Southeast Asia at the Washington-based National War College.
Speaking with This Week in Asia , a Prabowo spokesman quickly downplayed the calls for a people power revolution.
"We firmly believe in and only advocate for peaceful protest. Pak Prabowo knows that violent protest would only hurt our country and collective interests, and must be avoided by all necessary means," said Irawan Rondipuro, director of foreign relations of Prabowo's Gerindra party. He reiterated that Prabowo's team had uncovered and continues to uncover documented evidence of electoral fraud, resulting in a skewing of the vote count in favour of Widodo.
"If the elections are fraudulent, if it is subject to manipulation and stolen, we will follow constitutional procedures to seek redress," he said. "But if the courts fail us as well, then we must allow the people to express themselves and exercise their right to assemble and protest." ■