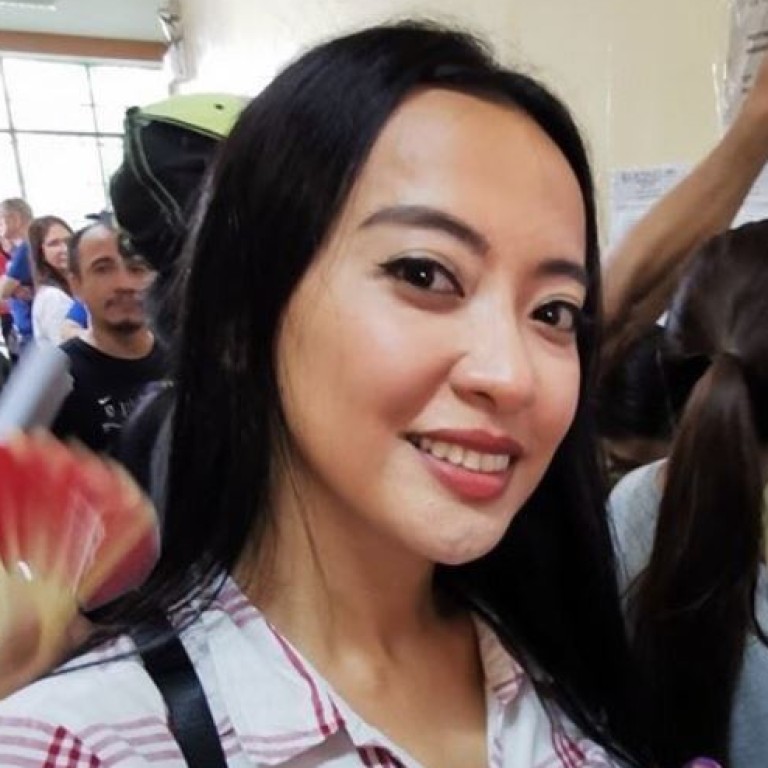 Philippine midterm elections: Mocha Uson, 'queen of fake news', fails to win House seat
The 37-year-old has a varied résumé: she's a dancer, model, sex coach and a former assistant secretary of the presidential communications office
But this week the controversial Duterte ally failed to add 'congresswoman' to the list
With 5.78 million Facebook followers and a
video endorsement
from Philippine President Rodrigo Duterte, blogger and social media influencer Mocha Uson probably thought she could sweep into the lower house in the midterm elections.
But the unofficial vote count as of May 15 showed that AA-Kasosyo, the party list group she joined, received 114,956 votes – accounting for 0.61 per cent of votes cast. A party list is a special interest group that runs to get up to three seats each in Congress.
Several hours after polls closed at 6pm on Monday, Uson made a few Facebook posts about her impatience at the slow count.
She was not alone. Several senators seeking re-election said they would investigate Smartmatic, the provider of the vote counting machines, for glitches during the elections and the slow processing of votes.
On Wednesday, the unofficial count barely moved from the previous day's 95.29 per cent of ballots cast to 96.68 per cent.
Candidates competing for the 12 available seats in the 24-member Senate kept their rankings, including the three incumbent Senators fighting for the 12th and last slot: Nancy Binay, JV Ejercito and Bam Aquino – all of whom hail from political dynasties.
The Commission on Elections has started the official count and is expected to announce this next week, but things are moving slowly, which it has blamed on technology and the slow transmission of data from remote areas to its "central server" in Manila.
The strong showing of Duterte's allies in the elections for both national and local seats are expected to embolden him and cement his influence on the upper house or Senate, which has traditionally been a check on executive power.
Duterte's allies are also likely to dominate the lower house, or Congress, which has lawmaking responsibilities and the power to demand accountability from other branches of government.
But political infighting among his allies is expected and this could delay the election of the lower house's leader, leading to a delay in the approval of next year's national budget.
Duterte has been open about his plans if the candidates he supports win a majority in the upper house: he has promised to rewrite the nation's constitution to shift to a federal form of government, and push through controversial policies, such as lowering the age of criminal responsibility from 15 to 12.
'QUEEN OF FAKE NEWS'
Uson, 37, a dancer, model and sex coach, played a key role in helping Duterte become president.
Her sizeable Facebook following was instrumental in directing streams of disinformation that praised Duterte and attacked his opponents.
Uson also encouraged her followers – consisting of many fans and loyalists of Duterte, a controversial leader who often makes brow-raising statements himself – to harass critics with mocking, insulting and threatening comments.
When Duterte won, Uson was rewarded for her efforts: she was appointed to the Movie and Television Review and Classification Board (MTRCB), which censors films and TV programmes.
She was also appointed assistant secretary of the Presidential Communications Operations Office (PCOO) – where she made overseas trips for purposes that had little to do with her position, and where she committed a series of major gaffes, including propagating fake news.
Some of her blunders include referring to the "263rd article" of the constitution, which only has 18, and flubbing the location of a world-famous Philippine volcano.
Uson also shared a photo of a child who she said was raped and killed by Filipino drug addicts, but who was later found to be a victim from a 2014 case in Brazil. In another post, she accompanied a call for prayers for Filipino troops with a photo of kneeling soldiers who turned out to be Hondurans.
A video she made, ostensibly to promote federalism – a key project of Duterte's – featured a male friend who compared federalism to human genitals.
When called out and mocked, Uson – dubbed the "Queen of Fake News" – was defiant and unrepentant, calling the media "presstitutes".
Uson seemed to enjoy Duterte's favour, but was forced to resign 17 months after she was appointed, after some lawmakers threatened to withhold the PCOO's budget unless Uson presented herself to Congress for questioning.
Commenting on the resignation, Senator Risa Hontiveros called Uson's departure "an extremely belated gesture rendered insignificant in the face of gross incompetence, state-sponsored vulgarity and the proliferation of fake news".
POLITICAL AMBITIONS
After stepping down, Uson floated the idea of entering politics, saying she was "open" to running for the Senate or the lower house.
The party list she ended up joining, AA-Kasosyo, claims to represent the agrarian reform community, but government data has showed it funnelled millions in government funds to bogus non-government organisations.
AA-Kasosyo was formed by a businesswoman who was jailed last December for helping senators embezzle billions of public funds. Janet Lim Napoles, 55, was charged after being exposed in a news investigation.
Uson, who is normally active on her Facebook page, has yet to comment on her failed attempt to enter the lower house.
She was not the only Duterte-linked social media influencer who attempted to enter politics: Jose Gabriel "Pompee" La Viña, who ran for mayor of Cagayan de Oro in Mindanao province, ran against a candidate he called "the most anti-Duterte mayor in the " Philippines. Figures on Wednesday evening showed La Viña trailing his opponent.
La Viña, one of Duterte's campaign managers in the 2016 election, met Alexander Nix of Cambridge Analytica in 2015.
The British political consulting company was the focus of a controversy involving its improper use of millions of Facebook accounts to help direct election campaigns in various countries. Facebook subsequently revealed that it shared data on 1.2 million Filipinos with Cambridge Analytica.
La Viña has admitted to meeting Nix, but denied he had acquired the services of Cambridge Analytica. He said he got some ideas from Nix on how to run a political campaign.
This article appeared in the South China Morning Post print edition as: 'Queen of Fake News' fails in House bid