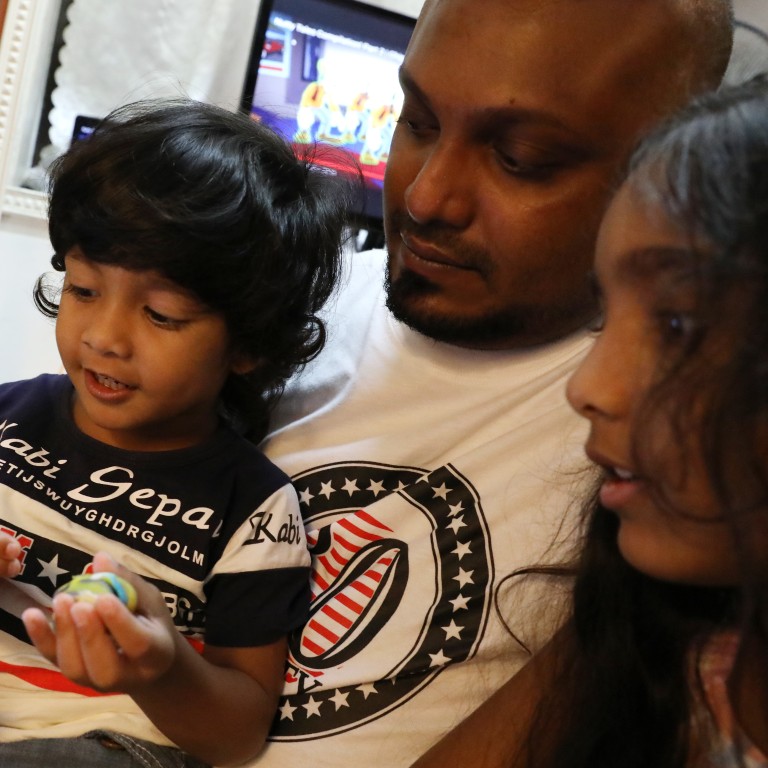 'We don't have a life here': family of 'Snowden refugees' torn apart as Canada considers asylum request
Sri Lankan family in Hong Kong who helped shelter American whistle-blower Edward Snowden say they fear for lives and call on Canada to grant them refuge
They also say that Keana – who has already been granted refuge in Montreal with her mother – should be given the chance to grow up with her father and siblings
"I love you so, so, so much," writes seven-year-old Sethumdi in a text message to her half-sister Keana.
They have the same father and were born just three months apart. But they are now more than 12,000km away from each other, because Keana and her mother, Vanessa Mae Rodel, flew to
Canada
in March after being
granted asylum
.
Sethumdi, who remains in Hong Kong with her parents and little brother – all asylum seekers – dreams about Keana's life. In video chats, she admires Keana's new bedroom and all the toys. She can see through the windows of her half-sister's house a very different world.
Keana, on the other side of the line, tells Sethumdi about her new school in Montreal and the French lessons she has been taking.
But Sethumdi still lives in a cramped flat in Hong Kong, where she has little space to study or sleep properly. She has to share one double bed with her parents and her three-year-old brother.
And she is now raising more questions than ever.
"'When are we going to Canada? Can I also have a bedroom for myself?'", she keeps asking.
"But we don't have answers," says her mother Nadeeka Dilrukshi Nonis, 35. "My heart is in so much pain. We don't have a life here. There's no future for my kids. I hope the Canadian government gives us the chance to go."
WAITING GAME
Nonis and her husband, Supun Thilina Kellapatha, both asylum seekers from
Sri Lanka
, have been in Hong Kong for over a decade. Their two children were already born in the city and they are stateless. They are all
waiting for Canada
to decide on refugee claims that were filed on their behalf in January 2017.
Their story, already marked by persecution in their home country, took an unexpected turn in 2013, when their lawyer, Robert Tibbo, asked them to help someone at risk.
That person was American whistle-blower
Edward Snowden
, who was on the run after leaking classified documents, which shone a light on the extent of electronic spying by the
United States
and other governments.
Snowden, a
former National Security Agency contractor
, was sheltered by this family as well as by Rodel, now in Montreal, and
Ajith
, another asylum seeker from Sri Lanka, who still remains in Hong Kong and is also waiting to receive an answer from the Canadian government.
Their identities were revealed to the public in 2016, soon before the biopic Snowden by Oliver Stone was released. Back then, their lawyer Tibbo justified the move by arguing it would "provide greater protection to them".
The seven have since been under the spotlight – they claim they have been discriminated against by the Hong Kong government, lost their social welfare stipends and saw their protection claims in the city being
rejected
in May 2017.
Now, the life for those remaining in Hong Kong is a waiting game.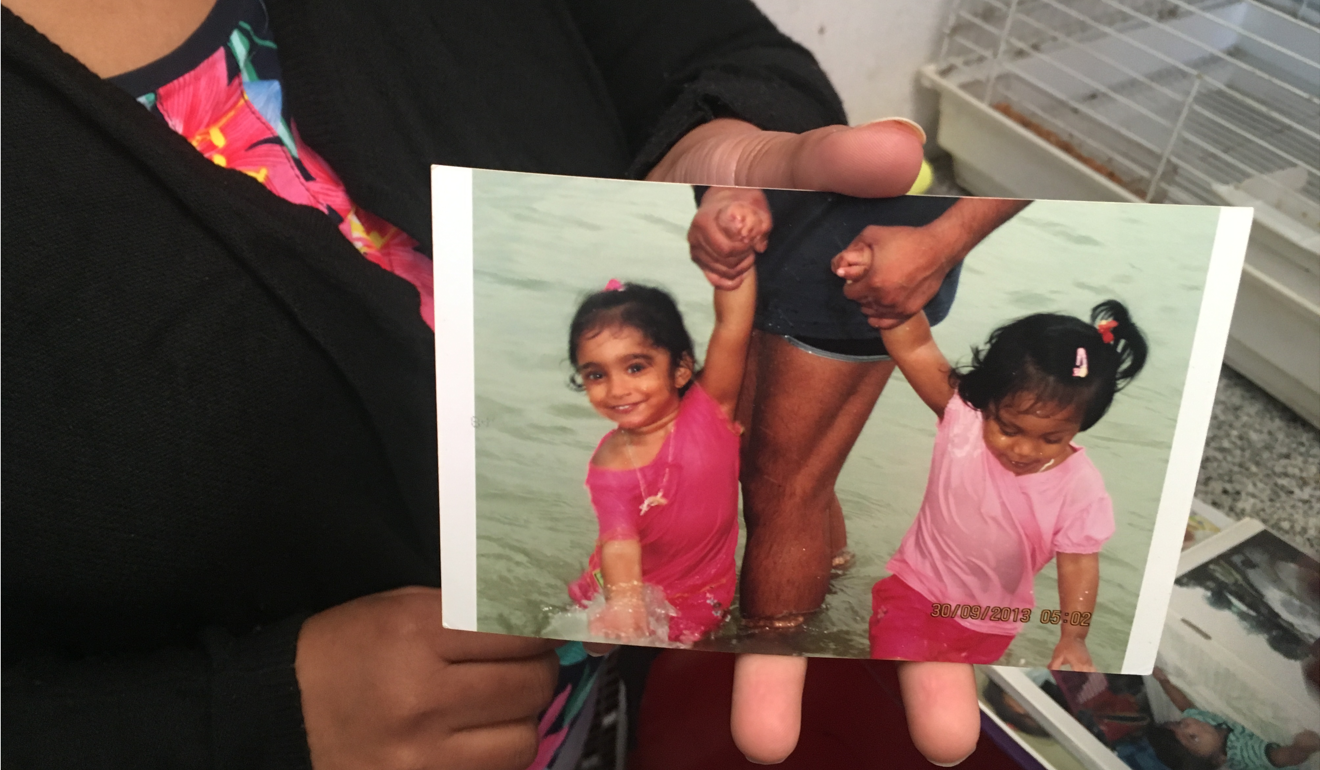 Kellapatha, 34, is glued to his mobile phone more than ever, as his mind drifts between two time zones: Hong Kong and Canada. "Every day, we go to sleep and I think we will have news. Then, I wake up, I look at the phone and nothing has happened. One day is gone," he says.
"I count the days since she left," says Kellapatha, referring to Keana.
He starts talking about how much he misses his daughter, and how Keana, when she was just a few months old, used to lay down in his back and fall asleep.
"I feel happy for Keana. At least she can have a new life. But I also feel nervous and upset, because she is very far away from us, and I don't know if I will have the chance to see her grow up," he says.
Kellapatha and his wife can't help but ask why they haven't boarded the same plane as Rodel and Keana.
"We have gone through a lot. After helping Snowden, we faced several issues. We had to move houses, stay at a very small bedroom at Chungking Mansions. Dinath [his son] lost his kindergarten, Sri Lanka sent
police officers
to find us, and my mother and sister have been harassed in Sri Lanka," he says, describing their ordeal in the past few years.
"Life was tough as an asylum seeker in Hong Kong, but it became much more stressful after helping Snowden," he says.
'SRI LANKA NOT SAFE'
The couple's concerns over their safety in Hong Kong have increased in recent months.
After their protection claim and then appeal were rejected in the city, they filed a judicial review – the last possible legal resort to prevent an eventual deportation to their home country.
But the Hong Kong Immigration Department has recently suggested introducing tougher procedures, which could include allowing the removal of
asylum seekers
from Hong Kong, even if they had filed a judicial review or a legal aid application – unless the court had already agreed to hear the case.
On Easter Sunday last month, multiple suicide attacks by an Islamic State-linked group killed more than 250 people and injured some 500 at churches and hotels across Sri Lanka.
"I came here because my life was in danger in my home country. And to see the recent events on TV have made me even more fearful. I am so nervous and scared," says Nonis, who is Catholic.
"We grew up in some of the places that were most affected by the bombings. It's obvious that Sri Lanka is not a safe country," Kellapatha says.
He claims he fled his country after getting nearly killed because of a relationship with a woman linked to an opposition political party. He then met Nonis in Hong Kong, who also had to leave her home country after being raped and held against her will by government-linked individuals.
They fear what the future may hold, while leading an isolated life in Hong Kong, a city where they have no friends or relatives to turn to.
Kellapatha says there are days when he is unable to fight negative thoughts. He has been hospitalised at least twice in recent months because of anxiety and depression.
They spend most of their time within the walls of their tiny flat, as asylum seekers are not allowed to work in Hong Kong. And they avoid taking part in social activities, not only because they live in constant fear of being targeted, but also because they are easily recognisable – and then they know they will face questions about Snowden and Canada.
"I am alive, but I don't have a life," Nonis says.
"We just want to be normal," says Kellapatha. "I want to be a good father for Keana and my other two children."
"Some parents don't let their children play with Sethumdi because they know about our involvement with Snowden and they are afraid," says Kellapatha.
"Other kids at school tease her because of the colour of her skin. They say it's too dark," says Nonis. "She keeps asking me: can we [she and her brother] go to the same school as Keana?"
FAMILY IN LIMBO
In Montreal, Rodel is getting used to the cold, while slowly learning how to move around in the city. She is grateful for the opportunity to start a new life, but she worries for those who remain in Hong Kong.
"Keana have asked why they did not come with us to Canada," Rodel says. "She really misses them and she really should grow up with her father and her siblings."
Rodel wonders why the Canadian government is taking so long to make a decision. "I am very worried because if they are sent back to Sri Lanka, it's very dangerous for them and Keana may lose her father."
While in limbo, Kellapatha dreams about the possibility of studying again, and Nonis wonders if they will be able to open a restaurant in Canada.
"I would like my kids to have a chance to play with others and be part of society, regardless of the colour of their skin or our story," Kellapatha says.
He recalls laying down side-by-side with Snowden in Hong Kong. "I told him I believed he would have a good future. He laughed, because he thought he could be killed or something. And I asked him: please, talk about the refugees in Hong Kong when you leave," Kellapatha says.