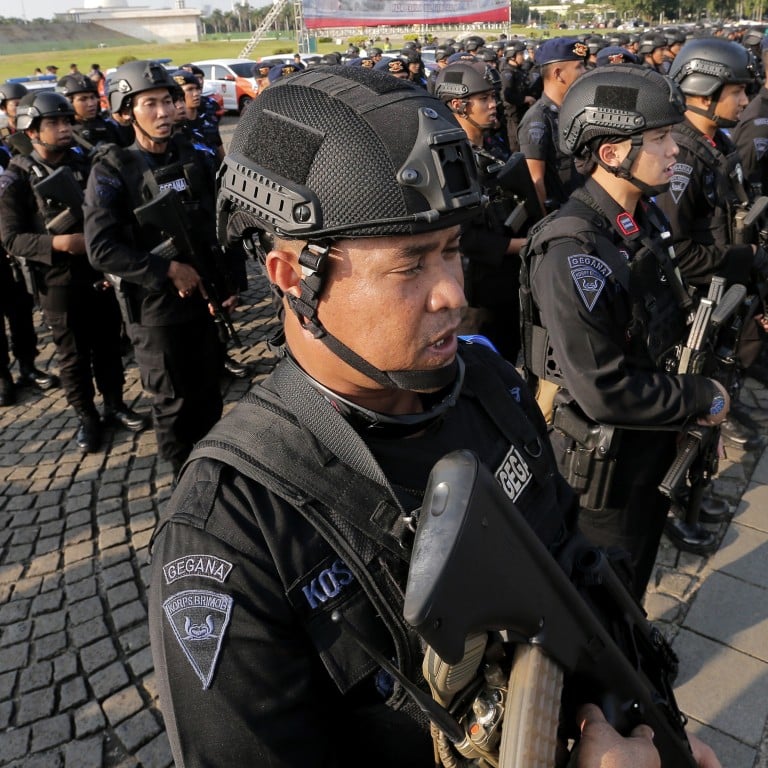 Plot to kill Joko Widodo's most trusted security officials 'meant to create fear' in Indonesia
The post-election assassination plot of Indonesia's top security officials was designed to destabilise Joko Widodo's leadership, security sources say
The plot, which also targeted a prominent pollster, was foiled after police arrested four gunmen and two arms suppliers
Four of
Indonesia
's top security officials were targeted last week in a post-election assassination plot designed to weaken the leadership of President Joko "Jokowi" Widodo, security sources said.
Chief Security Minister Wiranto; State Intelligence Agency chief Budi Gunawan; Jokowi's intelligence and security adviser, Gories Mere; and cabinet minister Luhut Pandjaitan were the targets, Indonesian
police chief Tito Karnavian
said at a press conference.
"The plot to assassinate national figures was meant to create fear," Wiranto said.
The plot, which also targeted a prominent pollster, was foiled after police
arrested six suspects
– four gunmen and two arms suppliers – last week. The head of the hit squad, a man known by the initials HK, was paid 150 million rupiah (US$10,400) to carry out the killings with three others, police said.
Jakarta descended into chaos on May 21-22 during two nights of street battles between riot police and protesters opposed to
Jokowi's re-election
as leader of the world's biggest Muslim-majority country.
The riots were triggered when supporters of defeated Indonesian
presidential challenger Prabowo Subianto
gathered to protest the election results outside the Election Supervisory Agency building in downtown Jakarta.
Eight people died and hundreds were injured.
Had the hit squad carried out its aims, there would have been political turmoil in the country, analysts said.
The targeting of these four officials showed the perpetrator "knew the four have access and a central role in advising the president and helping to shape policies related to security in the country", said Benny Mamoto, vice-director of strategic and global studies at University of Indonesia.
"If the assassination had succeeded, the people behind it would intensify their actions [to riot] as the key [security] people would not longer be around," Mamoto said.
"In general, there would be huge political chaos," said political expert Syamsuddin Haris of the Indonesian Institute of Sciences.
"This would clearly benefit Jokowi's enemies, especially the elites who praise the authoritarian regime of the New Order," said Haris, although he added the group was not likely to be powerful enough to overthrow the Jokowi government.
The New Order refers to the military-backed regime of the late dictator Suharto, who ruled for 32 years before being
ousted in 1998 by mass protests
and widespread civil strife.
An analyst, who declined to be named, said he expected attempts to foment disturbances to continue until October.
"The aim [of the plotters] is to continue stirring up trouble until October when the re-elected president is sworn in," the analyst said.
But other observers expressed confidence that the government would be able to withstand attacks from the opposition and other parties.
"I am not worried at all given the current capability of the Indonesian police," said Yaqut Cholil Qoumas, head of GP Ansor, the youth wing of the country's largest Muslim organisation, Nahdlatul Ulama (NU).
GP Ansor has a paramilitary wing with 5 million members that is on standby to aid the police and military if backup is needed, Yaqut said.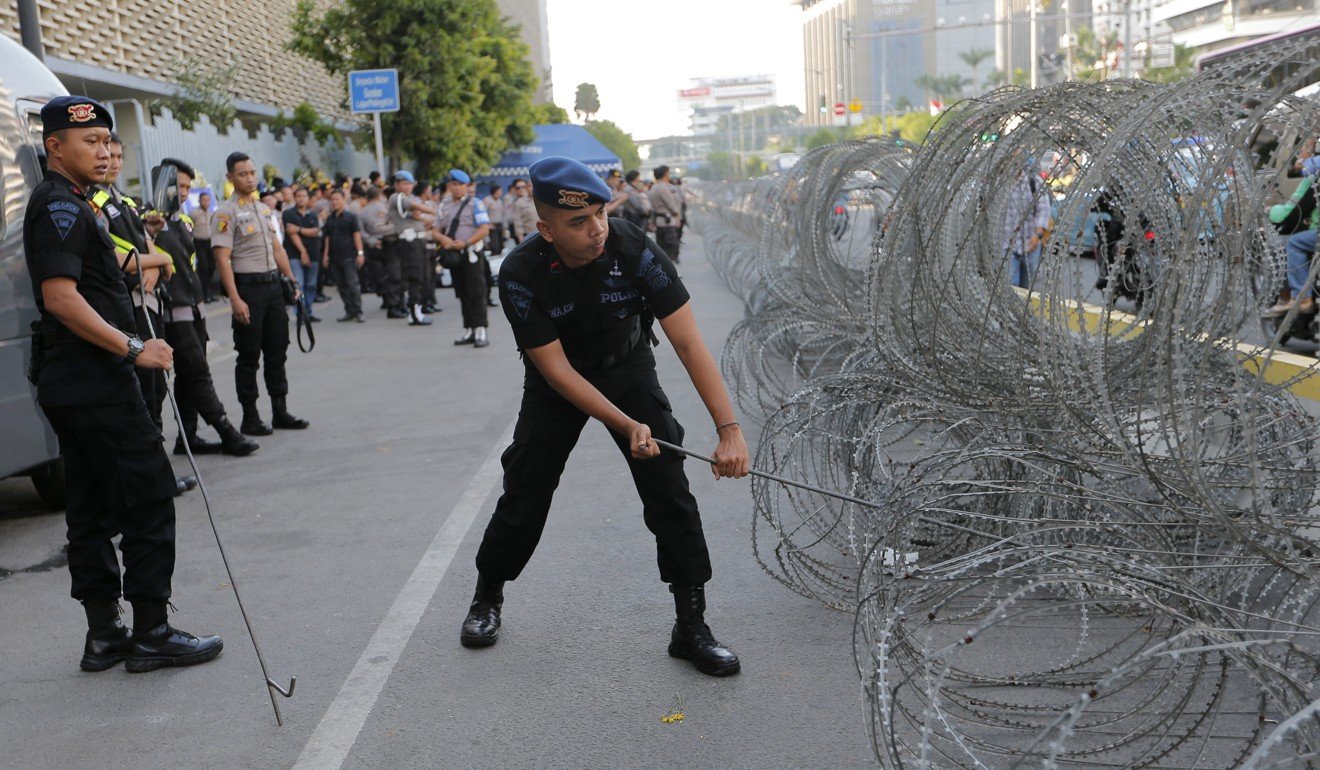 Among the claims was a debunked report that police raided a mosque and another that falsely suggested Indonesian security forces had
enlisted the help of Chinese troops
to quell the civil unrest.
An American resident, Jerry Duane Gray, was arrested on Tuesday for insulting Jokowi by uploading a video accusing his government of allowing "communists" to infiltrate Indonesia with the aim of "taking over" the country.
The video, uploaded last week, later went viral.
Gray said that "Prabowo" was the man who should have become president, and that Jokowi should step down.
Under's Indonesia's broad internet defamation law, creating and spreading fake news is illegal and punishable by prison.
Indonesia's Minister of Communication and Information Technology Rudiantara tweeted from his official account on Tuesday that 2,184 social media accounts were shut down before and during the last week's riots.
They include 551 accounts from Facebook, 848 from Twitter, 640 from Instagram, 143 from YouTube, one from LinkedIn and one website.
On Tuesday, Prabowo flew to Dubai in his private jet with an entourage that included Russian, US and German nationalities, according to immigration officials.
Two of the Russians on the flight manifest, Anzhelika Butaeva and Mikhail Davydov, are representatives from the Russian Parliament Secretariat.