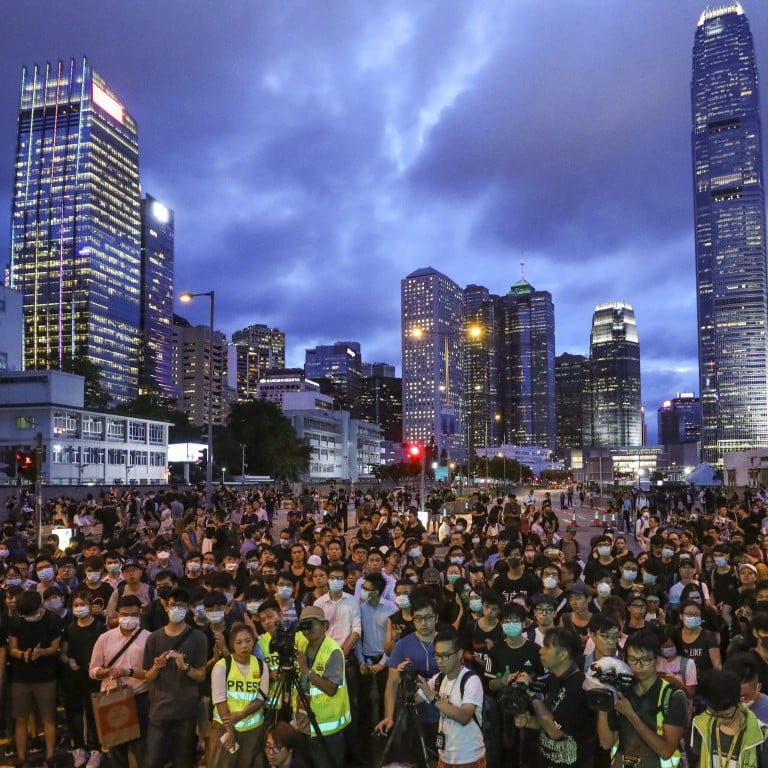 Scoffing in Singapore, praise in Philippines: how Asia sees Hong Kong's extradition bill protests
The mammoth marches that involved an estimated 2 million people have inspired a range of views from the region's citizens and direct action veterans
Some are in favour, and see hope in Hongkongers' audacity – while others run the gamut from shrill condemnation to ambivalence
E
ven for the
likes of
Malaysia's
Hishamuddin Rais, a veteran leader of the country's pro-democracy Bersih marches that repeatedly brought Kuala Lumpur to a standstill in recent years, Hong Kong's mammoth
anti-extradition protests
over the past fortnight have been a sight to behold.
"I mean, I was just so happy to see the young people. So many of them, so capable, and so clear in what they want. Us 'grandaddies' and 'grandmummies' of street politics can only observe and learn from the Hong Kong youth," Hishamuddin, a firebrand civil activist for the last five decades, told This Week in Asia.
Like the self-styled Malaysian rabble-rouser, admiration – even envy – was the prevailing feeling among the citizens, civil activists and political observers of Hong Kong's closest neighbours as they witnessed the city take to the streets in unprecedented fashion to oppose the politically charged
extradition bill
mooted by the government of Chief Executive
Carrie Lam
Cheng Yuet-ngor.
Social media users from across the region also commended the protesters' civil behaviour after they cleaned up after the marches, and on several instances let ambulances pass through streets flooded with people.
However, the adulation was not uniform across the region.
Retired top diplomat Bilahari Kausikan suggested Beijing might need to get involved to quell the street protests.
Civil activists who had led protests in the Lion City, meanwhile, said people in the city state were unlikely to come out in the same manner as Hongkongers because they had been "conditioned" to be apprehensive of direct action.
Large-scale protests are expected to continue in Hong Kong this weekend after the city's government failed to respond to demands to scrap the extradition bill, which would for the first time have allowed suspects in the semi-autonomous city to be extradited to mainland China.
Still, there has been some immediate impact, with Chief Executive Lam issuing a rare apology for attempting to push through the bill, which she has now vowed to indefinitely suspend.
However, the embattled leader continues to enjoy Beijing's backing.
The Beijing unit overseeing the city's affairs, the Hong Kong and Macau office, meanwhile has said it respected Lam's climbdown on the extradition bill, and expressed support for the police force's efforts to maintain law and order.
Chinese officials have expressed deep displeasure over foreign governments' open support for the protests, which they view as outside interference in a domestic matter.
STRENGTH IN NUMBERS
Nonetheless, in the Philippines, some citizens are wondering if they can employ direct action to extract climbdowns from an increasingly assertive China.
Gideon Lasco, a local academic and columnist, said Hong Kong's resistance against the extradition bill offered a fresh perspective on the matter.
"[The Hong Kong protests] can inspire Filipinos to realise that military might is not the only 'power' we have. There is strength in numbers," he said. "There is strength in simply being on the moral high ground, and having other people – or nations – behind you."
Such clarion calls by Lasco and other Filipinos seem to be gaining traction.
In a viral tweet last week, Lasco said: "Incident after incident, it is very clear that Chinese forces are harassing our people, grabbing our islands, and destroying our reefs in the West Philippine Sea. If the citizens of Hong Kong and the government of Vietnam can stand up to China, so can we and so should our government."
Jianne Soriano, who was born and raised in Hong Kong, echoed the sentiment.
Said the 23-year-old: "As a Filipino-Hongkonger, I feel stuck on both sides with a common thread which is China. I agree that what's going on in Hong Kong is about the extradition bill, but also think that the message they are sending to others outside Hong Kong is that they can stand up to a superpower – which is exactly what the Filipino people and even the Filipino government should do."
Moon has maintained silence so far – expectedly, considering the impact any statement could have on ties with Beijing.
US-based South Korean political blogger Jumin Lee said the supportive response towards the Hong Kong protests on social media showed the country's citizens "feel like what happened to them is happening to Hong Kong as well."
SINGAPORE, WHY NO LOVE FOR HONG KONG?
In Singapore, while many lauded the civic-minded behaviour of protesters, few seemed to support their cause outright.
Former ambassador Bilahari's shrill condemnation of the demonstrations on social media garnered strong support from his followers.
"I am sure he would prefer to deal with HK after relations with the US stabilise, and that is not going to happen any time soon," Bilahari said. "The HK people are probably banking on just that."
Office workers in the central business district also expressed limited support for the Hong Kong protests.
"That is their culture. I think in Singapore, even if the government allows it, people won't gather like that. There are other ways [to express dissent] … to make your anger known," said sales executive Paul Sim.
Gilbert Goh, a prolific organiser of small-scale protests in the city state's sole free-speech park, said he was unsurprised by the lack of support for the protests among his compatriots. "I think the [ruling People's Action Party (PAP)] has done a good job. They say 'You come out against us, there will be repercussions' … so people are conditioned not to go against the authorities."
Goh was the organiser of a series of protests between 2013 and 2015 over a controversial government white paper that suggested the country's population could swell to 6.9 million people in two decades. The government later dialled back the significance of the projection, suggesting instead that its expected population figure in 2030 was much lower.
The first of Goh's anti-immigration protests garnered some 5,000 people, widely viewed as the largest demonstration since Singapore's independence in 1965.
Under the rule of the PAP, in power since 1959, protests are rare because of tough rules governing street demonstrations. They are not banned, but require police permits – which have not been issued for political demonstrations for decades.
Last year, artist Seelan Palay served a jail term in lieu of a fine after he was convicted of being "part of a public procession without a permit".
His solo protest, in memory of one of the country's late political detainees, involved performance art in which he walked to three different locations holding a mirror. At one point he stood in front of parliament holding the mirror.
Palay's case has been cited by civil activists to demonstrate what they claim are draconian restrictions on free assembly. Said Goh: "It comes down to culture. Hong Kong, they have a kind of British culture, they believe in protests. Here we are very Confucian, obeying authority. It takes a lot of stirring of sentiment and patriotism to get people to come out."
"There is propaganda that protests will harm stability … but even [founding father] Lee Kuan Yew was involved in protests in the 1950s. Demonstrations were normal in the 1960s until dissent was stifled through laws enacted by the PAP," said the political blogger, who now lives in Taiwan.
Ngerng's open support for the Hong Kong protests has been one of the talking points on social media in Singapore this week. A main cause for the chatter was a picture showing him holding a banner at a Taipei rally last Sunday that said "Don't let Hong Kong be like Singapore where people live in fear".
PEOPLE POWER
A second bout of demonstrations, dubbed "People Power 2", toppled Joseph Estrada as president in 2001. Estrada was imprisoned for plunder but was subsequently released and served for a period as mayor of Manila.
Political scientist Maria Ela Atienza of the University of the Philippines Diliman suggested the country was suffering a "people power fatigue" because of a lack of progress arising from the two major social movements.
Hong Kong's latest protests were "laudable" in that they managed to galvanise a "united front" of students, professionals, the religious sector, and even mothers, the professor said.
Prominent pro-democracy columnist Pravit Rojanaphruk in a commentary this week said young people in his country were reticent to take to the streets after having borne witness to how "reckless and irresponsible protest leaders on both sides" put people in harm's way during erstwhile clashes.
"While rights to demonstration are fundamental to a democratic society, as seen in Hong Kong this week, Thais now seem keen to see other avenues for political action used up first," Pravit wrote. "Massive street protests will only return to Bangkok when all other channels for political action have been exhausted."
Hishamuddin, the Malaysian veteran activist, said what he witnessed on television screens beaming live images of the Hong Kong protests reinforced time-tested fundamentals of direct action.
"In Hong Kong, they are defending their democratic life – a core part of their identity. In Malaysia, we were fighting for free and fair elections," Hishamuddin said. "Whatever it is, when you go out on the streets, you must have a clear key objective that strikes at the heart of Mr and Mrs Ordinary.
"We are seeing that in Hong Kong today … the young people know what they want. There may be difference in opinion on tactics, the struggle between [hardline and compromise] methods. But what is clear is that this trend of street protests is not going anywhere in Asia. We will not see the last of it, in Hong Kong or elsewhere."
Additional reporting by Crystal Tai