Malaysia
Get more with myNEWS
A personalised news feed of stories that matter to you
Learn more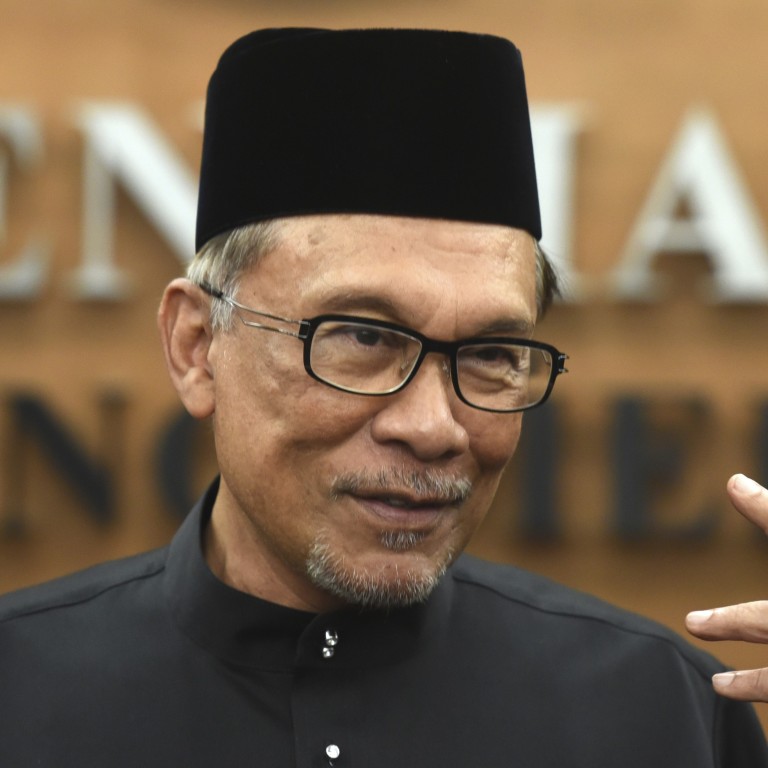 'Tell him to look in the mirror': Malaysia's Anwar Ibrahim and Azmin Ali trade barbs as sex video scandal escalates
PKR leader Anwar says his deputy party chief and economic affairs minister Azmin should resign if he is proven to be one of two men in a series of same-sex video clips
A 'major showdown' is brewing within the biggest party in Malaysia's ruling coalition, says a party insider
Anwar and his main intra-party rival, economic affairs minister Azmin Ali – who denies allegations that he is implicated in the video – traded sharp words on Wednesday after the latest development. With temperatures rising in the feud, one analyst declared that an ugly split within the two-decade-old reformist party Anwar and Azmin co-founded is now a possibility.
Azmin is a trusted confidante of Mahathir but his relationship with Anwar – who was once his mentor – has grown increasingly fraught since last May's election.
Anwar fired a salvo on Wednesday when he said Azmin should resign if the authorities confirmed he was one of the two men in the video clips, an about-turn from his stance last month that there was no need for the minister to step down.
"If the investigations are conclusive, then he needs to resign, but if we have not ascertained the truth of the two guys in the video then he [Azmin] has the option," Anwar told reporters at the Parliament building, according to The Star.
Asked about Farhash, Anwar said while he was surprised by the detention of his political secretary, he fully supported police investigations.
Azmin, also speaking to reporters in the legislature on Wednesday, offered a short rejoinder to Anwar's comments: "Read my lips... tell him [Anwar] he must look at the man in the mirror."
Mahathir meanwhile said it was up to political leaders whether they wanted to go on leave while under investigation for wrongdoing. "You are not guilty until proven," he said.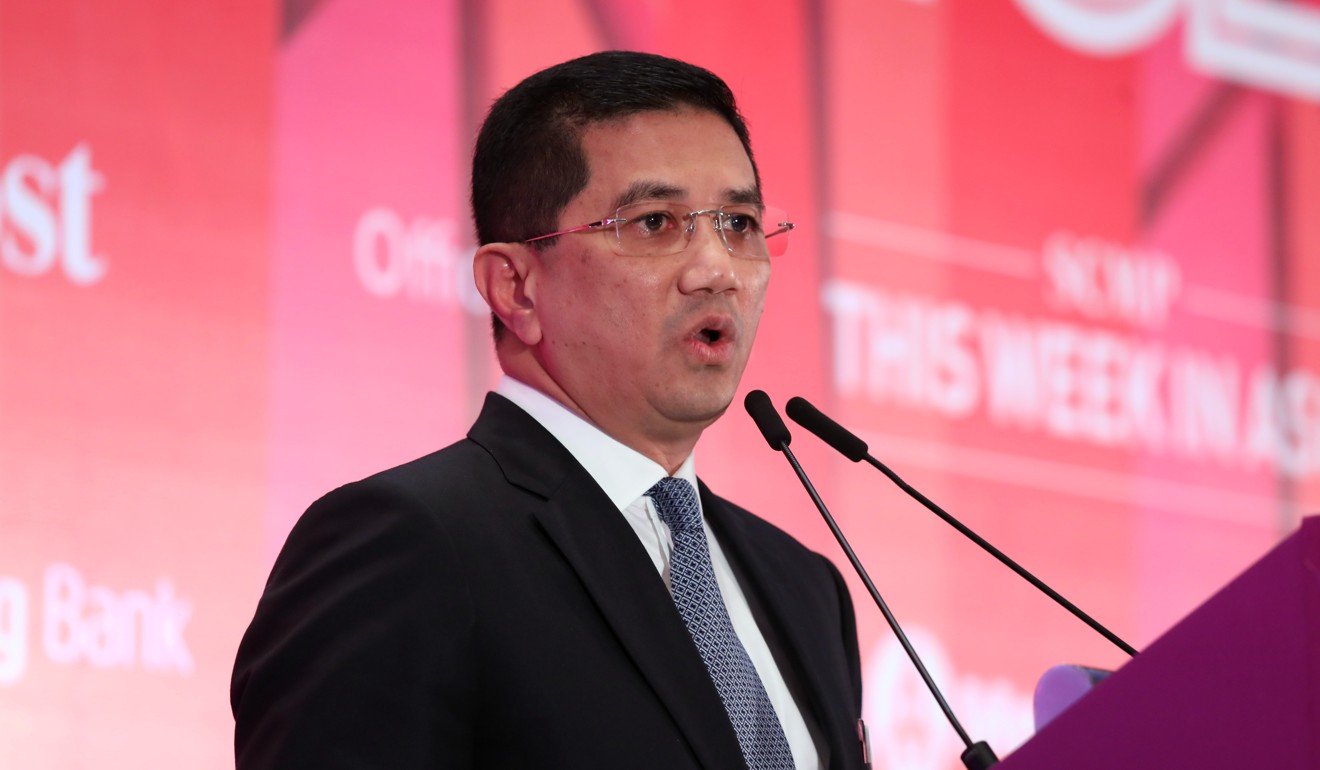 Under a ruling coalition agreement,
Mahathir, 94, is to hand power to Anwar
, 71, at some point in the current electoral term. However, there is mounting speculation that Azmin, 54, has emerged as the preferred successor within Mahathir's inner circle.
Anwar and Mahathir spent many years at odds but found common cause to defeat former prime minister
Najib Razak
at last year's election, bringing about a seismic shift in the country's politics.
Anwar served for nearly five years as deputy prime minister during Mahathir's first stint as leader. However, he
endured his own sex scandals
and was twice jailed on sodomy charges, which he claims were orchestrated by Mahathir's clique to undermine and sideline him. Under colonial era laws retained in the current penal code, consensual sex between men is a crime. Anwar was behind bars last year when he was offered a royal pardon following the election, overturning his convictions.
A senior member of PKR told This Week in Asia that Farhash's arrest could accelerate a public showdown between Anwar and Azmin, deepening the rift within the party.
"There will be questions of whether [Anwar] is guilty by association because of the arrest [of Farhash]," the PKR member said, speaking on condition of anonymity. "Out on the street, that's what people are asking: was Anwar behind the videos?"
Haziq had previously suggested Azmin secretly taped what he claims were secret trysts in a hotel in the Malaysian state of Sabah.
Azmin, for his part,
has reacted furiously to the scandal
and claims to be the target of a "nefarious plot" launched by rivals within PKR to derail his political career. He has not openly blamed Anwar for the leaked videos – which he insists are fabricated – but has said he is convinced they represent an "inside job".
Azmin's aides said he had complied fully with police investigations so far. They said they trust he has no links to the video and their current slogan is "kekal tenang" – which means "stay calm".
Anwar has denied any involvement but on Tuesday said Malaysians wanted to know if the video was genuine and who was behind it. He has publicly offered his support to Azmin.
Nonetheless, the party insider said there had been a complete breakdown of communication between the two men, with Azmin largely avoiding PKR leadership meetings chaired by Anwar.
Azmin secured his position last year after a bruising battle with Rafizi Ramli, a senior party figure widely viewed as loyal to Anwar. Following the internal vote, members of the two main factions – one loyal to Azmin, the other to Anwar – have taken up key positions.
Saifuddin Nasution, an Anwar loyalist who is PKR's secretary general overseeing its daily operations, said in a statement that the party had no intentions of interfering in ongoing police investigations. The domestic trade and consumer affairs minister however urged authorities to be transparent, and added the party would take action against members found to be contravening its constitution.
A spokesman for Anwar did not respond to a request for comment.
Political scientist Awang Azman Awang Pawi said the latest episode was "finally a chance for Anwar as president of PKR to face off with Azmin in the open" after a long period of "subtle confrontation through proxies".
The University of Malaya professor said he believed the standoff surrounding the scandal was unlikely to result in a major intra-party standoff if Azmin was found by investigators to be one of the two people in the video clips.
In such a scenario, Awang Azman said Azmin was unlikely to take a confrontational stance but added there may be a likelihood of Mahathir intervening to stop the economic affairs minister from going on leave or tendering his resignation.
But if Azmin was cleared of wrongdoing by the police, the professor said he envisioned a "big fight" in PKR that would rock not only the multiracial party but the entire Pakatan Harapan coalition.
Connect with us on Twitter and Facebook
This article appeared in the South China Morning Post print edition as: showdown looms after aide held