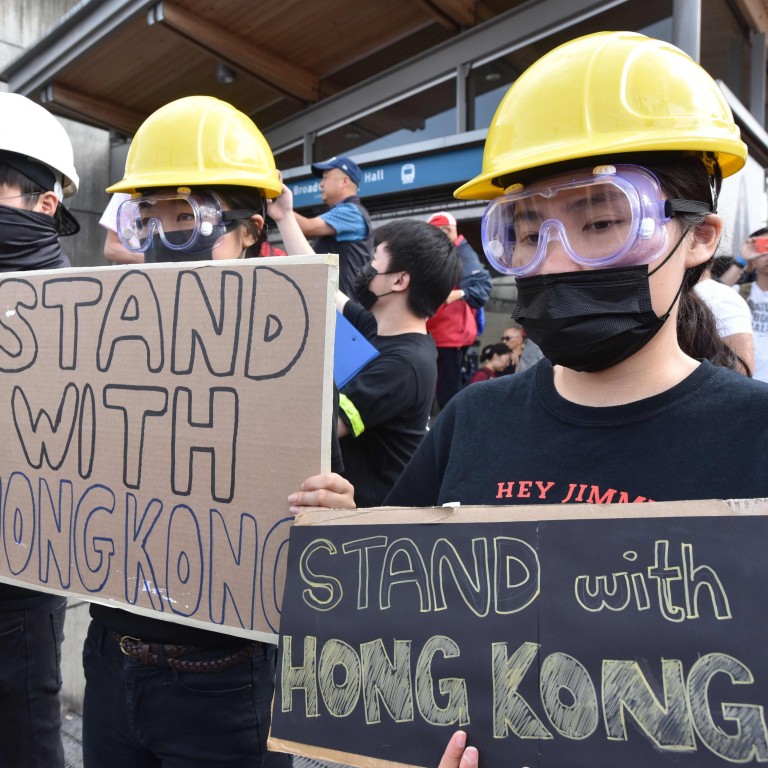 One China, two different worlds: how the great political divide is on full show overseas amid Hong Kong chaos
Hong Kong students abroad have described an atmosphere of fear, intimidation and vitriol in dealing with ultra-nationalistic mainland Chinese since the city's anti-government protests broke out
With the gulf in understanding showing little sign of narrowing, universities are now grappling with concerns about freedom of speech
The abuse began pouring in barely an hour after Sharon Wong left the anti-government demonstration at the University of South Australia in Adelaide, supporting
Hong Kong's protesters
.
"You stupid dog," said one expletive-laced message sent to her on
WeChat
, the popular Chinese social messaging app, before graphically describing her mother engaging in sex acts with British men.
Another described 25-year-old Wong participating in explicit sex acts with "foreigners" and her "foreign daddy".
Next, she found her picture circulating on WeChat. She believes it was snapped by one of the dozens of mainland Chinese students who turned up to counter the protest on August 16.
Even more disturbing, someone photographed her while she was shopping at a Costco store the next day, and put that picture on WeChat too.
It rattled her, and left her looking over her shoulder everywhere she went. "Who knows what they are going to do?" Wong said. "I keep feeling they will follow me home."
The Australian citizen, originally from
Hong Kong
, made a police report.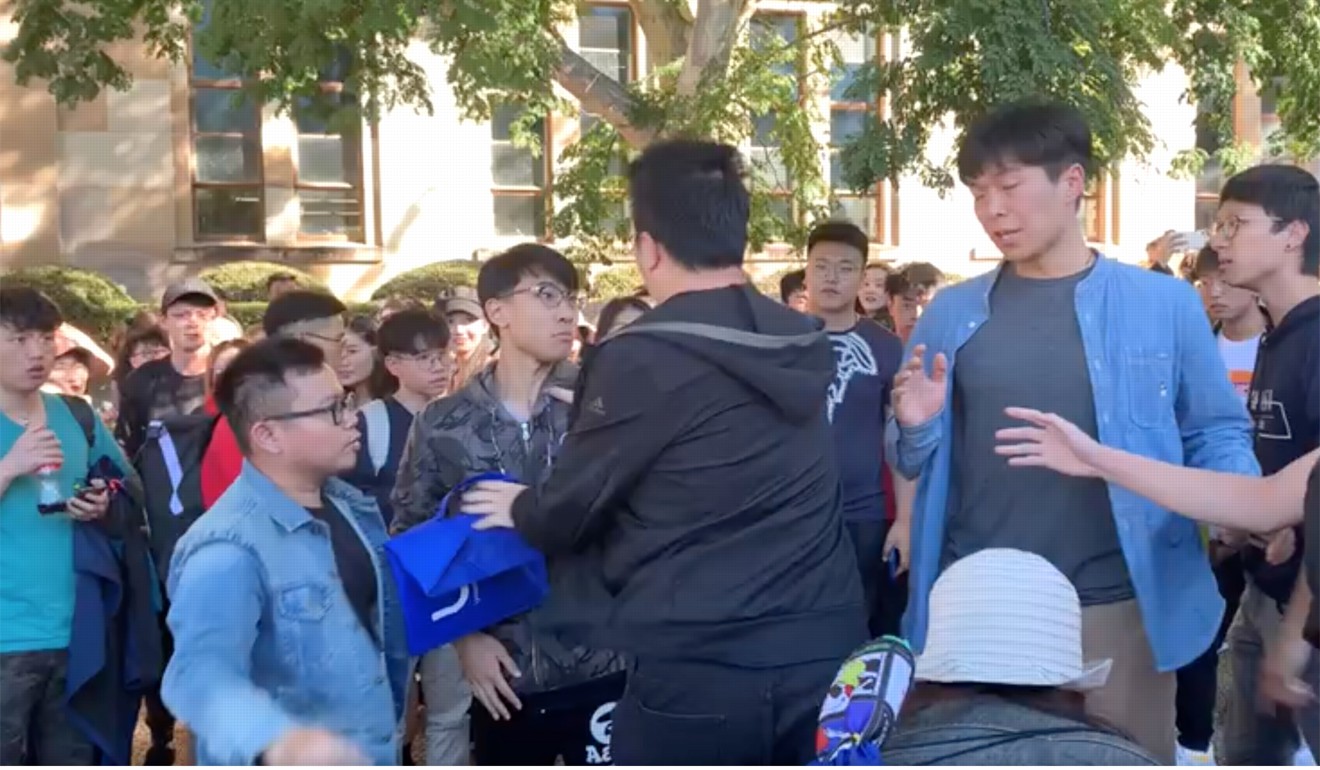 She described her experience on condition that her real name was not used, saying she remained worried for her safety and that of her family in Hong Kong.
Almost a dozen Hongkongers studying or working in
Australia
and
Canada
told
This Week in Asia
they had experienced a growing atmosphere of fear around discussions of Hong Kong and other subjects deemed sensitive by Beijing due to the vitriolic response of some mainland Chinese.
Campus clashes
and other incidents have occurred recently in cities including Adelaide, Sydney, Melbourne and Brisbane in Australia, and Vancouver and Montreal in Canada.
In Vancouver, police escorted worshippers out of a prayer meeting for Hong Kong last Sunday after flag-waving mainlanders surrounded the church in what one organiser described as an attempt at "bullying" and "intimidation".
The incidents have almost always been initiated by a small number of ultra-nationalistic pro-Beijing Chinese, often students, who oppose demonstrations supporting Hong Kong's anti-government protests, Taiwan independence or calling for investigations into Uygur detentions in China's westernmost province of
Xinjiang
.
Echoing Beijing's line, they decry what they see as efforts to split Hong Kong and Taiwan from China, and insist that international criticism of the treatment of Uygurs misrepresents a legitimate response to the threat of terrorism.
It is, effectively, an expansion of tension that has periodically flared between Hong Kong and mainland students on Hong Kong university campuses, over issues such as separatism.
On August 16 and 17 in Adelaide and Sydney, demonstrators supporting the Hong Kong protests were confronted by pro-Beijing counterprotesters hurling threats and obscenities. A demonstration in
Melbourne turned violent
after a mainlander attacked a journalist.
Clashes last month at the University of Queensland in Brisbane were widely blamed on mainland students incensed by a sit-in by Hongkongers and their supporters.
Overall, there were 1.2 million people of Chinese descent in Australia in 2016, according to the census that year. Of the total, 41 per cent were born in mainland China and 6.5 per cent in Hong Kong. Canadians of Chinese descent make up 1.76 million people, according to 2016 census data, of whom about 753,000 are mainland-born, and 216,000 were born in Hong Kong.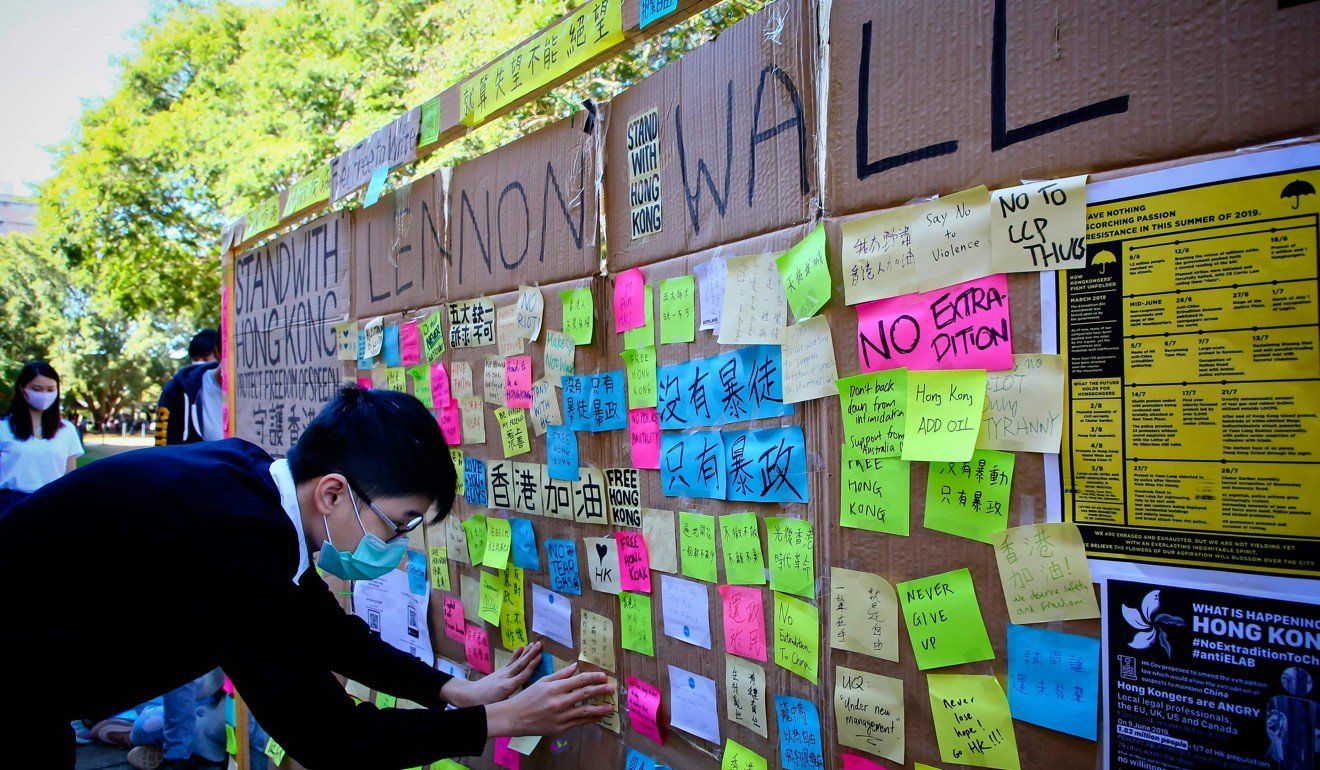 James Laurenceson, acting director of the
Australia-China Relations
Institute in Sydney, noted that the pro-China group that gathered in downtown Sydney numbered only around 500.
"That means less than 1 per cent of Chinese students in Sydney showed up, let alone hurled abuse or acted violently towards those with opposing views," he said.
"I'm not trying to trivialise the appalling behaviour of a minority, but to stereotype the cohort is inaccurate and unfair."
Indeed, a pro-Beijing protest in Sydney last week was largely peaceful, according to local media reports. But the clashes have nonetheless given rise to concern that those who oppose the general thinking of mainlanders risk intimidation, online harassment, threats and physical violence or even being reported to the Chinese government.
Sarah Wang, a student at the University of Melbourne, was one of many Hongkongers who wore a mask to the protest last week.
"Obviously I don't want any conflict, but actually the conflict has come to us no matter what we say," said Wang, who declined to disclose her real name. "We are now in Australia, we are not in China."
Hongkonger Eugenie Wong, 19, an organiser of the Melbourne protest, said she was worried about being recognised on the street by the pro-Beijing group.
"That makes me feel like Australia is not even safe – or that nowhere is safe – for a Hong Kong student," said Wong, a La Trobe University student.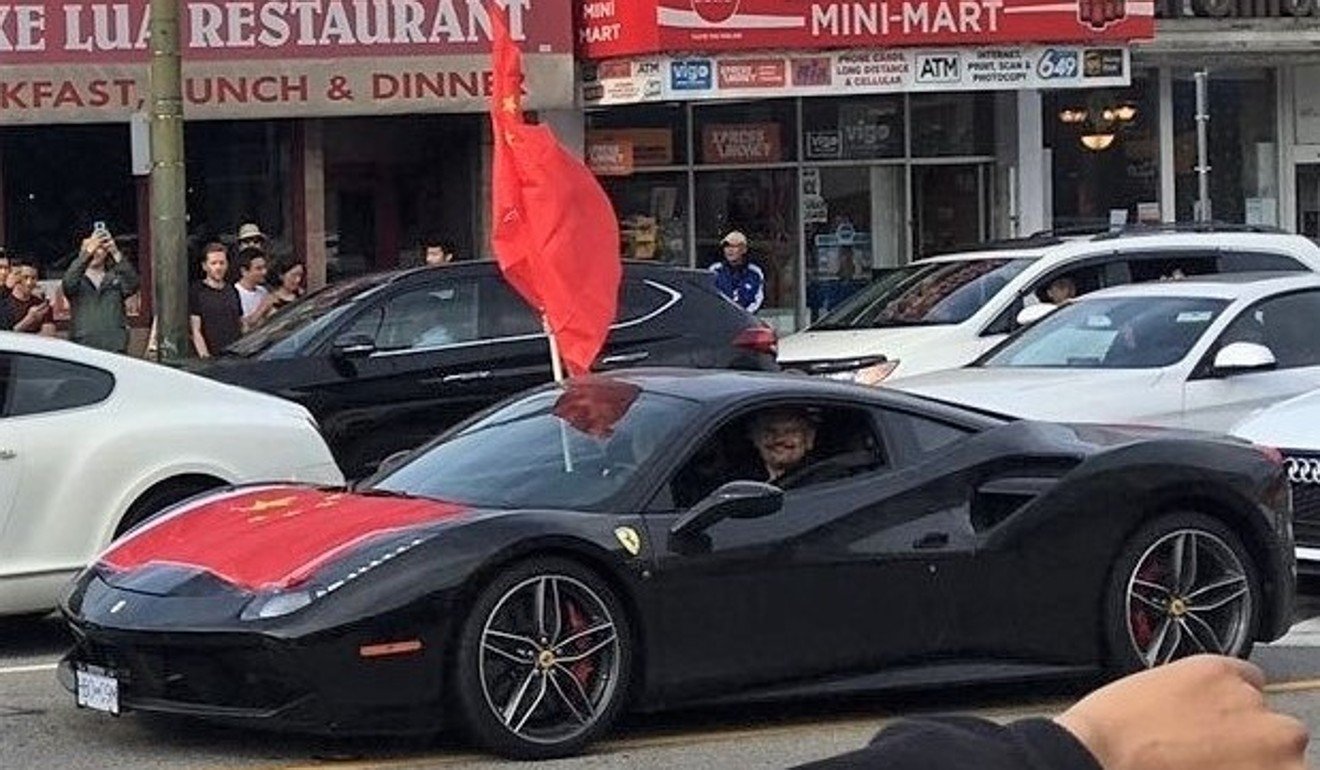 At the University of South Australia, a student who requested anonymity said a mainland student followed him to his apartment after he attended the anti-government protest at the university.
He was shocked, he said, because "Australia is supposed to be a free country". He added:
"I feel a bit scared when I go to school or to shop for groceries."
Such accounts have left Hongkongers abroad taking care even in places that have largely escaped tensions.
Janice Wong, a student at the University of British Columbia, in Vancouver, said: "Hong Kong students are indeed more careful in terms of what they say or discuss in public."
Her university has so far avoided disturbances seen at nearby Simon Fraser University, where a Lennon Wall of messages supporting the Hong Kong protesters has been repeatedly vandalised.
'OUTRIGHT CHINA BASHING'
While mainland students overseas have mobilised to counter voices critical of Beijing for decades, Cheuk Kwan, the former chairperson of the non-profit Toronto Association for Democracy in China, said they were now increasingly resorting to outright intimidation.
"Because of freedom of speech, there's not much a university can do to censure these counterprotests or intimidation by nationalistic students, unless there's physical violence," Kwan said. "Even then, it's after the fact. So the intimidation is always there."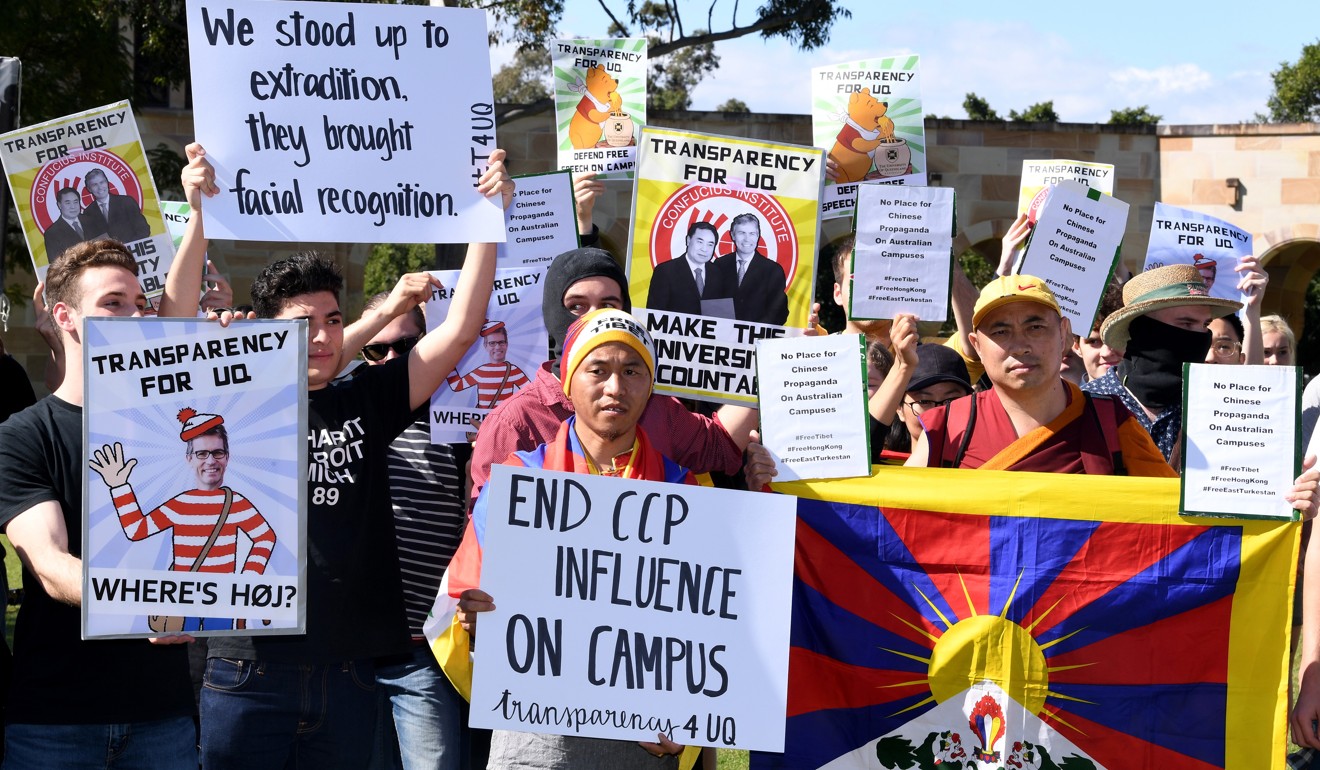 Mobo Gao, a mainland-born social science professor at the University of Adelaide, said many mainland students he encountered struggled to adjust to the liberal norms of Australia because of a sense of grievance over past wrongs against China by Western powers combined with an inferiority complex towards Western countries.
"They spend all their 20 years of life on studying but nothing else, and have little understanding of how democracy or freedom works in the West," Gao said. "These students are laughingly naive about political and social issues.
"But they become more defensive of China after they come to Australia because all they see and hear in the media is a one-sided, negative framing of China, if not outright China bashing."
Chengxin Pan, an associate professor of international relations at Deakin University, near Melbourne, said he has found most mainland students steer clear of disciplines such as international relations in favour of subjects such as commerce and accounting.
"Although this doesn't mean they're not interested in political issues, this seems to suggest that most are either indifferent or passive observers of political debates, unless issues such as Hong Kong protests pop up and cannot be ignored," Pan said.
The situation is different for mainland Chinese students in Hong Kong, however, where 12,000 of them are enrolled at the city's eight universities.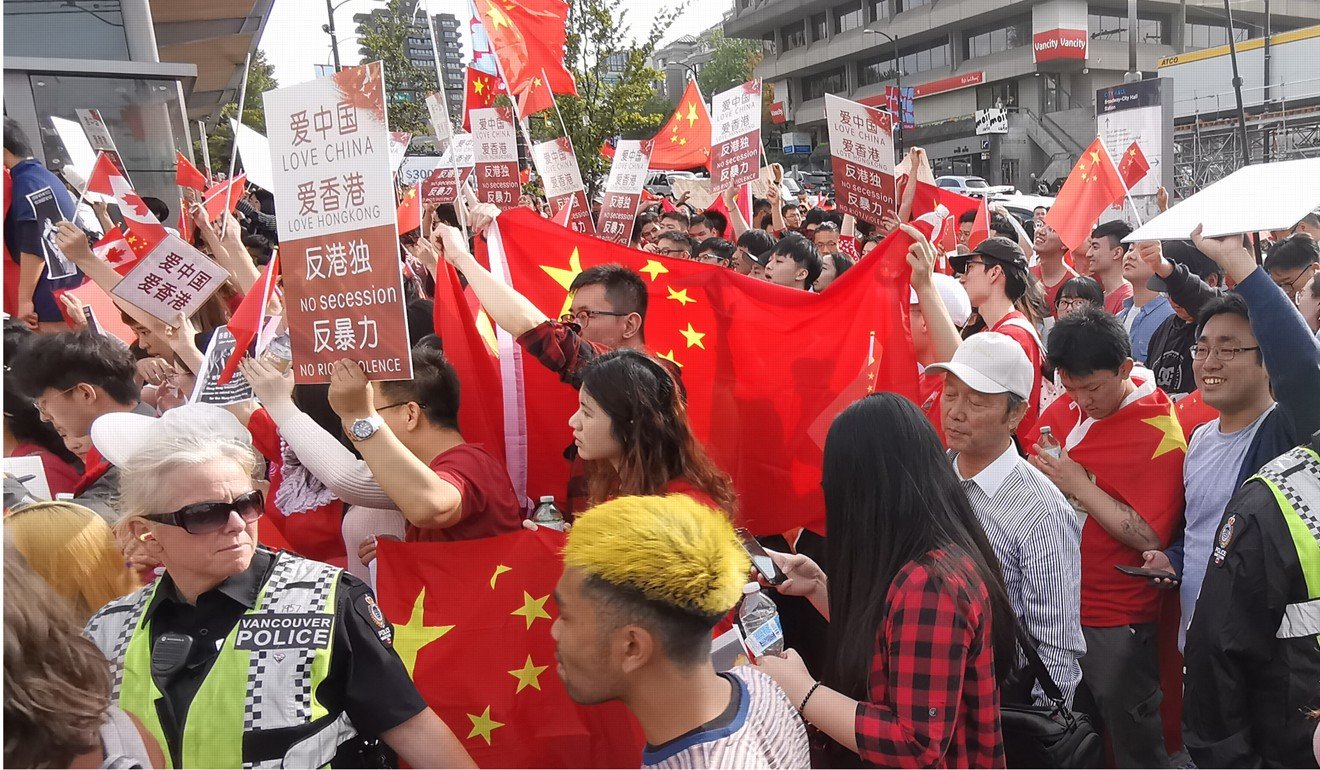 A handful are sympathetic to the protesters' cause and have even taken part in protests.
Others feel they are outsiders and so are not concerned much.
A mainland student at Baptist University, who asked not to be named, said he respected the right of Hongkongers to protest peacefully as long as they did not call for independence from the mainland.
"They are entitled to their freedom to express their views," said the student, who has not taken part in any rallies. "A lot of my friends living on the mainland have expressed concern about my safety. They don't have a full picture of what Hong Kong is like now. It isn't as chaotic as some think."
'POSITIVE PATRIOTIC ENERGY'
The recent clashes between those supporting the Hong Kong protesters and the pro-Beijing group have sparked calls for greater scrutiny of Chinese influence at universities, including through the Chinese Students and Scholars Association, a Beijing-funded organisation that purports to help students adjust to life abroad and has about 150 branches on campuses worldwide.
Media in Canada and the United States have published evidence that mainland students belonging to the association have coordinated with Chinese consulates to counter perceived anti-China activity abroad.
In Australia, the Chinese consulate in Brisbane issued a statement after the campus chaos at the University of Queensland praising the "spontaneous patriotic behaviour of Chinese students". It drew a warning from Foreign Minister Marise Payne who said diplomats in Australia should not interfere with the right to free speech, even on contentious issues.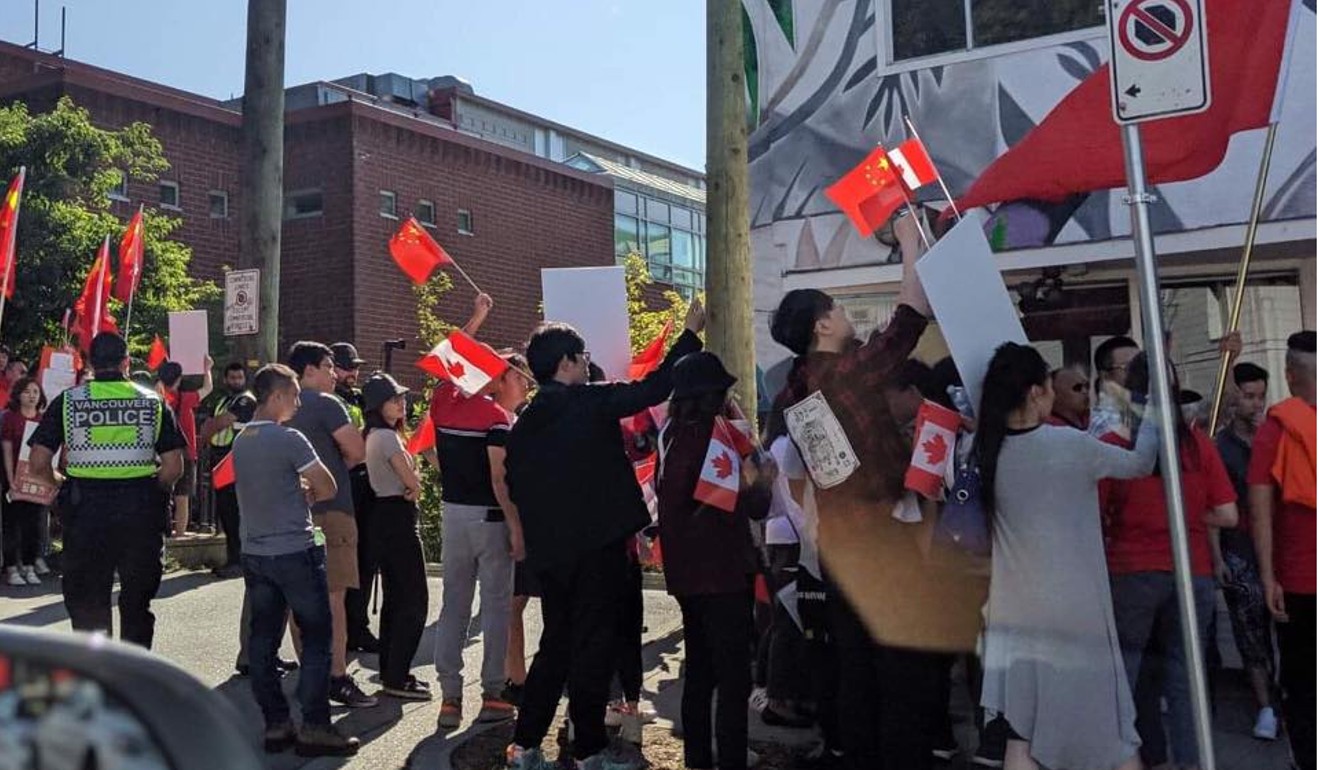 Ian Hall, an international relations professor at the Griffith Asia Institute in Brisbane, said universities had been caught off guard by the recent clashes and were yet to wake up to the "problems inherent in having Chinese student groups effectively run and funded by PRC embassies and consulates".
"Universities need to act fast to try to better regulate these organisations and their presence on campus," Hall said. "They need also to work with local police and intelligence agencies to identify students informing on others, or individuals coming to campuses to photograph, report on, or intimidate and harass others. I am worried that we have allowed this problem to fester and now we have students and staff exposed to threats of violence."
But universities may have other considerations in weighing whether or not to take a stand, especially given the "excessiveness" of their reliance on mainland Chinese students for revenue, according to research by Salvatore Babones of the Sydney-based Centre for Independent Studies.
The recently-published 44-page report found this group makes up approximately 10 per cent of all Australian university students, with almost 153,000 mainland Chinese enrolled in higher education in Australia as of December 2018.
At seven universities, including the University of Queensland, course fees paid by these students form anywhere between 13 to 23 per cent of the institutions' revenue, said the report.
Charles Burton, an associate professor at Brock University in Ontario and former counsellor at the Canadian embassy in Beijing, said Canada had been reluctant to take decisive action.
"This appears to be out of concern that proactively defending people in Canada from coercion by the PRC regime could impact negatively on other aspects of the Canada-China relationship," he said.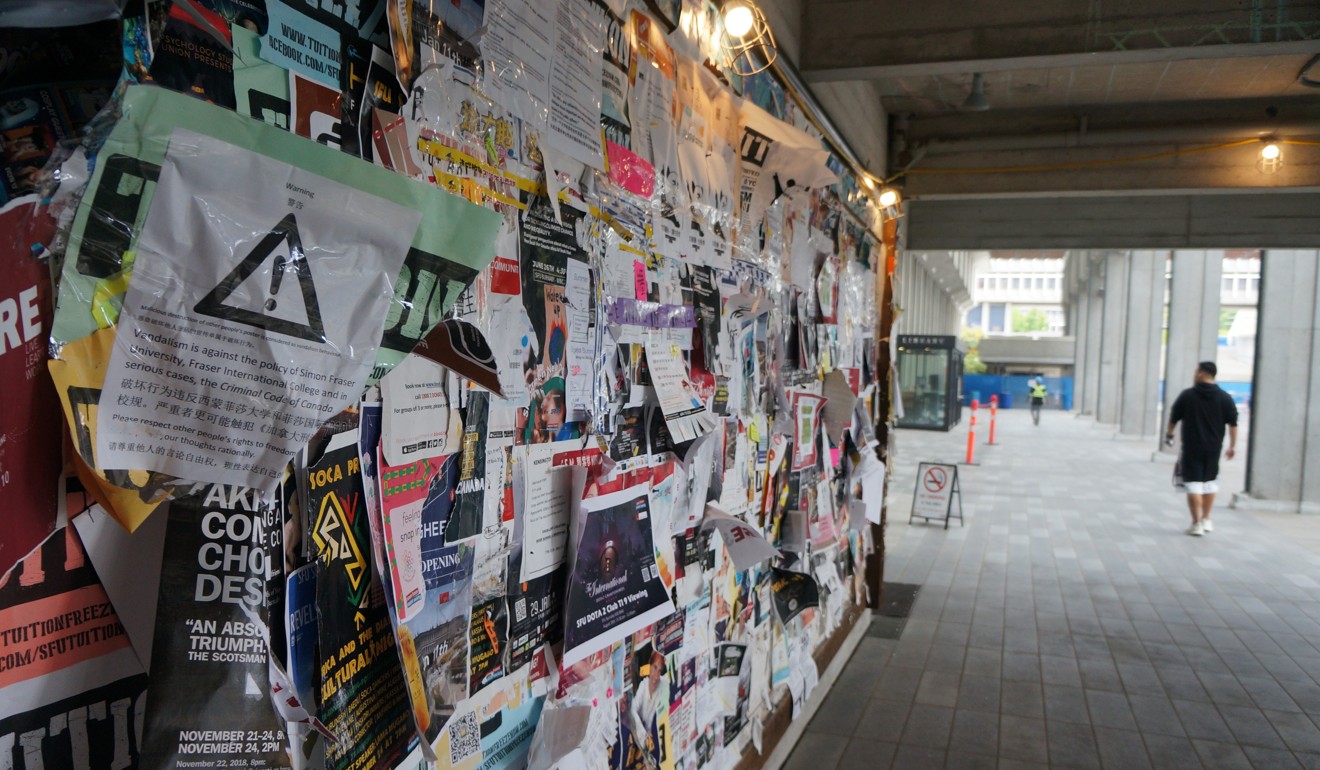 Burton said Canada should pass legislation against foreign interference similar to that enacted by Australia last year, and beef up China-focused operations of police and intelligence services.
What Australian universities could do, Laurenceson said, was to "make it clear that physical altercations, tearing up pamphlets and ripping the megaphone out of the hands of those with opposing views, blocking other students from posting to Lennon walls, and so on, impinge on the fundamental value of freedom of speech and will draw consequences."
Janet Chan, an expert in criminal justice and policing at the University of New South Wales, said the tensions highlighted the challenges for law enforcement of responding to conflicts within ethnic communities.
"While the tension between Chinese communities is relatively new in Australia, police would have had to deal with divisions within other ethnic groups over the years, for example, in the aftermath of the Balkans war," Chan said. "The importance of diversity training is obvious but I think ethnic groups would want to feel confident that police are providing services to victims and investigating crimes fairly and thoroughly."
A Hongkonger who recently graduated from McGill University in Montreal said universities needed to respond to the new reality that many Hong Kong students now felt afraid to express themselves freely.
"This is no longer only a Hong Kong or China issue, but an issue that will ultimately affect everyone," said the graduate, who spoke on condition of anonymity. "If nationalist mainlanders can threaten Hongkongers, they can threaten anyone who they do not agree with.
"Universities play a key role in defending core values, and they are not doing enough. Serious consequences such as expulsion are needed."
With Hong Kong continuing to be roiled by anti-government protests escalating into violent clashes between demonstrators and the police, the city's supporters overseas are bracing themselves for more displays of patriotic fervour from pro-Beijing supporters.
Sarah Wang, a student in Melbourne, said she would not be cowed.
"Hong Kong people won't stop, because we think what we are fighting for is right and the truth," she said.
Additional reporting by Phila Siu and Rachel Yeo