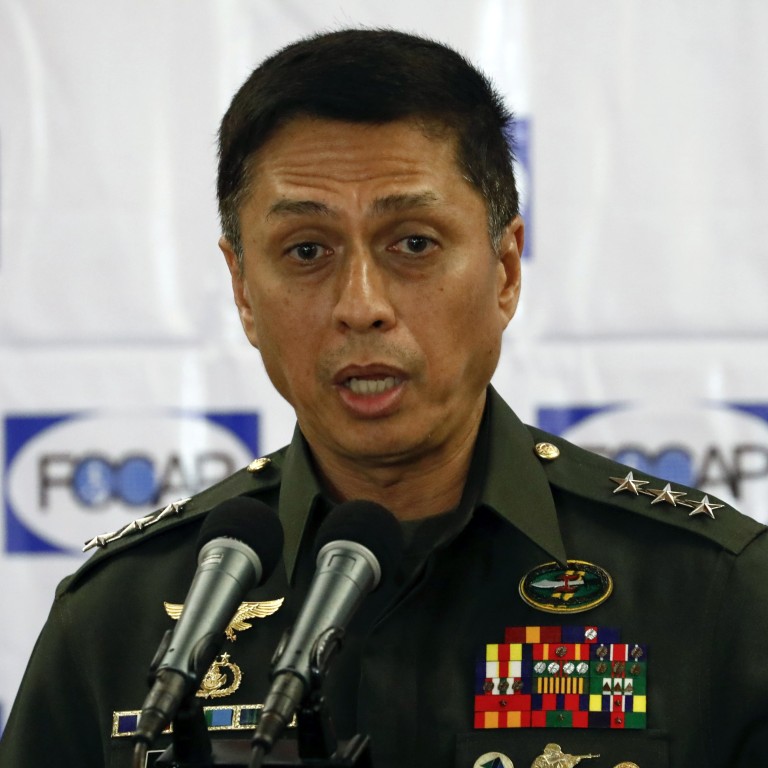 New Philippines military chief sees no 'shooting war' in South China Sea despite disputes
Lieutenant General Noel Clement says the military supports diplomatic efforts to prevent an escalation of tensions between China and the Philippines in the disputed waterway
He also says Manila is not against purchasing weapons from Beijing, but has not yet decided what to buy
The new head of the Armed Forces of the
Philippines
has said he does not expect a "shooting war" to occur in the
South China Sea
, despite Manila's diplomatic protests against
China
's intrusions into its territorial waters.
"I don't think it's going to the point that there is going to be an actual conflict, meaning a shooting war. I think there are enough mechanisms in place to prevent this from happening," Lieutenant General Noel Clement said in a briefing with foreign correspondents on Thursday.
The new chief of staff also denied that the military was against purchasing weapons from China, amid tensions between the two nations over the contested South China Sea. "We have not determined what type of equipment we actually want to buy from them," he told This Week in Asia.
Asked why this was taking so long as China's weapons offer came in 2016, he replied that China was not the only country the Armed Forces could buy weapons from. "We have to determine which particular equipment – whether this is from China or whatever other countries that are offering the same type of equipment – would be suitable to the requirements of the Armed Forces," Clement said.
"So, it's not a matter of us preventing the procurement from China but rather … what our technical working group would recommend to be part of our modernisation programme."
In contrast, the Philippines – which has a defence treaty with the US – recently signed a deal with Washington for a new Gulfstream G280 jet, estimated by some quarters to cost 2 billion pesos (US$38 million), to serve as the official presidential plane. Delivery is expected by next year.
Clement justified the purchase, saying it was part of the allotment for the Philippine Air Force in the AFP's modernisation programme, and would be used to transport the commander-in-chief.
"I don't think this [purchase] is supposed to be an issue," he said.
Buying the plane, however, means
President Rodrigo Duterte
is backtracking on an election promise to take commercial flights and convert the Fokker F28 jet which currently serves as the presidential plane into an air ambulance for wounded soldiers.
"I'm giving up the presidential plane, reconvert it into an air ambulance … I'll just ride commercial flights," Duterte told soldiers in 2016.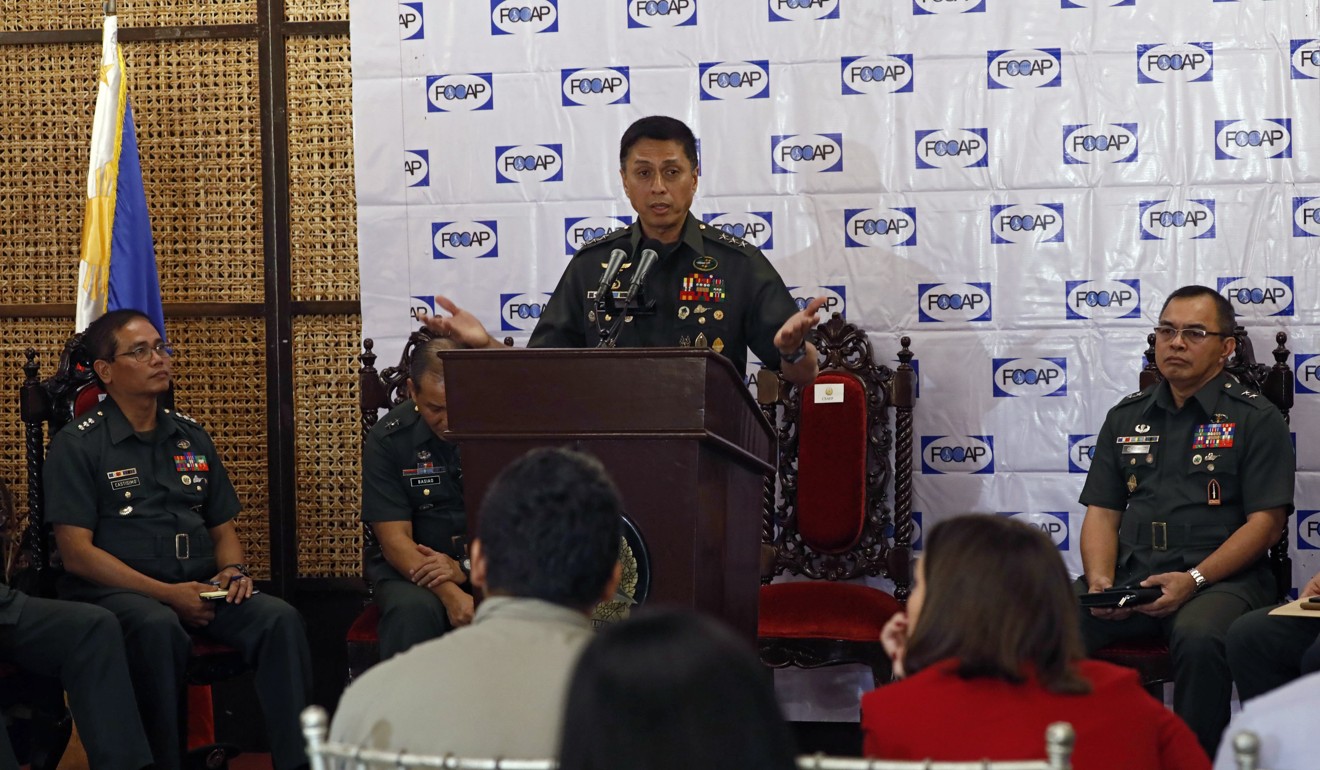 The election promise that Duterte has held fast to, though, is his "pivot to China", which he said would enable him to tap billions of dollars for his "Build, Build, Build" infrastructure development programme. However, this is now being tested by increased public pressure on him to assert the nation's claims in the South China Sea. The Duterte government has responded by publicising the filing of diplomatic protests, although not their actual text.
Manila's latest string of diplomatic protests were brought on by the presence of Chinese coastguard vessels near the Philippine-occupied Ayungin Shoal, which the military verified.
"There have been several reports about the presence of not only fishing vessels, alleged militia ships and even the presence of Chinese coastguard vessels near Ayungin Shoal," Clement said. "What we have been doing is to conduct regular maritime patrols to determine and check the reports. Once we have proved the presence in the alleged areas, we submit this report to our Task Force on the West Philippine Sea for filing of appropriate diplomatic protests, if that is the action that they intend to do, or whatever actions that they approve."
He explained that the protests were meant "to give a complete picture … a database" of China's activities in these areas.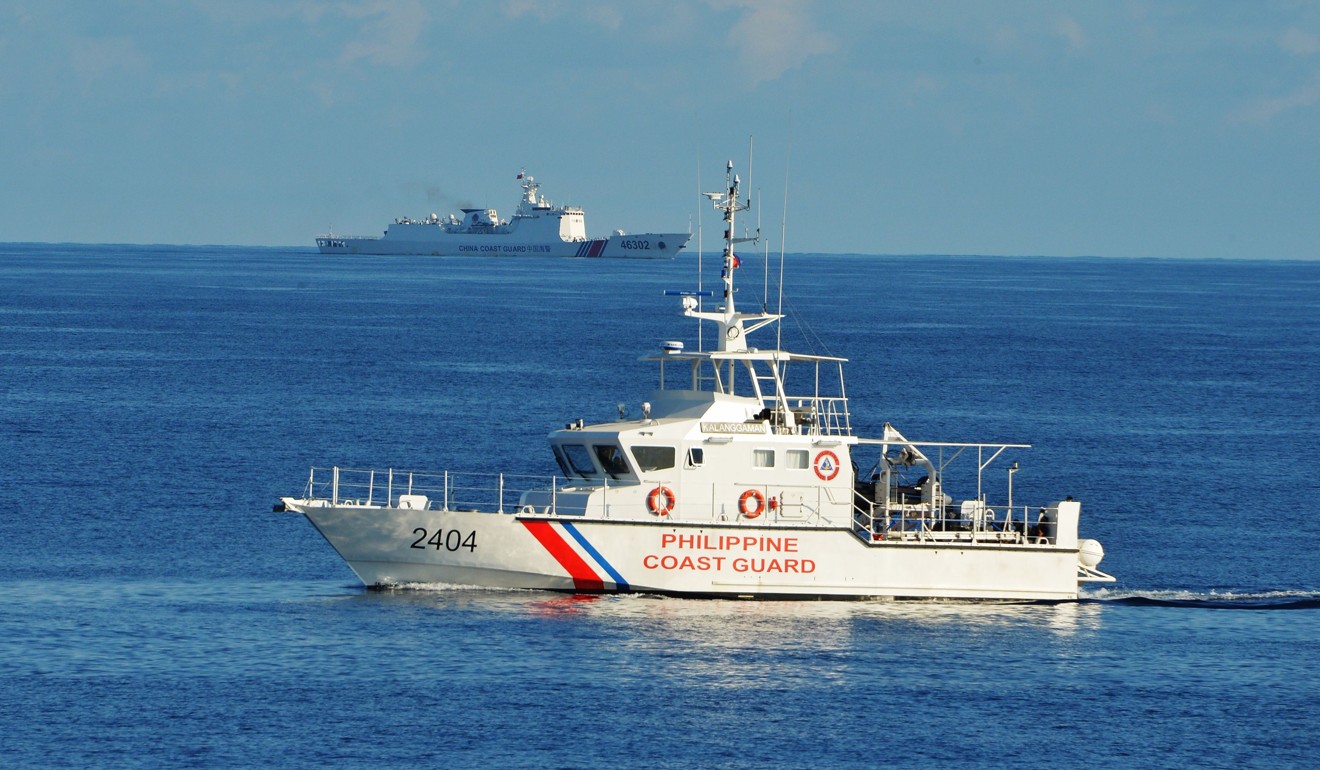 When asked if the military saw a reduction in the number of Chinese vessels after the latest protest was lodged last week, he said vessels were there on a daily basis, but the numbers being reported fluctuated due to several factors, such as rough seas, or depending on "their intent on why they are present in the area".
Last month, the Philippine Department of National Defence, which oversees the military, reported to Congress that a Chinese coastguard vessel had blocked ships bringing fresh supplies to a marine detachment stationed on BRP Sierra Madre, a World War II-era LST (landing ship, tank) that was run aground on Ayungin Shoal in 1999 as a mark of ownership of the surrounding reefs and shoals.
"The agreement right now is, there should be no new occupation of formerly unoccupied islands within the area. I don't think there is new occupation [by China] as far as Sandy Cay is concerned," Clement said.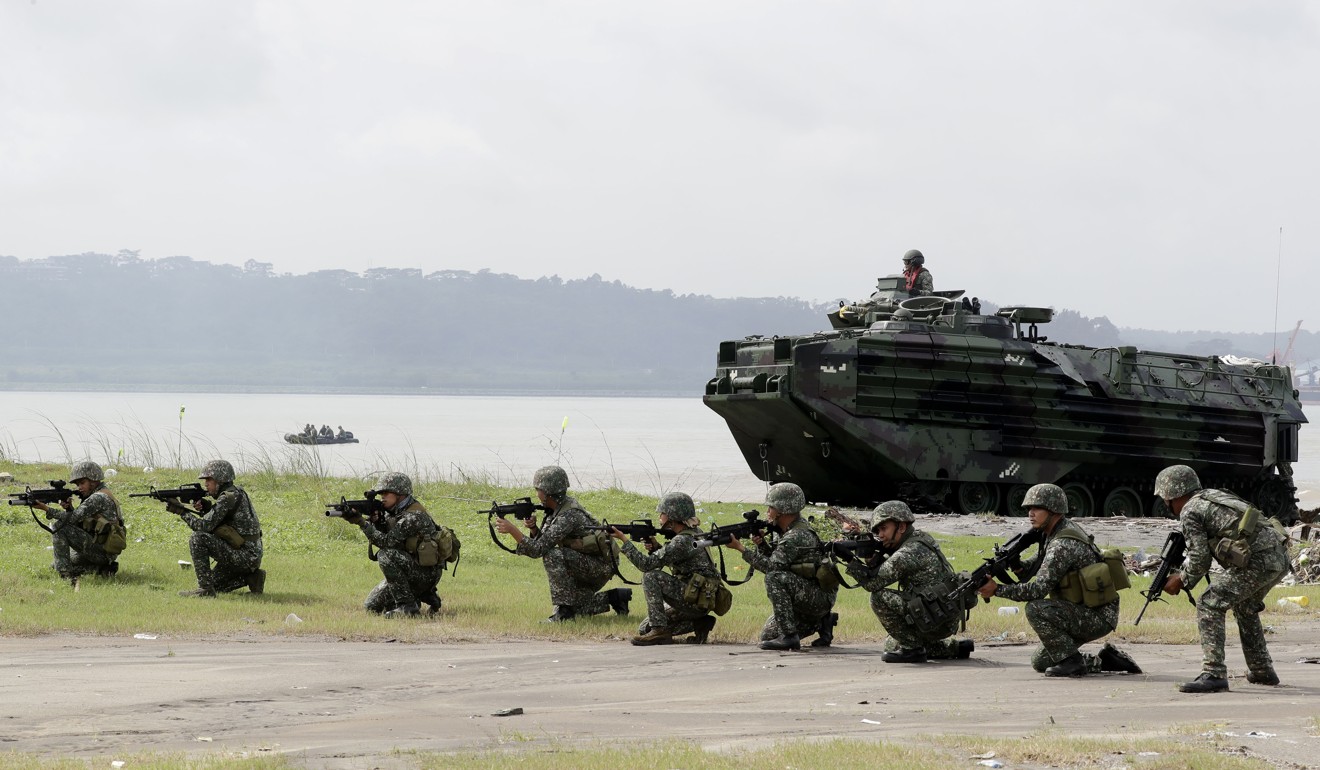 In 2017, China's foreign ministry assured Duterte that Beijing would not build on or occupy Sandy Cay, which is a mere 4km (2.5 miles) from Thitu or Pag-Asa Island, which Philippine soldiers and civilians inhabit and which happens to be the second-largest island in the South China Sea.
"The AFP has a mandate to protect and secure our territories. We will do that with whatever capabilities we have," Clement said on the matter of Chinese ships entering Philippine waters without prior consent.
"I'm not saying we go there and confront everybody," he said, explaining that the AFP would follow a process of engagement first.
Clement also said he did not have plans to meet up with his Chinese counterpart, the head of the People's Liberation Army.
Clement, who took up his role last month, is the sixth commander of the armed forces to be appointed by Duterte in the three years he has served as president.
However, as Clement will turn 56 in January – which is the retirement age for military chiefs – he could end up having only a four-month tour of duty unless Duterte extends his term of service.
This article appeared in the South China Morning Post print edition as: military chief plays down risk of conflict