India
Get more with myNEWS
A personalised news feed of stories that matter to you
Learn more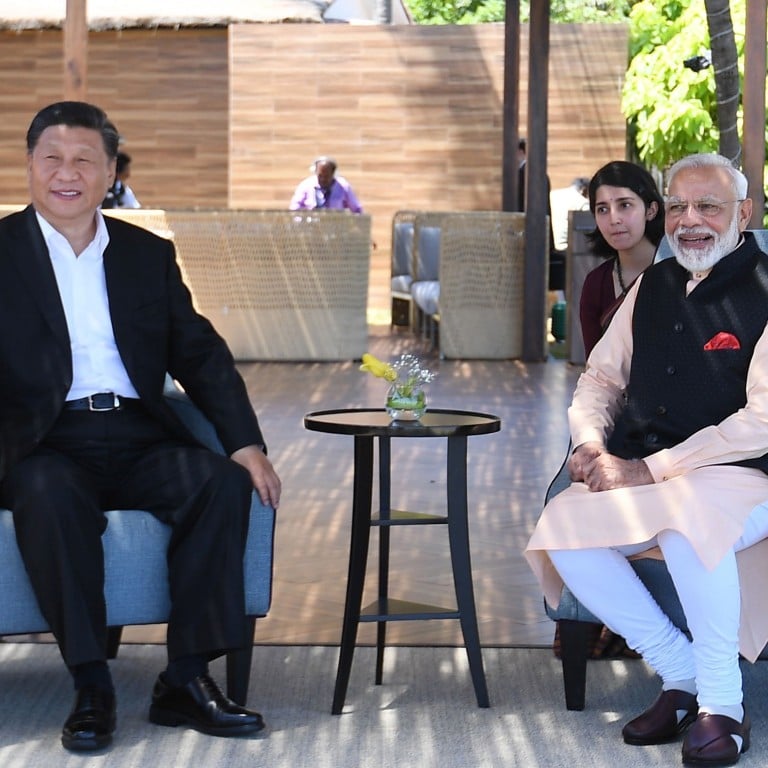 Xi, Modi agree to trim trade deficit, boost mutual trust amid US-China tensions
The leaders agreed to set up a mechanism to boost economic ties and tackle India's trade deficit with China after their second informal summit
As 2020 is the 70th anniversary of diplomatic ties between both countries, India and China will hold 70 events next year to promote relations
Chinese President
Xi Jinping
and Indian Prime Minster
Narendra Modi
concluded their second informal summit on Saturday by pledging to overcome trade differences and appreciate "each other's autonomous foreign policies", signalling an effort to focus on mutual interests rather than on long-standing contentious issues.
Reaffirming the need for better relations between the two Asian giants, Chinese President Xi Jinping was quoted by the State-run Xinhua news agency as saying: "China and India should be good partners and neighbours who live in harmony and move forward hand in hand. To achieve 'Dragon and Elephant dance' is the only correct choice for India and China." Xi was referring to the animal that enjoys an iconic status in Indian mythology and culture.
Modi remarked that both sides had agreed to be "sensitive" to each other's concerns and not let differences escalate into disputes, while Xi called for communication to "alleviate suspicions" and for India and China to enhance strategic mutual trust, according to state news broadcaster CCTV.
Xinhua, meanwhile, quoted the Chinese vice foreign minister Luo Zhaohui as saying the two-day informal summit had achieved "fruitful outcomes".
"Xi and Modi have exchanged in-depth views on overarching, long-term and strategic global and regional issues and agreed to enhance the two countries' ever-closet partnership for development," he said.
In a sign of China's willingness to address India's trade deficit with it, the leaders agreed to launch a "High Level Economic and Trade Dialogue".
Chinese Vice-Premier Hu Chunhua and Indian Finance Minister Nirmala Sitharaman will meet regularly to discuss ways to boost two-way trade and investments, Indian foreign secretary Vijay Gokhale said in a media briefing.
India has a US$53 billion trade deficit with China, which makes up almost a third of its total trade deficit. It is also facing pressure to decide if it will commit to the China-led
Regional Comprehensive Economic Partnership
(RCEP), which aims to create the world's largest trading bloc involving 16 countries before the end of the year.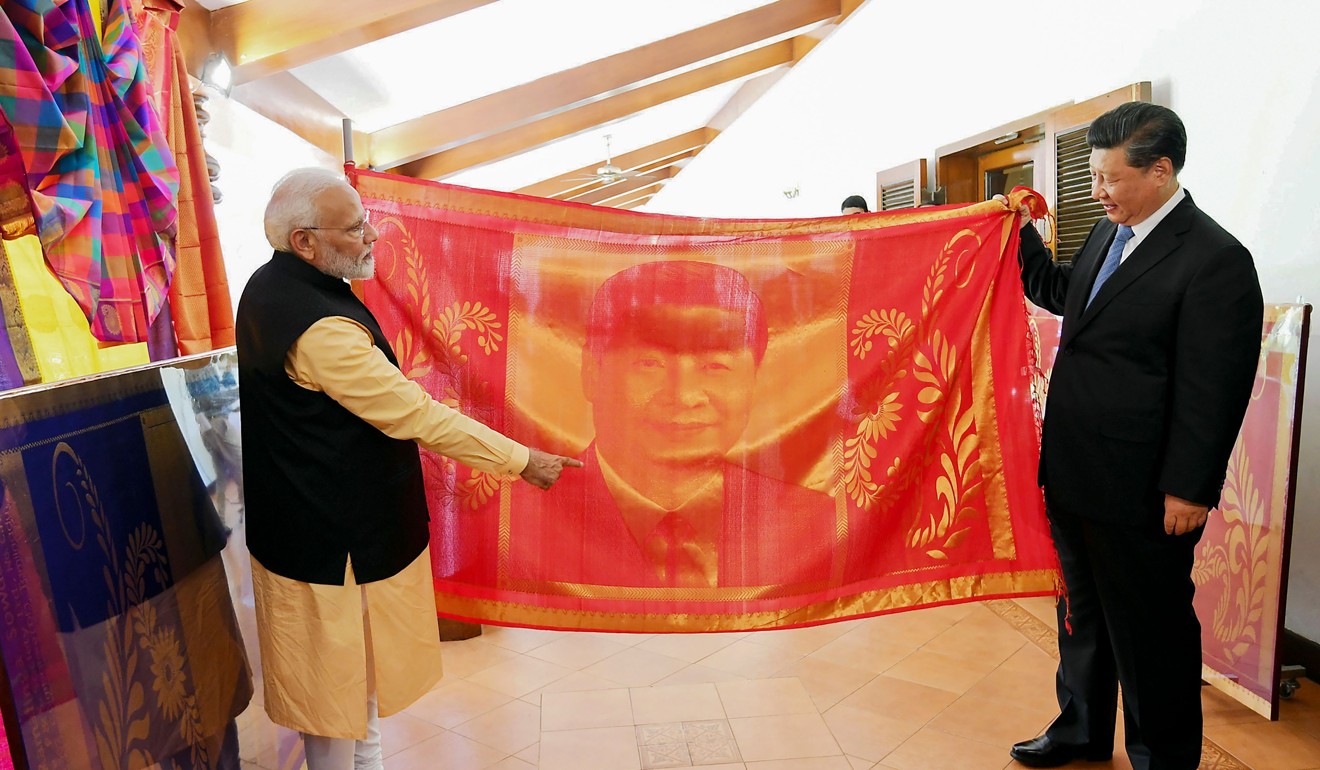 Negotiations are ongoing with talks taking place in Bangkok this week, but India's domestic producers have opposed the agreement over fears of a flood of Chinese imports. On Friday, the Indian government rejected clauses in the agreement related to e-commerce, according to reports.
Gokhale told the media briefing that both leaders, who met in the coastal town of Mamallapuram about 50km away from Chennai, briefly discussed the RCEP.
"PM Modi said India was looking forward to the RCEP but it is important that RCEP is balanced, that a balance is maintained in trade in goods, trade in services and investments," he said, adding that Xi agreed to further discussions of India's concerns on the issue.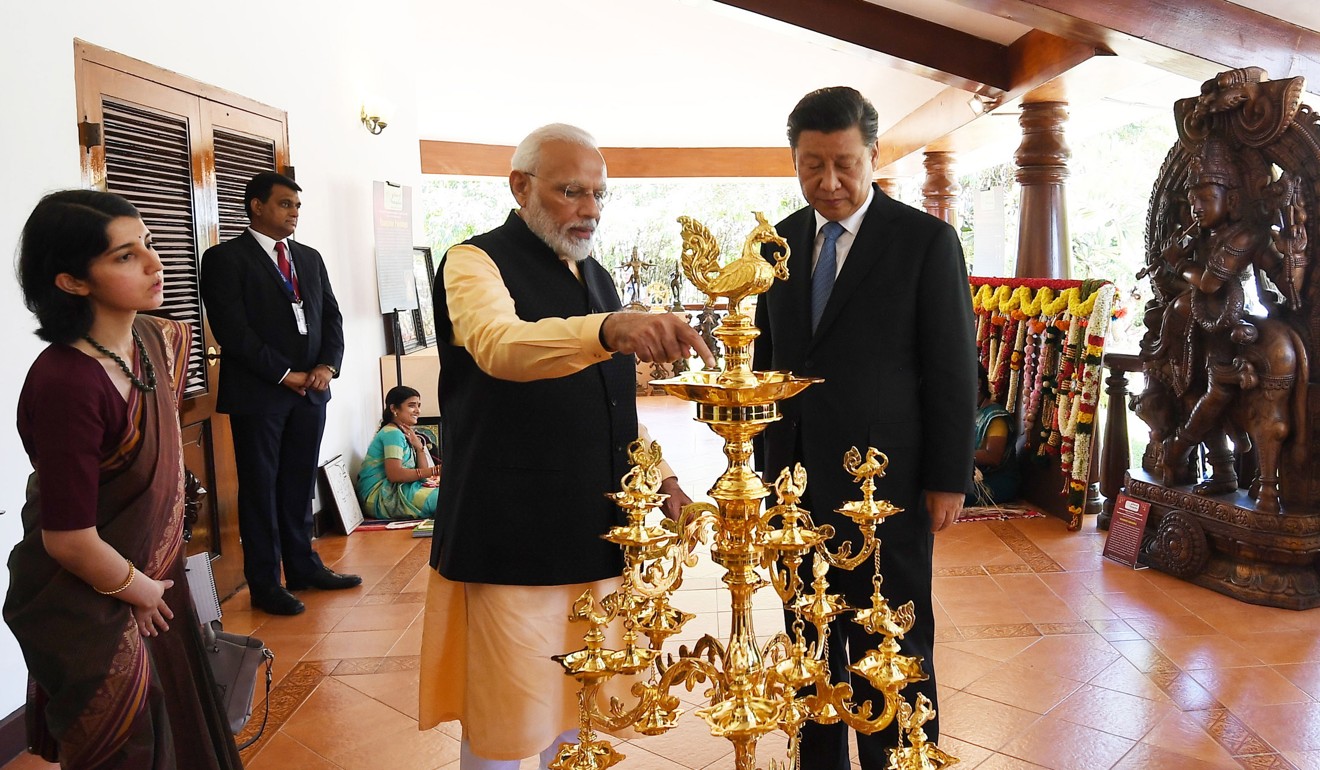 CCTV said Xi had six suggestions for how China and India could further improve ties, including assessing each other correctly and stepping up cooperation between their militaries. Besides economic and trade dialogue, China welcomed Indian pharmaceutical and IT companies to invest there, he said.
"We should look at disputes with a correct mind, and not let disputes affect cooperation.
"Both sides should properly and fairly get a solution for border disputes that are acceptable to each other … [and] cautiously handle each other's core interests, and take proper measures to control issues that cannot be resolved immediately," the president reportedly said.
Gokhale told reporters that both countries had agreed to pursue, through special representatives, an ongoing dialogue on their disputed border. China and India have held more than 20 rounds of talks to resolve their boundary dispute, over which they went to war in 1962. Different mechanisms have been set up to maintain peace along the 4,000-kilometre (2,485-mile) so-called Line of Actual Control.
Gokhale confirmed that the leaders – who met for a total of seven hours over Friday and Saturday, with the bulk of their time spent in one-on-one talks – did not discuss
Kashmir
, a region that is currently divided between India and Pakistan but which both nuclear-armed rivals claim in full.
Since India revoked the autonomy of the area it controls in August and imposed a lockdown,
Pakistan
has lobbied its allies – including its all-weather friend China – to support its opposition to the move. New Delhi had reacted sharply to Beijing's move to take the matter to the United Nations, insisting that it was a purely bilateral issue. Two days before the summit, Xi had hosted Pakistan Prime Minister Imran Khan and had assured him of China's support on all core issues, a statement that had irked India.
Gokhale said both leaders "emphasised the importance of having independent and autonomous foreign policies".
"President Xi said that the two countries needed to have more extensive dialogue in order to understand each other's perspectives on major global and regional issues," he added.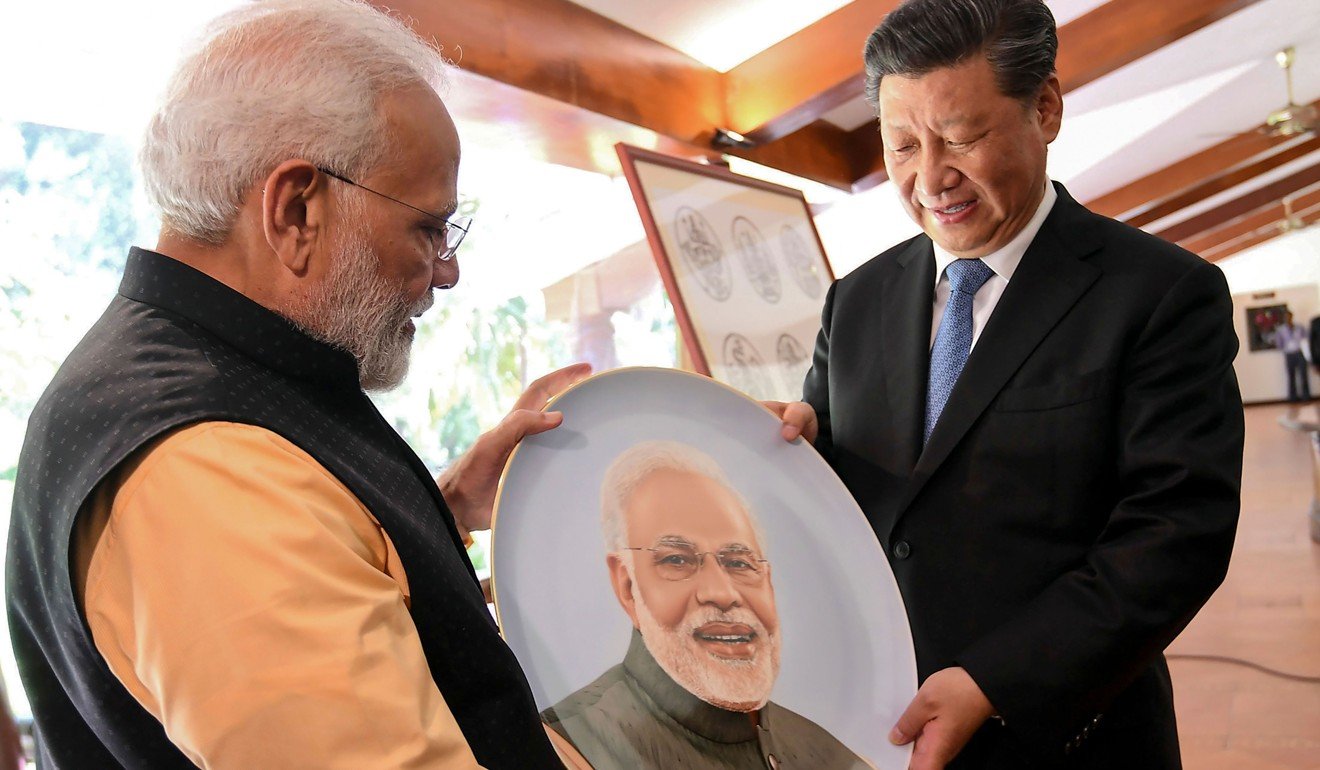 The leaders also discussed terrorism, with a statement issued later by New Delhi saying both sides would make efforts to ensure the international community strengthened its framework "against training, financing and supporting terrorist groups throughout the world and on a non-discriminatory basis".
The China-led multilateral Financial Action Task Force, which has been investigating Pakistan's efforts to stamp out the financing of terrorism, is expected to decide soon if it would add Islamabad to its blacklist along with Iran and North Korea, a move that could invite stringent economic sanctions and drive away international financial institutions, both of which could affect Pakistan's already-indebted economy adversely.
Gokhale added that as 2020 is the 70th anniversary of
diplomatic ties between both countries
, India and China will hold 70 events next year to promote people-to-people ties, with Modi accepting an invitation by Xi for the next informal summit to be held in China.
Both leaders had struck positive notes on the summit – with Xi describing their discussions as "candid" and between friends and Modi hailing the "Chennai Connect" meeting as marking a new era of cooperation between both countries.
But analysts said they would be looking to see how the newly-announced high-level mechanism on trade panned out.
Narayani Basu, a New Delhi-based author, foreign policy analyst and China watcher felt the summit had achieved its purpose of bagging small wins for both sides.
"Discussing contentious issues would have defeated the purpose of the summit. The idea behind such a summit must be that despite the overarching posturing on different divergent issues, the two countries can achieve the easily-achievable wins. That is what the summit seems to have tried doing."
But in terms of actual outcomes, she said she remained sceptical.
"I don't think there has been much progress in the ties between the two countries since the last summit in Wuhan. Hence, this time, there is a lot more caution and scepticism towards such a summit," she said, referring to the first summit last year in the Chinese city of Wuhan.
During Xi's visit to southern India, which lasted 24 hours in all, Modi took him on a personal tour of temple monuments dating back to the seventh and eighth century in Mamallapuram when regional leaders had trade ties with Chinese provinces. He was also shown local artisan handicrafts and art forms, and gifted a handwoven silk portrait, a lamp and a painting.
Xi gave Modi a porcelain plate with the image of the prime minister's face printed on it.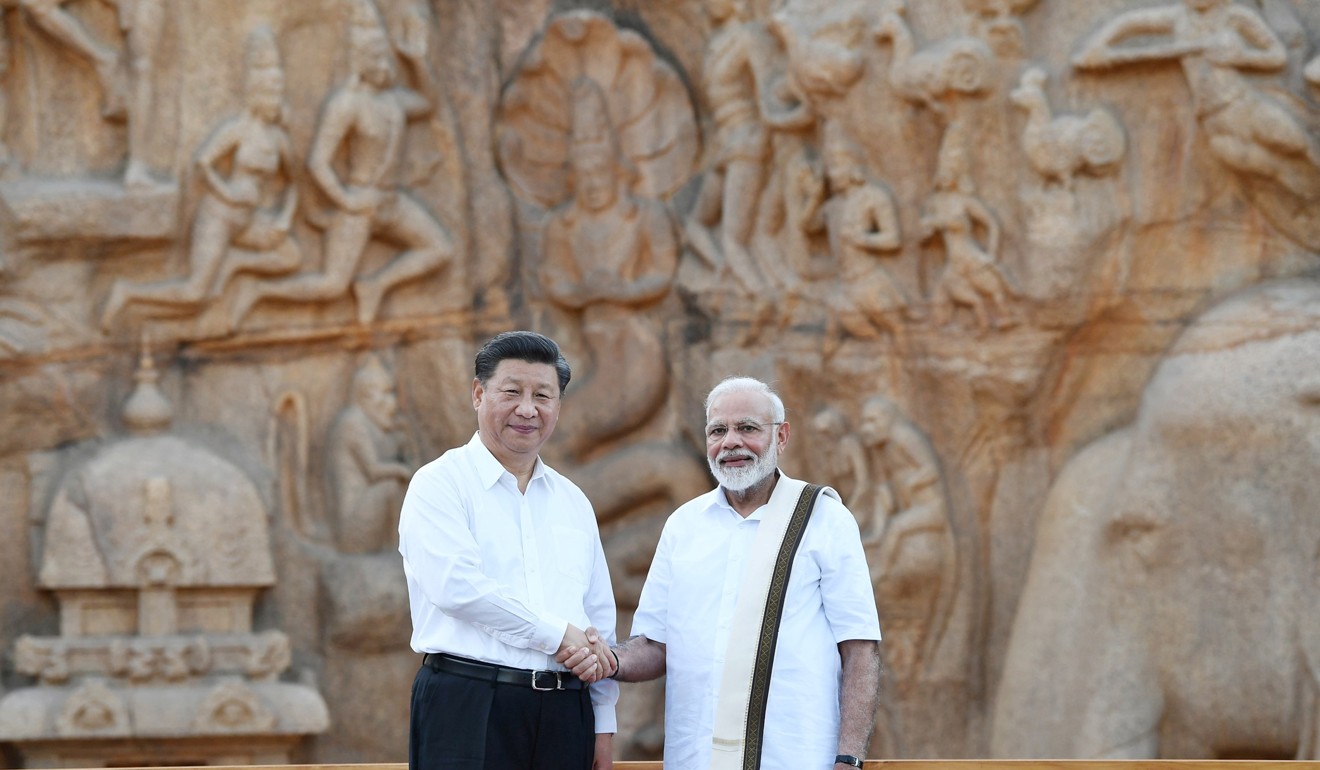 On Friday, New Delhi announced that visa rules for Chinese nationals visiting India would be relaxed, with multiple-entry visas with a validity period of five years available from this month onwards. At present, most visas are single-entry and usually for between 30 and 60 days. Visa fees would also be reduced, the government said, with the multiple-entry visa costing US$80.
This was aimed at further enhancing "people-to-people exchanges between the two countries and [encouraging] more Chinese tourists to choose India as a destination for tourism purposes," it said in a statement.
Xi left Chennai on Saturday afternoon and arrived in
Nepal
, which lies in between India and China. He will be the first Chinese president to visit Nepal in 22 years and is expected to sign a slew of deals with Nepal's Prime Minister K.P. Sharma Oli, including the planned extension of the rail link from remote, mountainous Tibet to Nepal's capital, Kathmandu.
The link will be part of Beijing's ambitious infrastructure project to boost trade, the
Belt and Road Initiative
(BRI), that Nepal joined two years ago.
More than 120 countries have signed on to the BRI, including Pakistan, where a series of projects worth US$46 billion are being constructed under the China-Pakistan Economic Corridor (CPEC). India has snubbed the BRI and questioned the transparency of funding agreements.
Additional reporting by Reuters
This article appeared in the South China Morning Post print edition as: Xi and Modi vow to focus on trade, not differences