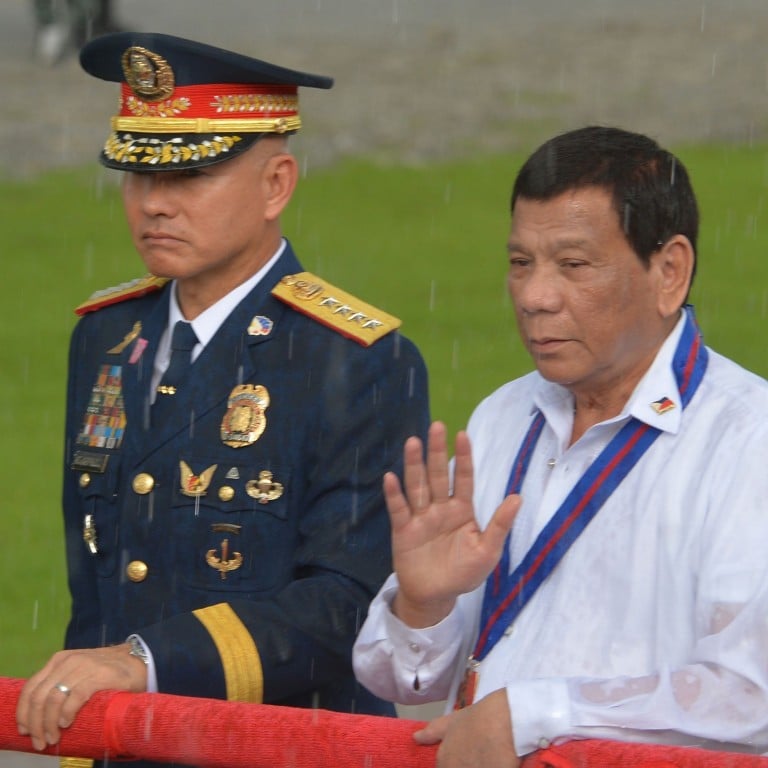 Philippines police chief lost moral standing over 'ninja cops' scandal: critics
General Oscar Albayalde's decision to go on leave ahead of his retirement was a soft exit, his critics said, given his alleged involvement in a case where policemen sold drugs they had confiscated
Albayalde is the second official appointed by President Rodrigo Duterte to have left their post amid scandal in recent months
The top policeman in the
Philippines
stepped down because he no longer had the moral standing to lead the 190,000-strong force, critics said, describing General Oscar Albayalde's departure as a soft exit.
Among them was Baguio City mayor and former senior policeman Benjamin Magalong, one of three whistle-blowers who implicated Albayalde in a 2013 operation that saw officers seize crystal meth from a lab run by a Chinese national and then sell the bulk of it, estimated to be about 648 million pesos (US$12.5 million).
"He has no choice. [Philippine National Police] officers and rank and file inside [the national police headquarters] are avoiding and evading him. How can you lead when your subordinates do not trust you? In essence, he lost the moral high ground to lead," said Magalong, who was formerly chief of the PNP's Criminal Investigation and Detection Group.
Albayalde was appointed to the post by President
Rodrigo Duterte
last year and was supposed to retire on November 8 when he turns 56, the official retirement age for senior public servants. Interior and Local Government Secretary Eduardo Año said Albayalde would get his full retirement benefits.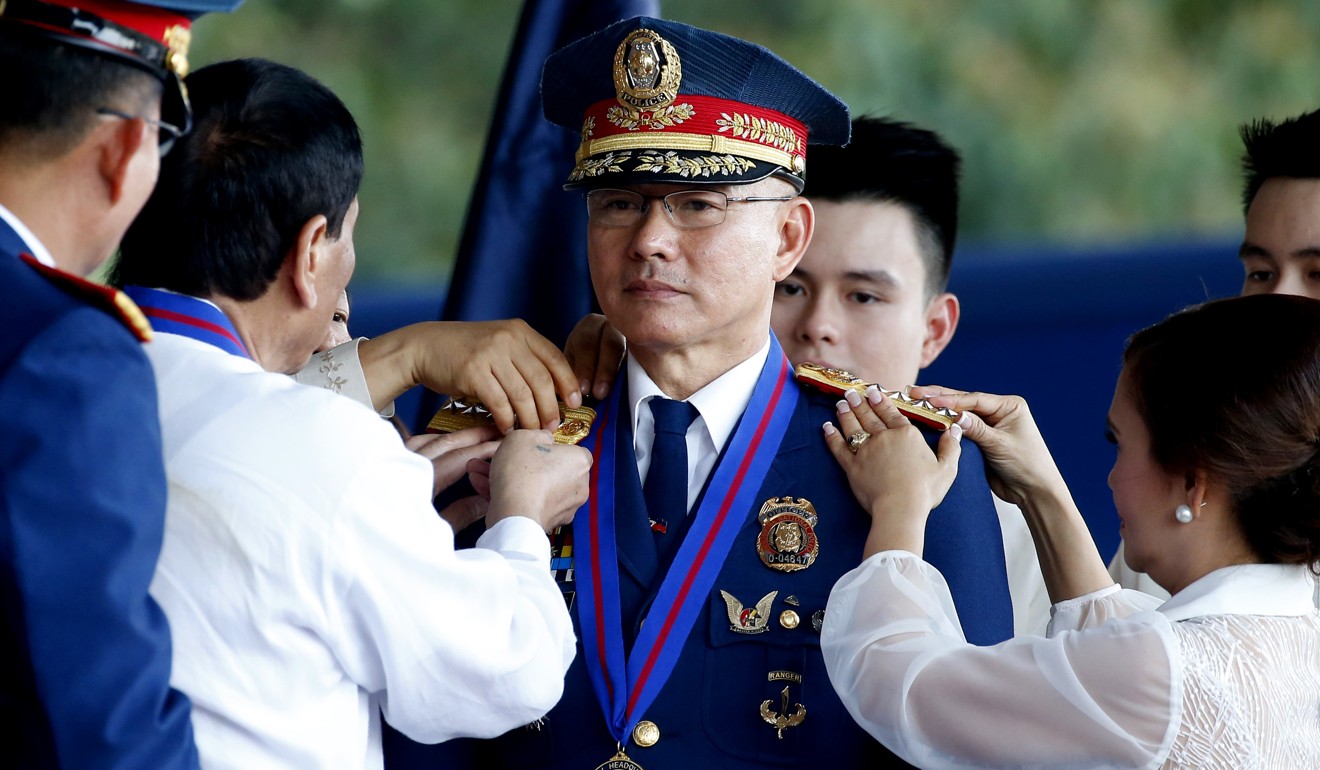 Albayalde did not use the word "resign" although calls for him to do so had mounted after ongoing senate hearings linked him to "ninja cops" – policemen who made millions from selling
drugs
they had confiscated. This struck at the heart of Duterte's war on drugs that critics say has resulted in the brutal deaths of alleged users and dealers for the past three years but has also left the wealthy and powerful alone.
Two weeks ago, senator Richard Gordon said: "If I were him, I would probably consider resigning already." And last week, Gordon said the senate investigation had produced enough material to file criminal and administrative charges against the embattled police chief.
Congressman Ferdinand Gaite of the leftist party Bayan Muna called the resignation "a smokescreen to hide the real corruption and shenanigans of the drug war of President Rodrigo Duterte".
Duterte has yet to issue a statement. But senator Christopher "Bong" Go, a close aide, said the president agreed that it was fair for the police chief to go on leave until his official retirement date.
Duterte's spokesman, Salvador Panelo, told CNN Philippines that "for as long as the president says nothing about it, the reasonable presumption is, he has the trust".
Albayalde has threatened to sue the three police whistle-blowers, who also claimed he intervened to protect the implicated officers from disciplinary action, and that he received money from the drug sale.
Albayalde's troubles began when a senate joint committee hearing looking into irregularities in the early release of prisoners stumbled on the story of the ninja cops from 2013.
While witnesses and investigators said the team arrested alleged drug lord Johnson Lee and seized more than 200kg of drugs, the team only reported a haul of 30kg. They also apparently released Lee after he paid them millions of pesos, producing a different "suspect", Ding Wenkun.
When the irregularities were discovered, the policemen were ordered dismissed but this never happened. Albayalde, who was Pampanga's provincial director of police at the time, was relieved of his position and put on "floating" (unassigned) status for eight months.
During the hearings, Albayalde and the ninja cops consistently denied any wrongdoing, but senators found their replies evasive and exasperating.
Senator Gordon said he will release the committee's report on the ninja cops on Wednesday or Thursday, and that although Albayalde had stepped down, "he will still have to face any cases" resulting from the hearings.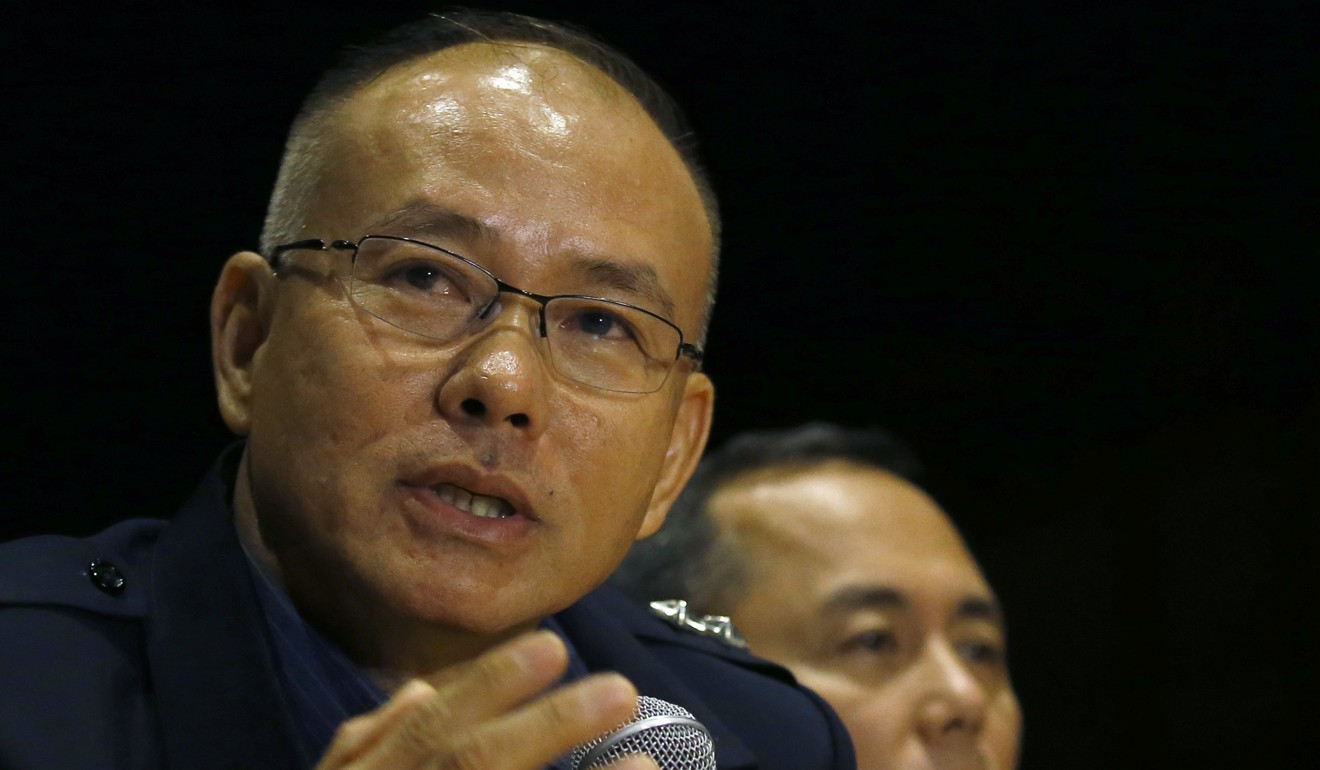 Albayalde is the second Duterte appointee to be forced out by Gordon's committee hearings. Last month, revelations of massive corruption in the National Penitentiary forced Duterte to fire Bureau of Corrections chief Nicanor Faeldon, who was also mired in scandal in his previous position at the Bureau of Customs.
In August, Gordon got under Duterte's skin when he warned the president about appointing military officials in government. Taking exception to the remark, Duterte said he appointed military officers because "I can work faster with honesty", and then taunted Gordon by saying he was a "fart away from disaster".
Opposition senator Francis Pangilinan cited the names of other Duterte appointees who left in scandal. "Faeldon, Lapeña, Teo Tulfo, Aguirre, Jason Aquino all resigned from their posts because of links to illegal drugs, corruption, or incompetence/negligence and yet this government has failed to go after them and has in fact assigned many of them to other posts.
"For a government that claims to be against illegal drugs and corruption, it has acted in the opposite direction and has in fact coddled the corrupt and those linked to illegal drugs," the senator said.
Additional reporting by Agence France-Presse