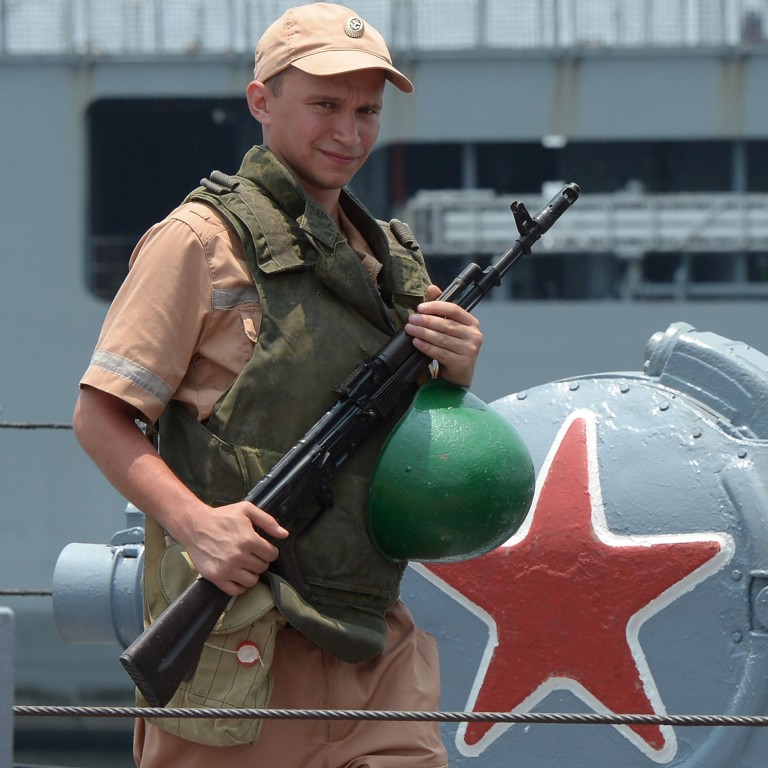 Russia offers arms technology to the Philippines with 'no conditions' as US ties falter
Moscow proposes manufacturing light arms and small weapons in the Southeast Asian nation after meeting between presidents Duterte and Putin this month
But Philippine defence chief says 'they are ready but we may not be'
Moscow is offering to help the Philippines produce its own arms for both domestic use and export with the help of Russian technology, envoy Igor Khovaev has revealed.
The proposal comes less than a month after Philippine President Rodrigo Duterte's second state visit to Russia. It also comes as ties with the United States, Manila's traditional military ally, remain strained over human rights concerns related to Duterte's war on drugs.
"We are ready to organise joint production of Russian sophisticated light arms and small weapons here in the Philippines," Khovaev said.
"Filipinos will produce Russian arms and weapons – they will be Philippine products based on Russian technologies. We are ready to supply our sophisticated technologies in order to help your country develop your own defence industry."
The envoy stressed that the offer would have "no political conditions".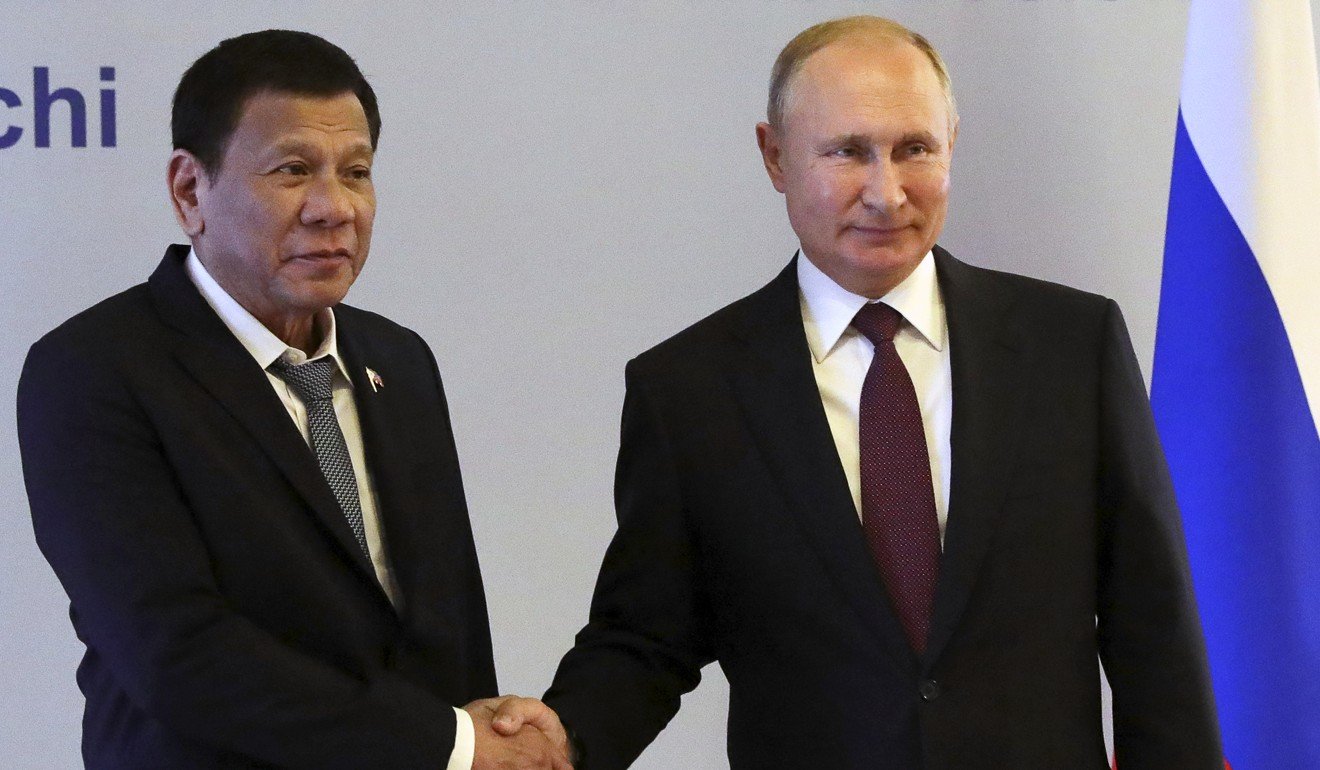 "Russia will never teach anyone human rights ... We'll never use our defence cooperation as a pretext to interfere, to meddle in the domestic affairs of other sovereign states," he said.
The US in 2016 halted the sale of up to 27,000 M4 assault rifles to the Philippine National Police amid concerns they could be used for extrajudicial killings in the country's violent crackdown on drugs.
No new defence or security initiative with Russia was announced during Duterte's trip to Moscow in early October, but Khovaev said on Tuesday that a plan by the Philippine Department of National Defence to acquire 16 Russian Mi-17 helicopters was still on the table, and that the "outcome will be positive".
Defence Secretary Delfin Lorenzana would not comment on the planned helicopter sale but doused cold water on the Russian offer of joint manufacturing.
"They are ready but we may not be," he told local media.
He said that mixing Russian rifles with US ones on the battlefield could bring logistical problems.
"For one, they have different calibres, meaning their rifles are different from our own standard rifles – the M16 and M14 or their derivatives," he said.
"Their ammunition is not compatible with our current rifles. Unless we totally change our M16s and M14s to Kalashnikovs, which we are not ready to do, then it is not feasible at the moment."
But Lorenzana said Russia was "welcome to produce other defence equipment such as body protective gear".
He did not say anything about buying the 16 Russian helicopters, but last December said the deal would not go through even though the Philippine Air Force preferred them to any others available.
Instead, the government would buy 16 Black Hawk helicopters from the US, he said at the time.
Lorenzana explained that although the Mi-17 was cheaper, "it is very difficult to pay for them because of US sanctions". The US Congress in 2015 passed a law sanctioning any country that buys from Rosoboronexport – Russia's state agency for arms exports – after the seller was blacklisted for its role in Moscow's annexation of Crimea.
Russia is the world's second-largest arms exporter after the US, and Southeast Asia accounted for more than 12 per cent of its arms exports between 2013 and 2017 – nearly twice as much as a decade ago.
Security analyst Chester Cabalza said the Russian proposal was "a fruition of the successful defence bilateral meeting of President Duterte's recent trip to Moscow".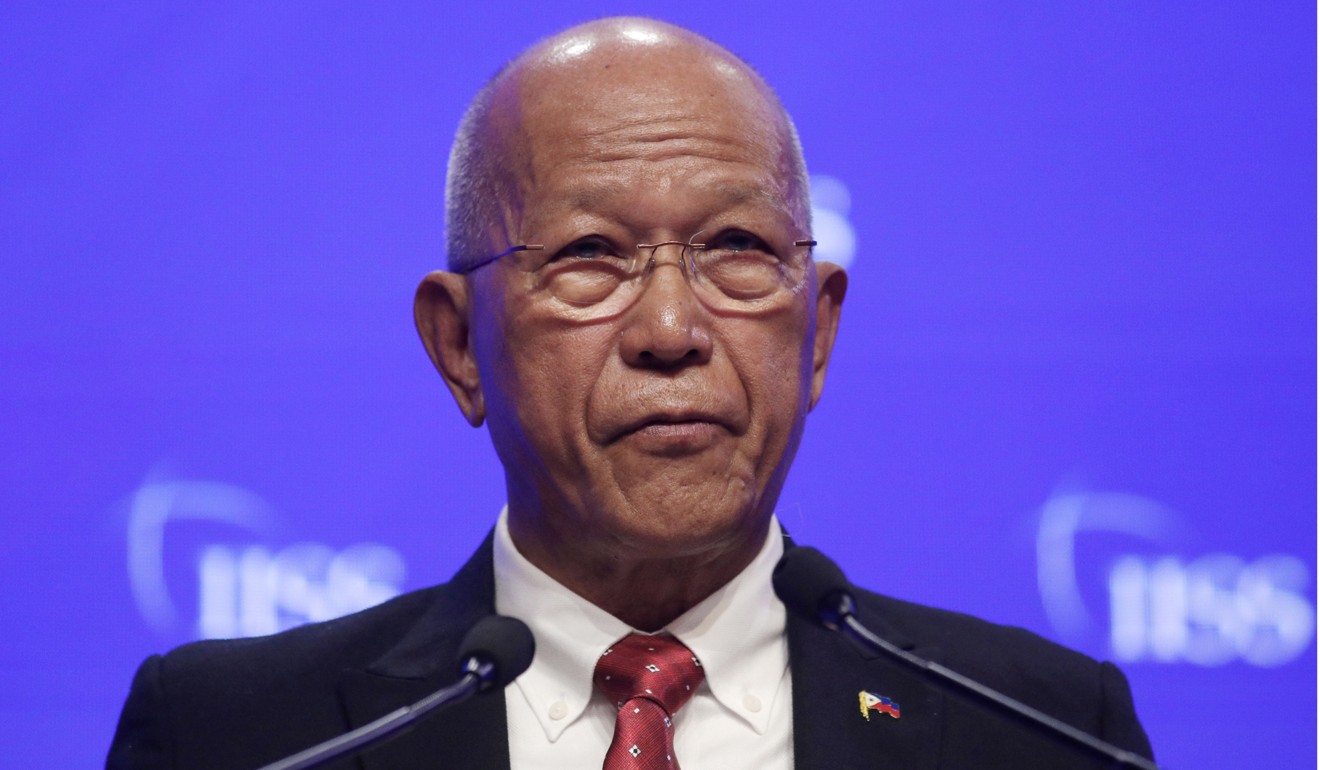 "It shows Russian President Vladimir Putin's aggressiveness in helping the Philippines as part of its new desire to reorientate the world geopolitical order," Cabalza said.
The plan was to make Russia and the Philippines mutual beneficiaries of this "evolving yet complex order", he added.
Cabalza, who studied for a year at the People's Liberation Army National Defence University in Beijing, said US weapons purchases had hampered the Philippines because American arms were expensive and most of the hardware was hand-me-downs.
The two countries had an "asymmetrical defence relationship", he said, and to make matters worse for Manila, the US had now tied weapons sales to human rights.
"Russia turns out to be an alternative market for Philippine defence and security needs, which our traditional ally, the US, is making hard for Duterte's administration."
The Philippines did not have an exclusive defence treaty with the Americans and so was free to upgrade its defence capabilities as it saw fit, he added.
For Australia-based defence consultant Max Montero, "what the Russian ambassador is doing is hyping Russia's presence as a ready supplier to the Philippine government to make them relevant and known to the Filipino public. But the pro-Russians should consider that, just because there are offers from them, the armed forces of the Philippines shouldn't just bite.
"One should also note that all countries capable of helicopter manufacturing are offering their products too. South Korea, France, Italy, the US, Poland, and even China are keen on supplying," Montero added.
"China and Russia are not known to provide their allies with the same level of security assistance the US gives," he warned.
"All they can probably offer is to sell their arms, which are generally cheaper but are also not of the same quality as those made by Western sources. Most Russian arms do not come with English manuals, labels or instructions."
He cautioned that mixing Russian and US weapons in the field would create logistical issues. "I have already received reports of troops using incorrect ammunition, resulting in them destroying some of their Russian rifles."
The Philippines has a modest arms manufacturing sector catering mostly to police and civilian needs.
In October 2018, the country's top rifle maker, United Defence Manufacturing Corporation, entered an agreement with South Korea's largest arms maker, S&T Motiv, to produce equipment for police and soldiers.
In April 2018 the Philippine Government Arsenal also linked up with Samyang Comtech of South Korea to jointly produce Kevlar helmets, body armour and detachable firearm magazines.
The arsenal used to produce M16A1 rifles but now mainly makes ammunition and refurbishes broken weapons. The latest Russian deal would be its second co-production venture in recent years.
This article appeared in the South China Morning Post print edition as: Russia offering to help Manila build own arms industry