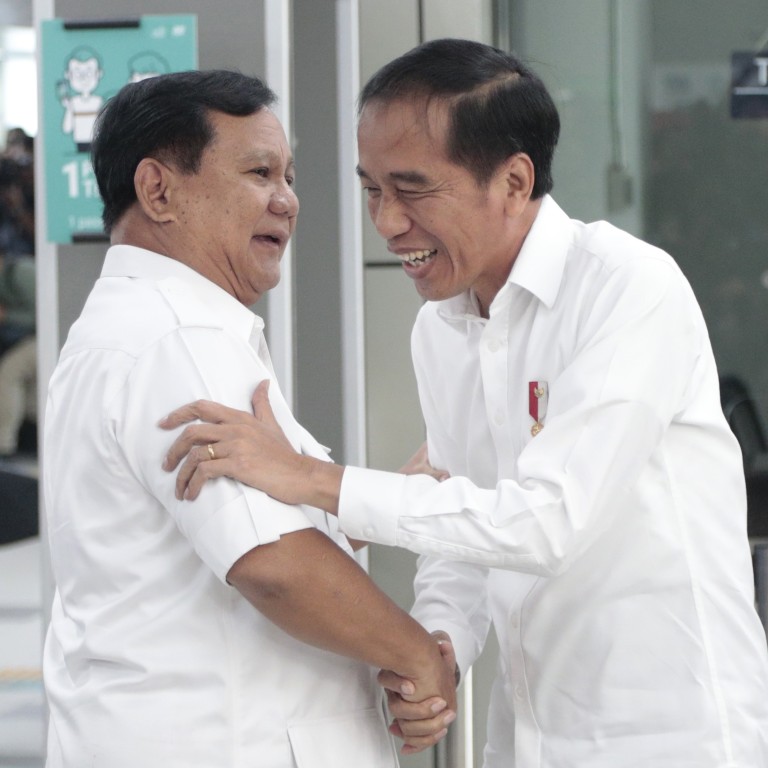 Jokowi's Javanese power play has Prabowo in face-off with an old army nemesis
President raised eyebrows by naming his rival as defence minister, but he also appointed Fachrul Razi – who dismissed Prabowo from the army 21 years ago
Analysts say Fachrul's appointment as religious affairs minister reflects the security aspect of his role, as the country grapples with rising radicalism
Indonesian President Joko Widodo's appointment of former general Prabowo Subianto to his cabinet has dominated global headlines amid criticism from human rights groups, but just as significant is the president's inclusion of Fachrul Razi – the man who dismissed Prabowo from the military 21 years ago.
Retired general Fachrul, 72, has been named minister of religious affairs. He was the deputy chairman of an officers' council that in 1998 discharged Prabowo for ordering the abduction of pro-democracy activists, some of whom remain missing.
Prabowo, 68, lost to Widodo in
Indonesia
's April elections. The son-in-law of the country's former ruler Suharto, he carried out the kidnappings in a failed bid to keep the late dictator in power. Prabowo has also been accused of rights violations in East Timor, which gained its independence from Indonesia in 2002.
Prabowo's appointment has left some supporters of Widodo, popularly known as Jokowi, unimpressed. But the leader is believed to have been under pressure from certain segments of his inner circle to bring his arch-rival into the fold.
For the 58-year-old president – who hails from Solo, the historic royal capital of Central Java – the appointment of the two army men is seen as a masterful and very Javanese power play of balancing friends, foes and different interests within his coalition.
"Widodo is playing the politics of shadow and nuance …[a] wayang (shadow puppet) show … smart, amazing," said former environment and maritime minister Sarwono Kusumaatmadja, who believes Fachrul's presence is meant to "help reposition" Prabowo from Widodo's rival to a "subordinate".
Justino Adiprasetio, who lectures in journalism and mass communication at Padjadjaran University, wrote in The Conversation that Widodo was trying to gather as much political power as possible, and his move strongly reflected the Javanese power model of achieving harmony and balance.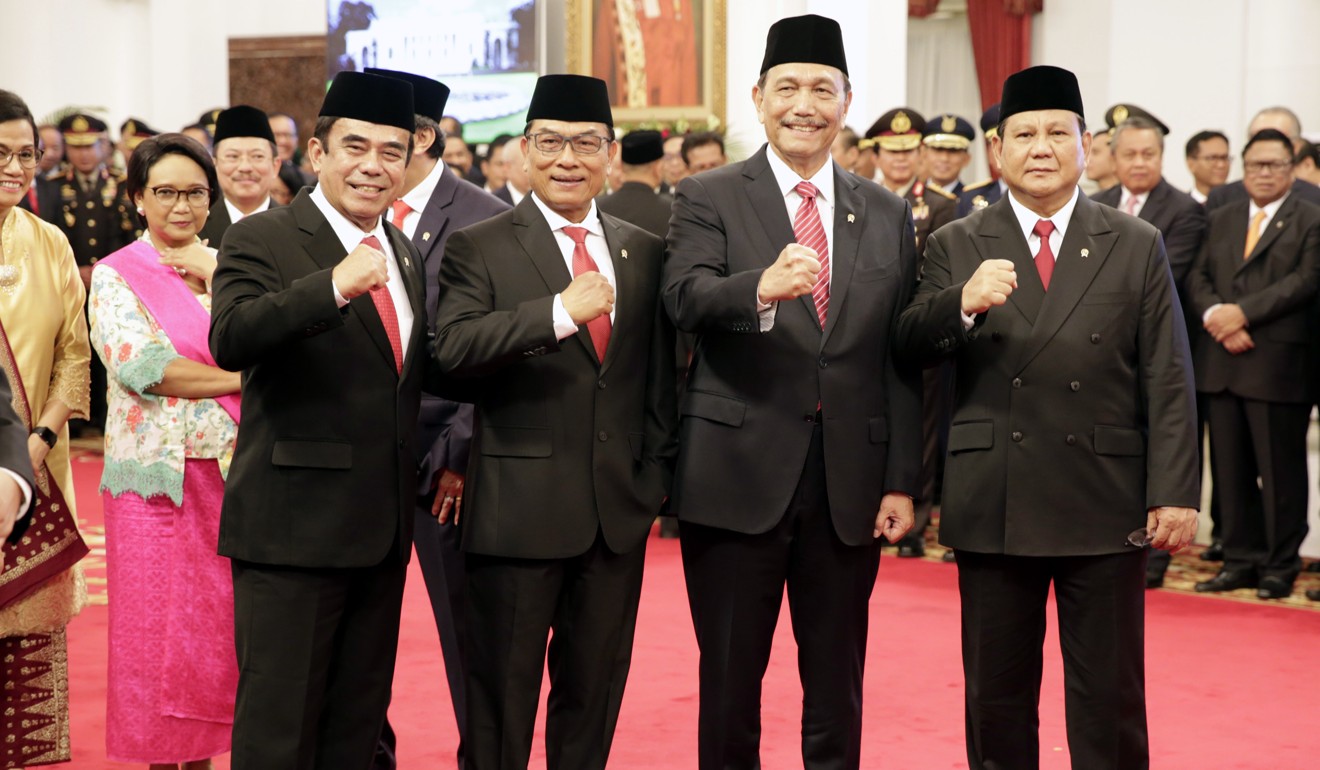 "Appointing Fachrul Razi … as religious affairs minister as a counterweight to Prabowo is the most evident example of Jokowi's efforts to achieve 'balance'," he wrote.
Professor Syamsuddin Haris, senior researcher at the Indonesian Institute of Sciences' Centre for Political Studies, agrees. "Fachrul could well have been appointed to balance out Prabowo so that he does not behave at will in the cabinet," said the veteran military analyst.
However, scholar Ahmad Suaedy from the Wahid Institute warned that having the two former generals facing off against each other was "very dangerous". "Both of them are militaristic," he said.
Analysts also see Fachrul's appointment as part of the government's efforts to combat
rising radicalism in the world's most populous Muslim country
, which has suffered terror attacks in the past two decades, carried out by home-grown outfits with links to international militant groups. Earlier this month, top security minister Wiranto was seriously wounded in an
Islamic State
-linked knife attack.
There have also been media reports that even civil servants are being affected by hardline Islamist ideology. For example, a 2017 survey by independent pollster Alvara Research Centre found that one in five civil servants and 10 per cent of state enterprise workers preferred an Islamic state, rather than Indonesia's cherished ideology of Pancasila, which advocates religious pluralism.
"I believe Jokowi assumes that stopping radicalism requires a firm minister of religious affairs who is a former military official," said Syamsuddin, the researcher and analyst.
Nearly 60 per cent of Muslim teachers in Indonesia are intolerant of other religions, according to an October 2018 survey by Syarif Hidayatullah State Islamic University's Centre for the Study of Islam and Society, while about 46 per cent had radical leanings.
Around 27 per cent of teachers expressed a desire to encourage others to join the fight to establish an Islamic caliphate in the country, if given the opportunity, while 13.3 per cent said they would attack members of the police if they tried to arrest those fighting for a caliphate.
Fachrul served as deputy commander of the armed forces from 1999 to 2000, after spending much of his career in the infantry, and was a member of Widodo's 2019 campaign team. Former minister Sarwono describes the new religious affairs minister, whom he has known since 1997, as a "really good person" who is loyal and open. A quiet and unassuming man, Fachrul hails from Aceh, the only Indonesian province that practises sharia law under its special autonomous status.
"The religious affairs minister has the authority to formulate policies, from the recruitment of human resources to the organisation of the curriculum in religious schools and universities," said Dodi Ambardi, political science lecturer at Gadjah Mada University.
"Therefore on paper, the appointment opens the door to countering radicalism. We have to see how this turns out."
In the past, the office has often been filled by clerics and members from Indonesia's two largest Muslim organisations – Nahdlatul Ulama and Muhammadiyah.
Syamsuddin from the Centre for Political Studies points out that military officers have been appointed as religious affairs minister in the past, for instance Alamsyah Ratu Perwiranegara in 1978 and Tarmizi Taher in 1993.
Nahdlatul Ulama – the country's largest Muslim organisation, which claims to have 50 million followers – expressed disappointment with Fachrul's appointment, without providing a reason.
"Many clerics from various districts have … expressed their protests," said Nahdlatul Ulama's head of law affairs Robikin Emhas, who added that the group's clerics have long been concerned over rising intolerance in Indonesia.
"Terrorism is the end product of confused understanding of religion," he said.
Nahdlatul Ulama leader Said Aqil Siradj on Wednesday told the Kompas news portal that exclusivity and radicalism, especially among Muslims, was increasing "by the day".
"Not only that, a number of bureaucracies – the military, police, state-owned enterprises – have been exposed to radical thoughts," he said.
This article appeared in the South China Morning Post print edition as: old rivals face off in Widodo's cabinet