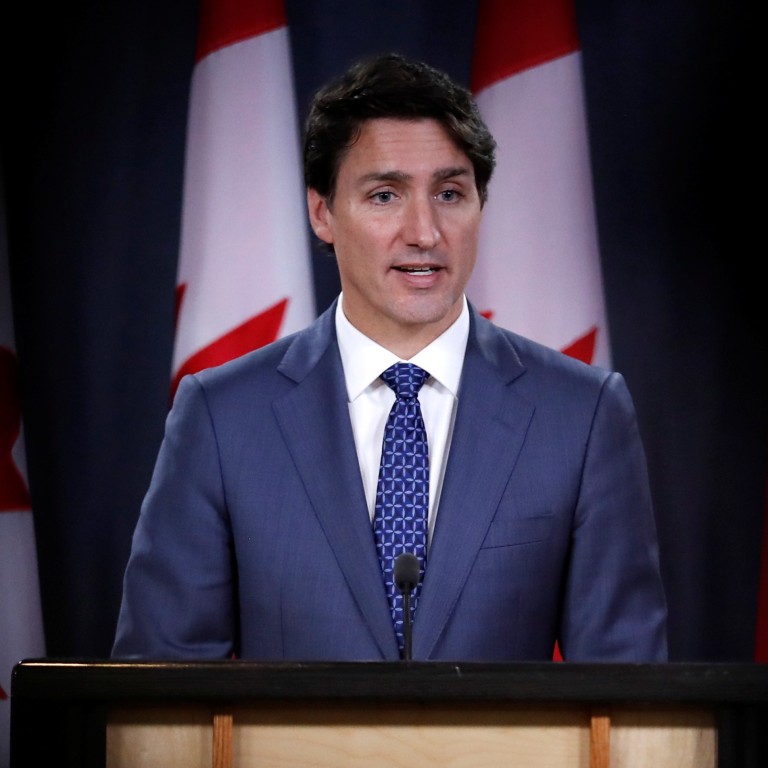 Campaigners urge Canada's Trudeau to adopt US-style Hong Kong Human Rights and Democracy Act
The Canadian leader has kept relatively quiet regarding the Hong Kong protests. Campaigners hope that will change now the election is behind him
But some experts say he is unlikely to risk jeopardising trade
Newly re-elected Canadian Prime Minister
Justin Trudeau
has successfully run for office, but he cannot hide from the issues. That is the message from campaigners who are demanding the Liberal Party leader speak up on political
protests in Hong Kong
that have entered their 22nd week.
In the lead-up to last week's knife-edge federal elections – which returned Trudeau's party to power but as a minority government – the
Canadian
leader had come under pressure to back the protests after the rival Conservatives raised the issue on the campaign trail, with leader Andrew Scheer provocatively tweeting that "Now, and in the coming days, we are all Hongkongers".
But Trudeau had kept
largely silent on the issue
, leading observers to speculate he saw it as too much of a hot potato to risk raising before such a close vote, especially given Canada's large Chinese diaspora and clashes on university campuses between students identifying as either "pro-Hong Kong" or "pro-Beijing".
Now with the election pressure out of the way, campaigners hope Trudeau will feel less constrained and are stepping up the pressure on him to address both the protests and Canada's ties with China, its second-largest two-way trade partner.
On October 23, just a day after the election, a platform involving more than a dozen pro-Hong Kong protest groups across Canada sent an open letter to Trudeau congratulating him on his win, and requesting that he take a stronger stance in support of the Hong Kong protests.
"We wish to urge your government to reaffirm and materialise Canada's support for the people of Hong Kong and revisit Canada's strategy on China amid mounting pressure from the Chinese Communist Party to influence our politics, economy, and way of life," read the letter by #CanSaveHK, which has over 200 likes on Facebook and 130 shares.
The note cited Washington's passing of the
Hong Kong Human Rights and Democracy act
 this month, and asked Canadian political parties to unite in adopting a similar bill which, like the US act, would annually review Hong Kong's autonomy from mainland China to justify preferential trade agreements granted to the Special Administrative Region and authorise economic sanctions on government officials considered to have committed human rights violations.
The letter also called on Trudeau to take "a much stronger and tougher approach" to China and for the Canadian Security Intelligence Service to investigate whether Chinese student associations had been used to disseminate propaganda.
While the nation's spy agency has in the past said "economic espionage" is an issue – without naming specific countries – the Royal Canadian Mounted Police have said there is little evidence of spying being committed by any of the 143,000 mainland Chinese students studying at local schools. Despite this, internet memes alleging such conduct and stereotypes about mainland Chinese students have persisted.
"We are trying to circulate the letter as much as we can so that it can reach a wider audience," the groups behind the letter told the Post. "Trudeau is unlikely to respond to this letter unless we can get more people to read it, agree with it, and create pressure for Trudeau to respond to it … We will try to make it happen."
'ELEPHANT IN THE ROOM'
Whether the letter, along with other forms of lobbying, will be enough to sway Trudeau remains to be seen.
For now, its supporters, like Ari Chow, a Hongkonger-Canadian health care professional living in Toronto, are optimistic.
"We just had our elections which might have been [why politicians were] trying to play safe to avoid affecting their voters," she said. "I'm waiting to see if that will change now that the election is over."
Ken Yung, a Hongkonger-Canadian living in Vancouver, agreed that politicians had not spoken out enough. "Canadian politicians are afraid that it might hurt our business interests, but the fact that the US is pushing for the Hong Kong Human Rights and Democracy act means Canada is not alone on this," he said.
Others like Stephen Tong, a Hongkonger-Canadian NGO worker who now lives in Hong Kong, said it was time for the Canadian government to address the "elephant in the room". "Canada's foreign policy for China is currently non-existent. There is no plan or strategy at all," he said.
However, some experts said Trudeau would not risk angering Beijing and jeopardising the trade relationship between the countries.
Jun Ing, vice-president of the Chinese Benevolent Association in Vancouver, who described himself as "pro-Beijing" warned that "if acted upon, these sanctions and bans will worsen the Canada-China relationship. Foreign students are a source of revenue for Canada, and the ban will impact the economy".
Chris Chien, a doctoral candidate at the University of Southern California specialising in Hong Kong history and settler colonialism, also felt the letter would not be enough to move Trudeau, saying "the fact of the matter is, Canada has far too much to gain from trade with China".
He cited Chinese investment in cities like Vancouver which saw US$260 million in Asian real estate investments last year. "Provincial governments also have far too much to gain from mainland Chinese capitalists who stash their wealth in Canadian real estate."
However, Lynette Ong, an associate professor of political science at the University of Toronto, said public opinion could force Trudeau to take action. "I expect Trudeau to take a tough stance on China in his second term," she said.
Ong said it was not just the Hong Kong diaspora that would pressure Trudeau, but wider public sentiment had turned against Beijing after the detainment of two Canadians last year, widely seen as retaliation for Canada's arrest of the Huawei executive
Meng Wanzhou
on the request of the US.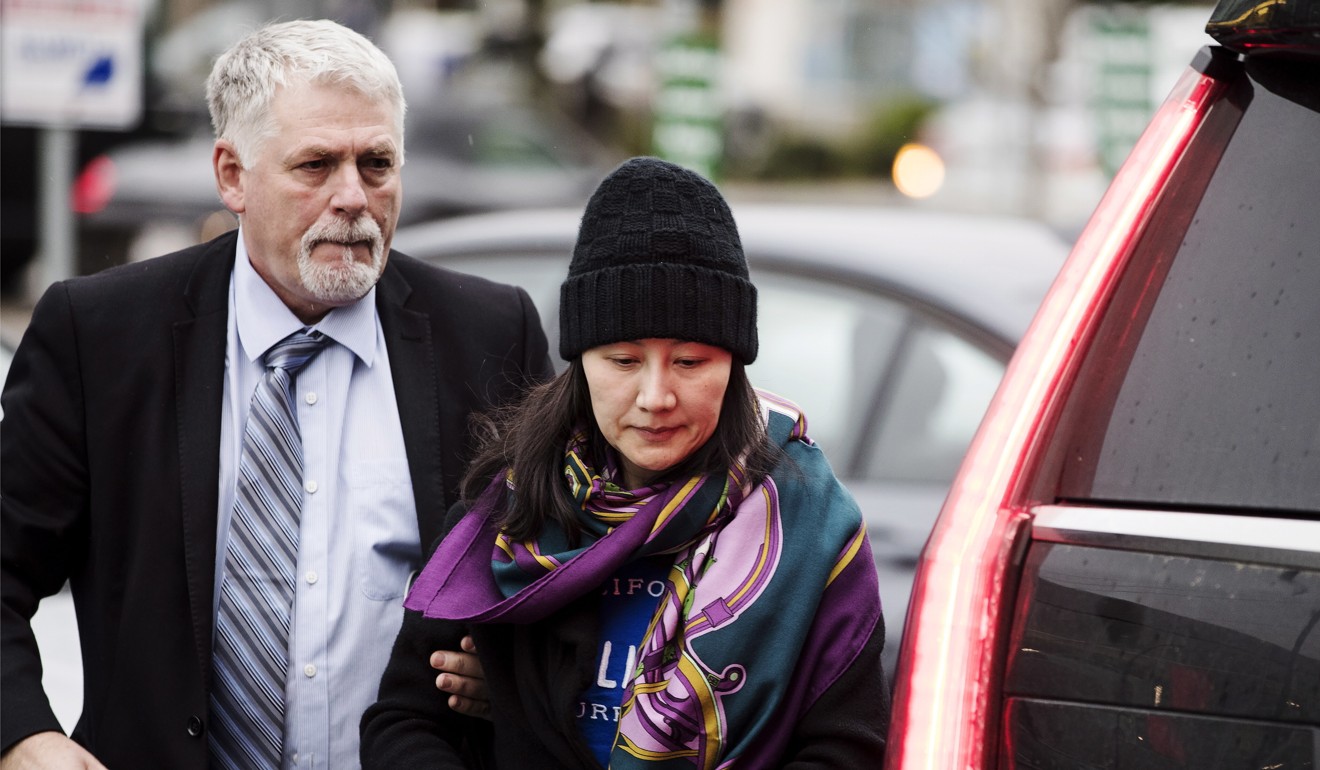 WIDENING DIVIDE
Canada is home to an estimated 500,000 Canadians of Hong Kong descent, many of whom live in urban concentrations in neighbourhoods of Vancouver and Toronto. A further 650,000 Canadians were born in mainland China.
Increasingly, the protests have polarised these two communities, with some Canadians of Hong Kong descent increasingly likely to identify as Hongkonger-Canadians rather than Chinese-Canadians.
Tong, the NGO worker living in Hong Kong, is among them. He said peoples' tendency to identify as Hongkongers had been prompted by the growing numbers of mainland Chinese relocating to Canada.
Chow, the health care professional in Toronto, said this was part of Hongkongers' long struggle with their identity.
"It was always hard to call ourselves British in the past, and then later on as Chinese in the context of being part of China," she said, citing the territory's colonial history under British rule from 1841 until 1997's handover to China.
Chow said until recently, she had been proud of China's economic growth and status as an emerging superpower. But recent events had changed her views.
"Our families' main motivation to move to Canada was to start a new life where we are not fearful of being ruled by the Chinese government," she said. "We cannot fathom the mentality of those who moved here from China but still sing the praises of the Chinese government."
Chow said this was the cause of tension between the two communities.
But Ong, the University of Toronto academic, said that while a mixture of stereotypes and realities played into the tensions, the two sides did not necessarily have to clash.
"The growing disparity in identities between mainland Chinese citizens and Hongkongers are due to increasing gaps in economic areas and political development," she said. "It's a complex issue, but I don't think it's dichotomous that the freedom and liberty of Hongkongers [needs] necessarily [to be] anti-China."
Rebecca Zhang, a mainland Chinese ESL student studying in Toronto, said she had noticed "differences in how we are portrayed".
"Chinese media they only say good things about us. Western media all thinks Chinese are all bad … There's definitely stereotypes for Chinese students: people think you're either rich or you're [a nerd] studying all the time."
Yung, living in Vancouver, was hopeful any differences could be bridged. "Hongkongers should try to engage mainlanders in more constructive ways, even though I think this might be extremely difficult … I do think a lot of mainlanders who migrate to Canada have more liberal world views than many Hongkongers give them credit for."
The South China Morning Post has reached out to Trudeau's office.
This article appeared in the South China Morning Post print edition as: Pressure mounts on Trudeau to speak out on HK turmoil