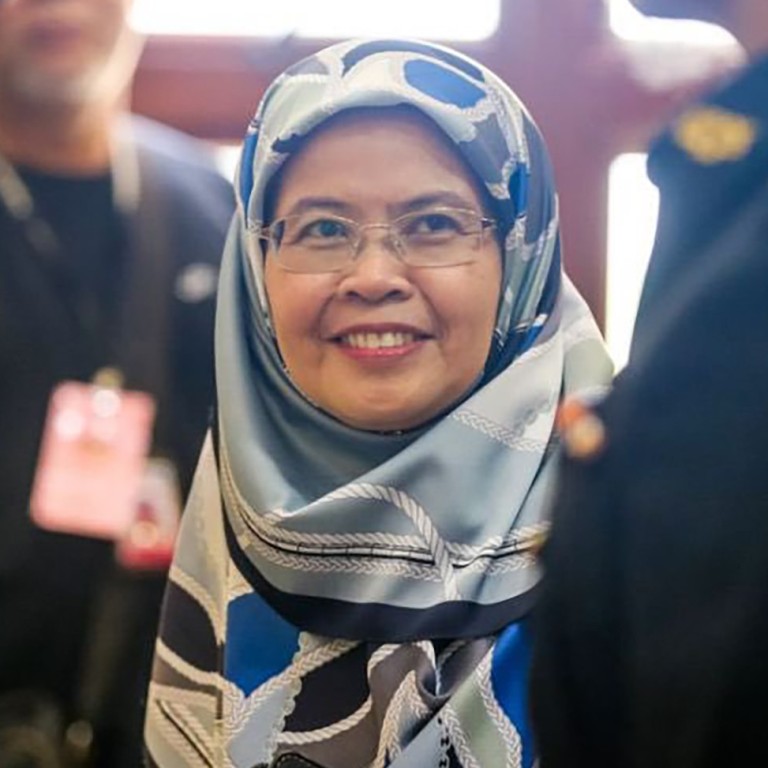 Key 1MDB witness Nor Salwani Muhammad praised by Malaysians for 'pencil case' recording
The former government auditor was asked to leave a meeting where officials were discussing a 1MDB audit report
Having been asked to take the minutes of the meeting, Nor Salwani left a recorder on in a pencil case, and later gave the audio clip to the new auditor-general
A key witness in the 1Malaysia Development Berhad (
1MDB
) corruption trial has been lauded as a "national hero" by Malaysians, after she revealed in court that she had recorded a meeting between top officials discussing a 1MDB audit report and kept a copy of a document she was meant to destroy.
Former government auditor Nor Salwani Muhammad, 52, said yesterday that she had taped a 2016 discussion between senior government officials and former 1MDB CEO Arul Kanda Kandasamy, although she maintained that she had not intended to do so by design.
The conversation included 1MDB officials, the former Chief Secretary to the Government Ali Hamsa, and members of the National Audit Department including former Auditor-General Ambrin Buang, she said.
Her testimony earned her strong praise by Malaysian social media users, some of whom described her as a "patriot".
"Nor Salwani Muhammad risked 7 years jail for violating the [Official Secrets Act], enforced disappearance and assassination, all for withholding critical information she hoped would one day help see justice served," said Twitter user @RohanBeg. "She didn't even know that [former ruling coalition] BN would lose. Odds were against her, but she persevered."
A graphic of Nor Salwani with the caption "Berani Mengingkari Koruptor" ("Dare To Defy Corruptors"), produced by street artist Fahmi Reza, was also shared widely, including by Women, Family, and Community Development Deputy Minister Hannah Yeoh, who described Nor Salwani as "the epitome of courage".
Fahmi Reza was previously arrested for drawing disgraced prime minister Najib Razak – who is accused of multiple counts of corruption and abuse of power in the 1MDB trial – as a clown.
Before the officials' meeting started, Nor Salwani said she was asked to leave the room, even though she was the coordinator of the government's special audit team on 1MDB.
But because she had been asked to record the minutes of the meeting, Nor Salwani left her recorder in the audit team leader's pencil case.
"I did not intend to hide it, I put it in and wanted to tell her. But when asked repeatedly to leave, I did not manage to tell her that I left the recorder in her pencil box," she said.
After the meeting, Nor Salwani retrieved the recorder and transferred the recording to an external hard drive as well as a thumb drive due to security concerns over information leakage.
The thumb drive, which had been kept in a sealed envelope in a limited-access cabinet in her office, was played in court yesterday.
The audio recording, which runs for two hours and 40 minutes, revealed that officials had demanded certain details be dropped from the national audit report – which was presented to Parliament's Public Accounts Committee – and the original report be destroyed.
The civil servant had also managed to retain one of 60 copies of the original and unedited 1MDB audit report, despite orders to destroy them all. She later surrendered it to the new auditor-general appointed by the Pakatan Harapan ruling coalition after it won elections last May.
Other politicians have voiced their respect for the civil servant, including the chief minister of the northern Malaysian state of Perak, who saluted her during the state legislative assembly.
"Nor Salwani Muhammad: What you did is beyond the call of duty. What you did is the call of conscience," MP Fahmi Fadzil tweeted.
"Every time I'm scared to say something for fear of people in authority, I'm going to think of Puan [Madam] Nor Salwani and speak up! Thank you for the inspiration," said @cherylfernando on Twitter.
The 1MDB corruption scandal – which saw US$4.5 billion siphoned out of Malaysia's state wealth fund, involves investigations in multiple jurisdictions and the US Department of Justice's biggest-ever civil forfeiture – was a key factor that led to Pakatan Harapan's general election win last year.
Malaysian authorities have been working to recover the looted funds, with the Malaysian Anti-Corruption Commission recently issuing notices to hundreds of individuals or entities believed to have received hundreds of millions of looted funds.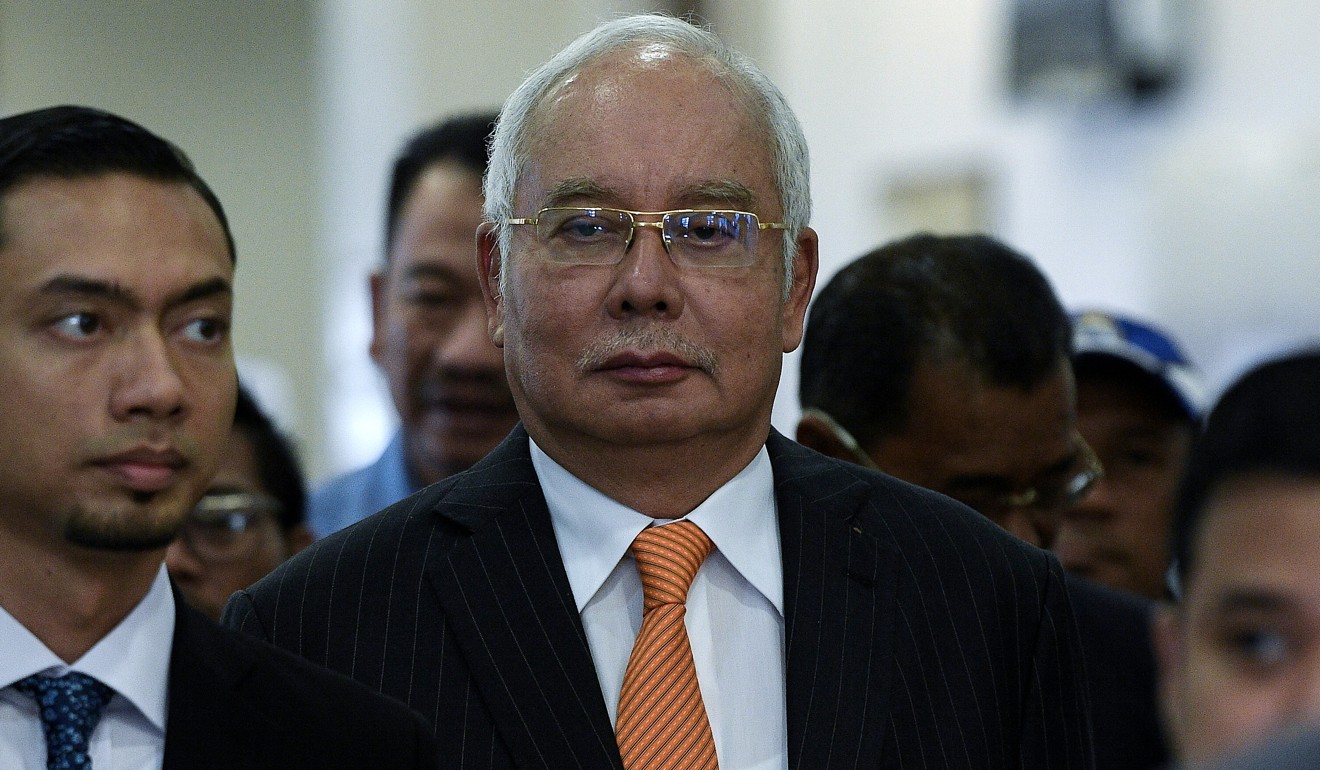 The Malaysian government is also seeking a US$3.3-billion payout from investment bank Goldman Sachs for its role in the saga. Seventeen of the bank's current and former executives face criminal action for their alleged role in the scandal, but Goldman Sachs maintains it committed no wrongdoing.
Meanwhile, Najib's ongoing trial has thrown up major new details, with the prosecution insisting the embattled politician, as well as fugitive financier
Jho Low
, had worked hand in glove to siphon money out of 1MDB.
The funds were allegedly used to purchase items such as artwork by the likes of Monet and Picasso, jewellery, and a US$250 million
superyacht
, which was seized by the Malaysian authorities in August.
In total, Najib faces 42 criminal charges for his involvement in the financial scandal, and the prospect of spending the rest of his life in prison if convicted.
US investigators say Najib's associates stole and laundered billions through layers of bank accounts in the US and other countries to finance Hollywood films and buy hotels. More than US$700 million from the fund allegedly landed in Najib's bank account.
Truckloads of suitcases packed with cash, jewellery and designer bags amounting to US$265 million were seized from Najib's and his wife's home and properties last year.