India
Get more with myNEWS
A personalised news feed of stories that matter to you
Learn more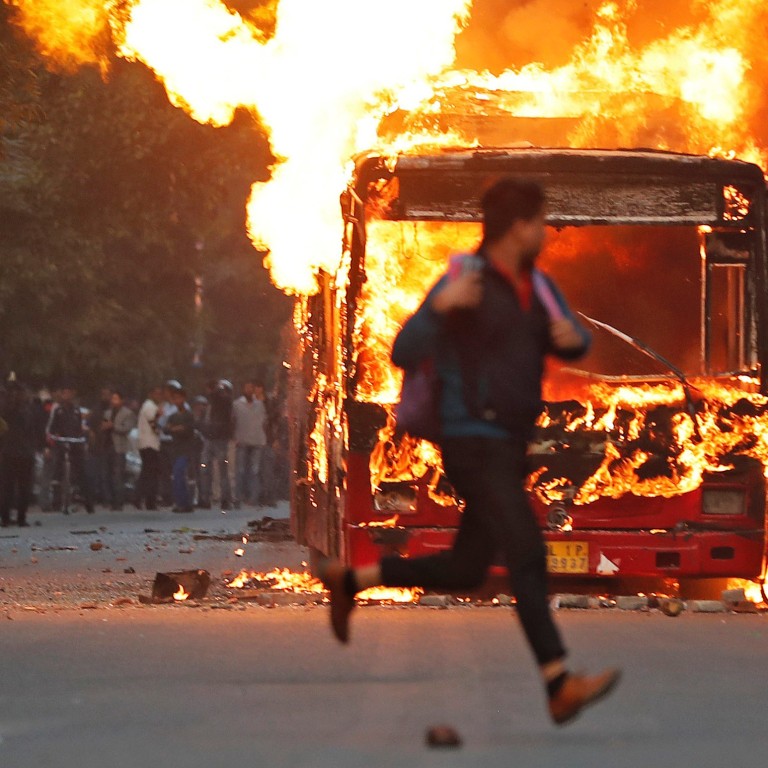 WhatsApp to Bridgefy, what Hong Kong taught India's leaderless protesters
Indians protesting against New Delhi's new religion-based citizenship law are learning from tactics used by the Hong Kong protesters
After police tear-gassed a university library, one group turned to Bridgefy, an app that enables communication without an internet connection
It all started with a simple poster doing the rounds on WhatsApp, Instagram and Facebook, asking people to show solidarity with students who had been assaulted while protesting against India's new religion-based citizenship law.
As visuals of police forces entering the Indian capital's Jamia Millia Islamia University firing tear gas into the college campus and library streamed onto their phones on Sunday night, a group of friends felt stirred.
"We felt we had to urgently send out a message of solidarity with the students and resist this, because if not, we could be next," said a member of the group, Ruben Mascarenhas, a Mumbai-based activist.
So they made a poster asking people to attend a street protest to show solidarity with the students. The poster soon went viral on
social media
.
But, there was one crucial thing the protesters still had to do – learn lessons from other movements and anticipate the worst. Mascarenhas had been following the
protests in Hong Kong
closely and wanted to be prepared for pushback. He believed that Indian police could use force or weapons to disperse people, like authorities in the Chinese city had done with violent protesters. Pepper spray, beanbag rounds and rubber bullets are among the weapons that have been used during clashes between Hong Kong police and protesters.
So, Mascarenhas and 15 organisers of the street protest decided to take a leaf out of the Hong Kong protesters' book and downloaded the Bridgefy app.
Bridgefy allows mobile phone users to communicate with each other without any active internet or phone connections, relying on Bluetooth connectivity among the users instead. Various media had reported how protesters in Hong Kong were using this software to communicate, amid rumours that the city's government could shut down mobile networks.
In less than 24 hours, more than 1,000 students were out on Mumbai's streets, a city famous for its apathy towards protests.
Across India, tens of thousands of people like Mascarenhas, primarily students, are rallying against the
Narendra Modi
government's decision to amend India's citizenship laws to block Muslim refugees from the neighbouring countries of Pakistan, Afghanistan and Bangladesh.
The clashes, which entered their seventh day on Wednesday, have claimed at least six lives and dozens more have been injured. Critics say the legislation goes against the Indian constitution and is a bid by the Hindu nationalist government to marginalise the country's 172 million Muslims, even stripping some of their citizenship. The Modi government has this year asked nearly 2 million people in the northeastern state of Assam – half Muslim and half Hindu – to prove their citizenship or be considered illegal immigrants, and revoked the special status of the Muslim-majority state of Kashmir, putting it directly under New Delhi's control. There is talk that Assam's citizenship registry scheme could be extended to the rest of the nation.
In the face of unrest, authorities have imposed internet blackouts particularly in Assam, where the local government has said mobile internet will not be restored until Friday at the earliest.
Protesters have vowed to keep up their opposition and are taking tips from anti-government demonstrations across the world, from Hong Kong to Chile.
ORGANIC, LEADERLESS
Like in Hong Kong, India's protests are not led by any political organisation but are essentially leaderless.
This means protesters must rely on word of mouth and social media to spread their message.
P Chidambaram, a senior leader of the opposition Congress party and a former Home Minister, compared the Indian and Hong Kong protesters at a talk on Tuesday, asking the Modi government to "course correct [before] street riots". Hong Kong has been roiled by street clashes during six months of anti-government protests, with tourism and the
economy taking a hit
.
Many protesters believe that organic, leaderless protests such as these are more credible than those organised by political parties.
Rashee Mehra, a New Delhi-based researcher of urbanisation, said demonstrations in the capital had come about organically, pointing to how thousands of protesters surrounded the Delhi Police headquarters on Sunday night, after videos surfaced of students being assaulted at Jamia Millia Islamia University and the library being ransacked by police.
"There are many WhatsApp groups which are actively mobilising people for the protests. As soon as the assaults happened, there were SOS messages sent out asking people to gather outside the police station," said Mehra, who went to the police station along with others demanding the students be released while braving the winter cold.
Mehra believes the protests are now much more broad-based. "They started off with the students, but now different civil society organisations and groups are also part of the protests. Most of them reach out using Twitter, Facebook Messages and
WhatsApp
groups," she said.
On Wednesday, India's top court refused to stall the implementation of the citizenship, despite the nationwide protests. However, the Supreme Court said it would hear petitions challenging the law as being against the constitution on January 22.
Meanwhile, authorities imposed an emergency law banning gatherings of more than four people in some Muslim-dominated areas of the northeast of New Delhi after 12 policemen were reportedly injured in the protests on Tuesday.
India's Home Minister Amit Shah defended the law as he addressed business leaders earlier this week, leading to concerns that he and Modi were appealing to their right-wing Hindu base.
Modi has dismissed the protests as being orchestrated by opposition political parties, alleging that the Congress party was trying to scare the Muslim community. "Stop these guerilla politics. The Indian Constitution is our only holy book. I appeal to youth in colleges to debate our policies, protest democratically," Modi told a rally in the central-eastern state of Jharkhand.
But unrest looks set to intensify with organisations across the country announcing coordinated protests on Thursday. Over 60 organisations have issued a joint call for the protests under the banner, "Ham Bharat Ke Log (We, The People of India): National Action Against Citizenship Amendment."
The NACA said, "The Citizenship Amendment Act is an assault on our constitution and the inclusive, composite vision of India that guided our freedom struggle. Everyone who believes in the idea of India must stand now and be counted in opposition to this onslaught."
According to one of the organisers, a New Delhi-based civil society group not wishing to be named, protests are likely to occur in over 100 locations across the country.
"We are constantly in touch with organisations and individuals across the country to make the protests as wide as possible. We will be seeking to administer a pledge to all protesters to not cooperate with any registration based on this discriminatory and divisive citizenship law."
Additional reporting by Reuters, Bloomberg and Agence France-Presse
This article appeared in the South China Morning Post print edition as: leaderless protesters look to hk