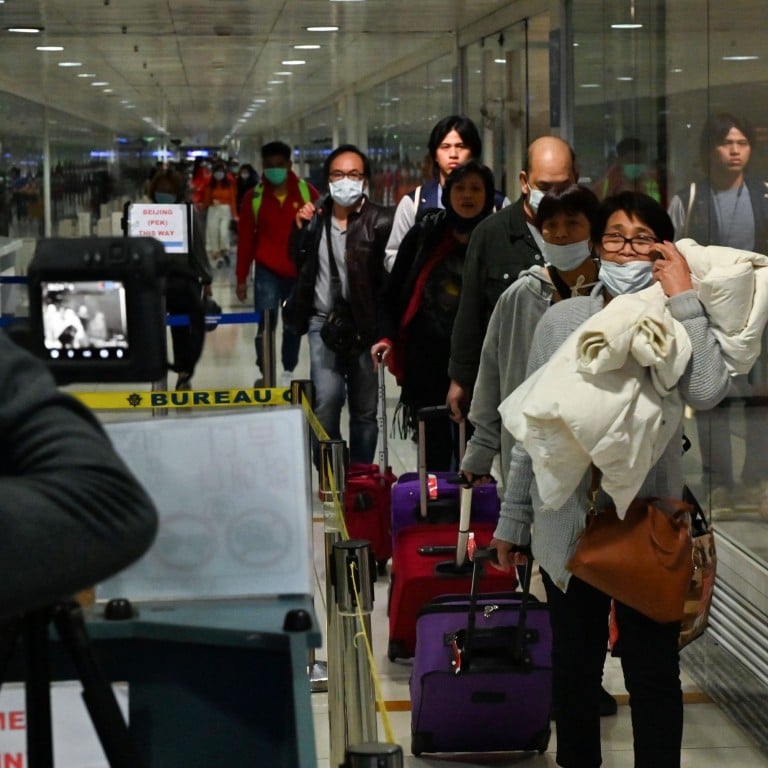 Coronavirus: Philippines' one-China travel ban extends overseas workers' anxiety
Manila's ban on travel to or from mainland China, Hong Kong and Macau in the wake of the coronavirus outbreak has been extended to also cover Taiwan
The move has left stranded workers with jobs on the self-governing island fearing for their futures, a familiar feeling for those Filipinos already affected
On Tuesday morning, a group of 30 newly hired Filipinos arrived at Manila's international airport to board a flight for Taipei, to start their three-year contracts working in a factory in
Taiwan
.
The move left more than 200 Filipinos who had been preparing to depart for Taiwan – including the 30 would-be factory workers – in the lurch.
"We were so angry and disappointed," said Janelle, who was travelling to Taiwan for the first time from her hometown in Isabela province and asked that her name be changed over fears she may face retribution from her recruitment agency or employer. "Some hadn't had their breakfast [and] hadn't slept."
On Monday, the Philippines expanded the travel ban to include Taiwan, citing the country's one-China policy and the World Health Organisation's classification of Taiwan as a part of China.
The abrupt announcement of the decision led to hundreds of travellers already flying between the two countries being stranded in Philippine airports. It also cast doubt upon the fates of those planning to join the more than 115,000 Filipinos who live and work in Taiwan.
Philippine media reported on Wednesday that 78 Filipino passengers flying from Taipei to Cebu on Monday evening were subject to a 14-day quarantine. The travellers did not know about the travel ban until their arrival.
The Taipei Economic and Cultural Office in the Philippines on Tuesday expressed "grave concern" over being "wrongly included" in the ban, calling the WHO's inclusion of Taiwan as part of the People's Republic of China a "factual error" and saying Taiwan has "taken all measures needed" to combat virus, which the WHO
has officially named Covid-19
.
"Taiwan has done a remarkable job, with only 18 confirmed cases, all related to China, and no community infection," said Chi Chun-huei, a professor at Oregon State University's College of Public Health and Human Sciences.
"I don't think there is any legitimate public health reason or benefit [in extending the ban]. There is little doubt this policy has everything to with politics, and nothing to do with public health."
Angelito Banayo, chairman of the Manila Economic and Cultural Office in Taipei, told Philippine media on Wednesday that Taiwan may respond to the ban – which its foreign ministry on Thursday called "one-sided and wrong" – by ending a visa exemption policy for Filipino tourists or barring Filipino foreign workers from seeking employment in Taiwan.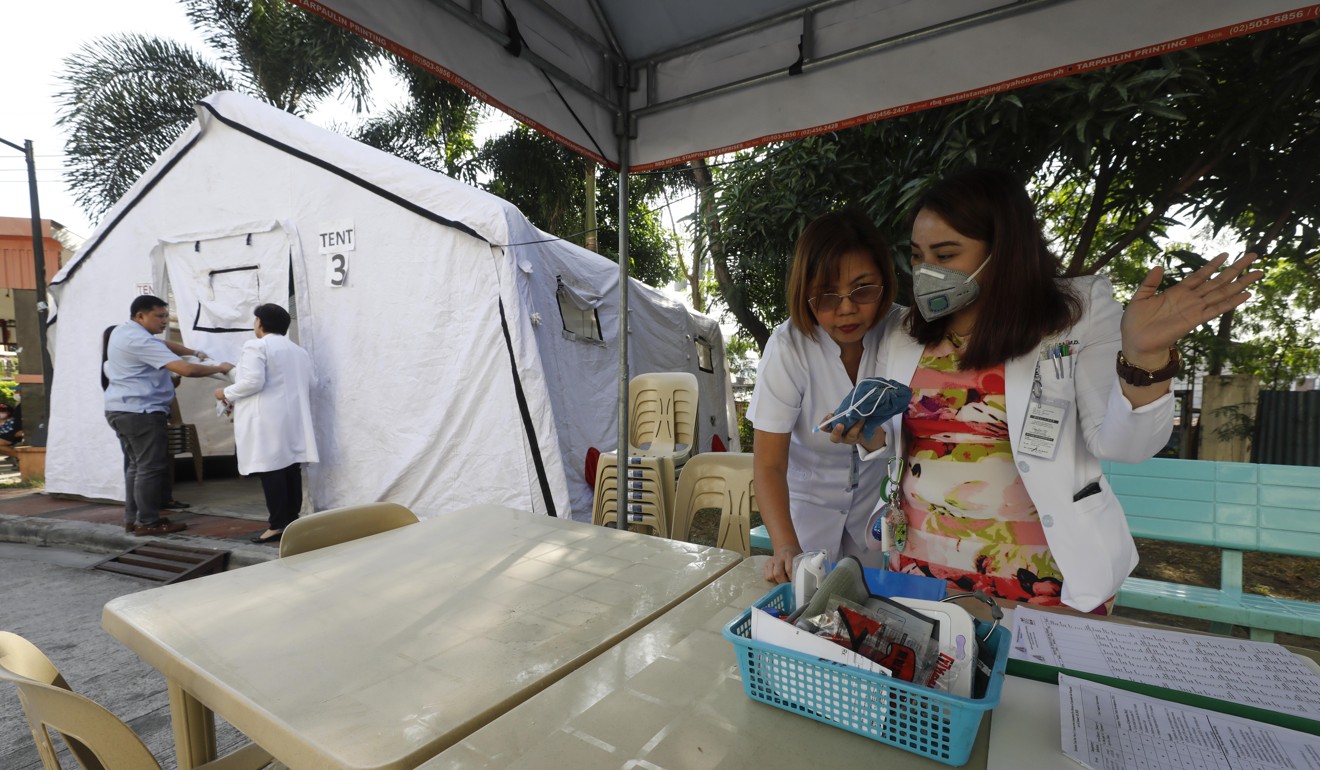 That same day, Philippines health undersecretary Eric Domingo said an inter-agency task force would be set up to decide by Friday whether to overturn the ban's extension.
Presidential spokesperson Salvador Panelo on Thursday denied Duterte's decision was political in nature, adding that it was done for the health and safety of Filipinos.
But some, like Janelle, are already feeling its effects. Like many Filipinos who find work in Taiwan, she had to get into debt to pay a recruiter that got her a job.
The Philippine government has said it would offer 10,000 Philippine pesos (US$198) to foreign workers affected by the travel ban – a sum Maria Teresita Aquino, a Filipino currently unable to return to her job in
Hong Kong
, said was "not enough" to compensate for lost wages and possible termination of employment.
Janelle said she went to the office of the Overseas Workers Welfare Administration on Wednesday to ask about the compensation payment but was told to wait for further instructions.
"I hope the Philippine government lifts the ban to Taiwan," she said. "They don't know how much effort and sacrifices we [made]."
Filipinos already in Taiwan who had taken time off work to visit home are also stranded. Many Philippine universities hold graduation ceremonies in mid-March, meaning these workers risk missing the graduations of their children and relatives, and face the possibility of a 14-day quarantine if they do manage to return to the Philippines.
The travel ban has also affected hundreds of Hong Kong-based workers such as Aquino, an employee of Pacific Basin Shipping (HK) Limited who is a permanent resident, having worked in the city for 23 years.
She was supposed to fly back to Hong Kong on Sunday after returning home for a holiday, only to be told a week before the flight was scheduled to depart that it had been cancelled.
"I'm the breadwinner. I need to send almost all my salary to support my family," Aquino said. "I'm worried that they might not give me the chance to work again."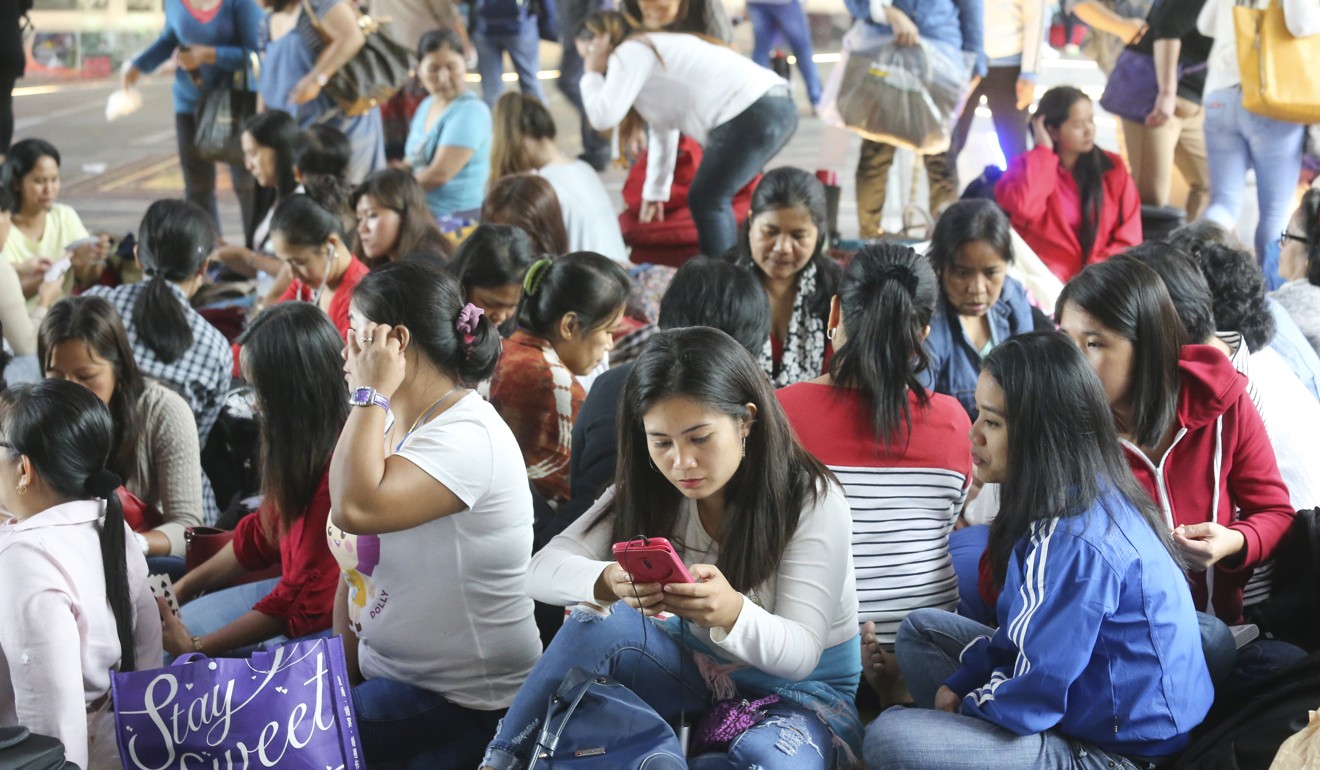 Not all Filipinos working in Hong Kong are as concerned, however. When HelperChoice, a recruitment platform based in the city, surveyed 921 domestic workers and asked them what they thought about the travel restrictions, it said it found the response to be "extremely positive and understanding".
One, who gave her name as Giemar, said the Philippine government was "doing a great action to prevent the spread of the virus and to ensure the safety of our fellow Filipino citizens".
Another, named as Che, said not travelling home was "the least we can do to help combat the virus". "This is about world health concern. It may affect our existing plans as
domestic workers
here in Hong Kong, but it is necessary," she said.
Even if those wishing to return to the city from the Philippines tried to skirt the ban by flying through a third country, there is a good chance they would be stopped at the airport, as according to Aquino "immigration won't allow you to leave because your final destination is Hong Kong".
Since February 2, even foreign workers transiting through Hong Kong for other destinations outside Asia have been barred from boarding their flights in the Philippines – a fate that could now befall workers with layovers at Taipei's busy international airport.
For the Philippines, longer term economic effects of the ban could include more workers "not having secure jobs" and being in debt longer, according to Dolores Balladares, chairwoman of United Filipinos in Hong Kong, who said she thought Manila "didn't think of the implications" before barring travel to the city.
Filipino workers' groups such as Balladares' are calling for outbound workers to be allowed to return to Hong Kong,
Macau
and mainland
China
, while for Taiwan, they say the ban should be revoked entirely amid sentiments it was implemented for political reasons.
In a statement issued late last month, the WHO said it "does not recommend any travel or trade restriction based on the current information available", while Emerito Faraon, assistant professor of health policy and administration at the University of the Philippines Manila, noted that travel bans have only shown limited effectiveness at stopping past outbreaks when implemented early – those introduced globally in the wake of the coronavirus outbreak, he said, "came a bit late".
Faraon did defend the government's actions, however, saying the ban's extension likely came about as a result of the WHO including Taiwan as part of China on its situational map on Covid-19.
Taiwan should "try to understand the political and public health concerns" of the Philippines as it works to prevent the virus' spread, he said.
The Taiwan chapter of Migrante International, a global alliance of overseas Filipinos, said in a statement that the ban could "weaken relations between Philippines and Taiwan" and "the government should think who will suffer from this move".
On Tuesday, Taiwan's labour ministry said it would allow employers to extend recruitment permits for any Filipino workers affected by the ban, or revoke the permits of Filipinos unable to return so a worker from another country can be hired in their place.