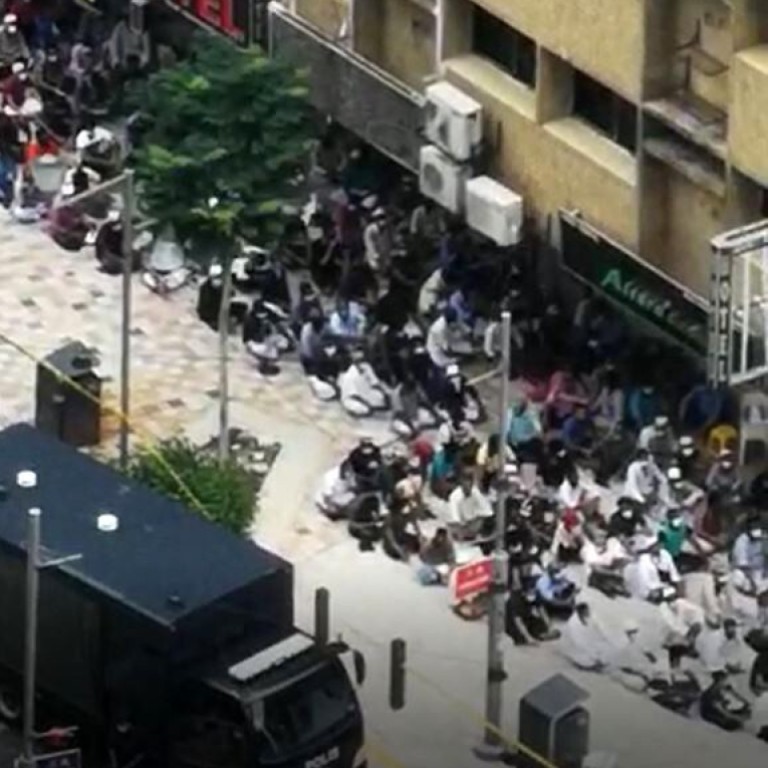 Coronavirus: hundreds arrested as Malaysia cracks down on migrants in Covid-19 red zones
Children as young as four have been taken in immigration raids launched by Malaysia just hours after it announced the easing of its lockdown
The raids come despite an earlier government assurance that undocumented migrants had 'nothing to fear' in coming forward to be tested for the virus
Just hours after announcing it would be relaxing lockdown measures aimed at stemming the spread of the
coronavirus, Malaysia
arrested hundreds of migrant workers and refugees in a crackdown on Covid-19 'red zones'.
Forces from the civil defence, the police and immigration forces raided three buildings in Kuala Lumpur in the Labour Day operation and are understood to have arrested hundreds of people.
Photos which appear to show the operation were supplied to the South China Morning Post by a source who cannot be identified for safety reasons.
The buildings were all under an 'enhanced movement control order' as part of a red zone in which people were prohibited from entering or exiting as part of a pandemic prevention measure.
Each of the three buildings – Selangor Mansion, Malayan Mansion and Menara City One – were apartment blocks offering low cost accommodation.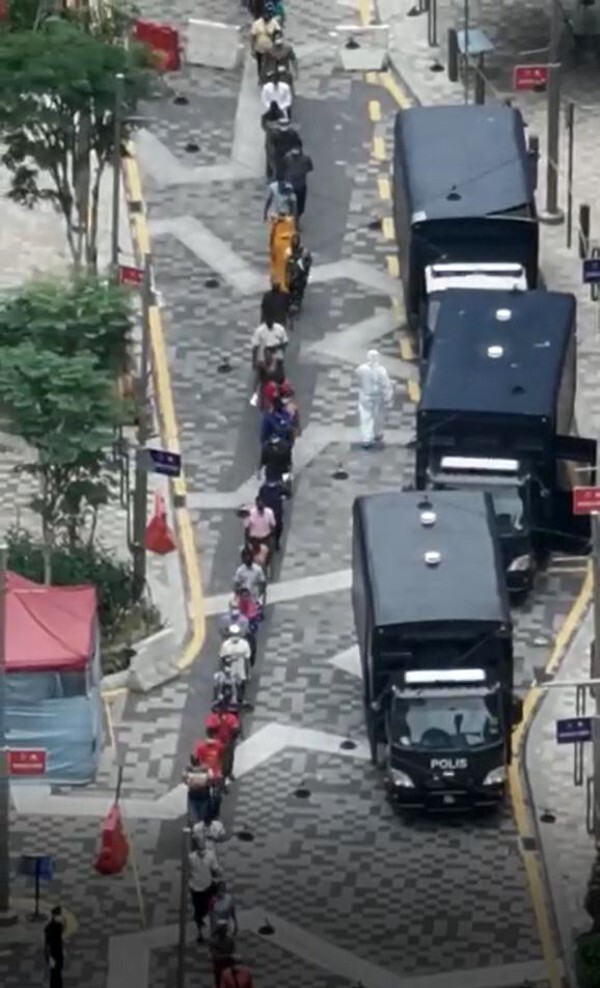 Selangor and Malayan are thought to house more than 5,000 people, mostly migrant workers who live an average of 10 people to a three- or four-room unit and typically pay around 2,500 ringgit (US$575) per month in rent.
The government did not immediately respond to a request for comment.
As the raids continued throughout Thursday evening, the buildings were barricaded with barbed wire and patrolled by security forces.
A migrant worker living in Selangor Mansion said the authorities had been raiding the neighbouring blocks since the morning.
"We can see the officers from our flat, quite a lot of them. But when we looked out of the window they shouted at us to stop looking and to shut our windows. I saw the residents being loaded onto lorries. I don't know the exact numbers but the talk here is that about 300 people were taken away. All we are doing now is waiting," said the worker.
Activists said children and refugees had also been taken in the sweep.
Heidy Quah, founder of NGO Refuge For The Refugees, said children as young as four were being scooped up.
"A fifteen-year-old refugee from Myanmar was texting me all the way from pick up to when they were dumped into the truck. His four-year-old brother was with him. Once they reached the immigration depot their phones were confiscated."
Activists criticised the raids, pointing out that the government had recently given assurances that illegal immigrants who believed they had the coronavirus should not fear identifying themselves to the authorities.
"If you go around arresting and detaining people, they will not come out to get tested. People will start hiding from the authorities. Even if they are sick, they are not going to come out and seek treatment," said M. Ramachelvam, co-chair of the Bar Council's Migrants Refugees & Immigration Affairs Committee.
Sumitha Shaanthinni Kishna, director of migrant rights NGO Our Journey, also thought the raids would discourage migrants from coming forward for testing.
"If the government reflects on why the migrants are undocumented or became undocumented, they will see that the reasons circle back to the government's poor implementation of recruitment policies and their poor enforcement against recruitment agents and employers who exploit these workers. Why aren't they arresting employers?"
Since the national lockdown began in mid-March, tensions have been rising with citizens protesting against the amount of resources spent on migrant workers.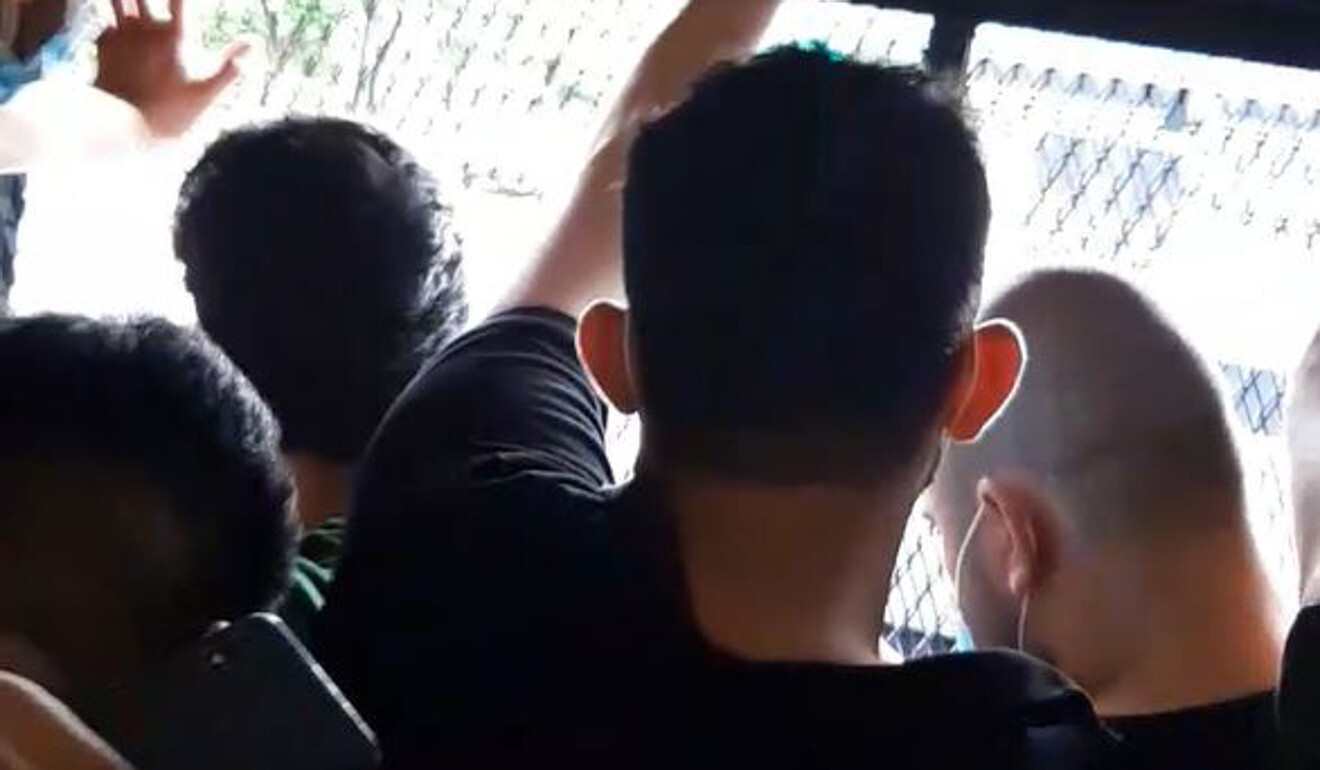 Petitions calling for the refugees to be deported – a violation of international law – have flooded online chat groups, while there has been an uptick in anti-immigrant comments on social media. In Malaysia, refugees are not allowed to work and so many are reliant on informal labour and public donations to scrape together a living.
Meanwhile, the estimated 5.5 million migrant workers who call Malaysia a temporary home have been struggling with a lack of income, loss of employment and cramped living conditions ever since the lockdown began. Many of these workers are subject to human rights violations including non-payment of wages, physical abuse and debt bondage.
Early on in the lockdown, the Health Ministry told these groups not to be afraid of coming forward and getting tested, promising the procedure would be free of charge. As of Thursday health officials had tested 21,271 foreigners and found only 811 positive cases out of Malaysia's total 6,071 cases. In March, when urging undocumented migrants to come forward for testing, Defence Minister Ismail Sabri Yaakob said they could "come forward without any fear … We won't focus on their documents but rather on whether they are positive with Covid-19".
However, on Wednesday the minister made a U-turn, announcing that all undocumented migrants found in red zones across the country would be placed in detention centres or special prisons gazetted by the Home Ministry.
Earlier on Friday, the government announced that it would be reopening its economy on Monday, becoming the latest Southeast Asian nation to ease measures aimed at stemming the spread of the coronavirus, as its focus switches to rescuing businesses and saving jobs.
Malaysia relies heavily on cheap foreign labour in a variety of sectors including construction, F&B, agriculture and factories.
The possibility of clusters of coronavirus infections emerging in migrant worker communities has been occupying the mind of the Malaysian government as it has watched thousands of cases develop in the migrant labourer dormitories of neighbouring Singapore. Living conditions for migrant communities in both countries are notoriously cramped.
Phil Robertson, the Deputy Asia Director of Human Rights Watch, warned that with the immigration round-up,
Malaysia
was "foolishly intent on repeating the mistakes of Singapore by concentrating migrants together in a way that will ensure a massive spread of Covid-19".
"From a public health perspective, this is perhaps the most mindless and inane thing Prime Minister Muhyiddin and his Ministry of Home Affairs could have done, but they appear committed to promoting a policy of fear and xenophobia that transfers the anger of the Malaysian public on to foreigners who cannot defend themselves. These damaging and rights abusing raids on migrants follows more than 10 days of unconscionable silence by the Malaysian government while a huge hate speech grew online against Rohingya refugees."
Help us understand what you are interested in so that we can improve SCMP and provide a better experience for you. We would like to invite you to take this five-minute survey on how you engage with SCMP and the news.