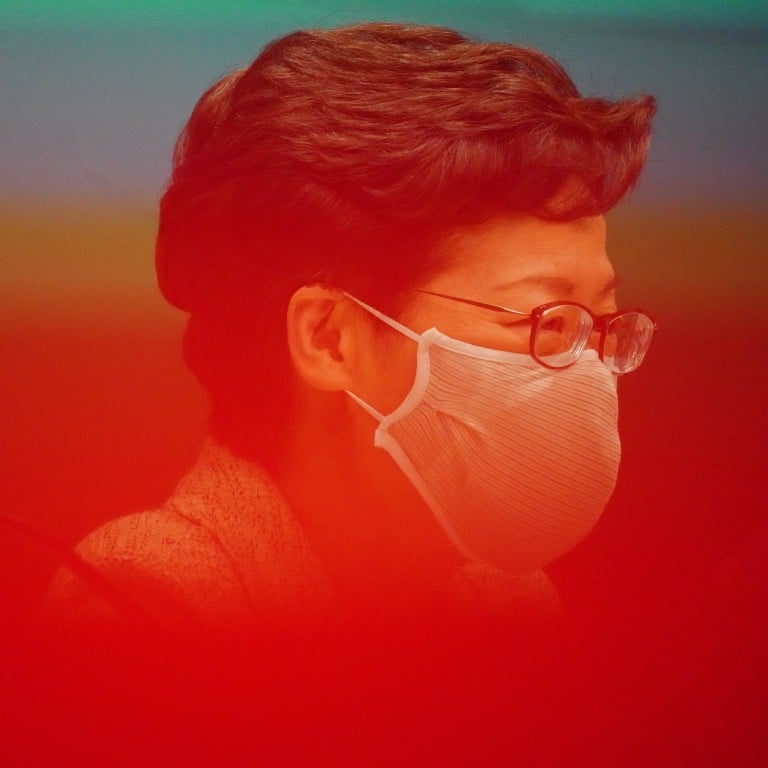 From Hong Kong to Britain, governments ranked poorly for their response to Covid-19
Survey of 23 economies finds 'major cracks' in self-belief across the Western world
China, Vietnam and India have impressed with their responses to Covid-19, while Hong Kong and Japan languish at the bottom
As governments across the world scramble to roll out containment plans to stem the spread of the
coronavirus
, a survey has found most people are unimpressed with their leaders' responses to the pandemic.
Political leaders from China,
Vietnam
and
New Zealand
were ranked highly by their citizens in the survey of 23 economies, scoring 86, 82 and 67 respectively while those in France, Hong Kong and Japan came in last, scoring 14, 11 and 5.
When it came to overall scores – a measure taking into account four measures of national political leadership, corporate leadership, community and media – Asian societies again led the pack, with only seven economies scoring more than 50 out of 100.
These were among the findings by Singapore-based independent pollster Blackbox Research and consumer intelligence platform Toluna, which surveyed 12,592 respondents from 23 economies between April 3 and 19. The respondents were interviewed via an online panel, aged between 18 and 80 and two-thirds of them had a tertiary level education.
David Black, founder and chief executive of Blackbox Research, said mainland Chinese were "exceptionally satisfied" with their government's approach. He attributed this to how China was now in the recovery phase, even while infections continued to mushroom elsewhere. "[This] gave a sense that China has handled the crisis well," he said.
Even though China was the initial epicentre of the Covid-19 outbreak, authorities there say it is over the worst and the country is now helping others by providing medical support and supplies. This comes even amid accusations by the US that China has not been transparent about the outbreak.
There have now been more than 3.6 million coronavirus infections globally, 1.2 million of them in the US, which also accounts for 70,000 of the nearly 260,000 deaths.
CRACKS IN WESTERN SELF-BELIEF
Arden's management of the crisis has won her international praise for her clear and consistent messaging.
Jeremy Lim, associate professor at the National University of Singapore's Saw Swee Hock School of Public Health, said citizens' views were probably influenced by factors ranging from the clarity of leadership to how countries were doing at the time of the survey, as well as whether they had made any obvious mistakes.
Other considerations included the leaders' decisiveness and empathy, especially for vulnerable populations, he added.
"With these criteria in mind, China's central government and Vietnam would stand out as would New Zealand," said Lim. "Japan and Singapore have the Diamond Princess and the migrant worker situations respectively as well as constant adjustment of policies which can lead to erosion of confidence that the government is on top of things if not communicated well," he said.
Black, the chief executive of Blackbox Research, said Tokyo was perceived as having been "slow to respond" and as a result public confidence in the political leadership had taken a hit.
"Japan's low ratings are in line with ongoing criticism of the Abe government's handling of the pandemic, such as the perceived delay in declaring a state of emergency. Arguably it did not pass the Covid-19 leadership stress test," he said.
The survey found 82 per cent of Japanese respondents felt the country was "far too late in responding" to the threats of Covid-19, alongside the US and France.
HONG KONG 'TOO SLOW'
In Hong Kong, even though infection numbers have stabilised and many public venues are being opened up, the public rated the government's handling of the crisis poorly, giving it a score of just 11 out of 100.
Yeung attributed Hong Kong's success to a collective effort from residents. He said most Hongkongers remembered the severe acute respiratory syndrome (Sars) outbreak in 2003 and took the initiative to wear masks even when the authorities said there was no need to.
"In this regard, the government failed to act, changed the message, and did not help when there was a mask shortage," said Stephan Ortmann, an assistant professor at City University. He said the conflicting messages that officials gave on mask-wearing had "reinforced the image of government incompetence and submissiveness to the central government in Beijing".
The survey also revealed that almost half (48 per cent) of respondents felt China would emerge stronger from the crisis, a higher figure than for any other economy. Just 26 per cent of respondents said the same about the US.
Instead 54 per cent felt the US would emerge weaker. Eighty-five per cent of mainland Chinese said China would emerge "stronger", while only 41 per cent of Americans felt the same of their country.
Alfred Wu, associate professor at the Lee Kuan Yew School of Public Policy, said this could be due to "propaganda messaging" in China.
"They would say that the communist way is performing well and they have the best strategy to deal with the virus," he said, adding that Chinese had been conditioned to be nationalistic.
Drew Thompson, a former Pentagon official responsible for managing bilateral relations with China, Taiwan and Mongolia, said neither China nor the US had distinguished themselves as a leader in the midst of the pandemic.
"US credibility has continued its decline in the eyes of many international stakeholders, but that does not translate into a relative improvement in China's standing," he said.
"There is palpable global frustration with China's lack of forthrightness and transparency about the outbreak, its ham-fisted propaganda efforts, threats of economic coercion, and obnoxious diplomats."
Lim from the Saw Swee Hock School of Public Health said the survey had limitations, noting the situation was "fast moving" and that responses would depend heavily on the exact time the questions were asked.
Wu agreed, pointing out that when the survey was carried out in April, China was already recovering from Covid-19 while new waves were hitting European nations and the US.
"Currently, Western countries are still fighting the battle, and naturally, they are not satisfied with the government, and that's why many countries except New Zealand have a lower rating because of the timing," he said.
This article appeared in the South China Morning Post print edition as: Mainland leaders impress, but Hong Kong's do not, survey finds