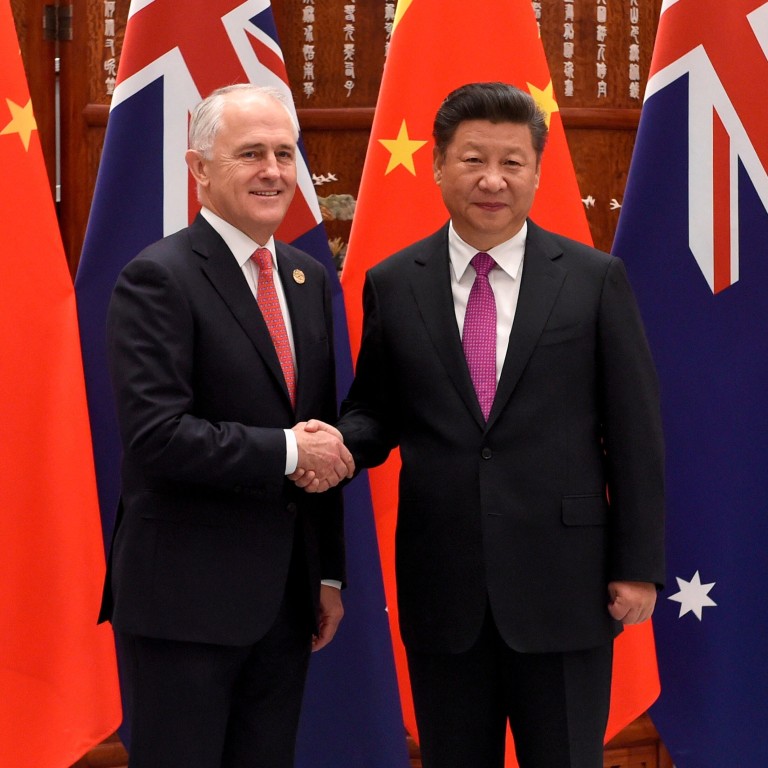 China should drop 'Wolf Warrior' diplomacy to set itself apart from Trump's America, former Australia PM says
Malcolm Turnbull, who led Australia from 2015-2018, said Beijing's bellicose foreign policy was counterproductive and risked alienating potential partners
Canberra wants to maintain good ties with both China and the US, he said, as well as expand relations with India, Indonesia and others in the region
"If your objective is to win friends, build global influence, and do that around the world, then the less scratchy you are, the less threatening you are, the less you throw your weight around, the better," Turnbull said. "And of course the more Donald Trump is seen to be doing all of those things, the less you do it – you being China in this case – the more of a contrast you make."
On Monday, Chinese foreign ministry spokeswoman Hua Chunying doubled down, however, complaining of "many Chinese in Australia" being "hurt or even injured … [and] graffiti or words with racist connotations against Chinese" appearing in Australian cities. In April, the Australian Human Rights Commission said complaints of
racism
– one-third of them related to the pandemic – spiked in February before falling back to within the same range seen pre-coronavirus.
The tourism snub comes after Beijing last month
slapped an 80 per cent tariff on Australian barley
and suspended imports from four Australian abattoirs. Those moves were widely seen as economic retaliation after Chinese Ambassador Cheng Jingye warned that Chinese consumers could boycott Australian products if the country continued to push for an inquiry.
Beijing has insisted the measures aren't related to the proposed probe, but a response to quarantine and inspection violations and unfair trade practices. Australia sent more than one-third of its total exports to China in 2018-2019, worth more than A$153 billion (US$106.6 billion).
Meanwhile, Australia's current Prime Minister Scott Morrison also last week unveiled plans to tighten rules around foreign investment amid heightened concerns about foreign interference, while insisting the changes should not further inflame tensions with China.
"Do I think it makes sense for the Chinese ambassador to Australia to go into the media and threaten adverse trade consequences for Australia?" Turnbull said. "Of course not, all that does is stoke resentment. I mean who on Earth in the foreign office in China could imagine that statements like that are anything other than utterly counterproductive? It's completely and utterly counterproductive."
Turnbull, whose government ushered in anti-foreign interference and transparency laws that drew protests from Beijing, said it was important for Australia not to overreact to China's aggressive trade moves and "play a straight bat" when dealing with its largest trading partner.
"The truth of the matter is both China and Australia benefit from the trade relationship," the former prime minister said. "It is not as though China is bestowing some gracious gift on Australia. Our trading relationship is, to use that favourite term, win-win."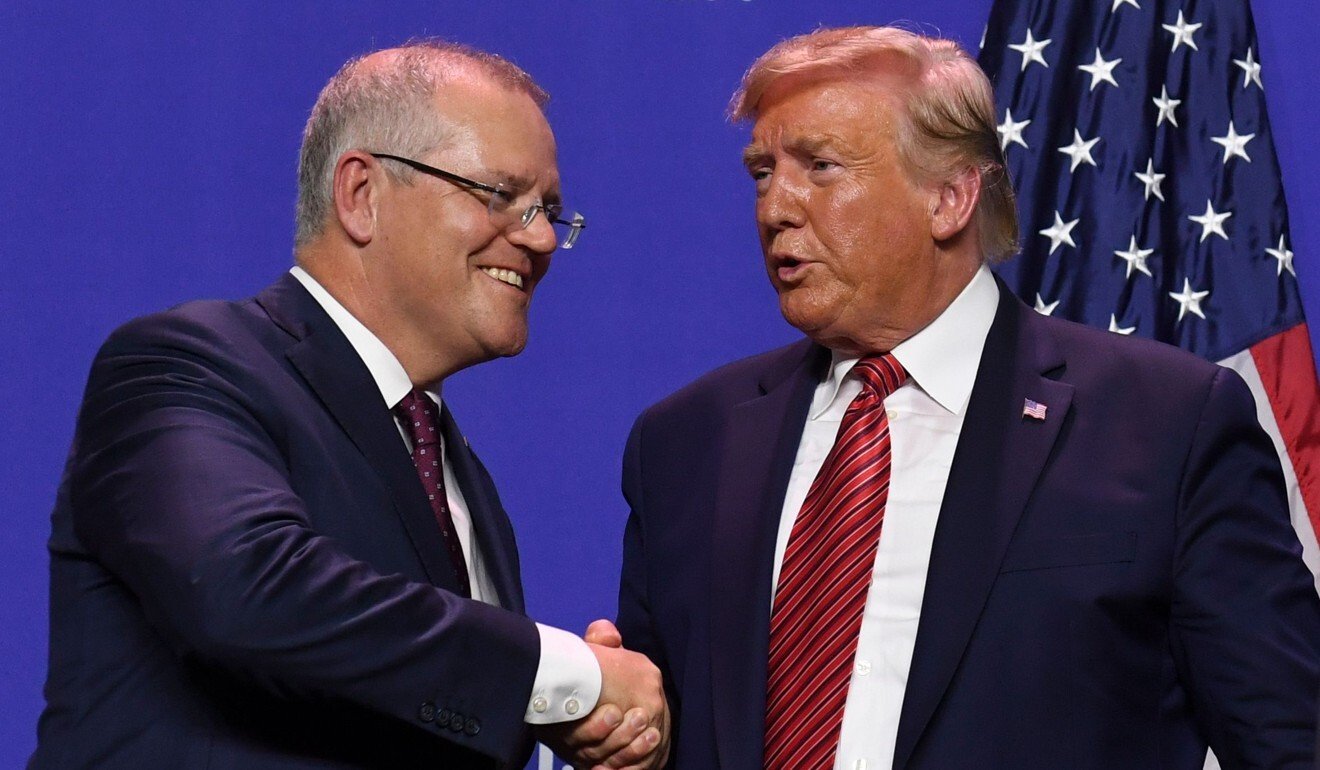 Turnbull said Australia should not be sucked into "Cold War analyses" that saw the world purely through the lens of a zero-sum rivalry between China and the
United States
, with which Canberra has a long-standing defence alliance.
"Yes there is rivalry, of course there is; there always will be," he said. "But that rivalry can be managed and there's nothing inconsistent with Australia having a good relationship in Beijing and in Washington. But it's a different relationship. I mean, the United States is our ally. We have a treaty which commits each of us to defend the other in the event of an attack in the Pacific. We have a good friend in Beijing and we regret it when there are tensions but we have a good friend and also an ally in Washington."
The former prime minister also emphasised the importance of expanding relations with other countries in the region such as
India
and
Indonesia
. Canberra and New Delhi, which share mutual concerns about Beijing's maritime ambitions, last week
signed two new defence agreements
allowing for more sophisticated joint military exercises and mutual logistics support during a virtual summit in which they affirmed their shared "vision of a free, open, inclusive and rules-based Indo-Pacific region".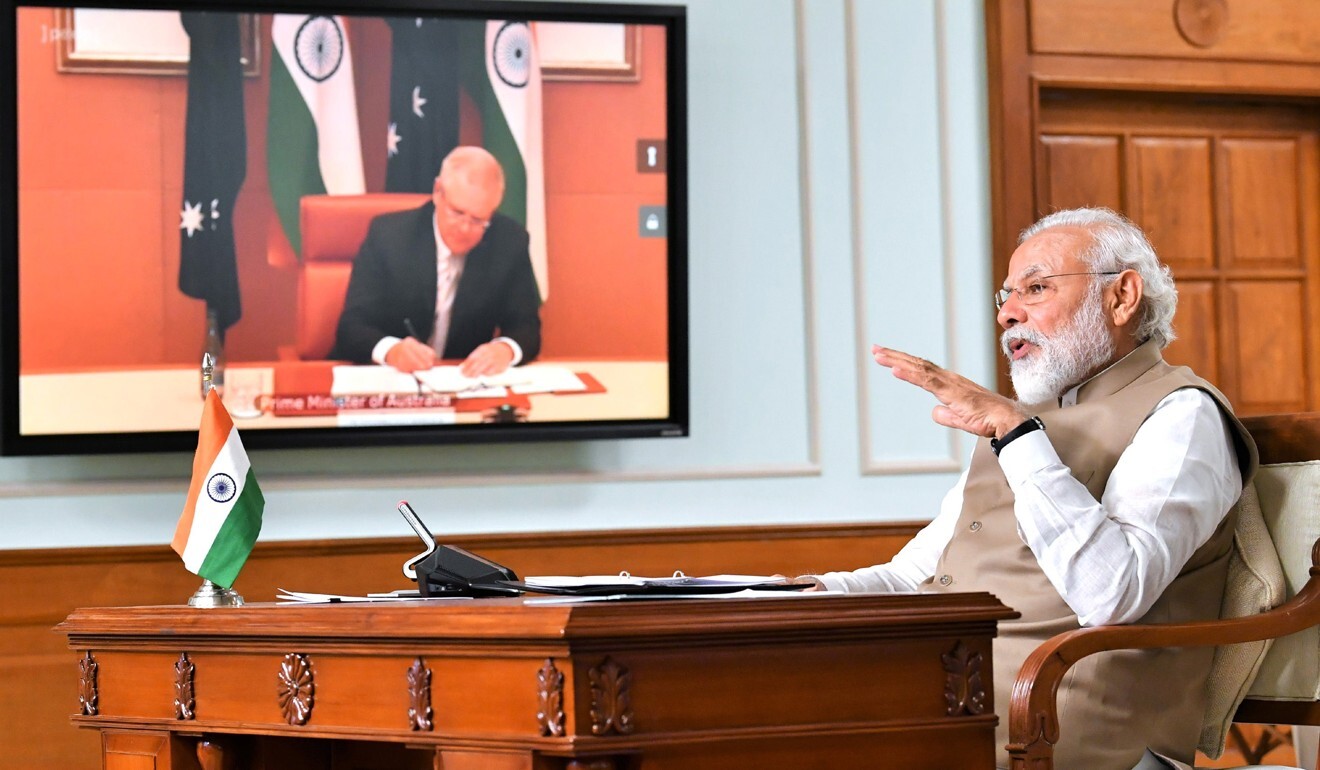 "We welcome China's rise, we welcome its economic growth, we feel we've made a contribution to it, but China is not the only nation in our hemisphere or in our region," Turnbull said.
"And it's easy to become mesmerised with the extraordinary economic achievement from China, but you've got to recognise that there are many other countries in the region. India is the same population, has the potential in years to come to be of comparable size economically. Indonesia is 280 million people."
On reports that Britain had asked Australia and other intelligence allies to help share the burden of its offer to give a
pathway to citizenship to up to 3 million Hongkongers
fearful of a controversial national security law planned for the city, Turnbull said he did not currently see "any compelling need for Australia to be doing more than it currently does, which is to warmly welcome immigration on the normal skills and family basis that our immigration system runs on."
"I imagine if the security situation deteriorates … there will be more people with Australian passports in Hong Kong choosing to relocate to Australia and many others seeking to emigrate to Australia," he said.
Asked about what had surprised him regarding China's development since he began visiting the country as a businessman nearly three decades ago, Turnbull pointed to the increasing centralisation of power in Beijing.
"When I was first going to China in the early 90s, I thought the country could well develop into a more of a federal system," he said.
"The country is so big and there was already considerable practical autonomy at the provincial level, I thought that was a trend that would continue, but in fact it hasn't. So that surprised me, the degree of centralisation, which has of course been enabled by technology."