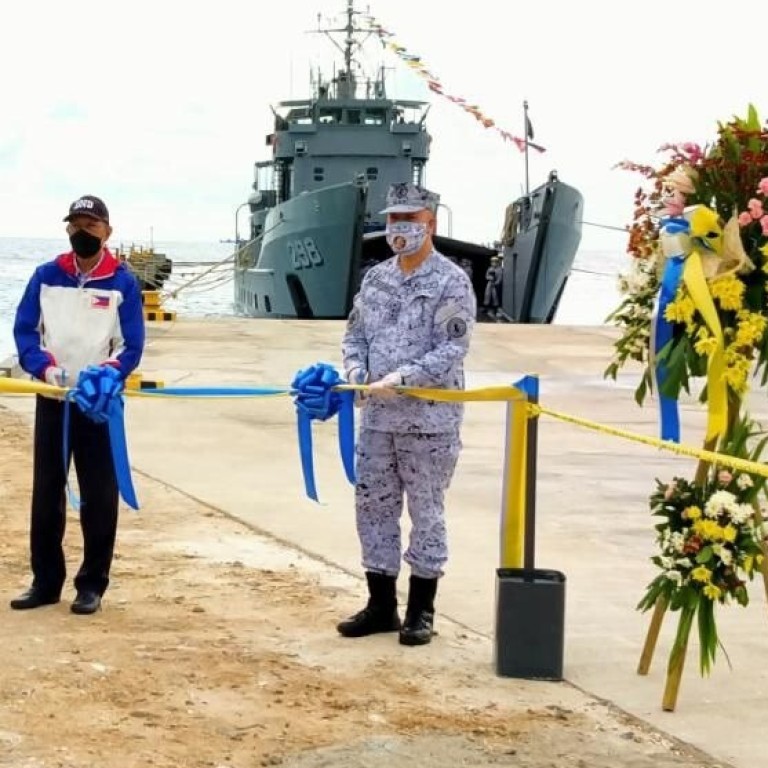 Happy anniversary China: Philippines plans US$26 million of military infrastructure on disputed South China Sea island Pag-Asa
While Manila officials were marking 45 years of ties with Beijing, the Philippine defence secretary was unveiling a plan likely to strain relations
US$26 million worth of military infrastructure is to be built on Pag-Asa island in the disputed South China Sea, Delfin Lorenzana announced
While officials in Manila were paying homage to 45 years of diplomatic ties with Beijing, the Philippine defence secretary was landing on a disputed island in the
South China Sea
and announcing plans likely to strain that very same relationship.
In a move widely expected to raise Beijing's hackles, Defence Secretary Delfin Lorenzana visited the Philippine-occupied island of Pag-Asa (or Thitu) on Tuesday amid much fanfare, announcing plans for US$26 million of military infrastructure, inaugurating a beaching ramp for the navy worth 268 million pesos (US$5 million) and talking up the opening of a fisherman's shelter to mark his country's 122nd Independence Day anniversary on Friday.
Despite the military applications of the infrastructure, he claimed the initiatives were aimed at making the island more liveable without militarising it and said he was confident the new construction would not lead to conflict.
The island has long been occupied by Filipino forces and fishermen and the recent massing of Chinese fishing vessels and coastguard ships in nearby waters has raised speculation it could soon become a flashpoint between the two countries.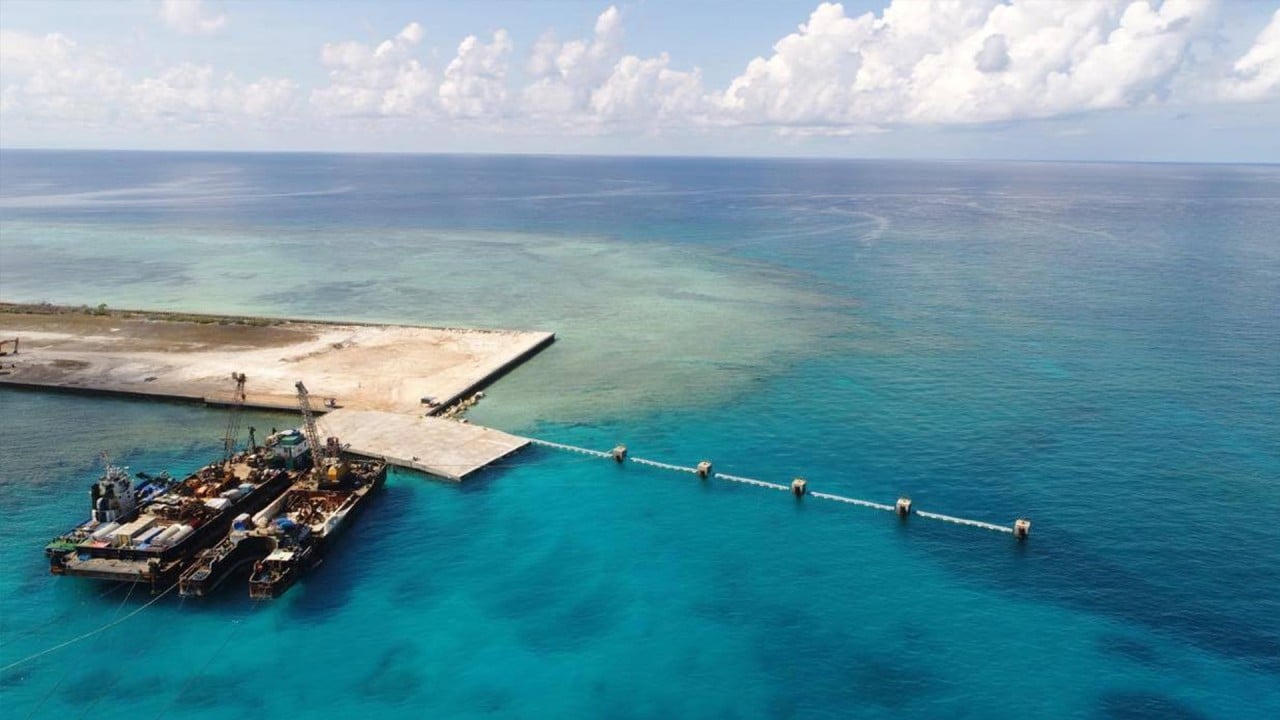 01:17
Philippine officials unveil beaching ramp on disputed South China Sea island
Philippine officials unveil beaching ramp on disputed South China Sea island
However, Lorenzana insisted that "the Chinese have said they will not attack us".
"So we are safe here [and] the purpose is to develop a safe, viable community," he said, adding that "we will not militarise this, like [with] cannons, missiles".
He told reporters accompanying him that while the island was outside the country's exclusive economic zone, the Philippines should "manage our claims" in the region.
"We have nine islands here and this is the biggest," he said.
The new beaching ramp, Lorenzana said, would enable the navy to bring in supplies even during typhoon season. "Before this ramp, you had to anchor about 100 metres away and transfer the goods to a small boat. It was very tedious and expensive and we could only do that during calm weather," he said.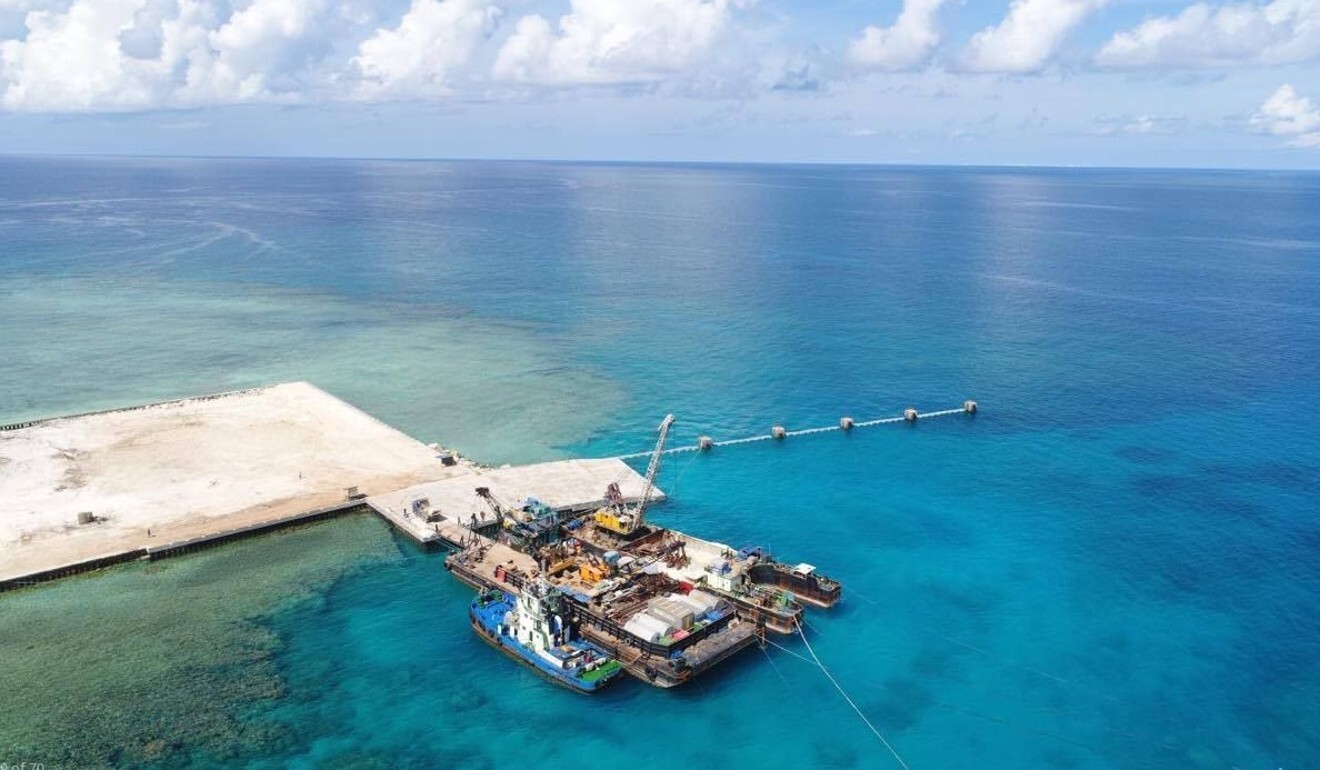 According to the Department of National Defence, Pag-Asa provides a "strategic advantage to national security and development". It is 227 nautical miles from Palawan, in the
Philippines
, and 540 nautical miles from Dongzhou in Guangdong province,
China
.
LIP SERVICE?
While the defence chief was in Pag-Asa, presidential spokesman Harry Roque had only the warmest of words for the
Philippine-China relationship
, which he said was "enjoying a renaissance under the administration of President
Rodrigo Duterte
".
"We hope that this renaissance will lead to better relations, resolve all the disputes that we have between our two countries, increase economic ties and increase prosperity for both the Philippines and China," Roque said.
Foreign Secretary Teodoro Locsin, Jnr was equally effusive: "The feeling of warm friendship has not cooled, let alone been lost, not even in our differences. But under [Duterte], that old friendship has flowered into a new partnership for mutual profit and progress."
"The East is red with the warmth of Filipino-Chinese friendship," he added.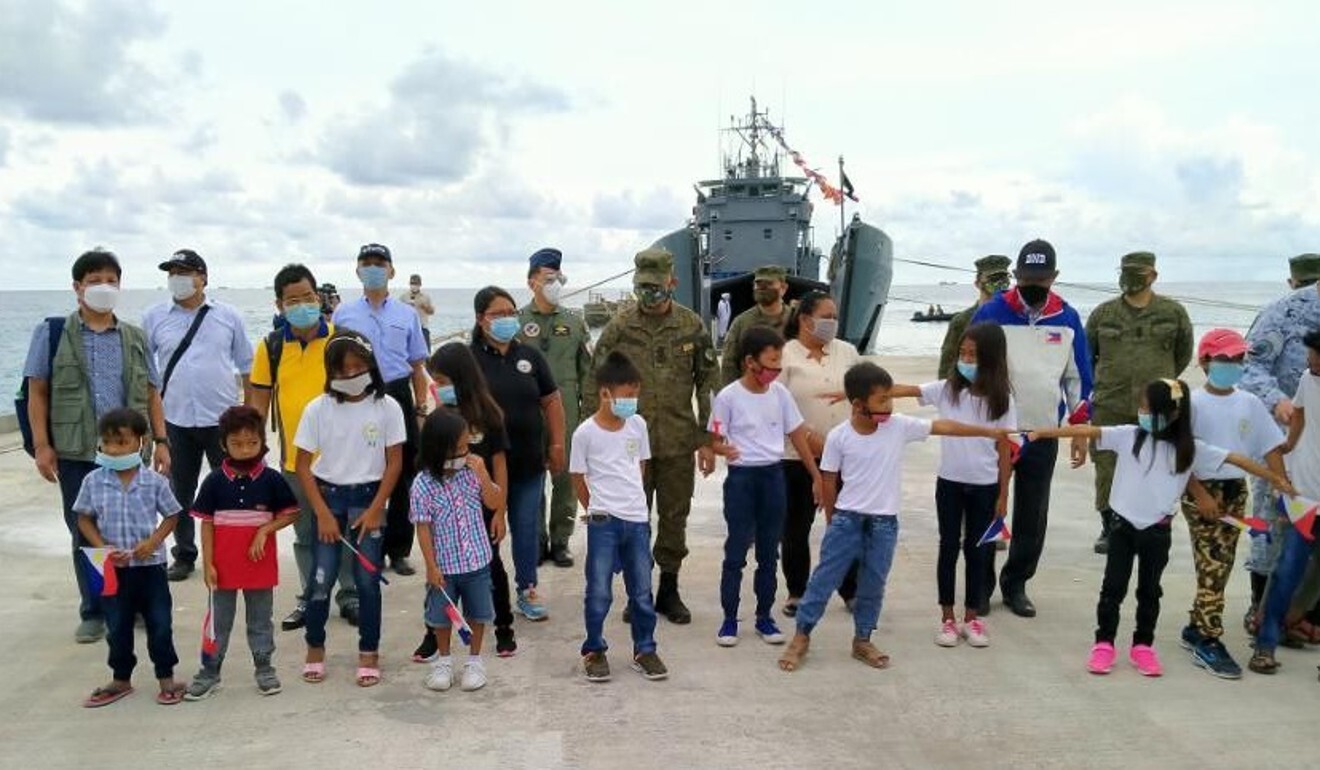 For his part, China's envoy to Manila Huang Xilian said discussions on a proposed Code of Conduct to govern the South China Sea were continuing "smoothly and effectively".
He said that "through joining hands to fight against Covid-19, the foundation of China-Philippines relations has been further cemented, people-to-people ties strengthened, and the sense of building a community of shared future deepened."
PUBLIC OPINION
While Filipinos often take to the streets of Manila to protest whenever there is an incident in the South China Sea, diplomatic anniversaries tend to go unnoticed.
Jay Batongbacal, director of the Institute of Maritime Affairs and Law of the Sea, said most people weren't "even aware" of the anniversary because attention was focused on other matters including the coronavirus pandemic and the controversial
Anti-Terrorist Act
, which critics say will have a chilling effect on free speech and is expected to be signed into law soon.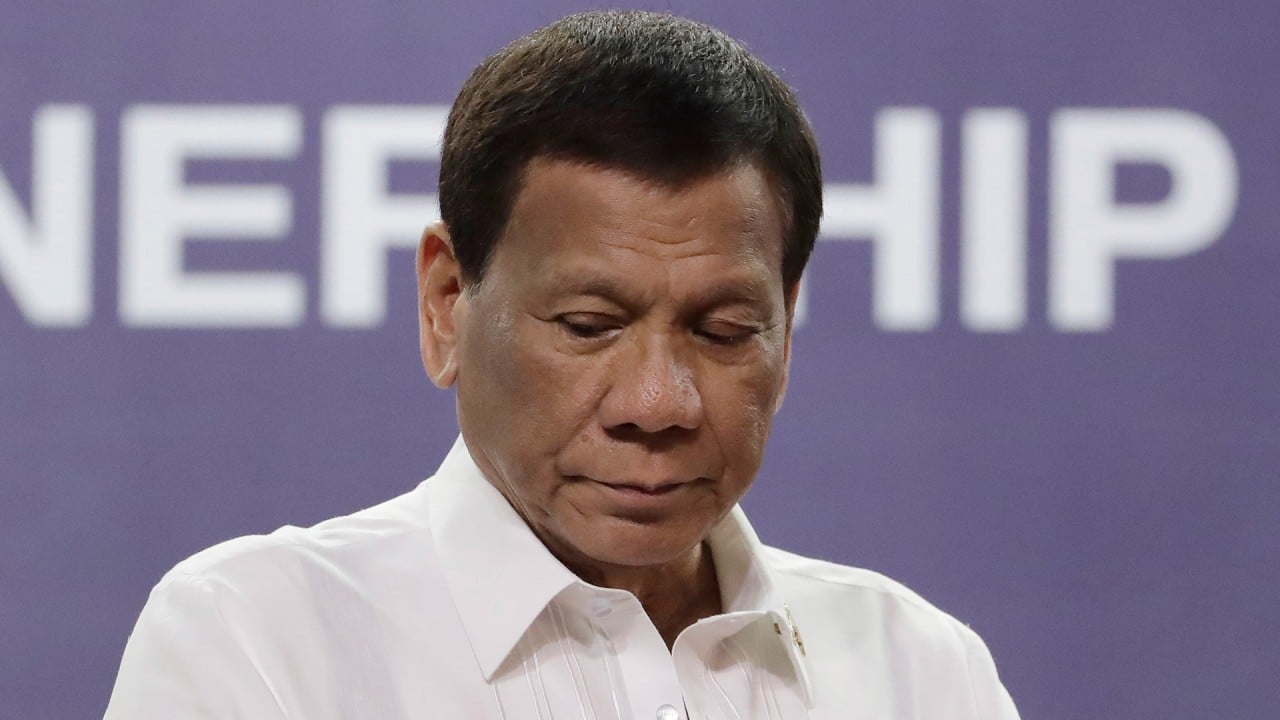 02:19
Philippine President Duterte admits being at a loss getting Beijing to honour South China Sea ruling
Philippine President Duterte admits being at a loss getting Beijing to honour South China Sea ruling
"I don't think anybody is in a mood to celebrate anything these days," Batongbacal said.
Even so, the anniversary did not entirely escape the public's notice.
A post on the Facebook page of the Philippine Department of Foreign Affairs, which said it looked forward to a "continuing friendship and mutually beneficial relations" with China and "peace and harmony in the Asia-Pacific", attracted 3,700 mainly negative comments alluding to territorial disputes in the South China Sea and the 1989 Tiananmen Square crackdown by Beijing on pro-democracy student protesters.
Security analyst Chester Cabalza said the diplomatic anniversary was "nothing to celebrate, except we are reminded of China's maritime expansionist aggression and global ambition to lead the world".
Cabalza, who once studied military diplomacy at the
PLA
National Defence University in China, said Beijing was "capitalising on this friendship to resolve a regional crisis" after it had been "embarrassed" by a ruling from the arbitral court in The Hague, which sided with the Philippines over China in the maritime dispute.