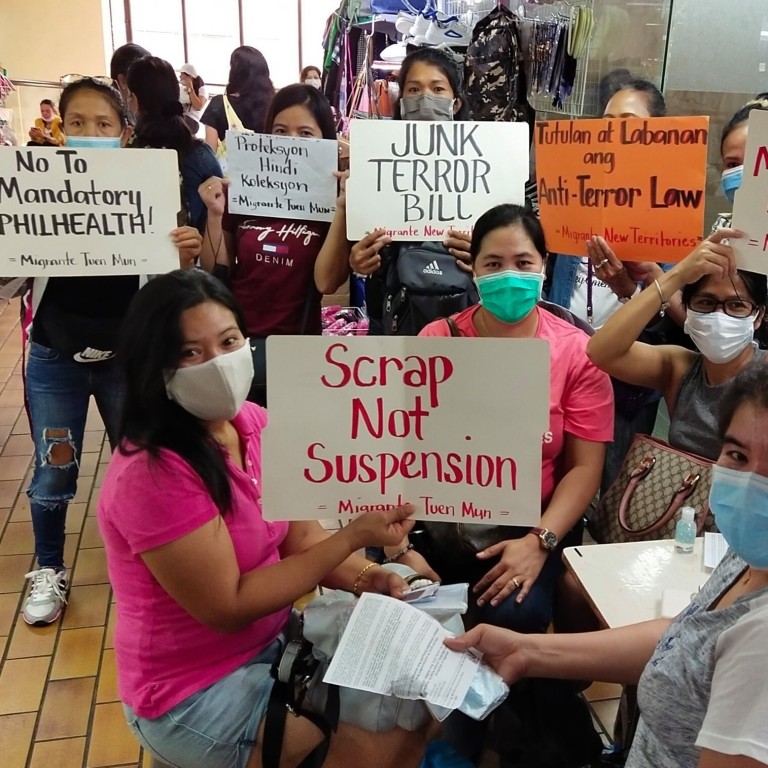 Why are overseas Filipinos worried about Duterte's anti-terror law?
Migrant leaders fear a vague definition of terrorism could be used to stifle criticism and curtail freedom of speech
Manila's envoy to Hong Kong says there is nothing to worry about
The Philippine Department of Labour and Employment accused the worker of "cyber libel" for intending "to cause hatred" by sharing content on
social media
that was critical of Philippine President
Rodrigo Duterte
. But the Taiwanese administration
intervened
, saying it was not up to the office to deport the woman because the island had full jurisdiction.
Union leaders say this case has had a chilling effect and that many now fear their freedom of expression and other rights may be further curtailed if the Philippine government enacts its anti-terrorism bill.
Protests have been held in the Philippines under the campaign #JunkTerrorBillNow, while smaller actions have been organised in cities including
Hong Kong
.
Activists, who predict an escalation of
human rights
abuses, question the timing of the legislation, which comes as the nation grapples with the coronavirus. More than 24,100 people have been infected in the country, and more than 1,030 killed.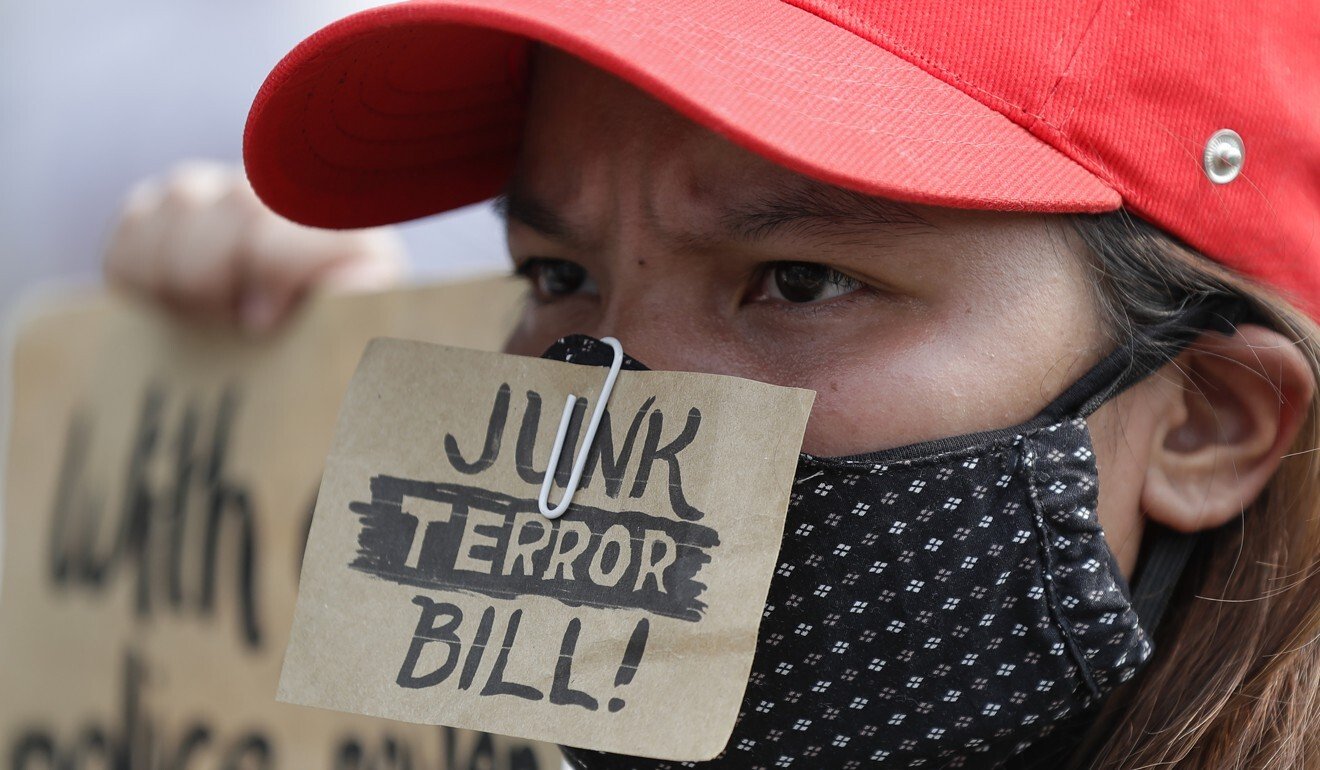 "We condemn this law in the strongest terms. Countless activists have been harassed, sent to prison and killed without due process. This law legalises all of that," says Julia Mariano, a spokeswoman for Migrante International in Taiwan.
The House of Representatives passed the Anti-Terrorism Act on June 3, after it was approved by the Senate three months earlier. On Tuesday, the president's office received the document.
Duterte, who this month marked the bill
as urgent
, has 30 days to approve or veto it amid growing opposition.
Overseas migrant leaders, much like those who oppose the law in the Philippines, are concerned that the new bill defines terrorism too broadly. Under the bill, a special council composed mainly of members appointed by the president would be in charge of ordering the detentions of anyone they deemed to be terrorists.
If it goes ahead, suspects could be detained without a warrant and remain in custody without being charged for more than three weeks.
Under current legal provisions, terrorism suspects must be brought before a judge in three days. Most rights groups argue that those taken into custody should appear before a judicial authority within 48 hours.
Mariano, a spokeswoman for the migrants' group in Taiwan, says the bill's definition of terrorism is too vague. "We know our government hasn't taken criticisms well and it may dismiss them as terrorism or rebellion," she says. "Citizens like me should not have to worry that our legitimate concerns will eventually cost our lives and safety."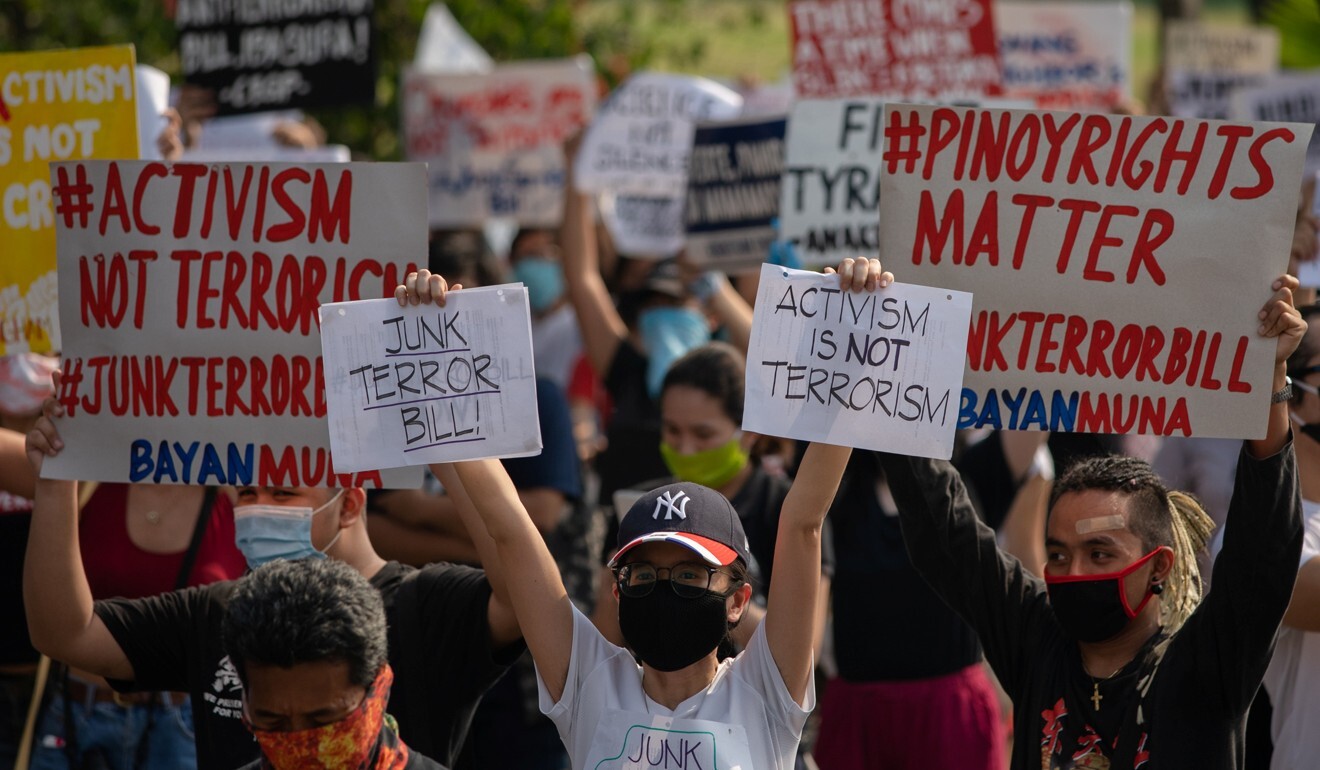 'VILIFICATION OF DISSENT'?
In 2017, pro-Islamic State militants launched a takeover of the southern city of Marawi, which went on for five months.
The Philippines has also been fighting Asia's longest-running insurgency, which is led by the Communist Party of the Philippines and the paramilitary arm New People's Army. Both are seen by Manila as terrorist organisations.
Rights groups and activists have previously been "red tagged", a local term referring to when someone is identified as a communist militant, which critics say has been used to silence dissent.
In November last year, the Philippines' armed forces
labelled 18 groups
as fronts for "communist terrorism". These included the local arm of the international charity Oxfam, a federation of churches and a women's rights organisation, sparking concerns for the safety of activists, who denied such links.
Eman Villanueva, a domestic worker and chairman of migrants group Bayan Hong Kong and Macau, says a group supportive of Duterte in Hong Kong previously distributed leaflets in the city to fellow migrant workers suggesting that he and other union leaders supported the New People's Army.
"We asked them to stop or we would file a case against them. But they continued posting photos and videos of us when we were public speaking with captions saying we are terrorist supporters," he says.
Villanueva says this is one of the reasons migrant activists like him are so concerned about the anti-terrorism law.
"The bill itself is dangerous because it has many provisions that are unconstitutional and that attack basic human rights and democratic freedoms," he says. "Moreover, it will be implemented by a dangerous government."
Villanueva points out that thousands of people have been killed during the ongoing
war on drugs
.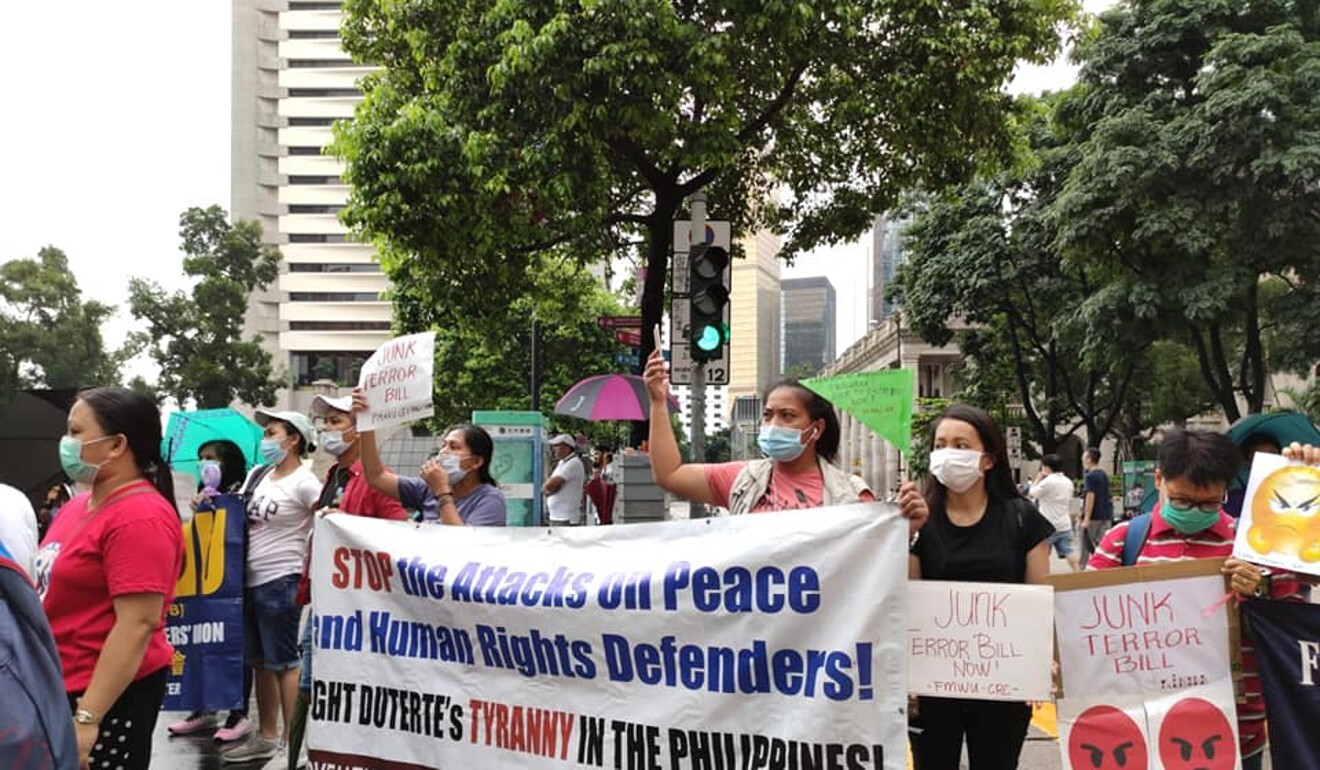 A
United Nations report
this month cited "near impunity" for the killings, which have continued alongside other alleged abuses during the Covid-19 pandemic.
It also warned that the proposed anti-terror legislation could make things worse amid a backdrop of "the vilification of dissent".
Under the new law, "there is much more discretion given to the authorities in their designation of individuals and organisations as terrorists, [and] there is really not the opportunity for individuals to present their case," co-author of the report Ravina Shamdasani said.
According to the UN
, between 2015 and 2019, at least 248 human rights defenders, trade union members, legal professionals and journalists were killed in the Philippines due to their work.
The Philippine government said the report's "faulty conclusions" were premised on alleged violations and that authorities had been focused on ensuring public safety and security. "That being said, the government will continue to respect its international legal obligations, including human rights," the statement read.
Defence Secretary Delfin Lorenzana also supported the proposal on May 31, saying there were civil liberty "safeguards" in place and that "the people need not fear".
But other international rights groups have also raised concerns.
"The law will open the door to arbitrary arrests and long prison sentences for people or representatives of organisations that have displeased the president, " says Phil Robertson, deputy Asia director at Human Rights Watch. "[It's] a human rights disaster in the making."
STILL SPEAKING OUT
Villanueva says that migrants groups will continue their advocacy work.
"We cannot be silenced by this kind of law, but I think it will have a chilling effect among the general public. Some migrant workers have already raised questions on whether they can share posts talking about corruption, for example. They ask if they will be arrested when returning home … people will fear for their lives or those of their families."
For Villanueva, the recent incident in Taiwan has shown how determined the government is in intimidating its critics.
Shiella Estrada, chairwoman of the Progressive Labour Union of Domestic Workers in Hong Kong, has similar concerns.
"It seems that they want to stop all these organisations and trade unions that are fighting for rights and freedom of expression," she says. "We absolutely need to protect our freedom of expression. If we don't shout out loud and talk to the media, few things change."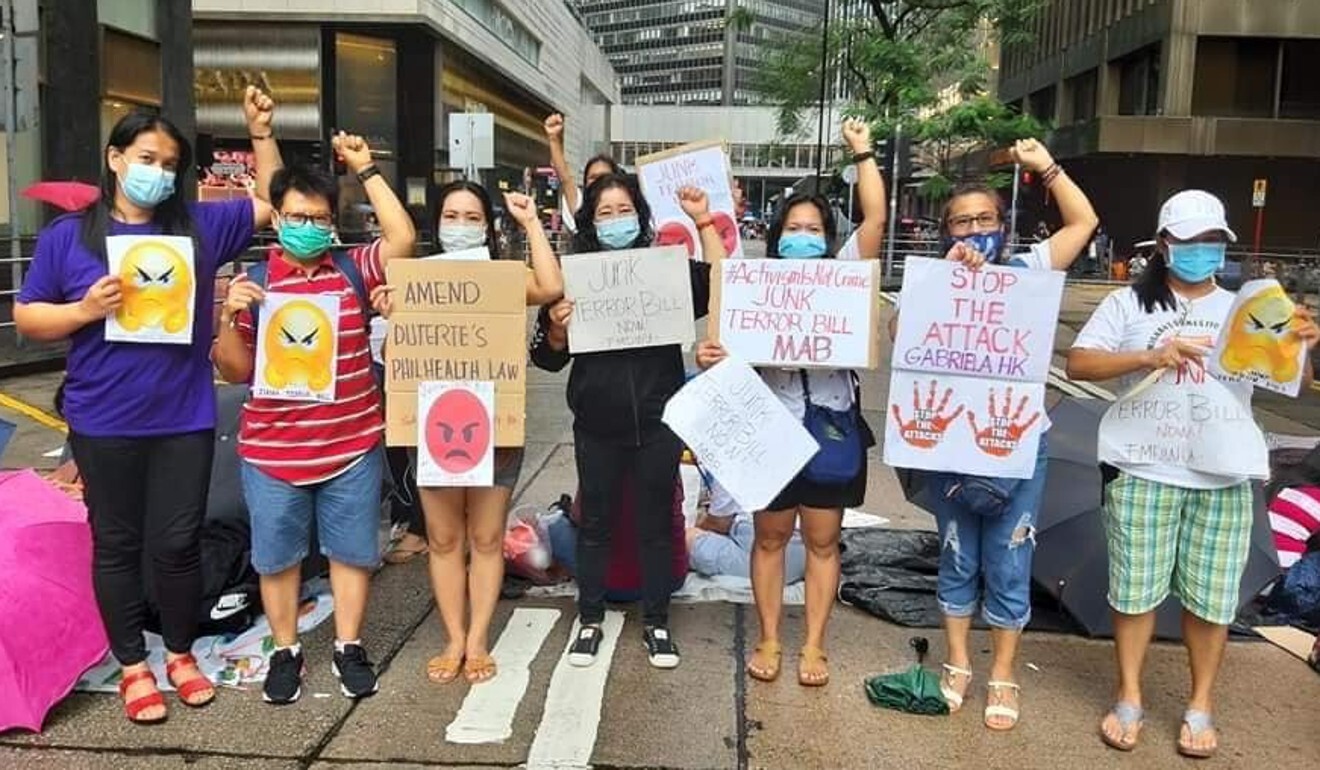 But Philippine Consul General Raly Tejada says that union leaders and migrant workers in cities like Hong Kong have "no reason" to be worried.
"The Philippine government will never put any Filipino in harm's way," he says. "Anything opposite is misguided and certainly will not sit well with the president who views Filipino overseas workers in high regard."
Union leaders claim that
migrant Filipino workers
have been neglected by their government and lacked proper assistance amid the pandemic. They are critical of the absence of a comprehensive plan to respond to rising
unemployment
rates.
Tejada says the government has programmes to help overseas Filipinos
who lose their jobs
or face other difficulties.
"We have calamity assistance, bereavement assistance, medical assistance, and relief assistance," he says, adding that other "unforeseen cases" may also be covered.
The labour department, Tejada says, has designed a programme for overseas Filipinos who were
affected
or displaced by Covid-19.
"Any qualified overseas worker stands to receive US$200 or 10,000 pesos in financial assistance from the government. It may be small compared to assistance programmes by other countries, but it cannot be said that the government stood idly by while Filipino overseas workers were losing their jobs or getting infected by Covid-19," Tejada says. ■