Indian tech firms welcome users as Modi bans TikTok, 58 other Chinese apps
The unprecedented ban is likely to affect one in three mobile users in India, which is the biggest market for TikTok owner ByteDance
Observers say the decision is in line with the Modi government's aim to make India self-reliant and will pave the way for the emergence of local platforms
The Indian government's
ban
of TikTok and 58 other Chinese apps, which comes amid a
border row
with China, has attracted praise by some Indians and local tech firms keen to welcome the apps' users to India-made platforms, although others have decried the decision as going too far.
The unprecedented move, which came weeks after
20 soldiers died
in a
border clash
in the Himalayas, is likely to affect one in three mobile users in India.
India is the biggest market for
TikTok
, a wildly popular video-sharing app which has been downloaded more than 660 million times since its launch, according to an estimate by app intelligence agency Sensor Tower. TikTok has between 120 and 200 million active users in the country.
The move marked another attempt by
India
to reduce dependence on its neighbour's products and put a spanner into efforts by
China
's largest corporations to expand beyond their own borders.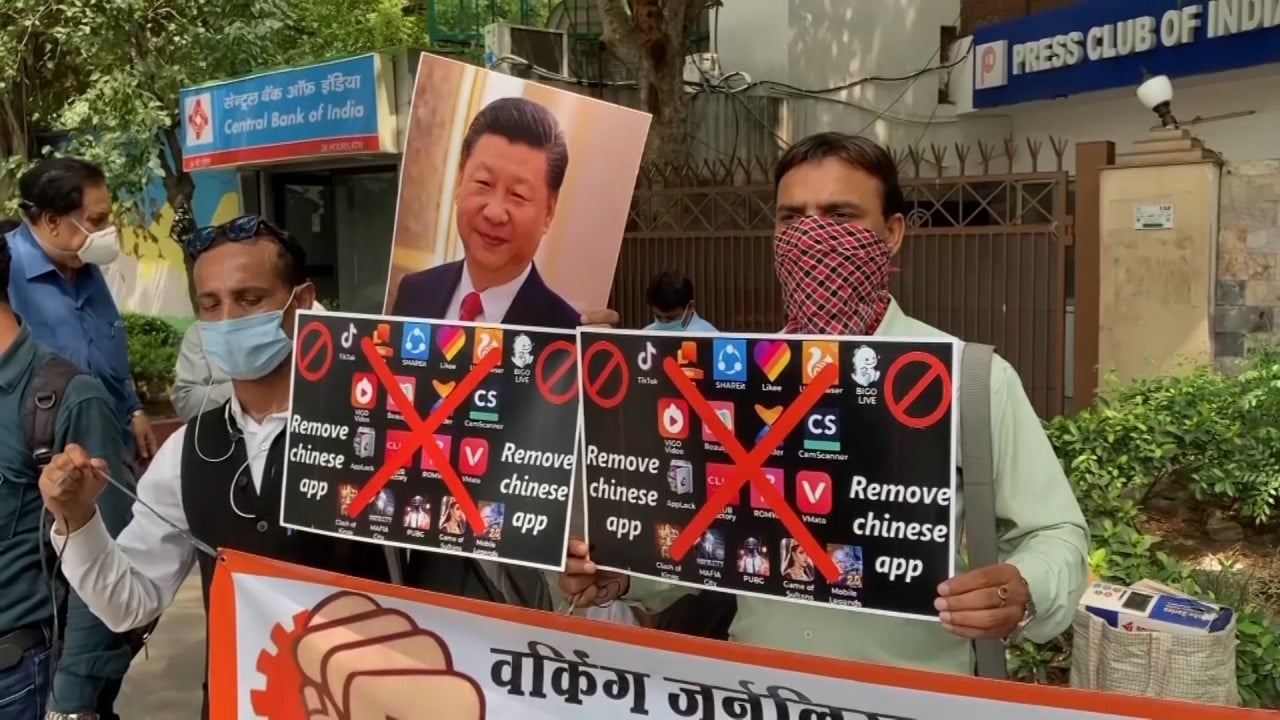 03:08
India bans dozens of Chinese apps, including TikTok and WeChat, after deadly border clash
India bans dozens of Chinese apps, including TikTok and WeChat, after deadly border clash
Hashtags such as #RipTikTok, #TikTokBanned, and #TikTokBanIndia began trending on Twitter after the announcement, with some people lashing out over the decision.
"Now, we will delete Chinese apps. What about many other Chinese products we have at home, throw them also?" asked one disgruntled TikTok user with the handle ginni1717, in a video that was shared on Twitter and attracted more than 600,000 views.
Several prominent TikTok users posted videos asking their followers to switch to other platforms such as Instagram and YouTube to receive updates from their accounts.
Others were supportive of the Modi administration's decision, saying it was a timely act.
"I stand by my country and I totally stand by the government's decision [to ban Chinese apps]," Muskan Sharma, a TikTok star with 4.6 million followers, said in a video.
"The way China is attacking India is not acceptable especially when the Indian market is filled with Chinese apps and products. Whatever China has done to India, they have to pay for this. We are all very happy with this decision."
"It was the need of the hour. There shouldn't be any scope of doing business with the likes of countries that only have hostility towards its neighbours," one Twitter user said.
"Would you give up your social media page with more than 1M followers for the sake your country? I know the answer is Yes," another person said on Twitter.
On Tuesday evening, some people shared screenshots of their apps, including TikTok, going offline as the ban took effect.
Other apps, including Alibaba Group's UC Browser, and Tencent's WeChat, were still on Google Play and Apple's App store on Tuesday night, but they were expected to soon be removed and deactivated.
Chinese foreign ministry spokesperson Zhao Lijian, in his regular press briefing, said Beijing was "strongly concerned" with India's move and was analysing the situation.
ByteDance, the owner of TikTok and the world's most valuable start-up, said it was meeting government officials to "submit clarifications". It also said it had not shared any user information with China.
"TikTok continues to comply with all data privacy and security requirements under Indian law and has not shared any information of our users in India with any foreign government, including the Chinese government," said Nikhil Gandhi, the company's local chief, in a tweet on its official account. "Further if we are requested to in the future we would not do so."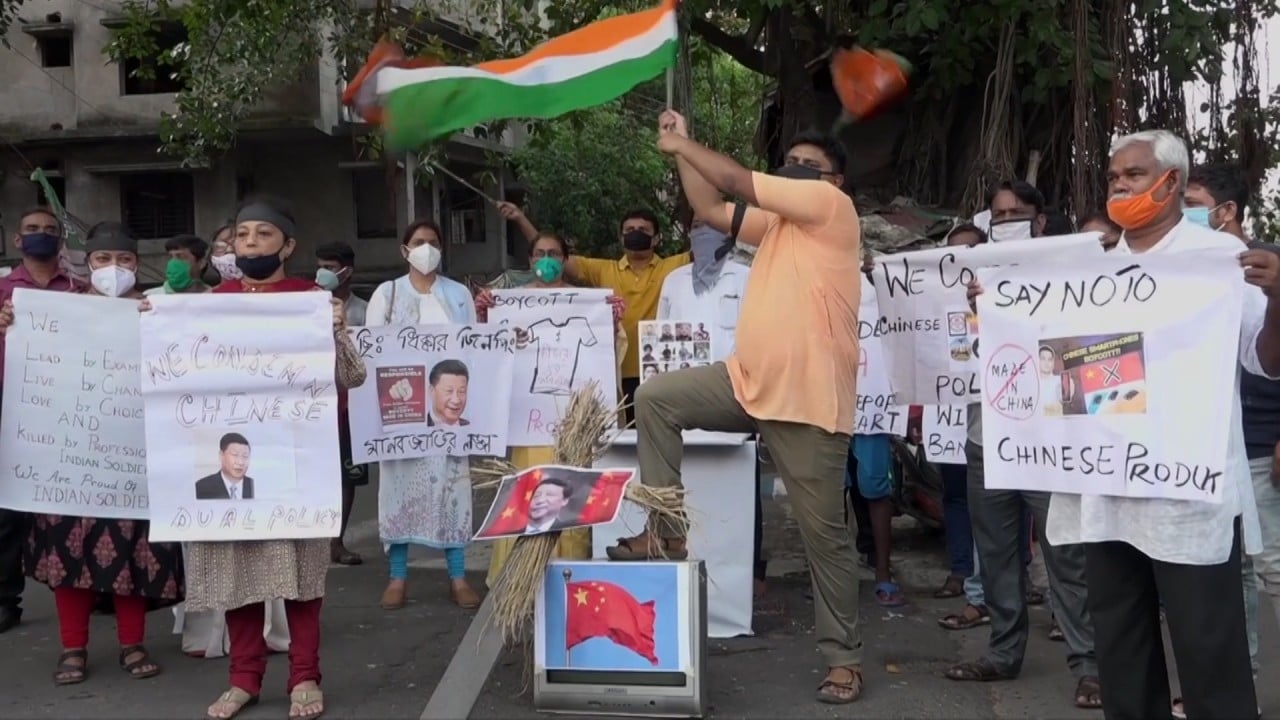 01:58
Indians call for boycott of Chinese goods after deadly border clash with China
Indians call for boycott of Chinese goods after deadly border clash with China
India's targeted ban is seen as an easy measure to impose and one that causes the least disruption.
Any restrictions on other sectors, such as the automobile, electronic, pharmaceutical, or furniture industry – where India is heavily dependent on China – would be difficult to impose swiftly and not have any immediate impact.
"The ban on the 59 Chinese apps looks very sudden, overarching in terms of breadth and depth. This seems like a strong reaction if we consider the impact on the overall population and app users," said Jayanth Kolla, founder of the market research and consultancy firm Convergence Catalyst.
"The implementation [to impose a ban on digital apps] is faster. By a stroke of a single regulation overnight, tens of millions of these apps can be made inactive. It is sending a strong message," he added.
Several India-based emerging platforms – the respective rivals of the banned Chinese apps – welcomed New Delhi's move, saying it would pave the way for the emergence of local platforms.
Chingari, a growing app which sees TikTok as its rival, registered about 100,000 downloads per hour soon after the announcement of the ban.
"I thank and congratulate Narendra Modi sir. And we assure we would like to welcome all the users of TikTok to come and try our Chingari, which is a 100 per cent India-grown app and made for the passionate Indians," its co-founder Sumit Ghosh said in a statement.
Other indigenous apps, such as the audio platform Khabri and social media platform ShareChat, also praised the government's decision.
Pavel Naiya, a senior analyst with the market research firm Counterpoint, said the ban aligned well with the Modi government's aim for India to achieve "self-reliance".
"If you look at the India-China border confrontation, this [ban] definitely comes as a part of a strategic move from the Indian government. We believe it is also going well with the self-reliance or Atmanirbhar Bharat Mission," Naiya said. "It is serving both purposes at the same time."
Kolla, from Convergence Catalyst, said New Delhi had options to go further.
"Are there any other digital products that could be banned with a similar impact in order to send a strong message? Yes, the next of products which come to mind are smartphones," he said.
China-made mobiles are used by more than 65 per cent of the local smartphone market in India.
Additional reporting by Bloomberg