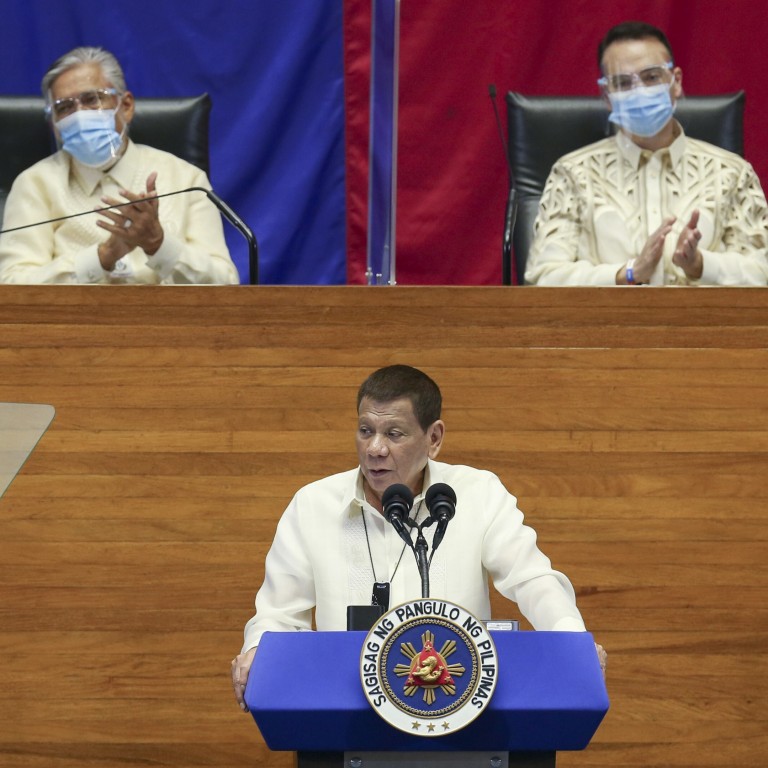 Duterte seeks Chinese coronavirus vaccine, rules out US bases in Philippines
'I made a plea to Xi Jinping. Can we be one of the first to have it … or can we buy it?' says Duterte in State of the Nation Address
He rules out confronting Beijing in the South China Sea as '[China is] in possession of the property'
President
Rodrigo Duterte
told lawmakers on Monday he had asked Chinese President
Xi Jinping
to help the Philippines get priority access to a Covid-19 vaccine, as the country struggles with the
coronavirus
 pandemic that has battered the economy.
In his annual State of the Nation Address, Duterte said: "Four days ago I made a plea to Xi Jinping. Can we be one of the first to have it … or can we buy it?"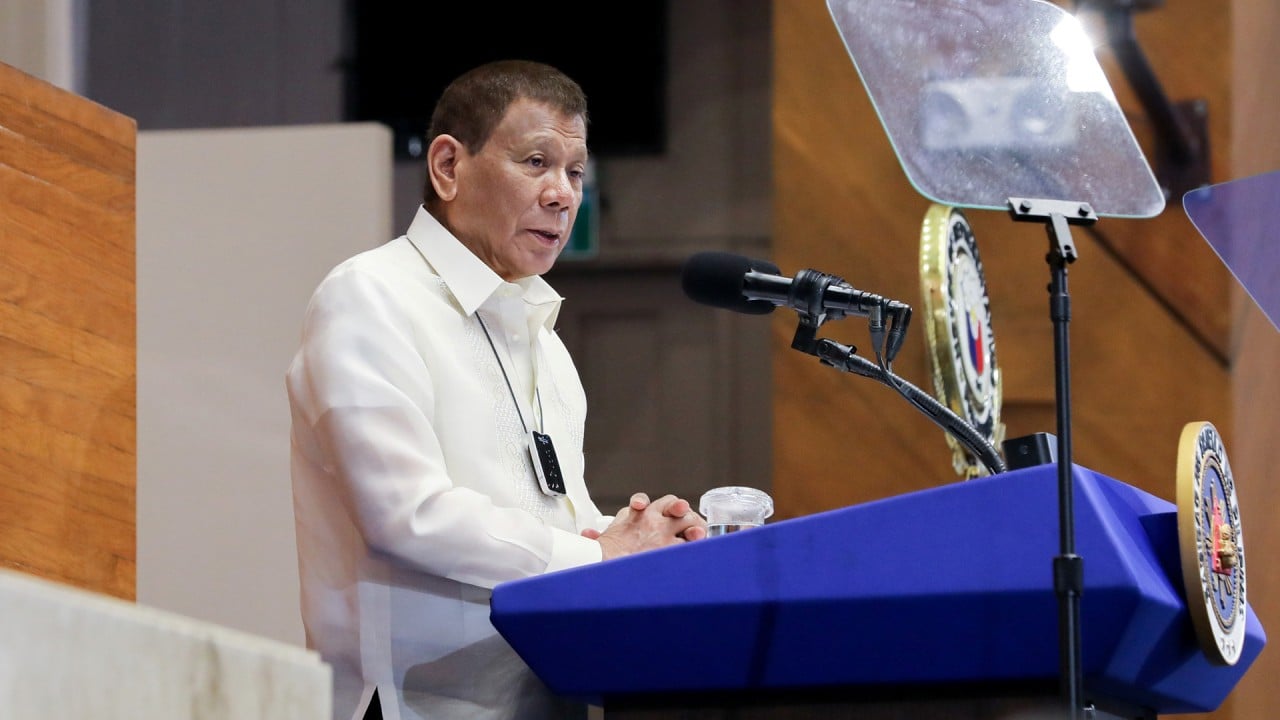 03:09
Duterte tells Philippines he asked China for coronavirus vaccine, diplomacy in maritime dispute
Duterte tells Philippines he asked China for coronavirus vaccine, diplomacy in maritime dispute
Infections in the
Philippines
 rose to 82,040 on Monday with 1,945 dead, while just over 26,000 people have recovered. It has the second-highest number of infections in Southeast Asia, after
Indonesia
.
While Duterte, who spoke for more than 90 minutes, asked banks and property companies to help small businesses, and sought their help to revitalise his 8 trillion peso (US$162.44 billion) infrastructure programme, he did not outline the government's strategy to bring infections down or to increase contact tracing.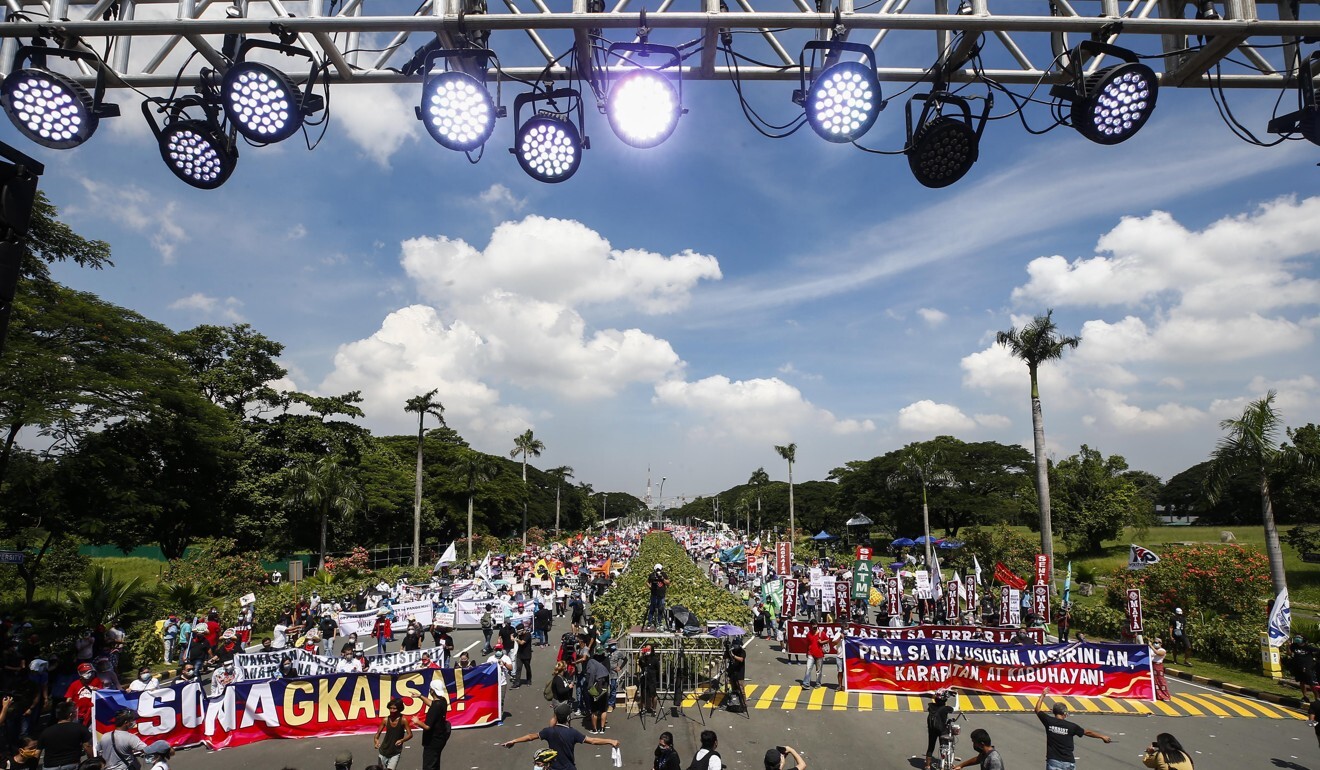 He said only that there were now 93 accredited testing laboratories and the government was aiming to conduct 1.4 million tests by this Friday. A Department of Health bulletin showed labs had conducted 1.14 million tests as of July 19.
He also thanked frontline health staff and said the lockdown – among the world's strictest and longest several months ago – had prevented infections from ballooning to 3.5 million. While the lockdown measures have eased, some restrictions remain in Metro Manila.
He said: "I must admit that our actions have been far from perfect. I admit it. And there could be improvements here and there. But all of us in government, including myself, assure you that we will not stop until we get things right and better for you."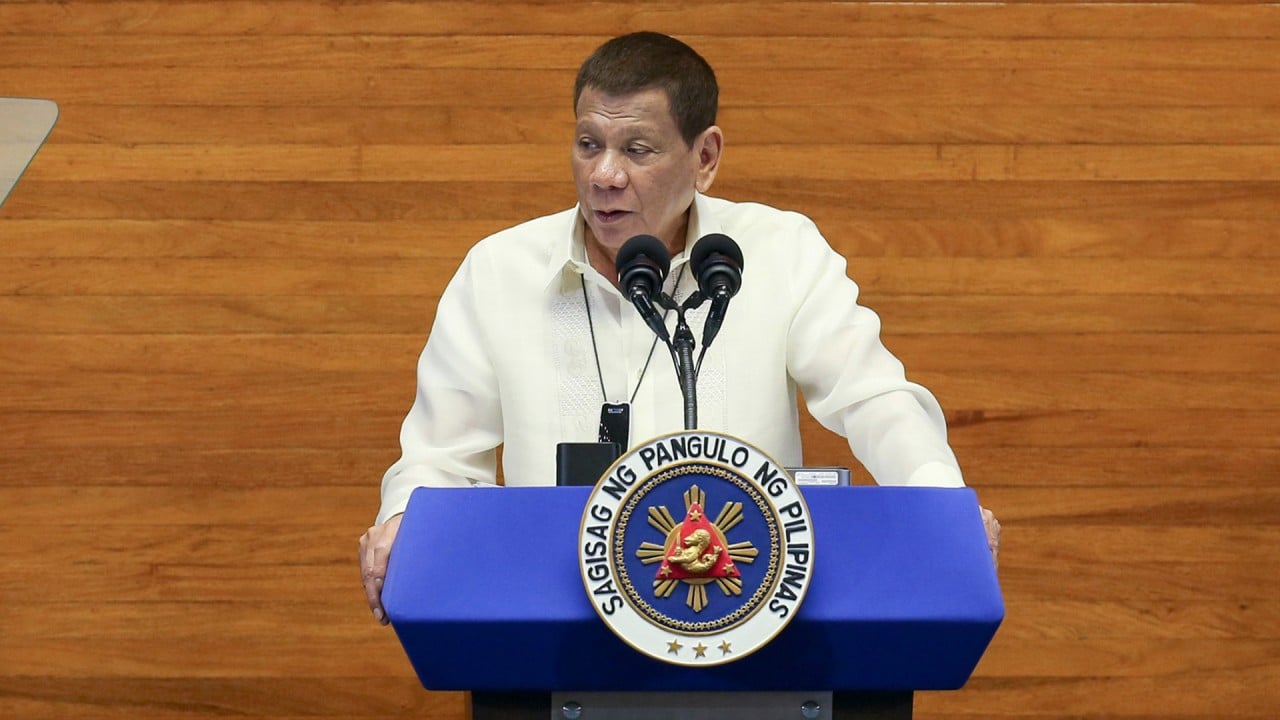 01:05
'China has the arms, we do not', Duterte rules out confronting Beijing in the South China Sea
'China has the arms, we do not', Duterte rules out confronting Beijing in the South China Sea
'CHINA HAS THE ARMS, WE DON'T'
Duterte also reiterated that he would not confront China over its
South China Sea
claims, saying diplomacy was the best approach because the alternative was to go to war and he could not afford to do that.
He said, "China is claiming [the West Philippine Sea], we are claiming it. China has the arms, we do not … So it's simple as that. They are in possession of the property."
"They are in possession. So what can we do? We have to go to war. And I cannot afford it. Maybe some other president can. But I cannot. I'm helpless there, I tell you, and I'm willing to admit it."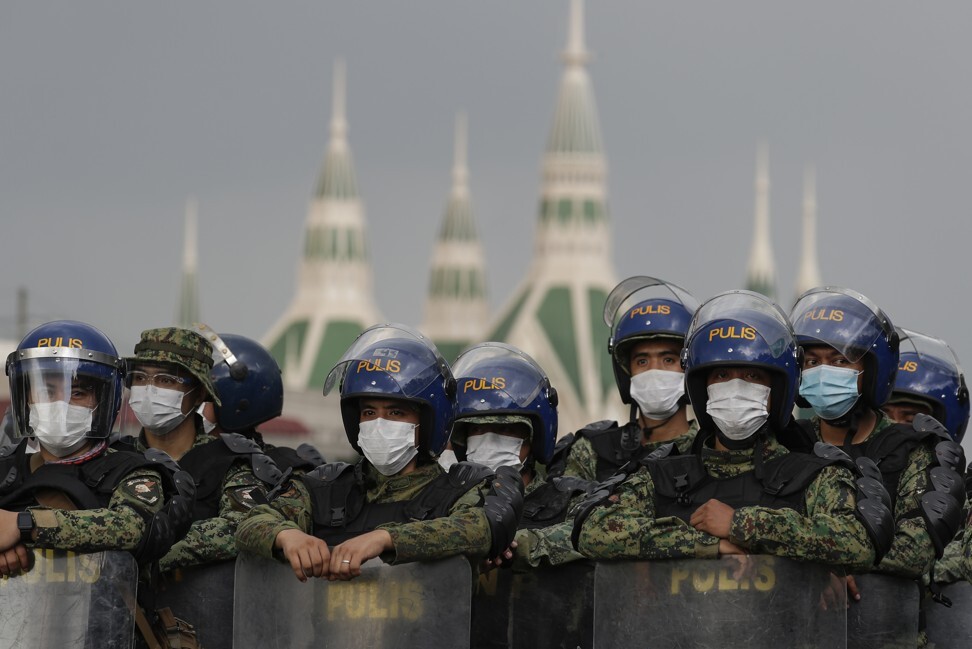 While he did not give an update on the Visiting Forces Agreement with the
United States
– earlier this year he had ordered it to be cancelled but last month suspended his order – he ruled out allowing the Americans to once again set up bases in the Philippines because "if war breaks out there will be atomic arsenals" which would "ensure the extinction of the Filipino race".
For most of the 20th century, the US maintained its two largest bases outside the US in the Philippines at Clark Air Base and Subic Naval Base. US forces pulled out of the country in 1992.
Maritime law expert Jay Batongbacal questioned Duterte's assessment of the situation in the South China Sea. "He clearly does not understand what possession means and entails," said Batongbacal, the director of the University of the Philippines Institute of Maritime Affairs and Law of the Sea.
"The sea is not subject to anyone's legal possession, nor to any rights beyond what is permitted in the [United Nations Convention on the] Law of the Sea. The mere fact that China has been unable to exclude everyone else from operating in or using the South China Sea, including the Philippines through the Philippine navy, coastguard, air force and also Filipino civilians, directly belies Duterte's statement."
At one point during his speech, delivered before a smaller-than-usual audience due to social distancing regulations, Duterte, 75, complained that bad lighting and his poor eyesight made it hard to see the teleprompter.
He rued that "a dream of prosperity for our country was snapped by a pandemic".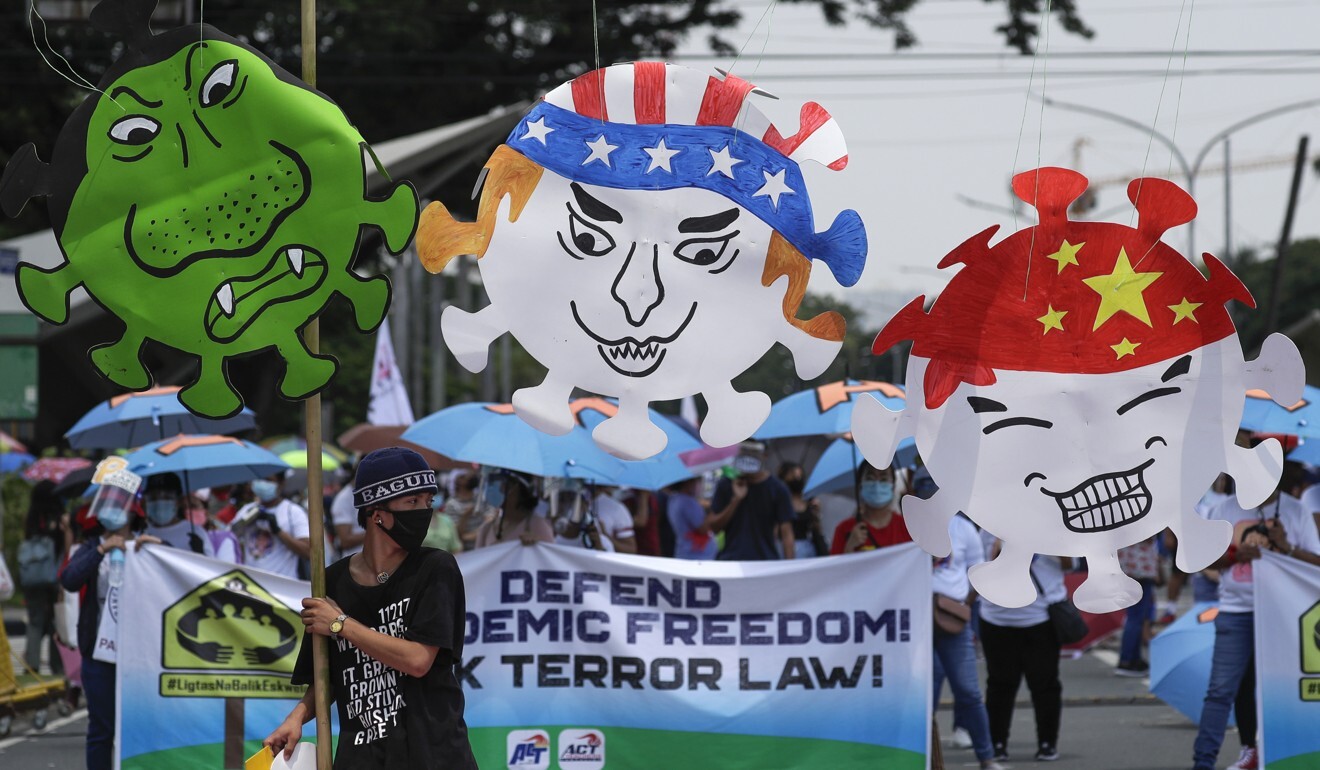 To help the economy recover, he asked lessors to come to a "fair arrangement" with their lessees, banks to give lenders a three-month grace period to help them recover and the Central Bank to give "regulatory relief" to allow loan payment extensions for small and medium enterprises without penalties.
He also suggested that corporate income tax be cut from 30 per cent to 25 per cent, while providing targeted and time bound incentives to businesses.
Among other measures, he said there should be assistance provided to repatriated Filipino workers who had lost their jobs.
He came to life when speaking of his administration's achievements in the war on drugs, which has resulted in thousands of extrajudicial killings, and called for a return to the death penalty via lethal injection for drug crimes.
Duterte also attacked oligarchs and what he called the "economic elite", claiming he was a "casualty" of the Lopez family, the owners of the recently closed TV network ABS-CBN, whose franchise was not renewed by Congress. He indicated that the network franchise would not be renewed.
Duterte also warned telecommunications companies Globe Telecom and PLDT to improve their services.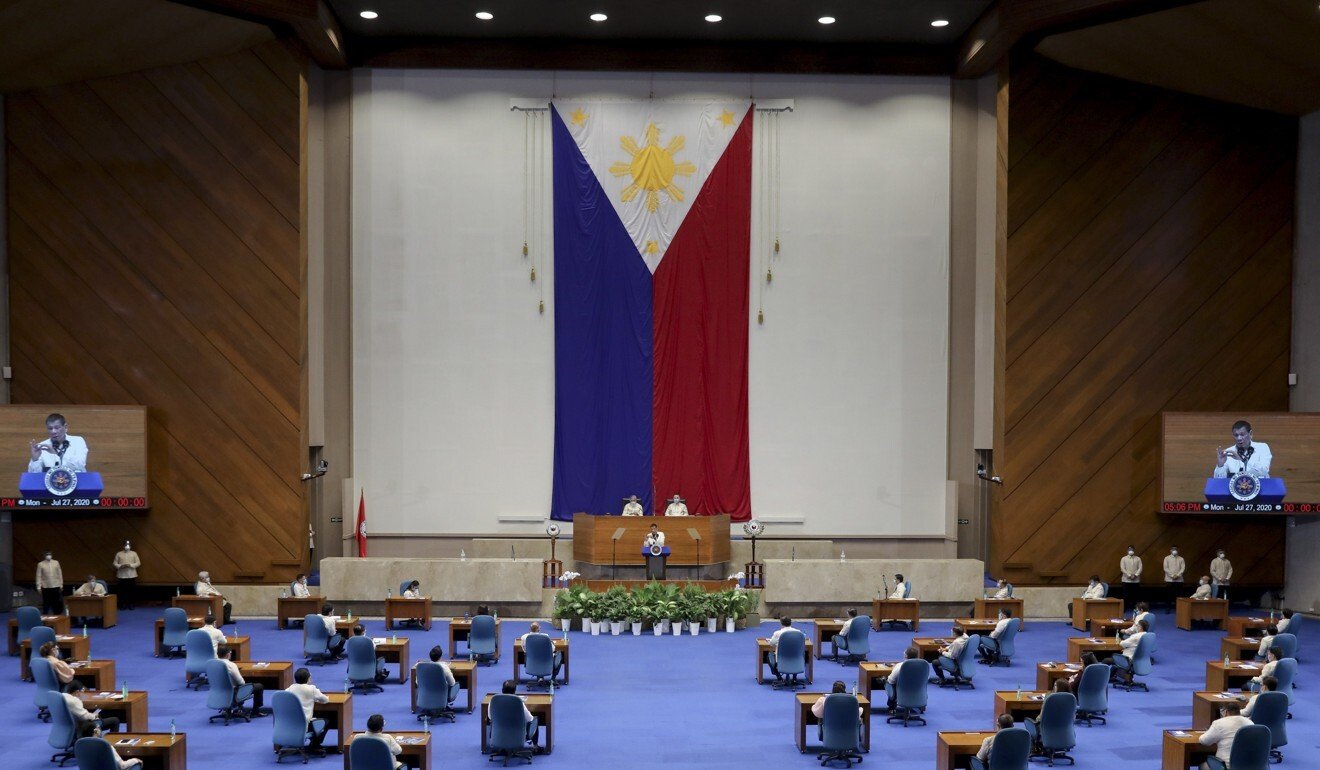 University of the Philippines political science professor Jean Franco said Duterte did not seem to have a plan to get the country out of the pandemic but was just making a "series of proposals that seem to stand alone".
Although Duterte spoke for more than 90 minutes, the recovery measures he presented were "still unclear," said AB Capital Securities deputy head of research Lexter Azurin.
"The market is hoping for an assurance from the government that it is on top of all the problems now," Azurin said. "This should further dampen sentiment in our already beaten up local market."
Hours before Duterte spoke, left-leaning groups staged a protest inside the state-owned University of the Philippines denouncing what they said was his "unbridled fascism" and the passage of the new Anti-Terrorism Act, a law critics say has been made deliberately vague so it can be used to crackdown on any form of dissent.
Duterte's speech drew three million views while an online protest concert by the Catholic Church, musicians and millennials drew half a million.
This article appeared in the South China Morning Post print edition as: Duterte seeks Chinese help to obtain vaccine