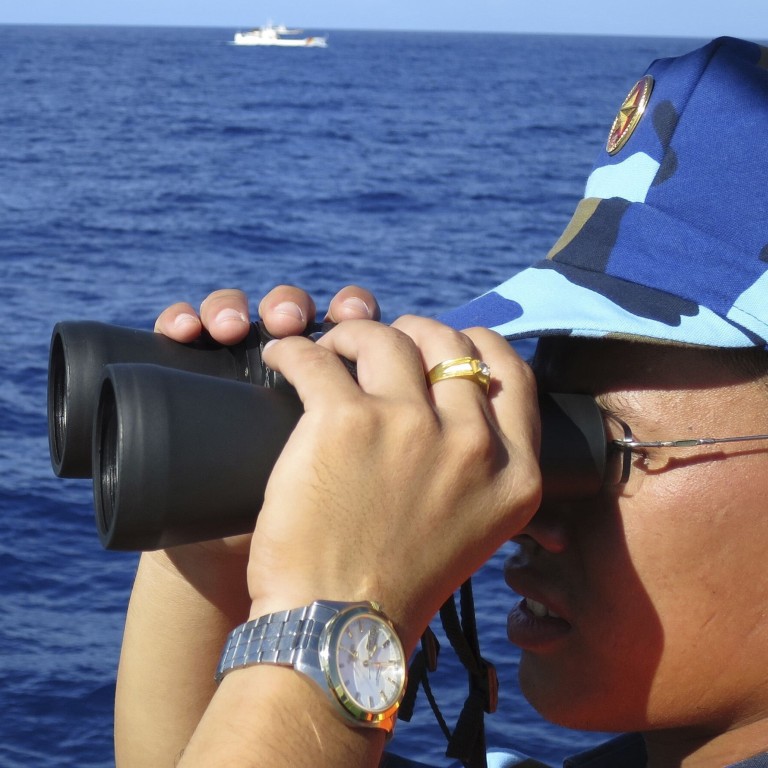 As US pledges help in South China Sea, Vietnam wary of antagonising Beijing
A recent US agreement with Vietnam to assist its fishing vessels against 'illegal intimidation' is unlikely to extend to military support at sea
While Vietnam opposes China's moves in the waterway and may even take legal action, it has been cautious in its response to the US offer to help
Washington toughened its stance against Beijing's aggressive territorial claims in the
South China Sea
last week by signing a memorandum of understanding (MOU) with Vietnam, pledging support for its fishermen against "illegal intimidation".
While
US
Ambassador to Vietnam Daniel J Kritenbrink did not mention
China
in his comments at the signing ceremony with the Directorate of Fisheries, analysts said he was clearly referring to Beijing.
Vietnam
is one of four
Southeast Asian
countries with competing claims against Beijing in the energy and resource-rich waters of the South China Sea, through which about US$3 trillion worth of trade passes every year. China claims almost all of the waterway on the basis of its nine-dash line map.
In April, a Vietnamese fishing boat sank after it collided with a Chinese coastguard vessel, with each side claiming the other was at fault. Subsequently, fishing communities in Vietnam and the Philippines protested against China's unilateral fishing ban in the waterway, known as the East Sea in Vietnam. China instituted the seasonal ban in 1999, claiming it would help sustain fishing resources in one of the world's biggest fishing grounds.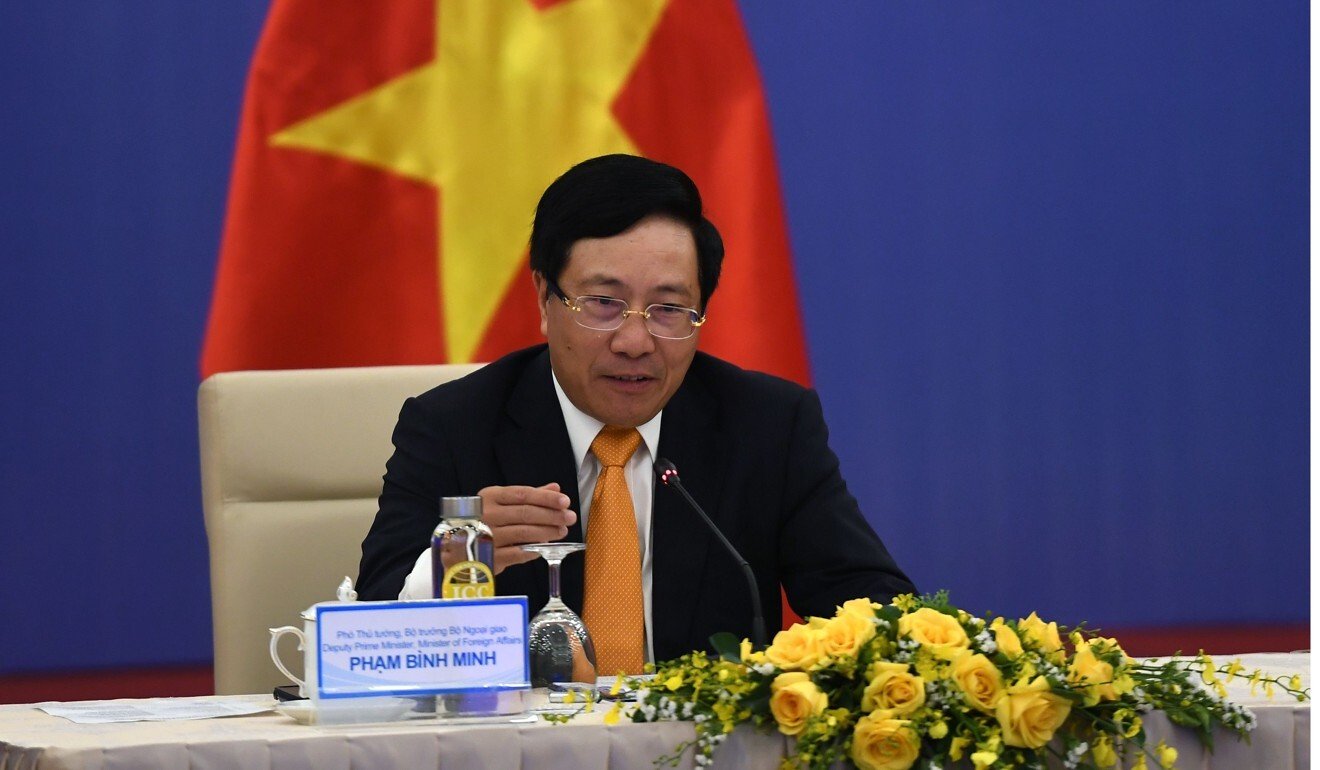 Under the MOU, the US will seek to strengthen Vietnam's fisheries management, law enforcement capabilities and surveillance systems by providing technical assistance and sharing information. It will also increase cooperation between Hanoi, Washington and international law enforcement agencies to combat illegal fishing and intimidation.
"The United States has a great deal of experience in managing fisheries and enforcing regulations, which we are more than happy to share," Kritenbrink said. "We look forward to working together with Vietnam to strengthen the sustainability of its fisheries and support its fishers against illegal intimidation."
The agreement comes after US Secretary of State Mike Pompeo said earlier this month that
Beijing's South China Sea claims were unlawful
, and that Washington would strengthen its policies to halt China's bid to grab resources, harass fishermen and intimidate its neighbours. A day later, Pompeo said the US would support countries who believed China had violated their sovereignty in the South China Sea.
While Vietnam has been among the most vocal countries in opposing Beijing's South China Sea moves, it has been cautious in its response to the US offer of support.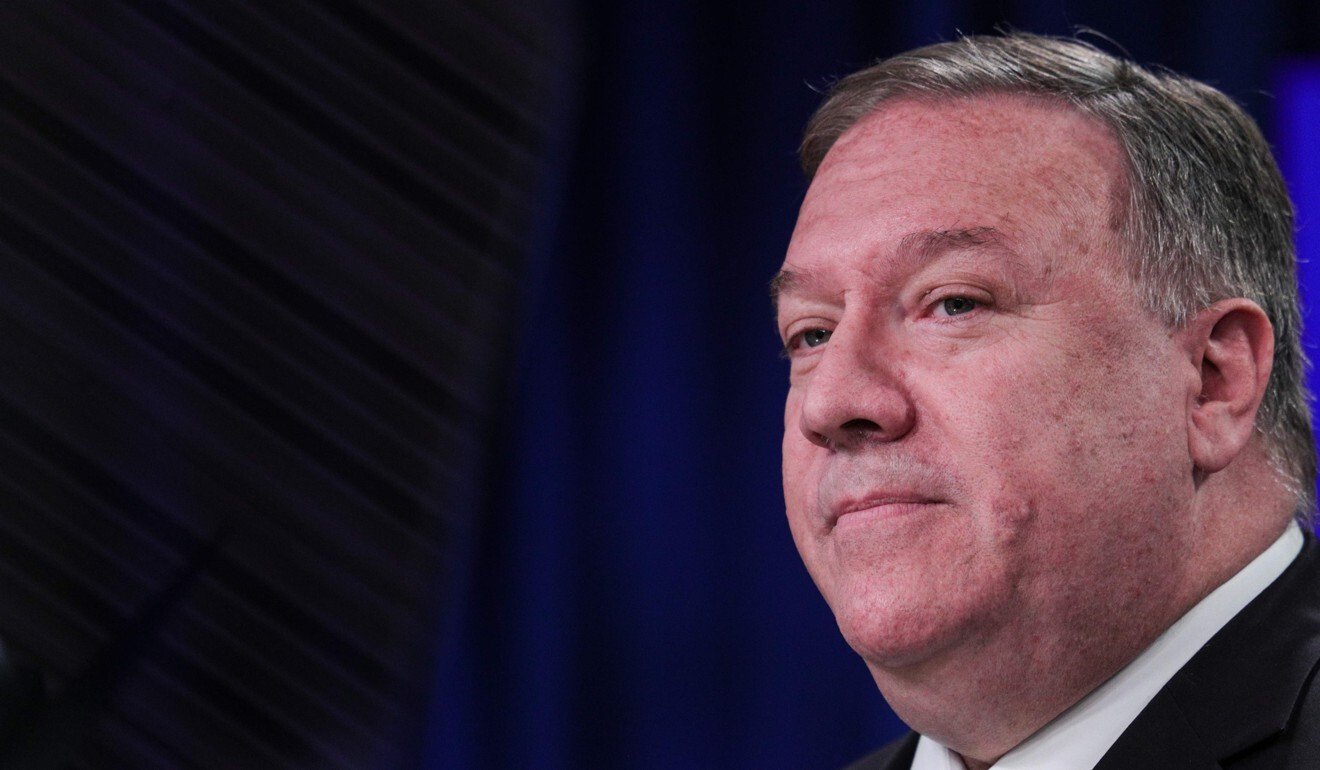 Viet Hoang, a lecturer at Ho Chi Minh City University of Law who focuses on the South China Sea, said: "The Vietnamese government still thinks that, although Pompeo's statement is more beneficial for them, Vietnam tries not to get caught up in the 'war' between China and the US.
"Perhaps not only the Vietnamese government but other Asean governments are still observing the next developments cautiously," he said.
How America's support for Vietnamese fishing vessels will manifest itself in reality is not yet clear either, said Jeffrey Ordaniel, director of maritime programmes at The Pacific Forum, a non-profit institute focused on the Indo-Pacific region.
"I think US options will be limited to providing the usual capacity building in terms of maritime domain awareness, and perhaps some coordination of positions in regional dialogue institutions," he said.
"Washington will likely increase efforts to boost Hanoi's maritime capabilities, and will perhaps be more present in Vietnamese waters as a way of signalling to the Chinese that America is watching. The US will certainly be constrained by Vietnam's cautious approach. Hanoi is unlikely to willingly antagonise Beijing."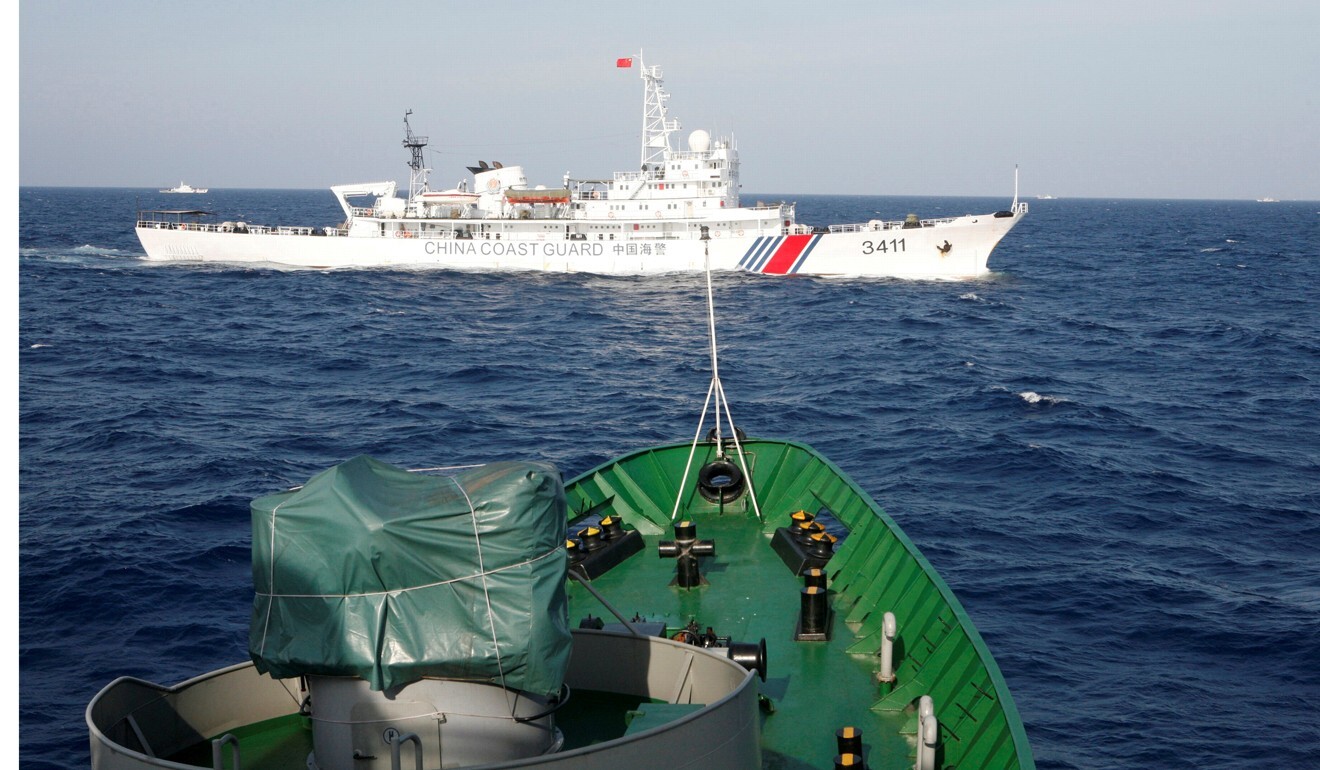 Last year, tensions between Beijing and Hanoi soared as Chinese survey ship Haiyang Dizhi 8 repeatedly entered Vietnam's exclusive economic zone (EEZ) while searching for oil and gas reserves over a three-month period between July and October. The zone is of vital importance to Vietnam's own energy exploration, and a deeply sensitive area.
In 2014, anti-Beijing sentiment also escalated in Vietnam after a Chinese drilling rig entered the disputed waters, sparking attacks against Chinese-owned factories.
In November last year, US Secretary of Defence Mark Esper visited Vietnam to announce the US would gift Vietnam a coastguard cutter to boost patrols in the region.
Since then, the US has maintained a presence in the waterway through frequent freedom of navigation operations, including sending two aircraft carriers to the region, and even asked Australia to carry out naval exercises. Both the USS Ronald Reagan and USS Nimitz undertook military exercises in the South China Sea during the first week of July, while China began live fire drills on Saturday.
Beijing has reached out to Hanoi to try to calm the waters, with foreign ministers Wang Yi and Pham Binh Minh holding online talks on July 21 – a meeting Vietnamese media described as an attempt to ensure China keeps conflicts at sea under control.
Chinese state news agency Xinhua quoted Wang as saying that the
US was the troublemaker
in the region, yet multiple sources told
This Week in Asia
there were no significant outcomes or resolutions gained.
"I think there is not much new progress after the meeting of Wang Yi and Pham Binh Minh," Hoang said. "In the South China Sea issue, nothing will change, because the stance of China and Vietnam on the issue is still very different. Vietnam is persistent on the basis of international law and China wants to maintain the U-shaped line, so when China has not changed its stance, the South China Sea issue will be difficult to change."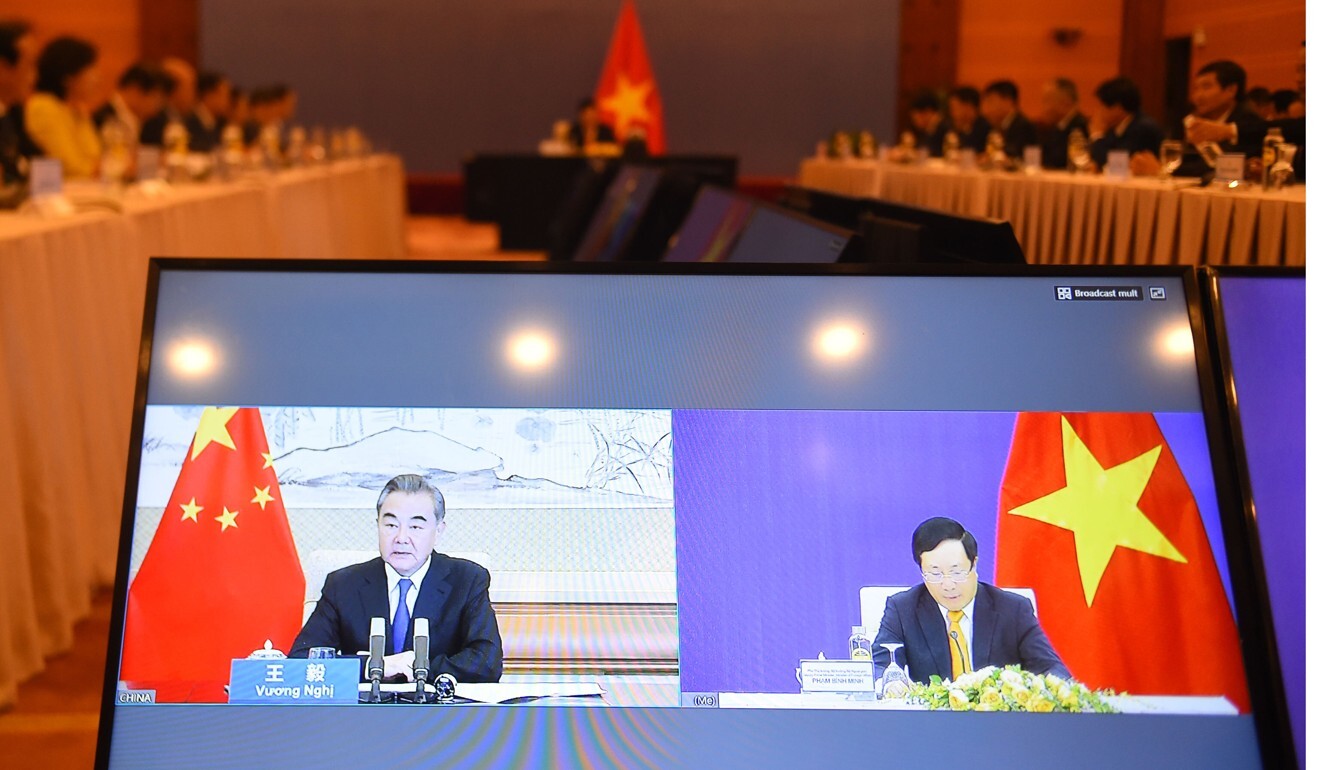 The foreign ministers' meeting took place soon after Vietnam cancelled a contract for an offshore oil drilling project, resulting in the country having to pay US$1 billion in compensation to two international oil companies. Analysts including Bill Hayton, an associate fellow with the Asia-Pacific Programme at Chatham House, suggested it was due to Chinese pressure.
There have been suggestions that Vietnam could take legal action against Beijing by filing an international arbitration case against China's claims. In July 2016, the Philippines did exactly that, at The Hague's Permanent Court of Arbitration, and won – even though China decided not to participate.
As the US has not ratified the United Nations Convention on the Law of the Sea (UNCLOS), it cannot play any official role in legal action that Vietnam may take.
Ordaniel said Pompeo's speech was probably due to the US realising its South China Sea policy could not stay the same.
"Many in Washington now realise that over-reliance on [freedom of navigation operations] is not going to be enough to convince Southeast Asians that they share an interest with America," he said.
While Hoang believes taking legal action would be a "last measure" for Vietnam to take, David Koh, a consultant and former Vietnam analyst at the Institute of Southeast Asian Studies, said the government has always indicated the option to take legal action is available.
In fact, he believed it would be "a good thing" as it would indicate how international law can genuinely play a pivotal role in resolving political differences.
"I do not see why legal action and maintaining a good relationship between China and Vietnam cannot happen," Koh said. "More than at any time, Vietnam is closer to considering taking legal action, I think."
But Carl Thayer, a professor emeritus of politics at the University of NSW in Canberra, said the US was not likely to increase military support for Vietnam at sea. Rather, it would focus on diplomacy and building the capacity of Vietnam's maritime law enforcement agencies.
"The US Coast Guard is not equipped to provide constant presence. Vietnamese fishermen are intimidated by both the China Coast Guard, maritime militia and provincial fishing fleets," he said.
"The United States will not get directly involved as a matter of policy and because the US lacks the means to offer effective support on the sea," he said. "The policy is that this is Vietnam's responsibility as it has sovereign rights."
This article appeared in the South China Morning Post print edition as: US vows support for Vietnam fishing