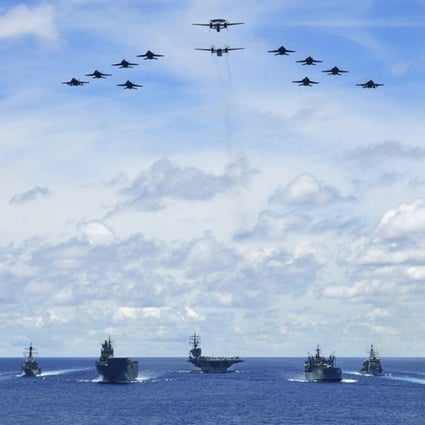 Australian and Japanese forces joined the US Navy for recent exercises in the South China Sea. Photo: Handout
Must Australia choose between trade with China and siding with US on Hong Kong, South China Sea?
Canberra has signalled it will not join Washington in a new cold war with Beijing – sceptics wonder if it has any alternative
Australia is one of America's staunchest security allies, but alienating its largest trade partner would cost it dear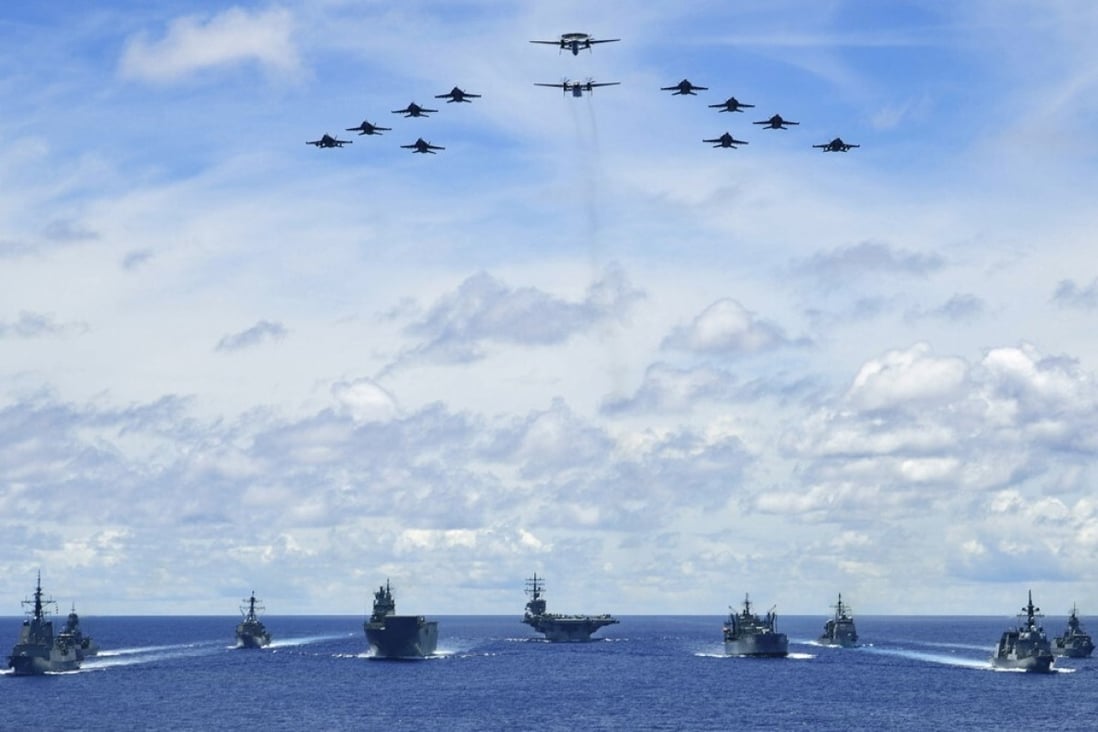 Australian and Japanese forces joined the US Navy for recent exercises in the South China Sea. Photo: Handout
When US Secretary of State Mike Pompeo last week called for the formation of an unspecified "alliance of democracies" to counter China, Australia was among the countries he probably had in mind.
This week, Australia's top diplomat and defence official made it clear Canberra would not march in lock-step with its treaty ally – even as they joined their US counterparts to emphasise common interests and issue some of their strongest criticisms of Beijing.
While the allies would work together on the basis of "shared values", Australia made its "own decisions", Minister for Foreign Affairs Marise Payne said on Tuesday, after Payne and Minister for Defence Linda Reynolds wrapped up annual talks with Pompeo and US Secretary of Defence Mark Esper.
Notably, Payne was explicit about Canberra's hope for constructive relations with Beijing, its largest trading partner – a stark contrast with Pompeo's recent declaration that US engagement with China had been a failed experiment.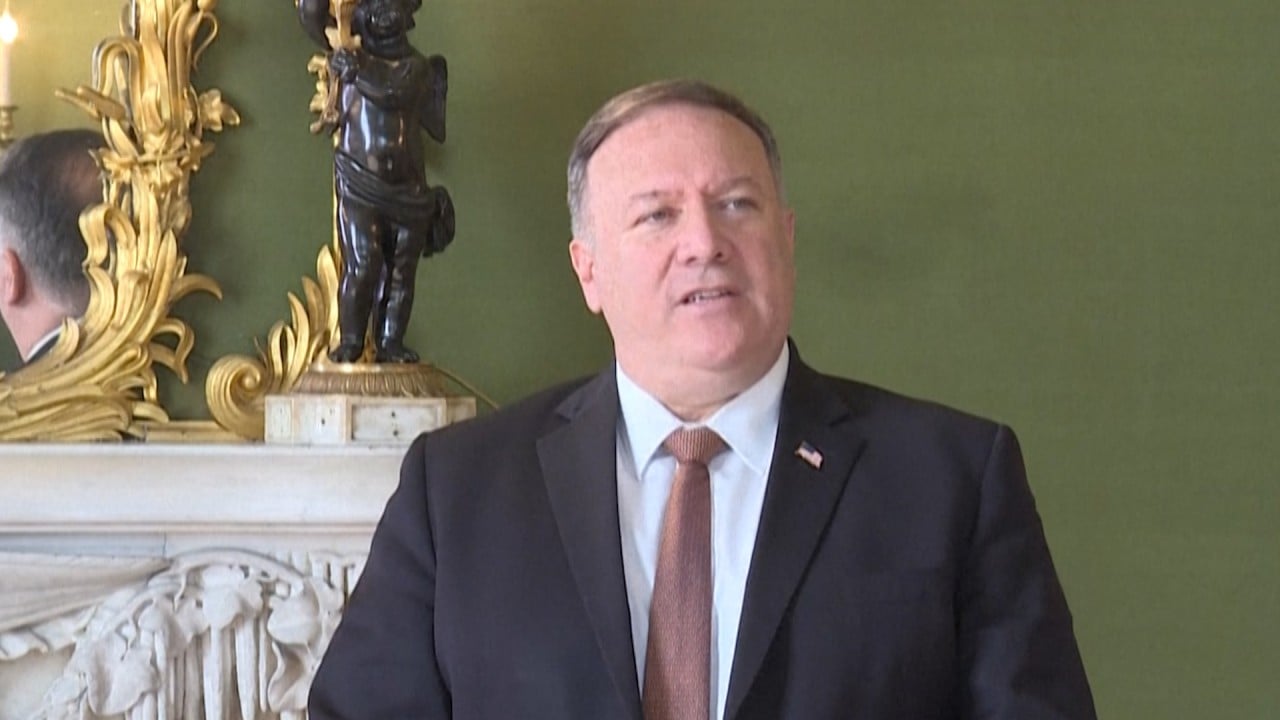 01:17
Pompeo urges all nations to 'push back' against China on visit to the UK
The relationship "we have with China is important, and we have no intention of injuring it, but nor do we intend to do things that are contrary to our interests", Payne said.
The outcome of the annual Australia-United States Ministerial Consultation (AUSMIN) reflected the delicate balance Canberra is seeking to strike as it takes a tougher line on China's increasingly assertive moves in the region, while keeping its distance from the Trump administration's most hawkish policies and rhetoric.
While Canberra felt increasingly comfortable pushing back against Beijing, it would not "replace pragmatism with ideology as the mainframe to view China relations," said James Laurenceson, director of the Australia-China Relations Institute.
"Amid the political tensions and thundering editorials in the Global Times, it is easy to miss that important elements of the bilateral relationship, like trade and research collaboration, remain in a very healthy state," said Laurenceson, referring to the Chinese nationalist tabloid that regularly publishes fiery editorials critical of Canberra.
"To date both Canberra and Beijing have had the good sense to let Australian and Chinese households and businesses get on with engagement they see as being in their interests. Until that changes, economic fundamentals will prevail, albeit with some messiness around the edges."
HOPING PROBLEM WILL GO AWAY?
But Hugh White, a professor at the Strategic and Defence Studies Centre at Australian National University in Canberra, said the government still had "no clear account" of how to manage the US-China rivalry despite making it clear it would not support a "new cold war with Beijing".
"Repudiating Pompeo's cold war is one thing, but articulating a clear alternative approach is quite another," said White. "It still seems to hope that the problem will just go away. That won't happen."
The closely watched AUSMIN talks saw Canberra and Washington pledge greater cooperation across areas including defence, cybersecurity, and health to hasten the global recovery from the Covid-19 pandemic and enhance "stability, prosperity, and resilience of the Indo-Pacific".
While eschewing the Trump administration's most hawkish rhetoric, the meeting's joint statement contained some of the most direct and firm criticism of Beijing to date. The two sides highlighted the "repression of Uygurs and members of other minority groups in Xinjiang"; national security legislation in Hong Kong that "imperilled the rule of law and undermined the rights to freedom of expression, including for members of the press, and to peaceful assembly"; and maritime claims in the South China Sea that were "not valid under international law".
But it also fell short of committing Canberra to joining the US in conducting freedom of navigation patrols within 12 nautical miles of features claimed by Beijing in the South China Sea, despite growing calls in Washington for it to do so.
Minister for Defence Linda Reynolds said only that the issue had been a "subject of discussion". Her remarks came after Canberra last week made a major policy U-turn to join Washington in declaring Beijing's expansive claims in the South China Sea to be unlawful. Beijing claims about 90 per cent of the waterway – which holds massive untapped oil and gas reserves and facilitates about one-third of global shipping – despite a 2016 ruling by an international tribunal that its stance has no basis in international law.
"Australia and the United States have very closely shared interests when it comes to regional order and China policy but those interests are not perfectly symmetrical," said Ashley Townshend, director of foreign policy and defence at the University of Sydney's United States Studies Centre. "They haven't been in previous years and they won't be in the future."
The Chinese Embassy in Australia on Wednesday released a statement blasting the AUSMIN document for "unfounded accusations and attacks against China on issues related to Hong Kong, Xinjiang and the South China Sea".
"Their assertions, in disregard of basic facts, violated international law and basic norms governing international relations and grossly interfered in China's internal affairs," the statement said, while urging Australia to "do more things that are conducive to mutual trust and cooperation between the two countries".
"We reiterate that the Chinese side is unwavering in upholding national sovereignty, security and its legitimate rights and interests. We are firmly committed to maintaining regional peace and security."
Canberra, a staunch US ally which has fought in every major American war since World War II, has found itself increasing at odds with Beijing in recent months over other issues including allegations of espionage, and incidents of racism against Chinese in Australia.
RELIANT ON TRADE WITH CHINA
At the same time, Australia relies on China as the recipient of one-third of its exports, with two-way trade in 2018-2019 amounting to A$235 billion (US$168 billion). The country's economic dependence on China was brought into sharp relief this year when Beijing imposed restrictions on Australian barley and beef – moves widely seen as retaliation for Canberra's calls for an independent international inquiry into the origins of the pandemic.
This week, Michael Clifton, the CEO of the China Matters think tank, said a "toxic climate" was preventing Australian businesses from entering the debate on China for fear of being labelled apologists for Beijing.
"Australian business knows it will suffer if there is a long-term freeze in the relationship with the PRC [People's Republic of China]," he said in a newsletter released by the think tank on Wednesday. "But unless it speaks more assertively about the benefits of Australia-PRC trade, this will be the outcome."
Clifton said many Australians would feel "relief and quiet pride in hearing Marise Payne say that 'we make our own decisions, our own judgments in the Australian national interest and about upholding our security, our prosperity, and our values'."
Alistair Nicholas, an independent trade consultant, said he saw the diplomatic signals at AUSMIN as a chance to build bridges with Beijing.
"Given the breadth of the relationship we have with China, built over 30 years of largely positive engagement, there is considerable scope to find opportunities to improve the relationship," said Nicholas, who previously led China Matters.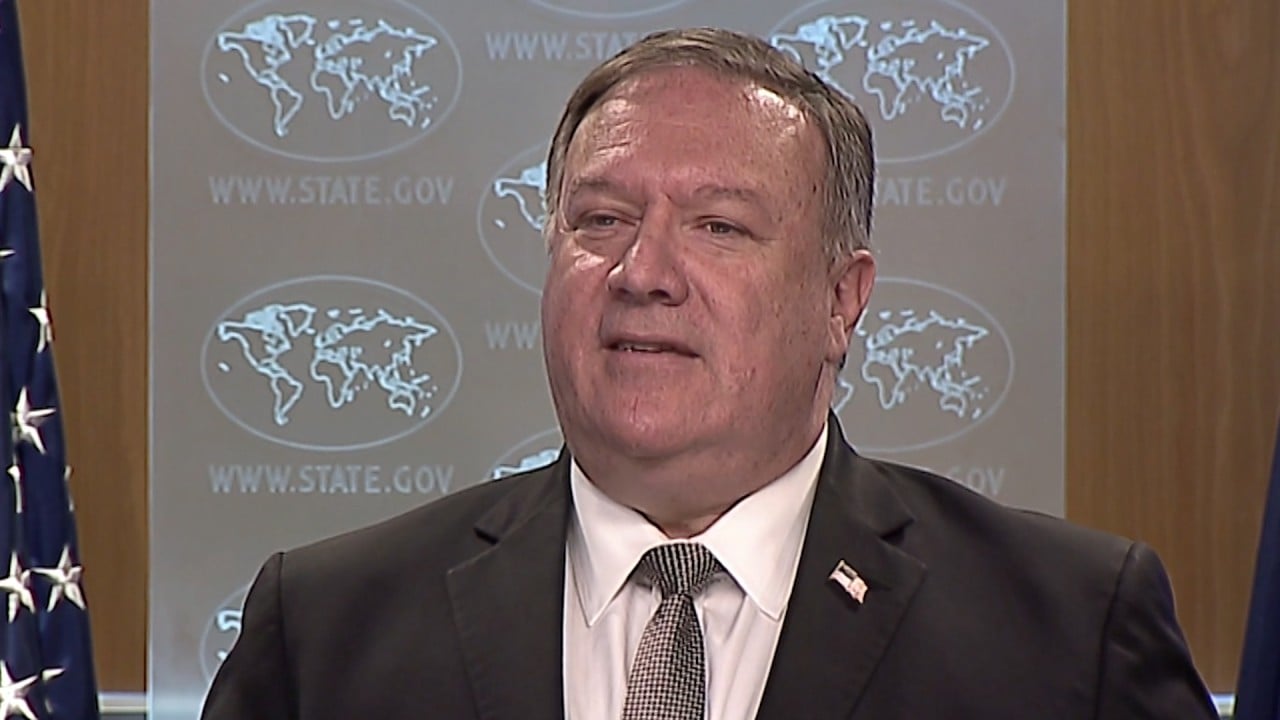 01:04
Pompeo says US considering ban on TikTok and other Chinese apps, praises Google, Facebook, Twitter
"It is in our mutual interest to have good relations. Of course, both sides will need to work at the relationship; both sides will need to dial back the rhetoric and be more diplomatic in their communications, including on key issues of difference."
But Richard McGregor, a senior fellow at the Sydney-based Lowy Institute, expressed scepticism about constructive cooperation due to there being "too much heavy baggage" between the sides.
"Australia says it sees room for constructive engagement but there are few signs that Beijing does," McGregor said, adding it was doubtful China perceived "substantial meaning" in Australia's differentiated stance from Washington.
"At the moment, Chinese ministers are refusing to even talk to their Australian counterparts. There is little foundation for a substantial improvement in ties."
This article appeared in the South China Morning Post print edition as: Canberra 'makes its own decisions' on China policy