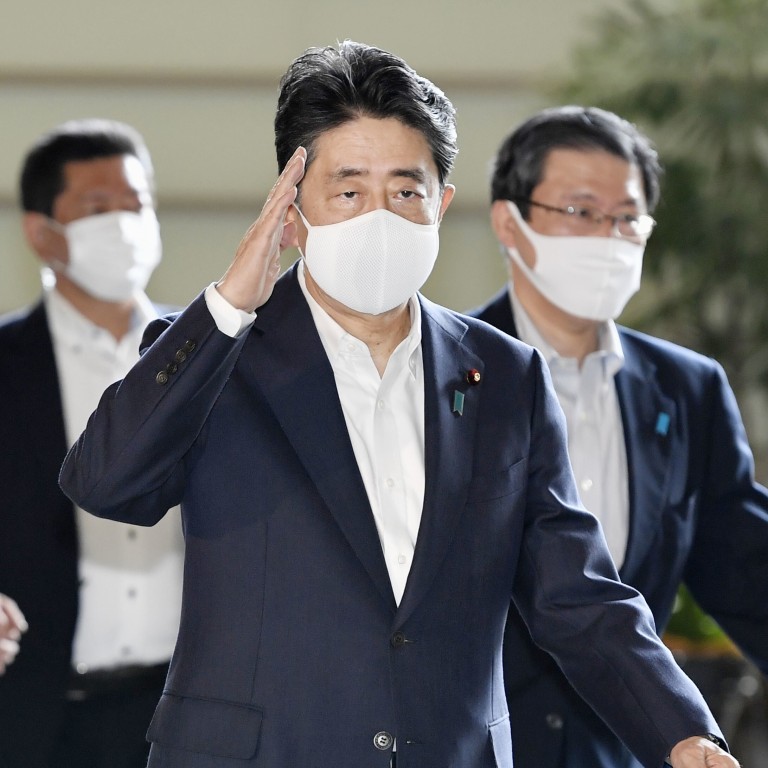 Japan's Abe skips Yasukuni Shrine visit to avoid 'upsetting China'
He will miss the ceremony for the 75th anniversary of Tokyo's WWII surrender at the controversial shrine, which also honours Class A war criminals
The prime minister's decision comes amid speculation he is biding his time over a visit before stepping down next year
Prime Minister Shinzo Abe
will not pay his respects to the war dead at Tokyo's
Yasukuni Shrine
on Saturday, the 75th anniversary of
Japan
's surrender to the Allies, which brought a close to World War II – triggering renewed debate over one of the nation's most controversial historical symbols.
Yasukuni Shrine was founded in 1869 and is dedicated to more than 2.46 million men, women and children who died in war. It is controversial to neighbouring states because it is also considered the last resting place of the souls of 1,068 convicted war criminals, including 14 who were tried and convicted of Class A war crimes in World War II.
For nationalists, Abe's decision to skip the annual ceremonies again – he last visited the shrine in December 2013 – is an affront.
"Of course he should be there to pay his respects and, to me, it is an outrage that we have to bend to foreign countries' will at this time every year," said Hiromichi Moteki, the acting secretary general of the far-right Society for the Dissemination of Historical Fact.
"The leaders of other countries always pray for the souls of their war dead and I see this as a basic obligation to the nation. That our leader cannot do that makes me furious."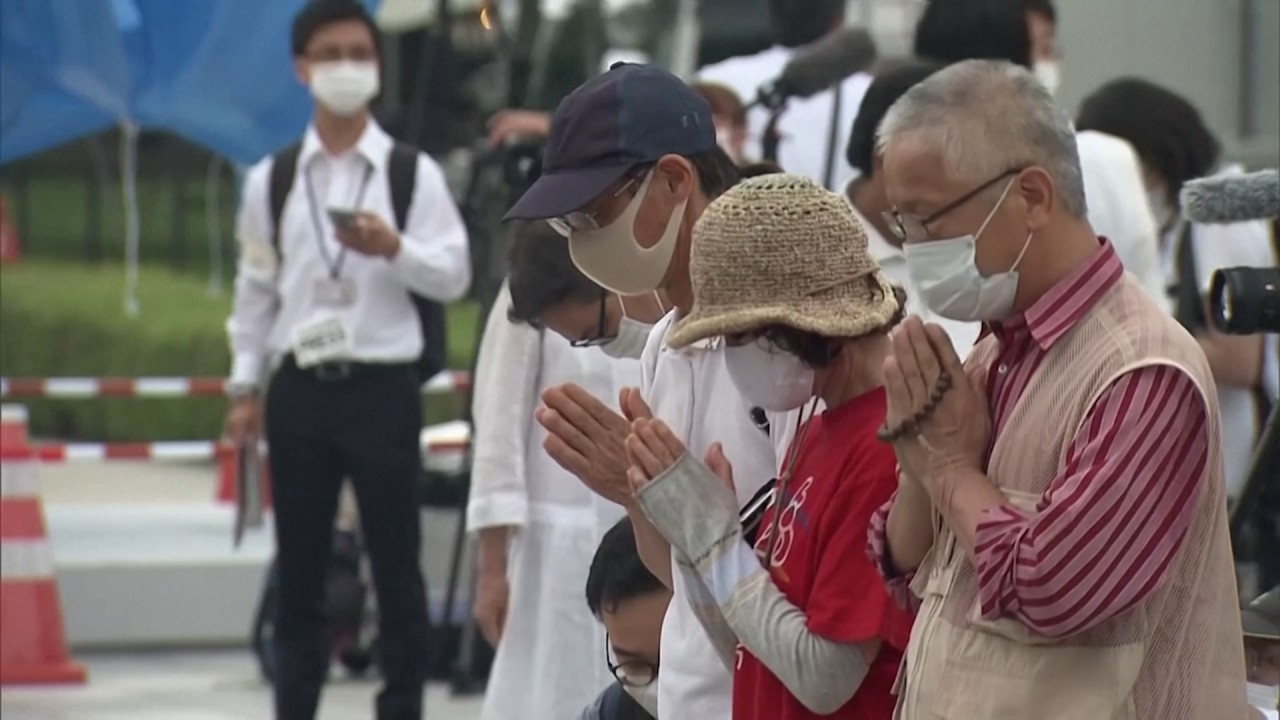 02:51
Hiroshima bomb survivors fear legacy fading as Japan marks 75th anniversary of WWII atomic attack
Hiroshima bomb survivors fear legacy fading as Japan marks 75th anniversary of WWII atomic attack
Abe has only visited the shrine once since he took office in December 2012. That visit was on December 26, 2013, a year to the day after his inauguration, to deliver a pledge to work toward everlasting peace.
In a statement that day, Abe said he had gone to the shrine and "expressed my sincere condolences, paid my respects and prayed for the souls of all those who had fought for the country and made ultimate sacrifices".
"Japan must never wage war again," he said. "This is my conviction based on the severe remorse for the past. I have renewed my determination before the souls of the war dead to firmly uphold the pledge never to wage a war again."
The visit, nevertheless, triggered outrage in China and South Korea, both of which insist Japan has not done enough to atone for its invasion and frequently brutal subjugation of their populations in the early decades of the last century.
The last sitting Japanese prime minister to visit the shrine was Junichiro Koizumi, in August 2006. That visit was the first by a prime minister on the anniversary of the end of World War II since Yasuhiro Nakasone in 1985.
In 1945, the Allied occupation force planned to burn down the shrine and turn it into a dog racing track. That plan was only cancelled when a representative of the Vatican intervened to insist that honouring and remembering the war dead was the right and duty of every nation.
Media in both China and South Korea have reported the announcement that Abe will not be visiting Yasukuni this year, but there has been no official comment from either government.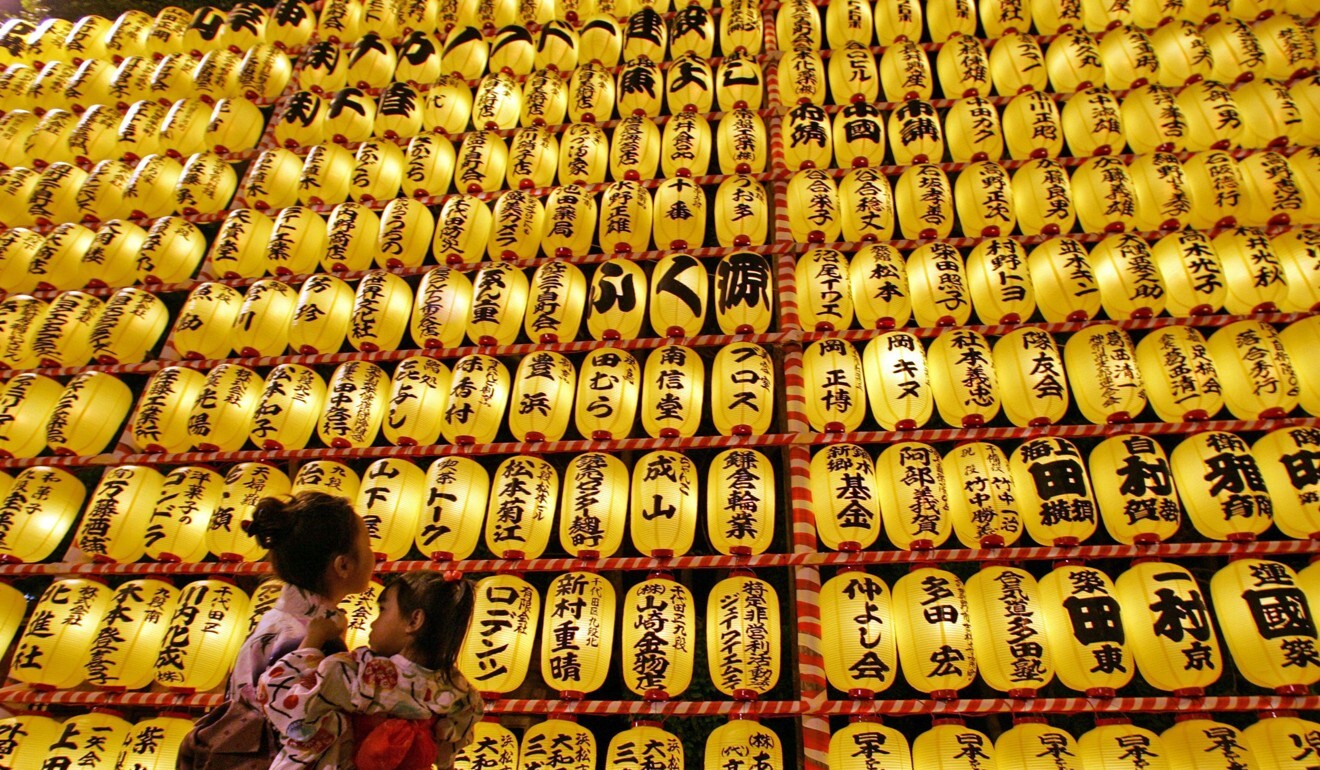 Typically, Japan's prime minister has made an offering at the shrine but has not attended ceremonies there himself, and it is likely that a similar offering will be made in Abe's name and out of his own pocket rather than from the office of the prime minister on Saturday.
Even if the prime minister does not attend in person, dozens of conservative politicians will pay their respects at the shrine on the day. It is likely that Beijing and Seoul will issue critical statements if any of the politicians are relatively senior, such as members of Abe's cabinet.
The nationalistic stance that Japan's war dead deserve to be honoured by the country's ruling elite also has a degree of support in online forums, while other commenters are less sympathetic and insist Japan needs to face the darkest days of its history – and that the shrine will slowly fade into insignificance.
However, not lost on some is the fact that Abe is a solid conservative, leading to speculation that he may have plans for next year's Yasukuni commemorations.
"It is not a surprise that he is not going this year because Abe is aware it would upset China, in particular, and he is very keen to build better relations with Beijing as he goes into his final year in office, especially given the poor state of relations between China and the United States," said Hiromi Murakami, a professor of international relations at the Tokyo campus of Temple University.
With Abe's term as president of the Liberal Democratic Party coming to an end in October 2021, however, Murakami believes next year's events at Yasukuni may prove tempting to the prime minister.
"I think he would be very happy to be able to do something like this just before he steps down," she said.
This article appeared in the South China Morning Post print edition as: Abe will again skip shrine trip to 'avoid upsetting China'