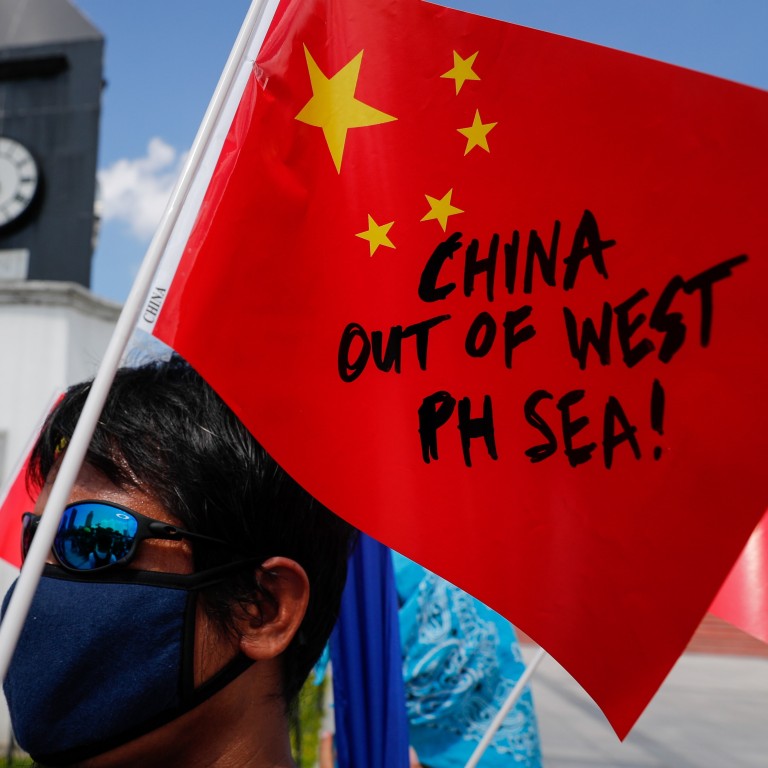 South China Sea: Philippine navy chief warns of Chinese 'provocation'
Vice-Admiral Giovanni Bacordo calls for diplomatic protest against presence of two Chinese research ships near the disputed energy-rich Reed Bank
Chinese navy has been trying to provoke its Philippine counterparts into firing 'the first shot', he says
The Philippine navy chief has called for a diplomatic protest to be filed against the presence of two Chinese research ships in a disputed area of the
South China Sea
.
Vice-Admiral Giovanni Bacordo told the Foreign Correspondents Association of the
Philippines
on Monday the Chinese vessels had been near the Reed Bank for "about a week already" and that due to their speed of "about three knots" the navy had concluded they were "conducting surveys".
"We have reported this [to the Armed Forces Chief and the Department of National Defence] already … and request the filing of a diplomatic protest," said Bacordo, 55.
"We have checked if they have clearance to be there. We found out there is none."
The Reed Bank is a contested, energy-rich area of the South China Sea that the Philippines claims as being within its exclusive economic zone (EEZ) – a claim that was backed up by the Permanent Court of Arbitration in The Hague in 2016. However, China continues to dispute economic rights to the area, which lies 85 nautical miles from the Philippines' Palawan Island and 595 nautical miles from the coast of China's Hainan province. Talks aimed at breaking
the impasse over a joint oil and gas exploration deal are stalled.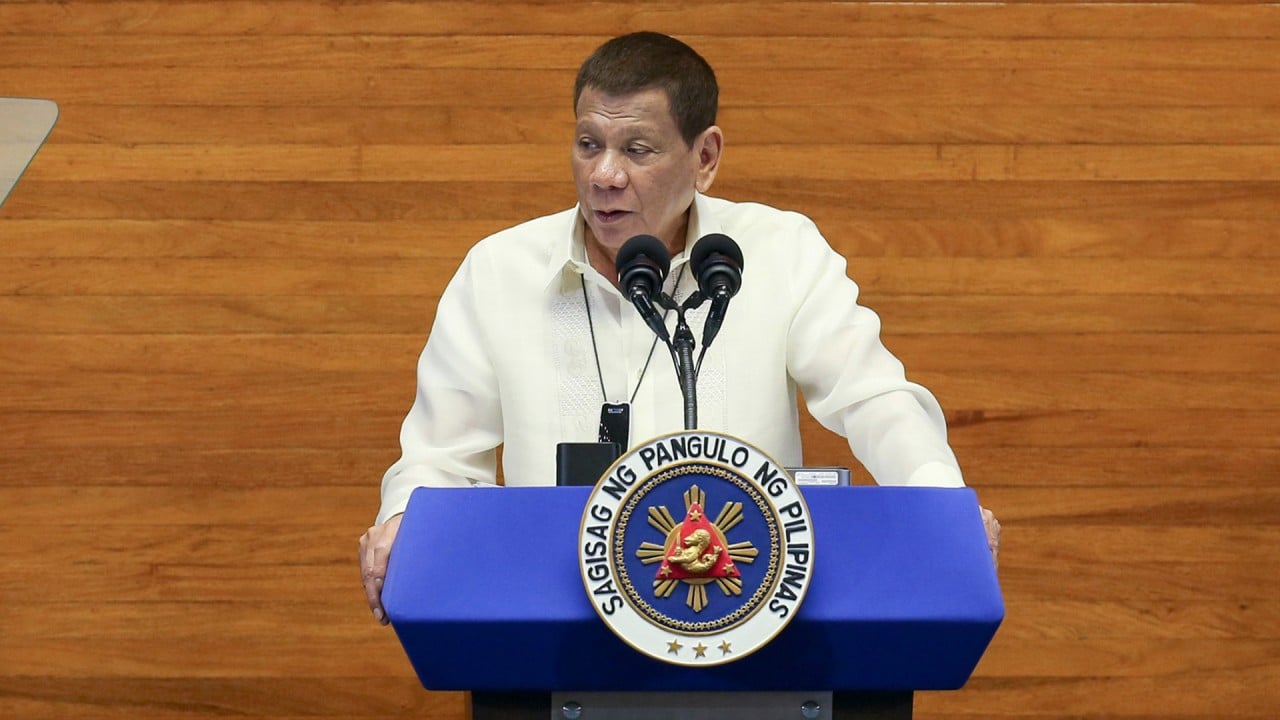 01:05
'China has the arms, we do not', Duterte rules out confronting Beijing in the South China Sea
'China has the arms, we do not', Duterte rules out confronting Beijing in the South China Sea
Bacordo's call came a day after the Philippine Foreign Secretary Teodoro Locsin Jnr said that "as far as I know we've stopped all marine surveys by foreign ships because, while they follow the rule that [any survey] must contain Filipino scientific crew...[our crews are treated] like mushrooms: fed on [muck] and kept in the dark."
PROVOCATIVE
Bacordo said that despite this stance ships from the
Chinese navy
and coastguard, as well as fishing vessels, continued to "loiter" within the Philippines' 112 nautical mile EEZ and that at times the Chinese navy appeared to be trying to provoke their Philippine counterparts into aggression.
He said that shortly after he assumed his post in February a PLA navy ship "pinged" a Philippine Navy ship, bouncing a fire control radar pulse off the corvette Conrado Yap. "The commanding officer took precautionary measures to defend themselves" and the incident "resulted in a diplomatic protest" filed by Manila.
"The way I analyse it, in our dispute in that area, the first one to fire the shot becomes the loser. So they will do everything for us to take aggressive action. But we have to be patient with that," he said.
"I'm sure they want us to take the first shot but we will not. Any navy who fires the first shot in that area will lose international support. That includes all the navies patrolling in that area.
"We have to exercise maximum tolerance. There are some activities … that once you do it, you can no longer take it back, and that is firing the first shot."
Bacordo, speaking in his first official engagement with foreign journalists, denied that diplomatic protests over China's actions in the South China Sea were futile.
In addition to filing protests, he said the navy "leveraged" its strategic partnerships and alliances. For example, when the navy chiefs of
Asean
(the Association of Southeast Asian Nations) or the Western Pacific Naval Symposium met, China's "violations" in the South China Sea were always discussed.
In 2014 the symposium – made up of 31 navy chiefs including China's – agreed on a Code for Unplanned Encounters at Sea (CUES) to reduce incidents in the disputed waters.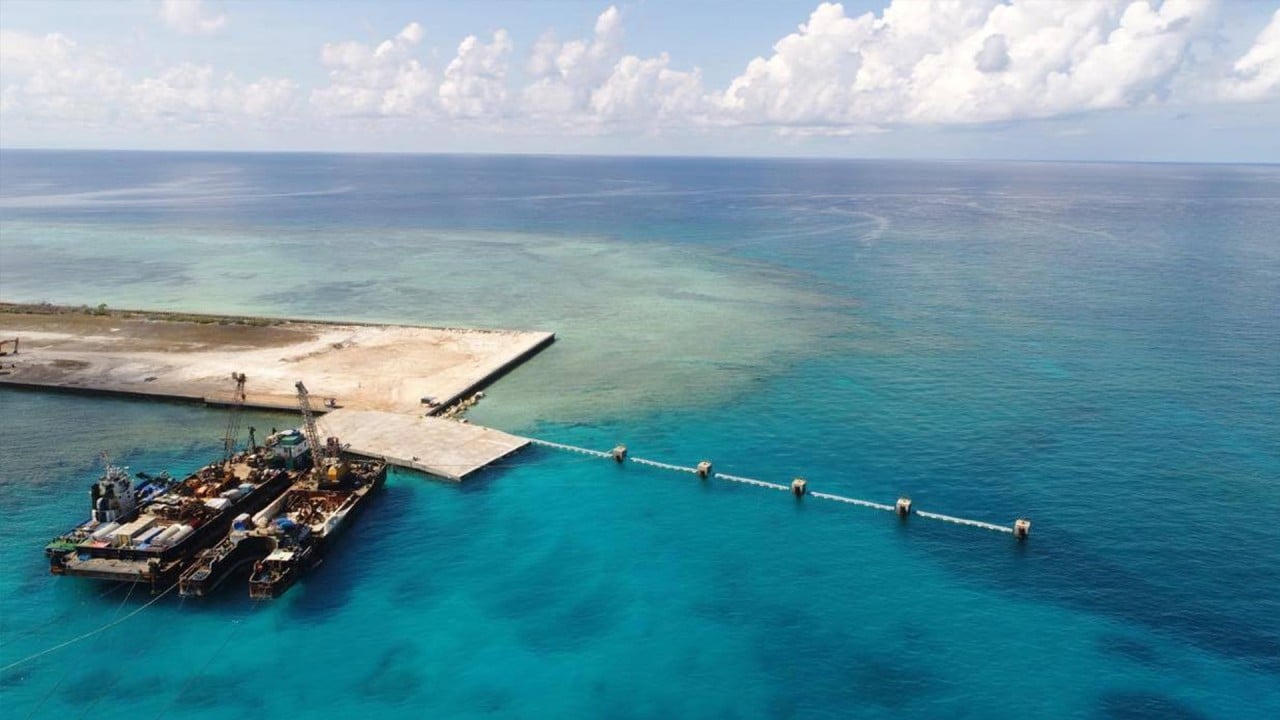 01:17
Philippine officials unveil beaching ramp on disputed South China Sea island
Philippine officials unveil beaching ramp on disputed South China Sea island
Bacordo explained that under the previous protocol, "when you saw a grey ship, you went to general headquarters or you assumed the highest alert, you manned your guns, put on your fire control systems".
Nowadays, when the Philippine navy encountered Chinese navy ships, it simply followed CUES by establishing communications with the foreign vessel, asking where it was headed, which port it came from and its intention, he said.
He added that since the presidency of
Rodrigo Duterte
– who has often spoken of "pivoting" the Philippines away from its traditional ally of the US and towards China – that the PLA navy had been "more accommodating".
BEEFING UP
Bacordo also said that as part of Manila's "beefing up" of its defences the navy would acquire 100 hectares of the former American naval base in Subic Bay and relocate assets and men there.
Oyster Bay in northern Palawan province would also be further developed as a naval operations base, he said, because "this is our base closest to the West Philippine Sea", using a term the Philippines uses to describe the sea surrounding features it collectively claims and calls the "Kalayaan Island Group".
Fuga Island, on the northern tip of the Philippines, would also have a naval detachment that would act as a "monitoring station", he said, adding that Duterte had specified 20 hectares would be allotted for this purpose.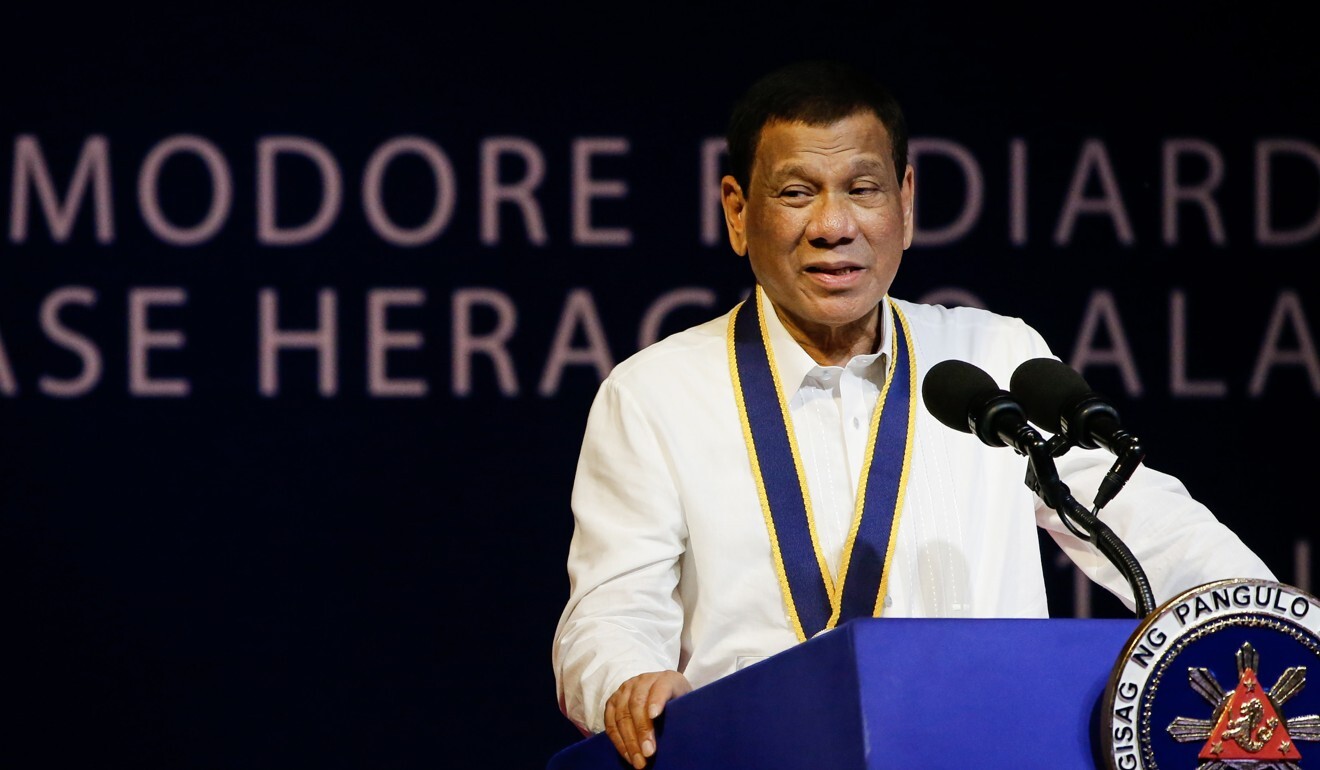 Bacordo hoped a previous memorandum of agreement for a Chinese business group to develop Fuga would not be renewed, adding that the naval presence would ensure "that Fuga island will not be under the control of the Chinese".
Asked to comment on Duterte's order forbidding the Philippine navy from taking part in joint drills with the
United States
in the South China Sea, he said that when he had assumed his post, "in a close huddle the president told me, 'protect the country, protect the people'."
"We continue to patrol the EEZ only in the area that concerns us … I interpret it as to continue all of these missions in the West Philippine Sea but options leading to an armed conflict should be avoided."
This article appeared in the South China Morning Post print edition as: navy warns of chinese provocation