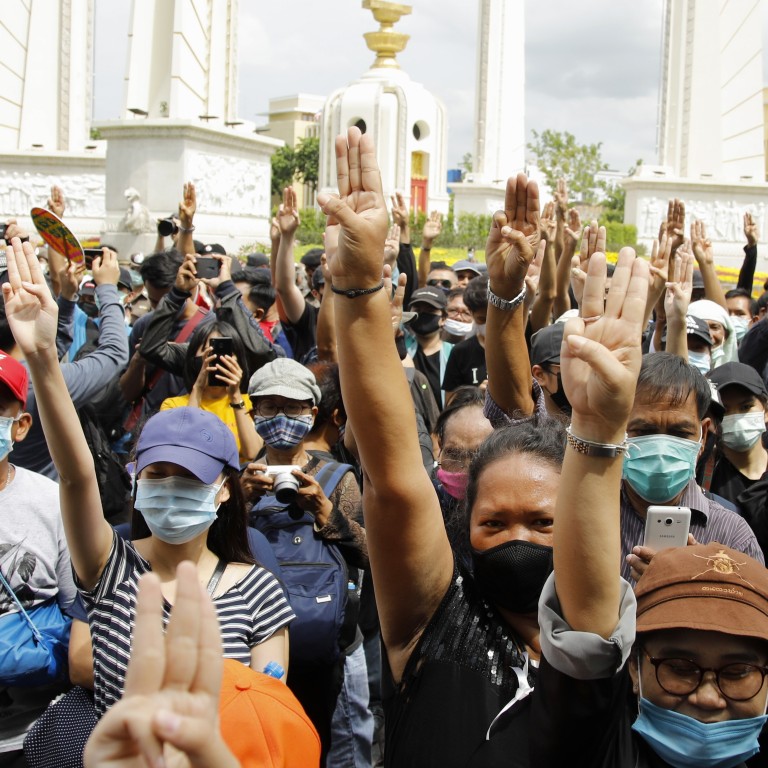 Analysis

|
Thailand protests: the students are revolting – and Prayuth's army-backed government isn't sure what to do
The youth-led pro-democracy movement is swelling, gaining support from older demographics and as far afield as Hong Kong and Taiwan
Calls to reform the monarchy present the government with a dilemma: do nothing and watch the movement grow, or suppress it and add fuel to the fire
It's 8am and as the national anthem pours through loudspeakers across
Thailand
to start the new school day, pupils should be obediently standing to attention to sing the patriotic verses.
Instead, they are throwing the three-fingered freedom salute borrowed from the
Hunger Games
film, as the
pro-democracy movement
driven by Thailand's youth continues to swell, confounding the
army-aligned government
with their demands for a political overhaul and voicing the once unthinkable: reform of the monarchy.
Days after the biggest anti-government rally since a 2014 coup, Thailand's young people are still revolting, making new allies across older demographics – and Asian territories – and leaving their government scrambling to respond.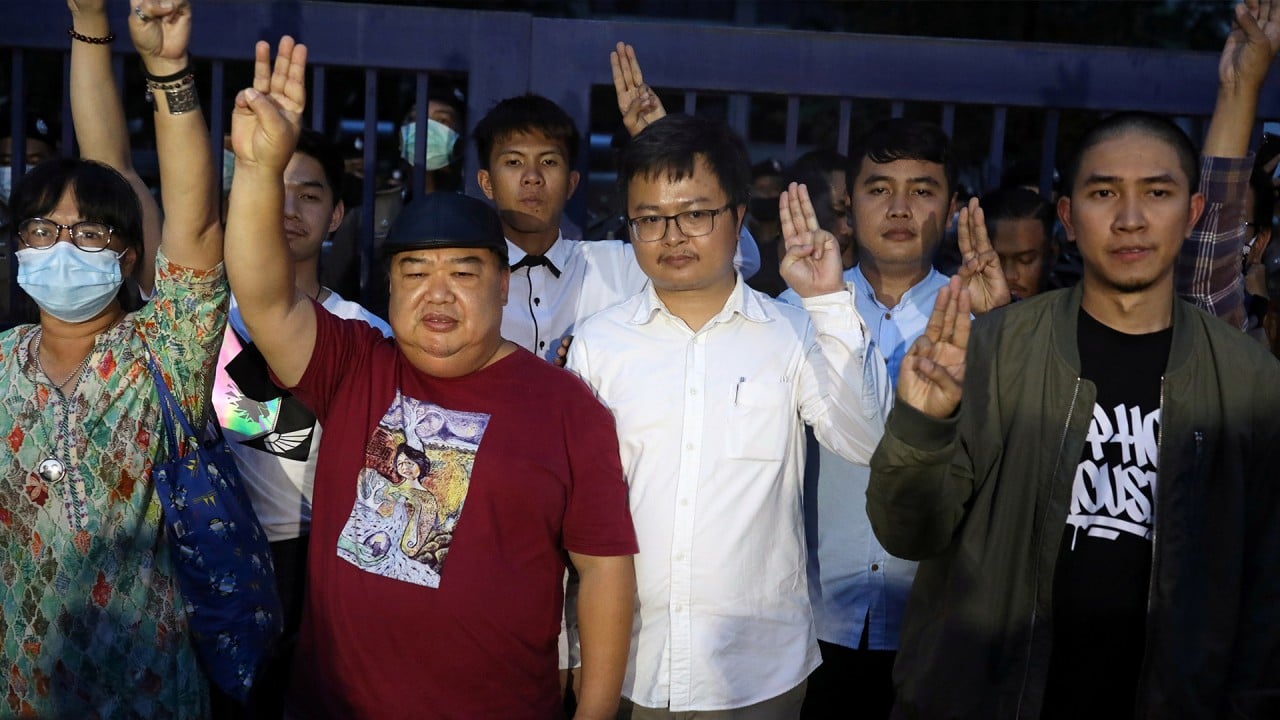 01:48
Thailand arrests at least 8 activists in latest crackdown on anti-government protests
Thailand arrests at least 8 activists in latest crackdown on anti-government protests
The battleground for their calls to rewrite the constitution, hold fresh elections and end the judicial harassment of activists has moved to high schools, where pupils as young as 13 and 14 are defying their teachers with the daily salute.
"I want those who are brave to stand firm to find true democracy," said a 14-year-old at a school in Mukdahan, northeastern Thailand, in a video taken before assembly which within hours had been viewed online tens of thousands of times. "Death to dictatorship, long live democracy."
Pupils are also tying white ribbons in their hair and on their wrists as a pro-democracy gesture, and decrying an education system which depends on rote learning, enforces standardised haircuts and tough discipline over free thinking.
From Chiang Mai in the north to Bangkok and Pattani in the Muslim-majority south, videos of the salute have flipped across
social media
, while the hashtag #whiteribbonsagainstdictatorship has been trending across Thai
Twitter
all week.
Flush of youth
Disaffected by poor
education
and tired of an authoritarian government which has been the backdrop to their youth, students have educated themselves on politics over the
internet
, firming up ideas on Twitter and organising protests over Zoom calls and closed LINE groups.
"The mainstream media almost never addresses them, the government has never addressed them," says Kanokrat Lertchoosakul, a professor of political science at Chulalongkorn University who has interviewed the young rebels extensively. "They feel like they are on their own."
Their movement is split between two groups, she says. The first group comprises the older university students, many of whom voted for the progressive, fiercely anti-military Future Forward Party in elections last March only to find the party
disbanded by the courts
and its charismatic leader Thanathorn Juangroongruangkit
banned from politics
.
"The second group is the secondary and high school pupils frustrated with the wider state of the country," Kanokrat says.
"Thai society has been caught off guard by these kids. They are way more radical than university students … they blame conservatism for everything and they have less of a bond with the 'institution'."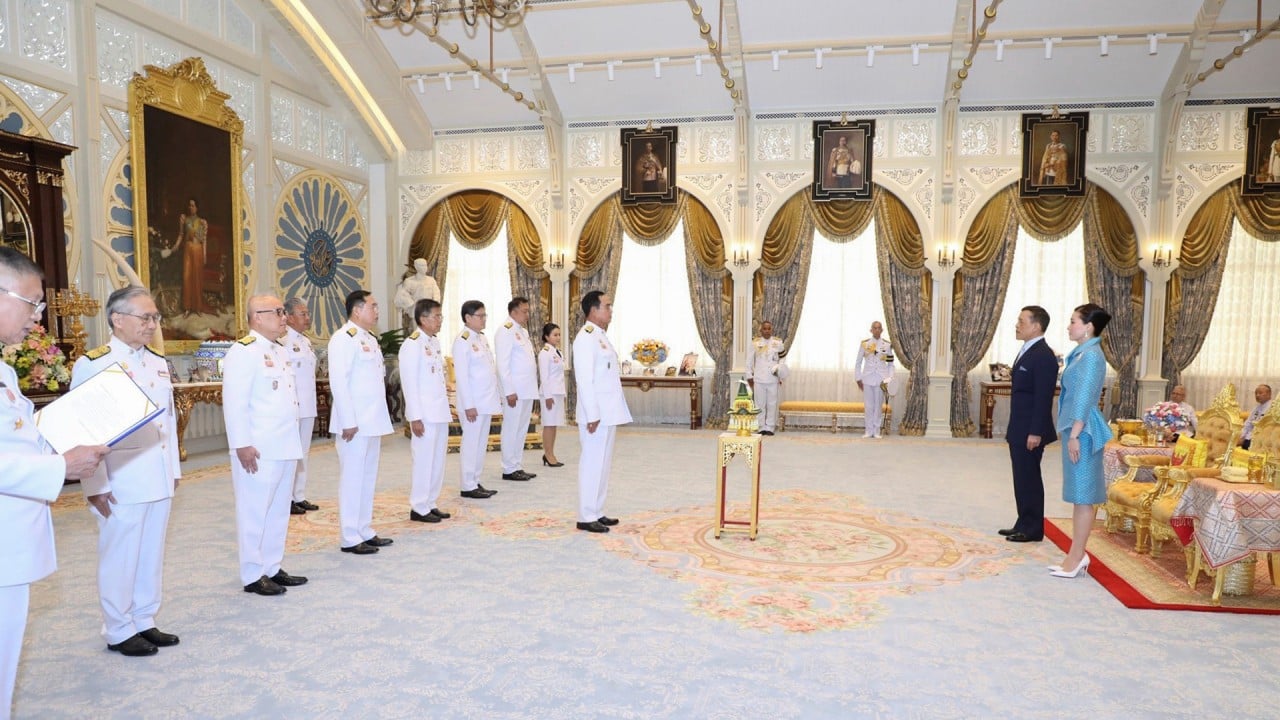 02:43
Thailand's new cabinet sworn in following weeks of anti-government protests
Thailand's new cabinet sworn in following weeks of anti-government protests
The 68-year-old king ascended the throne in 2016 but spends most of his time overseas. He inherited a deeply polarised kingdom, broadly cut between the royalist supporting establishment – including the business elite, the military and government of former army chief turned civilian leader Prayuth Chan-ocha – and pro-democracy movements.
The king, who has taken control of the crown's vast assets and shuffled elite military units under his direct command, is protected by laws which carry heavy jail terms for anyone who criticises him or his family.
But in the past few weeks, Thailand's students have trashed that taboo by calling for open debate on the role of the kingdom's apex institution as well as the abolition of the harsh royal defamation law which protects it.
Several leaders have made unprecedented appeals for the monarchy to remain outside politics and constrained within the constitution – as laid out in 1932, when absolute rule was ended by a peaceful revolution.
Their boldness has left Thais open-mouthed after decades of strict reverence – at least in public – to the monarchy.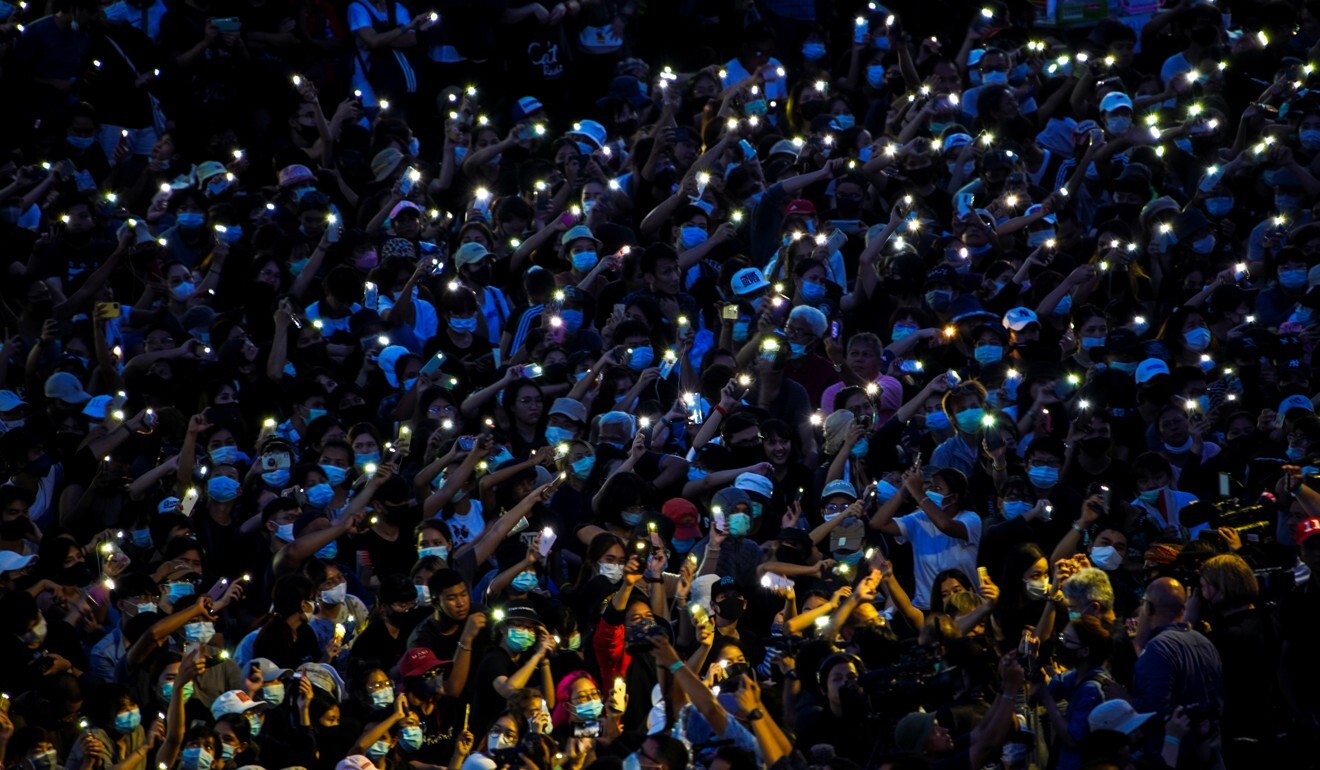 It has also wrong-footed a military-aligned government which has paraded its royalist credentials as a badge of legitimacy.
"The call for reform of the monarchy presents a real dilemma for the government," says Matthew Wheeler, senior analyst at International Crisis Group.
"If they don't quash it, the movement will grow. If they attempt to suppress it, they will only add fuel to the fire," he says.
"Thailand has been thrust into a new era."
Authorities have arrested, charged and bailed three of the most prominent speakers of an ostensibly leaderless movement and warned protesters to leave the monarchy out off their discourse.
After six
warrants
were issued on Wednesday for sedition, computer crimes and breaching a public health order to control the
coronavirus
outbreak, four people were arrested on Thursday.
They include Dechatorn "Hockey" Bumrungmuang, a member of Rap Against Dictatorship, which released a viral anti-junta song two years ago that now has more than 86 million views on YouTube.
Political watchers said this signalled what the authorities would do – try to pick off the main rabble rousers but refrain from using the unpopular royal defamation law.
Thais are also looking out for signs of a violent crackdown in a country where the military and its allies have killed scores of pro-democracy protesters since the 1970s, justifying their actions as necessary to defend the monarchy.
But faced by an agile, flashmobbing rival, the government response so far has been relatively restrained.
On Tuesday, Prayuth batted away the three-finger revolt inside high schools as childish high jinks – even suggesting peer pressure was to blame.
"All I see are the innocent intentions of the students," he told reporters.
He has said he is ready to talk with the movement but has shied away from making any promises to consider their demands – including changes to the constitution, drafted under a coup he led which tipped the balance of political power in the favour of Prayuth's party and the army which backstops it.
"They [the government] are stalling right now … buying time," says Khemthong Tonsakulrungruang a law professor at Chulalongkorn University. "With their majority and 250 appointed senators the government can change everything in the constitution. Whether they will is another matter."
As the protests continue, hardcore royalists are also organising – paving the way for a potentially dangerous collision.
"Are we going to allow this attack on the monarchy to continue?" asked firebrand royalist Warong Dechgitvigrom, as he launched a new group called 'Thai Pakdee' (Thais loyal to the monarchy) on Wednesday.
"It's time that we the Thai people show we will not tolerate it."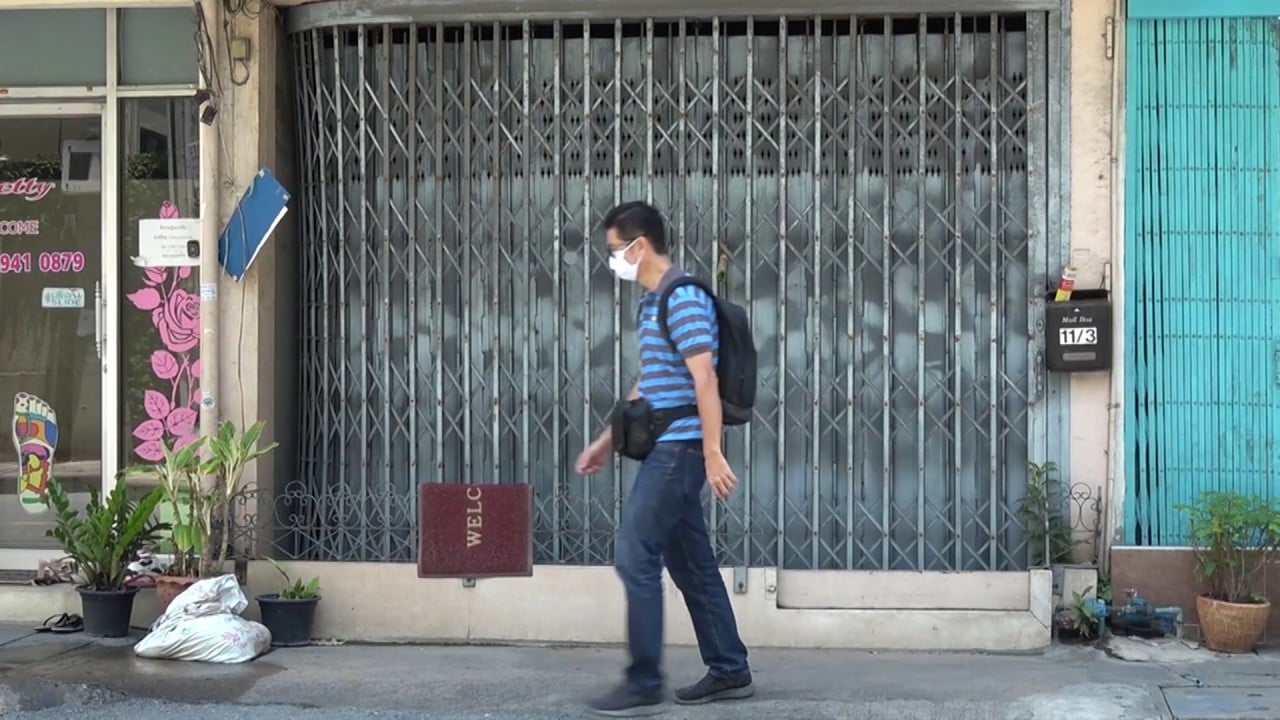 01:45
Thailand's dark economic outlook a painful side effect of coronavirus success story
Thailand's dark economic outlook a painful side effect of coronavirus success story
Too little, too late?
A collapsing economy has added to the government's problems.
Government figures this week showed second quarter growth
shrivelled by 12.2 per cent
, among the worst in
Asia
, as the coronavirus lays bare high household debt, millions in low-skilled employment and soaring inequality.
Prayuth has revamped his finance team to tackle the crisis, making a rare overture to the Thai youth with a promise of graduate jobs and an appeal for "unity" instead of protest.
But experts say his government is unlikely to be let off the hook by the students after several years of economic malaise and uninspiring administration.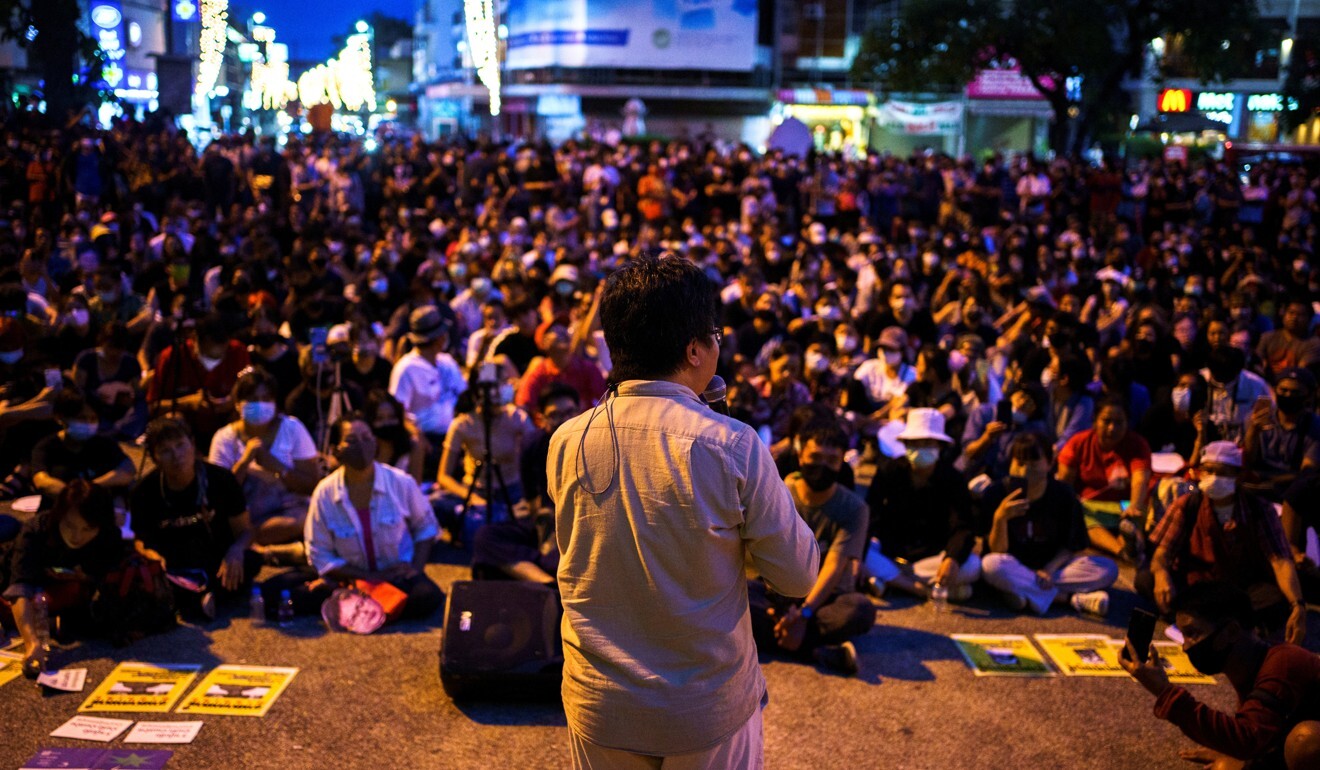 "The lacklustre performance of General Prayuth's government should serve as key evidence as to why military coups no longer work in handling political dissent," says Pavida Pananond, an academic at Thammasat Business School, Thammasat University.
The youth movement's demands for structural changes also suggest Prayuth's jobs promise "may be too little, too late, and too irrelevant".
Without serious dialogue, Thailand's young protesters are instead seeking friends in
Hong Kong
and
Taiwan
, both fighting their own pro-democracy battles against Beijing.
The so-called
MilkTeaAlliance
has solidified since its internet inception in April, when Thai Twitter lit up in fury against Chinese nationalist trolls, delighting pro-democracy Hongkongers and Taiwanese.
Thais and Taiwanese marked Sunday's Bangkok protest over 2,000 kilometres away in Taipei, as a pan-Asian movement against authoritarianism flickers to life.
"Taiwanese people are our true allies when it comes to fighting for democracy," says a 34-year-old Thai PhD student at the National Taiwan University, who helped organise the rally at Taipei's main railway station. "They helped spread our message."
As school protests in Thailand billowed through the week, the "Bad Student" group blew whistles and heckled the education minister Nataphol Teepsuwan as he arrived to talk with them outside his office.
The chastened minister pledged to make an announcement on the dreaded haircut – crew cut and shaved sides and back for boys, a bob for girls – on Thursday.
This article appeared in the South China Morning Post print edition as: school pupils signal sea change