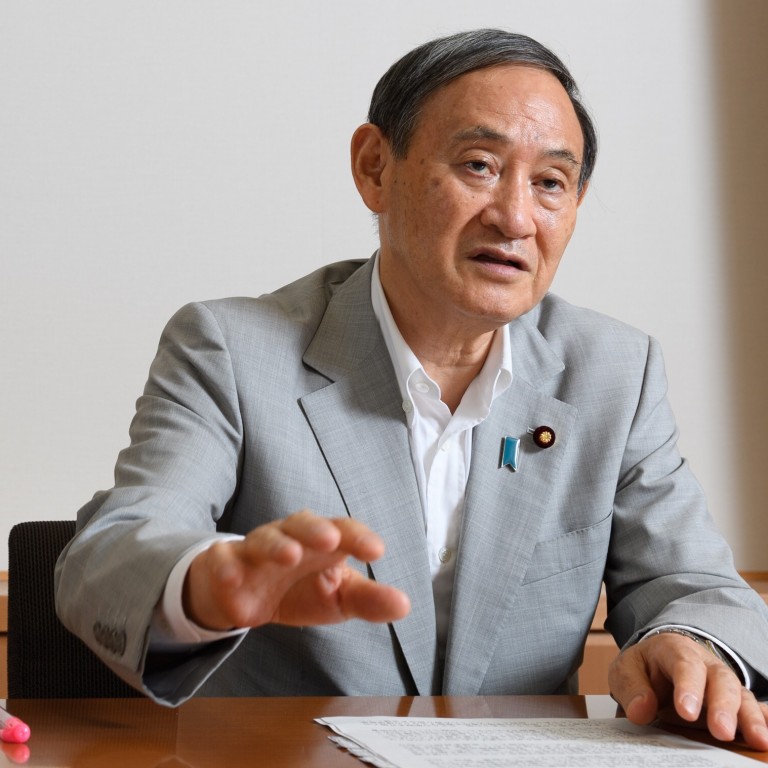 Japan's next PM: with Abe gone, could Suga hit sweet spot between China, US?
Yoshihide Suga appears likely to succeed Abe as a 'continuity candidate' after winning the support of major factions in the ruling party
But not much is known about his policies on China or the US, and analysts view the government spokesman to be a politician who 'lacks charisma'
Japan's top government spokesman Yoshihide Suga has effectively already secured sufficient support within the ruling party to become its new president, and as a consequence,
Japan
's next prime minister, with analysts anticipating that the "continuity candidate" will stay the policy course set by outgoing leader
Shinzo Abe
.
This includes Tokyo's dealings with the rest of
Asia
.
The next leader faces a raft of major issues, including the coronavirus pandemic and its associated economic fallout, the fate of the Tokyo Olympic Games, Japan's ties with the US in the run-up to the American presidential election, and a troubled relationship with South Korea.
Stephen Nagy, an associate professor of international relations at Tokyo's International Christian University, said one of the earliest tests of Suga's diplomatic skills may come in relation to an increasingly assertive China.
"Japan's broad approach towards China has been to balance accommodation with Beijing with security, and integrating the Japanese economy into those of its neighbours in the rest of Asia," Nagy said.
"Suga will continue that approach, balancing the push and pull factors, but making sure that he is not bullied by Beijing," he said. "This has essentially been Abe's way of managing Japan's security with its economic needs, and I see no reason why Suga would move away from that because it has, over the years, accrued substantial benefits to Japan."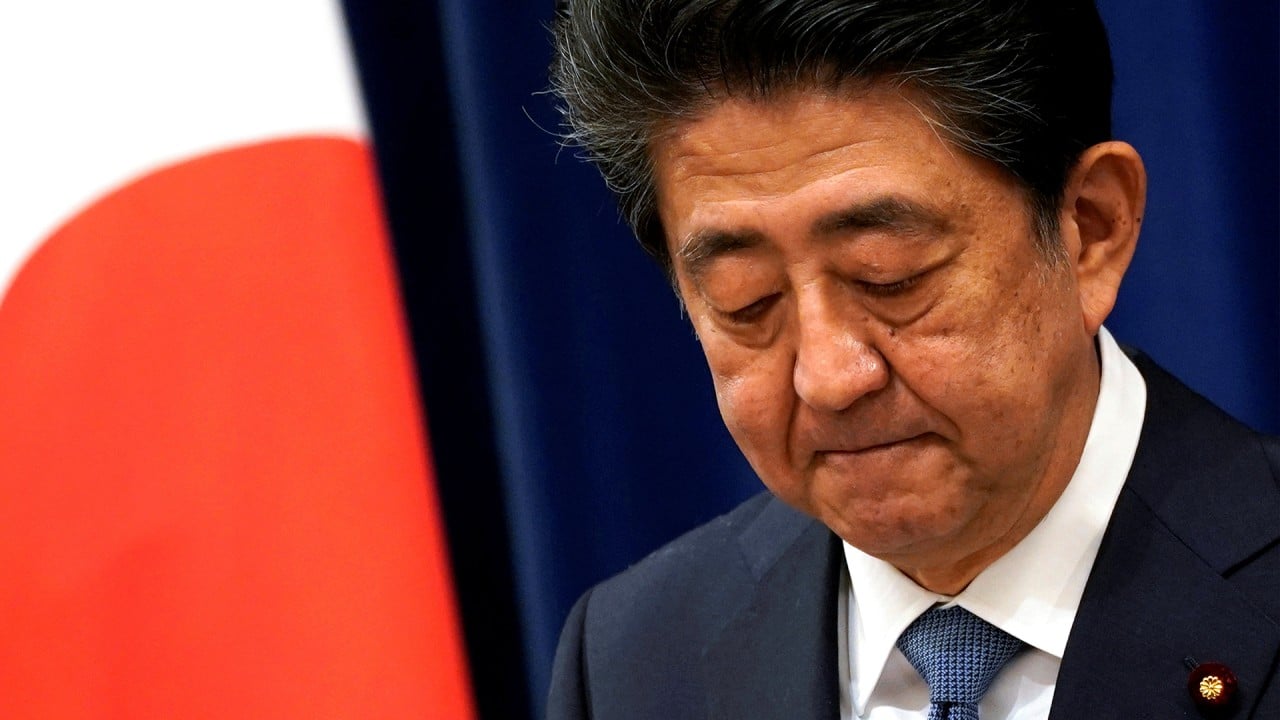 02:19
Japan's Prime Minister Shinzo Abe resigns for health reasons
Japan's Prime Minister Shinzo Abe resigns for health reasons
Nagy said China was likely to refrain from immediately testing the new administration over long-standing issues, including the South and East China seas, because being "overly aggressive" might have the effect of driving Japan closer to the United States.
Under Abe, Japan has reiterated its commitment to multilateral trade agreements, such as those with the European Union and also the Comprehensive and Progressive Agreement for a Trans-Pacific Partnership (CPTPP) trade pact between 11 nations, which together account for some 13 per cent of global GDP.
Suga is expected to build on those commitments with similar multilateral deals with
Southeast Asia
, as well as
India
and
Australia
, to reduce Japan's reliance on Chinese supply chains, Nagy said.
Along with the US, Australia, India and Japan are members of the Quadrilateral Security Dialogue, or Quad, a loose grouping for national security consultation.
On Tuesday, the trade ministers of Japan, India and Australia agreed to boost supply chain resilience in the Indo-Pacific region. Japan's Hiroshi Kajiyama, India's Piyush Goyal and Australia's Simon Birmingham attended the video conference on Tuesday afternoon and called on other countries in the region with shared views to participate in the initiative, according to a statement.
Suga, the nation's longest-serving chief cabinet secretary, is a trusted aide of Abe and until a week ago, was considered something of an outsider for the top job.
But he turned into a front runner after winning the backing of the two largest factions within the ruling Liberal Democratic Party (LDP), one controlled by Abe and the other by deputy prime minister Taro Aso.
Other members who have declared that they will run in the party leader vote, expected to take place on September 13, include ex-foreign minister Fumio Kishida, the LDP's policy chief, whose nose is reportedly out of joint because Abe had previously indicated that he would support him as his successor.
Kishida on Tuesday said he offered strength in the areas of economics and foreign policy, and that he wanted to be a leader who listened to the people. The country must focus on challenges such as poverty and social disparity, he said.
Former defence minister Shigeru Ishiba on Tuesday also threw his hat in the ring. Ishiba, 63, has been a vocal critic of Abe and was the prime minister's sole rival in the previous LDP leadership race in 2018.
While often topping public polls as the country's preferred prime minister, Ishiba has struggled to gain wider support from fellow lawmakers.
Koichi Nakano, a professor of politics at Tokyo's Sophia University, said Suga was "virtually certain" to be the next leader, but if he faltered during his term, he may not be re-elected when members vote in the LDP's regularly scheduled presidential election in September 2021.
"He lacks charisma, and I do not believe that he will be a very popular prime minister," he said.
"It is true he was the longest-serving chief cabinet secretary, but in that time, he came across as very secretive, very authoritarian and something of a bully in the press conferences that he held every day," Nakano said. "He became renowned for revealing very little about any of the party's scandals and was good at repeating non-answers."
There is very little evidence of his political convictions, on either domestic or foreign policy, that might hint at a future direction for a Suga government, he said.
"He has very little in the way of a network outside Japan and does not come across as a natural diplomat, so I do not anticipate that he will look at ease alongside other foreign leaders," he added.
Nakano said Abe and Aso had united behind Suga because they wanted a new leader who would advance most of their own policies, be willing to preserve their influence on the party, and who would ensure that any lingering scandals were deflected from Abe after he leaves.
Nagy said he expected Suga, a traditionalist from a conservative, rural constituency in Akita Prefecture, to "double down on a lot of Abe's policies, such as continuing the 'Abenomics' economic reforms, structural reforms, womenomics, reforms of corporate governance and so on".
"But I think he will be far more challenged internationally," Nagy said. "He does not have the same confidence as Abe in dealing with foreign leaders. And that is why he will need a strong foreign minister, and I can see Abe coming back in a 'senior statesman' role to strengthen Japan's international relationships."
Meanwhile, financial markets appear to have factored in a win by Suga.
"He is considered to be a very effective policy leader within the party and bureaucracy … and was key to Abe's successful tenure," said John Vail, chief global strategist at Nikko Asset Management.
"Suga's experience with the virus situation, including his appropriate pushback on complete shutdowns, is key, as this is Japan's greatest concern right now," he said.
Additional reporting by Reuters, Bloomberg and Kyodo
This article appeared in the South China Morning Post print edition as: Yoshihide Suga wins support to become PM