Thailand
Get more with myNEWS
A personalised news feed of stories that matter to you
Learn more
Thai student protesters gain upper hand as Prayuth government reels from Covid-19 and tourism crash
Six weeks since Thailand's pro-democracy movement demanded reforms, the government has yet to respond, seeking to wait out the protesters
The government is said to be holding off on a crackdown – its usual course of action – even as the king assembles a coterie of military loyalists
The moment protesters strayed into the forbidden territory of the monarchy, many Thais thought the countdown to a crackdown had begun.
But six weeks on the government remains watchful, showing a rare reticence to quash dissent, which experts attribute to the Thai leadership being sent into a tailspin by a sinking economy and a
young pro-democracy movement
demanding root-and-branch reforms.
The dates of bloody crackdowns – 1973, 1976, 1992, 2010 – mark the tragic course of Thailand's faltering democracy struggle, serving as reminders to the 2020 protesters of the risks of taking on the Thai establishment.
But Southeast Asia's second-biggest economy can ill-afford a violent political crisis as it contends with a record economic contraction due to the Covid-19 crisis – estimated at 8 to 10 per cent by the end of the year – and the stigma of street violence as the government tries to usher back vital tourism revenue and much-needed foreign investment.
"The government has been restrained because they want to hold onto power as long as they can," said Thammasat University student Panusaya "Rung" Sithijirawattanakul, "Apart from buying time, they've got no game."
It was Rung's calls during protests at the university on August 10 that transformed an angry pro-democracy movement into an existential threat to the status quo.
The protesters want structural reforms – including expunging the army from power and, crucially, keeping the monarchy intact under the assertive rule of
King Maha Vajiralongkorn
, although constrained within the constitution.
It is a game-changing plea directed at an immensely rich and powerful institution, which is shielded from scrutiny by a harsh royal defamation law and a royalist army.
The military-aligned government, in power since a 2014 coup and then elected by a constitution it wrote, has been tepid in its response, marshalling the peaceful protests with unarmed police.
"A brutal crackdown would only tarnish further the image of the state," said Paul Chambers, an academic at the Centre of Asean Community Studies Naresuan University, in northern Thailand. "That is an option, of course … but it is further down the list."
Instead, the government is seeking "to wait out the student protesters – to not violently attack them but rather acknowledge their right to assemble, disagree with them, promise token changes and move forward", he said.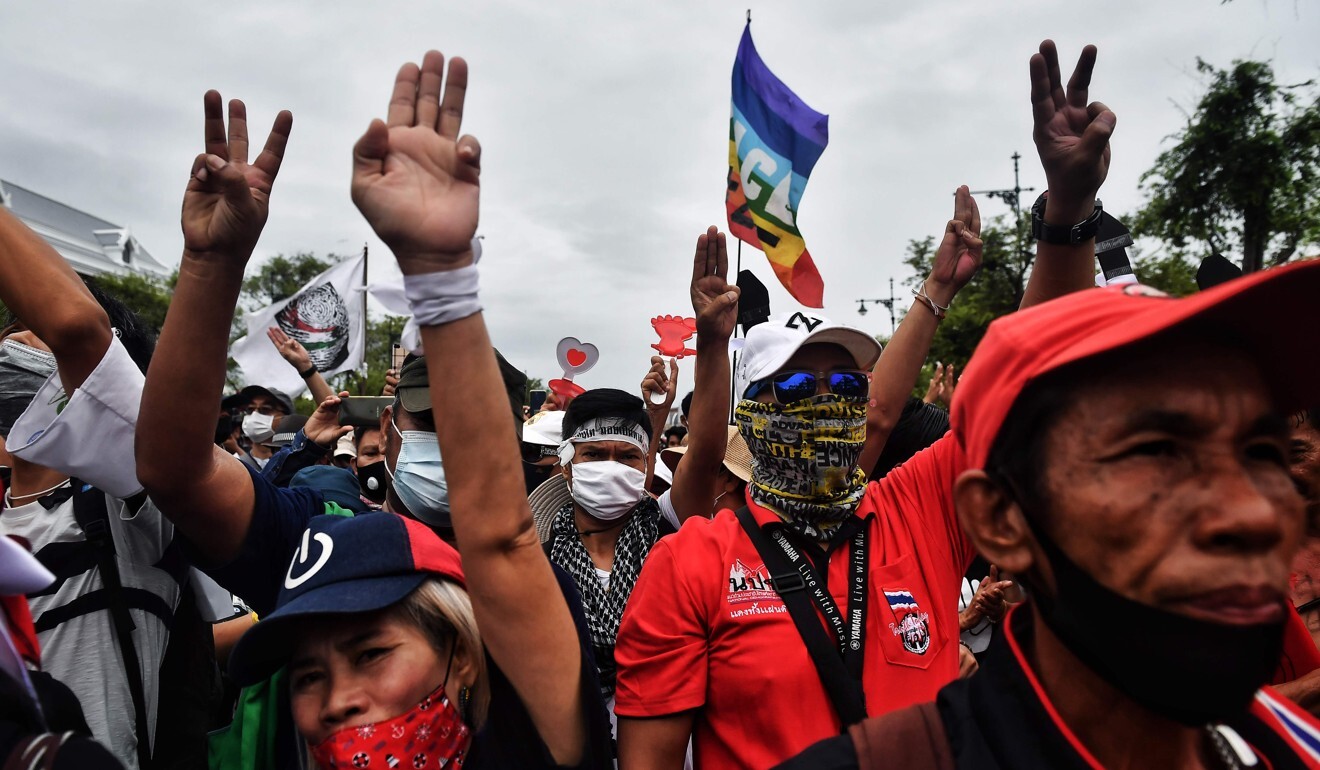 WHICH WAY TO TURN?
With tens of thousands turning out for major protests, each move, from delivering demands to the
shadowy Privy Council
– Thailand's royal advisory body – to embedding a symbolic ''People's Plaque" in the road near the palace, dares the army-backed government to reply.
"We use reason to garner support in this fight. I don't believe the state is brave enough to use force on us," said Tatthep "Ford" Ruangprapaikitseri, 23, the leader of the Free People protest groups. "More important, they have no legitimacy to do so."
Thanathorn Juangroongruangkit, the charismatic leader of the now banned Future Forward party and darling of Thai millennials, had been a conduit inside parliament for anti-government anger until he was banned from politics in early 2020 – and then angst began to move to the street.
Unpopular but holding on, Prayuth has reached for compromise by putting a motion before parliament that could start the process of amendments or a rewrite of the constitution. Late Thursday, several thousand protesters had gathered outside parliament, where lawmakers were due to vote on motions that could lead to the changes. The motion, however, was delayed for 30 days after thousands of people mobbed parliament, demanding a complete rewrite.
The motion, as it is written, does not appear to touch key issues concerning the monarchy and would not set a timetable for change until deep into 2021.
"It's a gesture of goodwill, an attempt to unlock the political deadlock," Khemthong Tonsakulrungruang, a law professor at Chulalongkorn University, said of lawmakers' deliberations. But even if the motion eventually passes, "it'll fall into a rabbit hole of Thailand's bureaucratic system", he said.
Prayuth has called the protesters "our children" who need protection, yet government agencies have thrown charges from sedition, computer crimes and blocking traffic at key protest figures.
"In this way, the state is trying to gradually exhaust the protesters," Chambers said of the tactic.
BACKSTAGE … FOR NOW
Thailand's notorious political fault-lines are now reopening.
For years the kingdom was cut deep by mutual loathing between the pro-democracy
"Red Shirt" followers
of telecoms billionaire and ex-premier Thaksin Shinawatra and the royalist pro-establishment "Yellow Shirts", who despise the Shinawatra clan and have backed two coups against the family.
Competing protests left scores dead on Bangkok's streets between the ousting of Thaksin in 2006 and 2014, when his sister
Yingluck
was turfed from elected office by Prayuth, who was then army chief.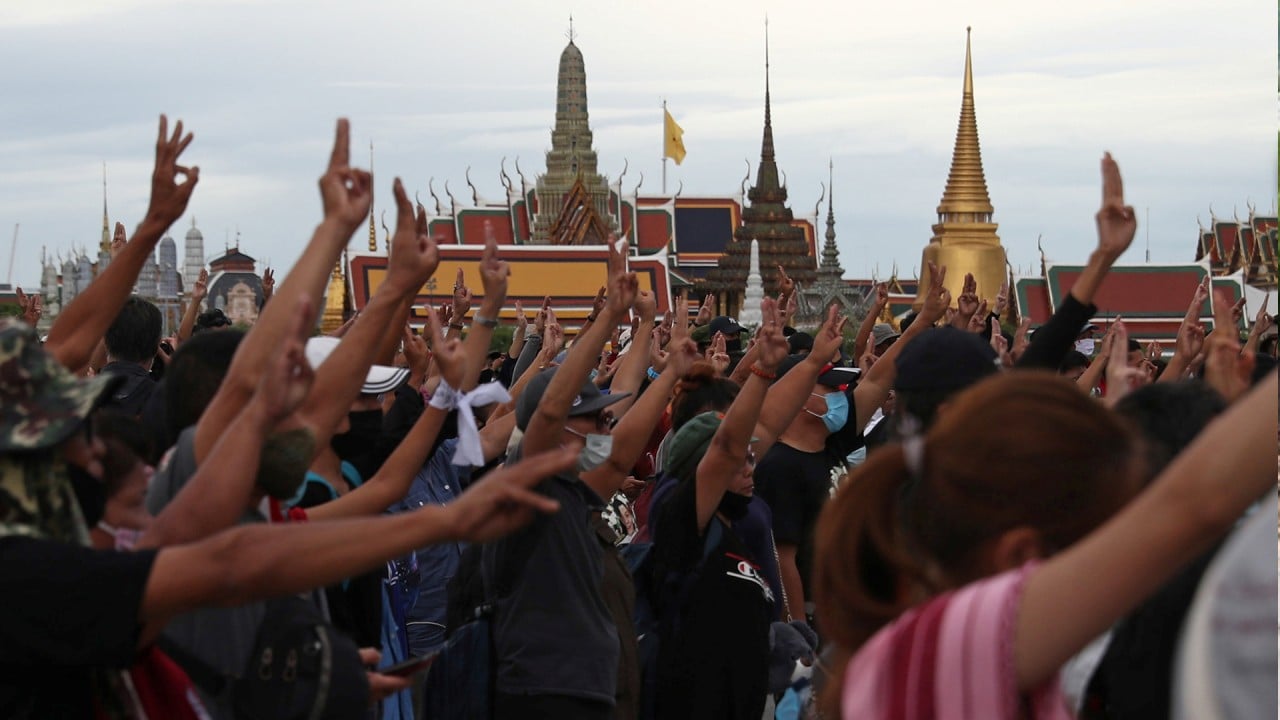 02:40
Weekend of anti-government protests in Thai capital Bangkok continue to challenge monarchy
Weekend of anti-government protests in Thai capital Bangkok continue to challenge monarchy
Dormant since the coup, the red-shirt movement made their largest show of force last weekend at the Sanam Luang royal field, near the royal palace in Bangkok, raising the prospect of a large alliance with the students.
Meanwhile, the arch-royalists pull small crowds on Bangkok's streets and elsewhere to condemn the student protesters. But others join Facebook groups to support the monarchy rather than doing so on the streets – tacit support from an older, conservative generation alarmed at the brassy youth movement and its castigation of the monarchy.
"I'm against the constitutional amendment proposed by a bunch of 'nation-hater' kids," Srisuwan Janya, Secretary-General of the Association to Protect the Thai Constitution (APTC), said in a Facebook post this week, which drew several thousand likes.
"He who insults the institution must suffer misfortune," he said signing off with the hashtag in Thai of "LetThemEndUpinPrison".
LOYALTIES AND INTRIGUE
King Vajiralongkorn, who spends most of his time overseas and is a remote figure to many Thais, has looped key Bangkok military units under his direct command, part of a careful assemblage of loyalists at the heart of the palace.
His personal retinue now contains the soon-to-be-retired army chief, Apirat Kongsompong.
Experts say the "network monarchy" – the clutch of billionaire tycoons, army chiefs, lifelong courtiers and advisers – are well entrenched after decades of power-building, and favour the stability of a political consensus they crafted.
But cracks may be appearing in a country where back room intrigue is never far away, although the outgoing army chief has denied rumours of a looming coup against Prayuth if the protests get out of hand.
Meanwhile, some speculate that fissures could appear in unexpected places.
"There's always been a conflict of interest in the court even during the late king's reign," said Chaiyan Chaiyaporn, a political science professor at Chulalongkorn University, referring to Vajiralongkorn's father, the widelyrevered
Bhumibol Adulyadej
, who died in 2016. "So it's entirely possible that certain individuals who have lost power may have their own agenda."
Young, brazen, fed up at a grim economic future, the student protest movement says it has momentum on its side.
"All we really want is to solve a problem once and for all," said Rung, the student protest leader from Thammasat University.
"I know that they are using scare tactics to silence the people," she said, referring to the government.
"It just won't work with me."