Myanmar
Get more with myNEWS
A personalised news feed of stories that matter to you
Learn more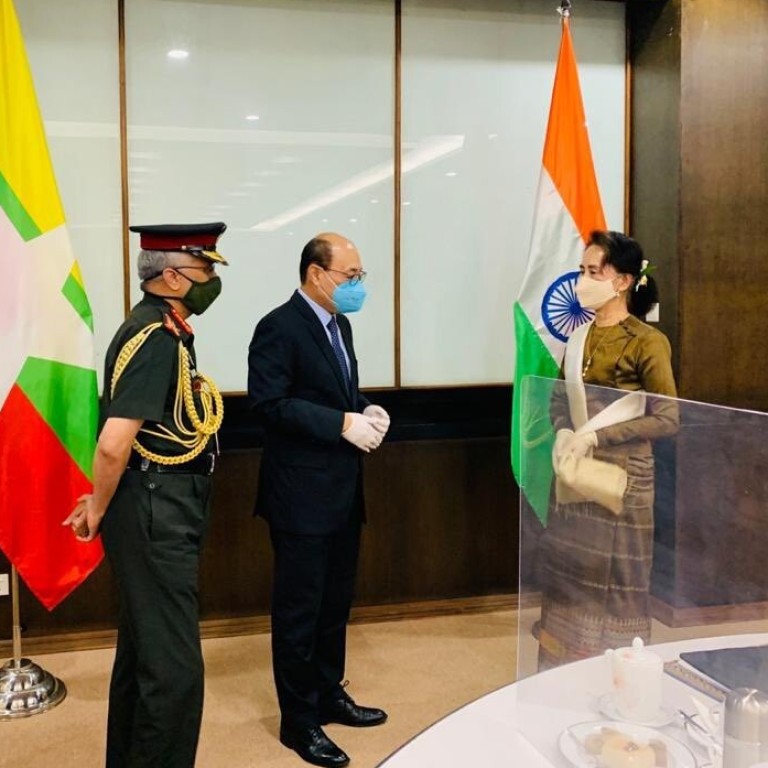 Analysis

|
India responds to Myanmar's call for closer ties to balance out Chinese influence
A joint visit by India's foreign secretary and army chief to Naypyidaw shows New Delhi is doing more to counter Beijing's growing presence in the region
But an analyst warns India's strong ties with Myanmar's military, known for its crackdowns on rebels and Rohingya Muslims, could harm its reputation
For the first time,
India
's foreign secretary and army chief made a joint visit to Naypyidaw earlier this week, fuelling talk that
Myanmar
has stepped up its efforts to balance China's
rising influence
and New Delhi is ready to respond.
In all previous Indian administrations, these officials would visit Myanmar at least once in their tenure, usually separately. But foreign secretary Harsh Vardhan Shringla and the Chief of Army Staff M.M. Naravane went together to Myanmar on Sunday and Monday, meeting senior Myanmar leaders including State Counsellor
Aung San Suu Kyi
and Commander in Chief of Defence Services, Senior General Min Aung Hlaing.
India's foreign ministry said there were discussions on a range of topics including boosting connectivity, power and energy projects, and working together to beat
Covid-19
. Indian media reported that New Delhi had proposed building a US$6-billion petroleum refinery project near Yangon.
Shringla also assured his hosts of India's support for the safe repatriation of displaced
Rohingya Muslims
who had fled the mostly-Buddhist Rakhine state for Bangladesh.
About 40,000 or more Rohingya live in Indian cities, including Kolkata and Delhi.
Rajiv Bhatia, a distinguished fellow of the Mumbai-based think tank Gateway House and Indian ambassador to Myanmar from 2002 to 2005, said Myanmar's impulse had always been to balance its two big neighbours India and
China
– a policy that current leader Aung San Suu Kyi also holds.
"India provides the space to Myanmar not to be dominated by China or any other country," he said.
As a developing country, Myanmar embraces cooperation with the international community, said Nehginpao Kipgen, executive director of the Centre for Southeast Asian Studies at the O.P. Jindal Global University north of Delhi.
"Enhanced relations between India and Myanmar should not be seen as Naypyidaw distancing itself from Beijing," he said.
Former Indian ambassador to Myanmar Gautam Mukhopadhyay, who served from 2013-2016, said Myanmar "enjoys a far greater comfort with India because its dealings are less mediated by power and selfish interest".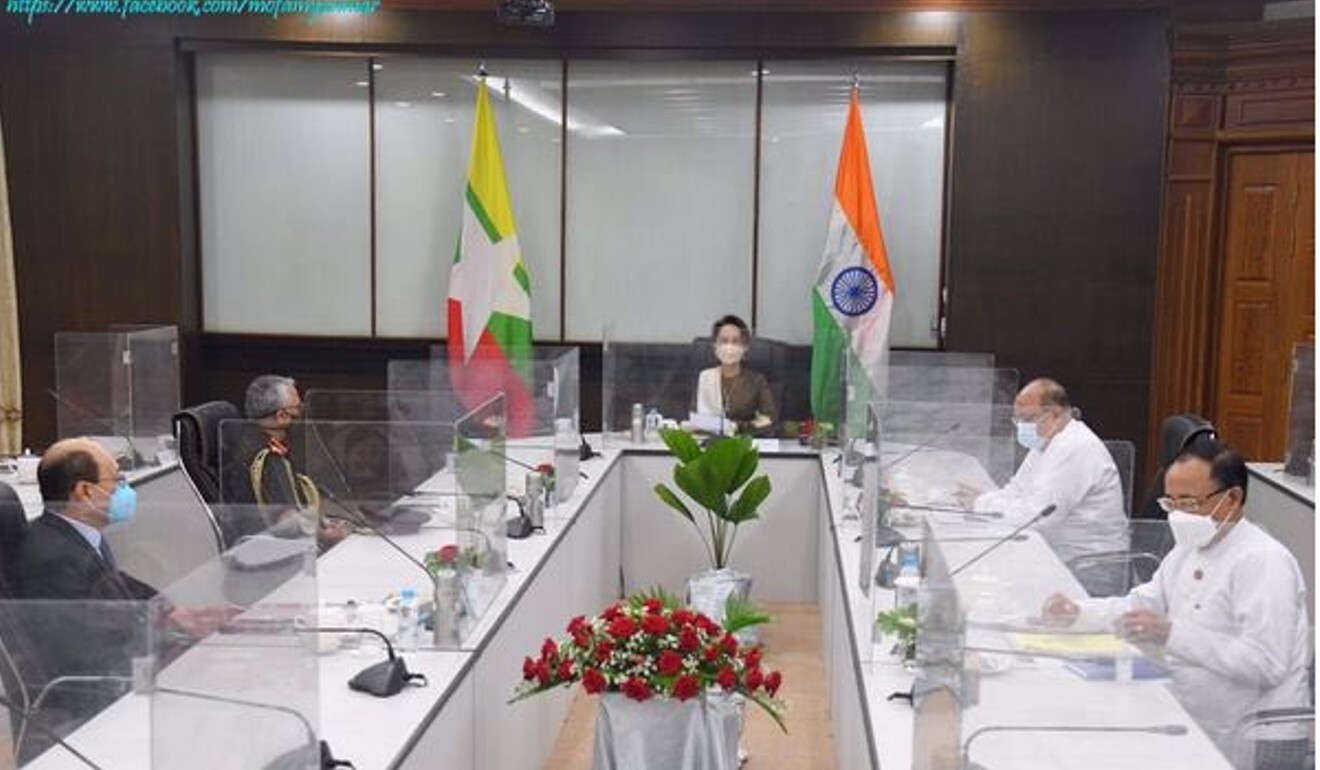 Myanmar has deep historical ties with both neighbours. China's southern tribes migrated to the country and during the British colonial period Burma, as it was then known, was ruled from India until 1935, and Indians were dispatched there to take up administration posts.
China is Myanmar's biggest foreign investor
, contributing 26 per cent of the Southeast Asian country's total foreign direct investment from 1988 to 2018, according to Myanmar's Directorate of Investment and Company Administration.
However, some Chinese projects like the Kyaukphyu Deep Sea Port, the Kyaukphyu-Kunming Railway and the US$3.5 billion Myitsone Hydropower Project, which has been put on hold, have sparked protests and accusations of environmental degradation and debt traps.
India's response to Myanmar seemed lukewarm in recent years as China began to scale up its presence through several megaprojects. But New Delhi has begun to do more to counter Beijing's growing footprint in South Asia as
tensions continue at their disputed Himalayan border
.
Over the past few decades India has made significant investments in Myanmar through its proposed trilateral road corridor linking New Delhi, Naypyidaw and Bangkok; the Kaladan Multimodal Transit Transport Project connecting eastern India with Myanmar; and the East-West Economic Corridor that will link India with Laos, Cambodia and Vietnam.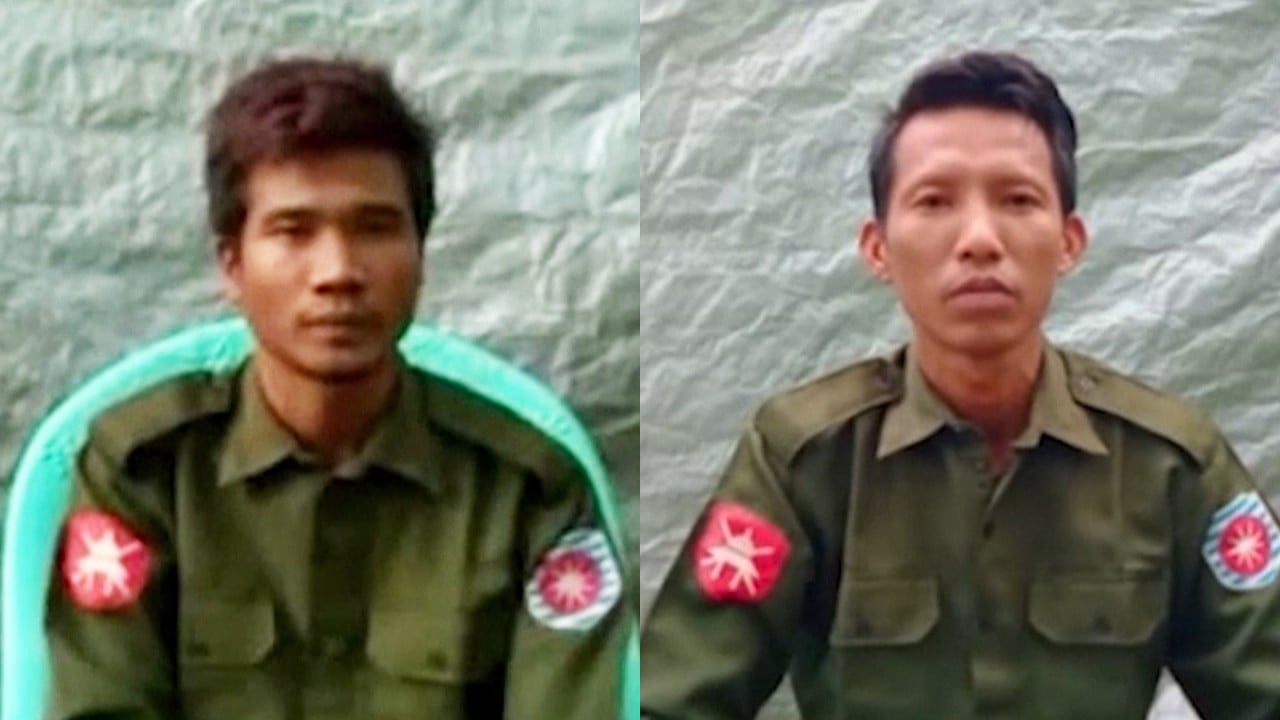 02:43
'Shoot all you see', Myanmar soldiers confess roles in massacre of Rohingya Muslims
'Shoot all you see', Myanmar soldiers confess roles in massacre of Rohingya Muslims
In the last 10 years it has provided US$1.4 billion in grant assistance to Myanmar, with which it shares a 1,468km (912 miles) land border and a coastline.
India has enhanced its engagement with Myanmar since Chinese President Xi Jinping's high-profile
visit to Naypyidaw in January
which yielded 33 agreements and billions committed to infrastructure projects.
This included an agreement to "step-up" work on the China-Myanmar Economic Corridor, a part of China's ambitious trade and connectivity strategy, the
Belt and Road Initiative
.
Myanmar has also reached out to India. In February, President Win Myint visited New Delhi and signed 10 agreements ranging from development in Rakhine state, strengthening connectivity and deepening bilateral ties.
Then in May, Myanmar handed over 22 Indian insurgents who found safe haven in its jungles and carried out armed attacks across the border against Indian security forces and other assets. Analysts said New Delhi saw this as a sign of Myanmar's sincerity in helping it safeguard itself from separatist forces.
A sticking point in Myanmar-China relations has been the issue of armed ethnic rebels seeking greater autonomy. They include the Arakan Army, which has been engaged in a large-scale war with the Myanmar military in the Rakhine region since last year.
Observers believe China has helped the armed groups, including providing them with sophisticated weapons in exchange for protecting Chinese mega projects in the country, especially when they face local resistance.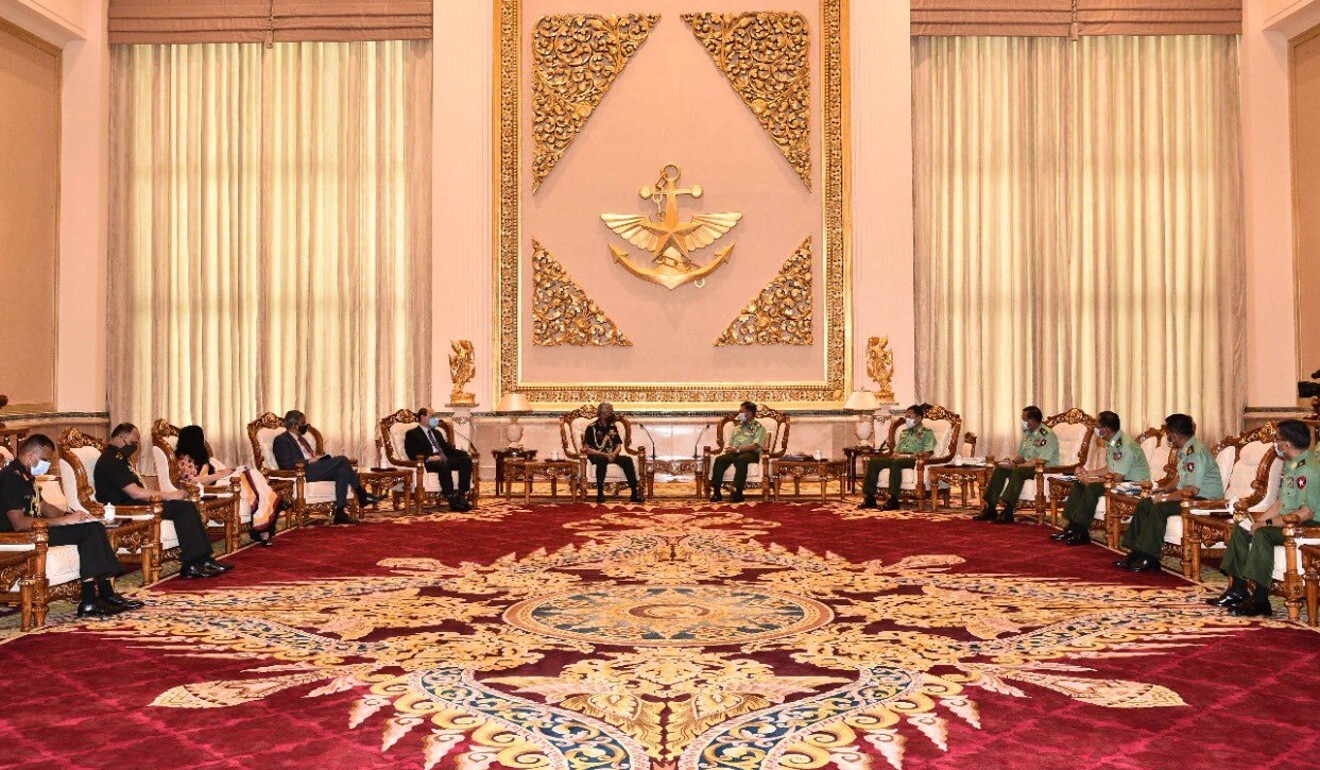 The Irrawaddy newspaper reported that Rakhine observers found it notable that the AA has not disrupted any Chinese development projects in Myanmar but always targeted the Indian Kaladan Multimodal Transit Transport Project.
While India has not been involved in Myanmar's military operations against these rebels, it has monitored its borders to prevent armed groups from taking shelter in the country.
Mukhopadhyay said India continued to be culturally important to Myanmar, noting that Buddhists – who make up 88 per cent of Myanmar's 54 million people – saw India as the land of the Buddha that they must visit at least once in their lifetime.
India is also a destination for English-language education that could give people access to the world.
Khin Zaw Win, head of Yangon-based think tank Tampadipa Institute, said while China was "way ahead" of India when it came to economic influence, India had caught up by strengthening defence and security ties, and funding infrastructure projects.
He pointed out that although Myanmar's military was getting closer to its Indian than Chinese counterparts, the military's brutal treatment of rebels and also the Rohingya people meant it had earned the enmity of the population, so much so they preferred China.
"By cultivating the military, India risks being seen as not giving a damn for the ethnic people," he warned.