Japan
Get more with myNEWS
A personalised news feed of stories that matter to you
Learn more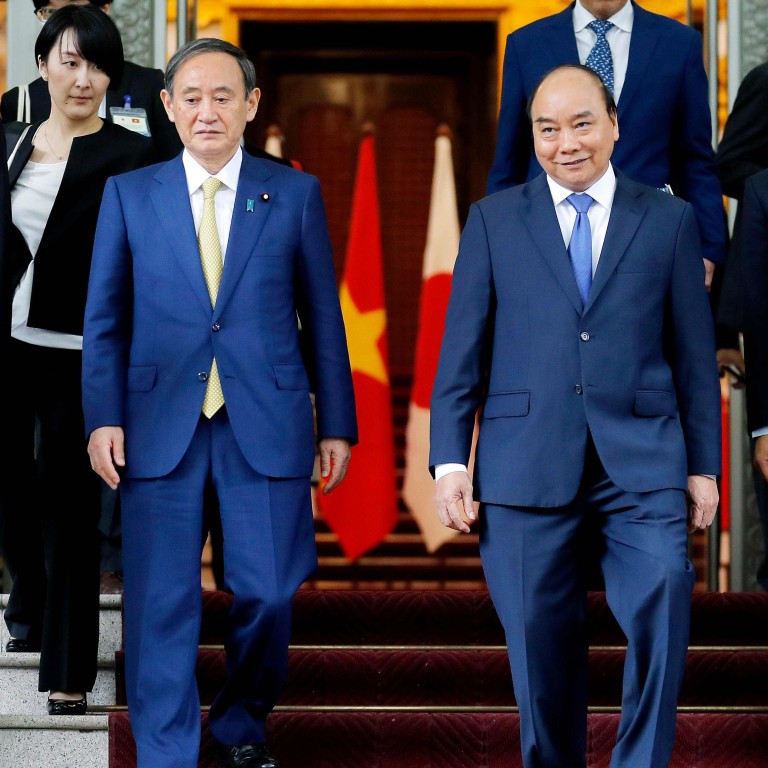 Japan, Vietnam to step up defence and economic ties amid China's growing influence
Prime Ministers Suga and Phuc have agreed in principle on a pact that would see Tokyo export arms and military technology to Hanoi
The agreement is seen as part of Japan's attempts to counter Beijing's assertiveness in the South China Sea, while Vietnam is also ready to support Japanese investment
Japanese
Prime Minister Yoshihide Suga and his
Vietnamese
counterpart Nguyen Xuan Phuc have agreed to step up security and economic cooperation – with Tokyo set to export defence equipment and technology to Hanoi – amid China's growing influence in the region.
Suga, who is on his first overseas trip since becoming prime minister last month, called Vietnam a linchpin in efforts to realise a "free and open Indo-Pacific" and vowed Japan's "continued contribution to peace and prosperity in the region".
He also criticised actions in the
South China Sea
that "go against the rule of law", a veiled reference to Beijing's increasing assertiveness in the disputed waters. "It is important that all nations involved work toward a peaceful resolution of conflicts in the South China Sea without resorting to force or coercion," Suga said in a speech at the Vietnam Japan University.
Following a one-hour meeting with Phuc, Suga said the countries had agreed in principle on a defence pact, though details were not immediately available.
Japan has been looking to boost its sales of advanced military technology – including the likes of amphibious assault vehicles, underwater drones, and minehunting technology – since its 2014 lifting of a self-imposed ban on exporting weapons systems. Besides Vietnam, Japan has also been in discussions with Thailand and Indonesia over arms sales.
Analysts say the security agreement is also part of Japan's attempts to stand up to China in the South China Sea, where Beijing is embroiled in territorial disputes with Southeast Asian nations including Vietnam, Malaysia and the Philippines.
The equipment, likely including patrol planes and radar, would help improve Vietnam's surveillance capabilities. Hanoi's claims in the disputed waterway include the Spratly Islands, where China is building up a military presence.
Phuc and Suga also pledged to cooperate on Covid-19 prevention strategies and deepen their economic collaboration as Tokyo looks to encourage Japanese companies to move production away from China, amid fraying ties between Beijing and Washington.
The prime ministers agreed to resume regular flights between their countries in the near future, and to implement a "business track" that would allow executives and workers to travel without a 14-day quarantine period provided they follow certain Covid-19 precautions.
They also affirmed cooperation over North Korea, with Suga saying Phuc voiced support for Japan's efforts to secure the return of citizens abducted by North Korea in the 1970s and 1980s.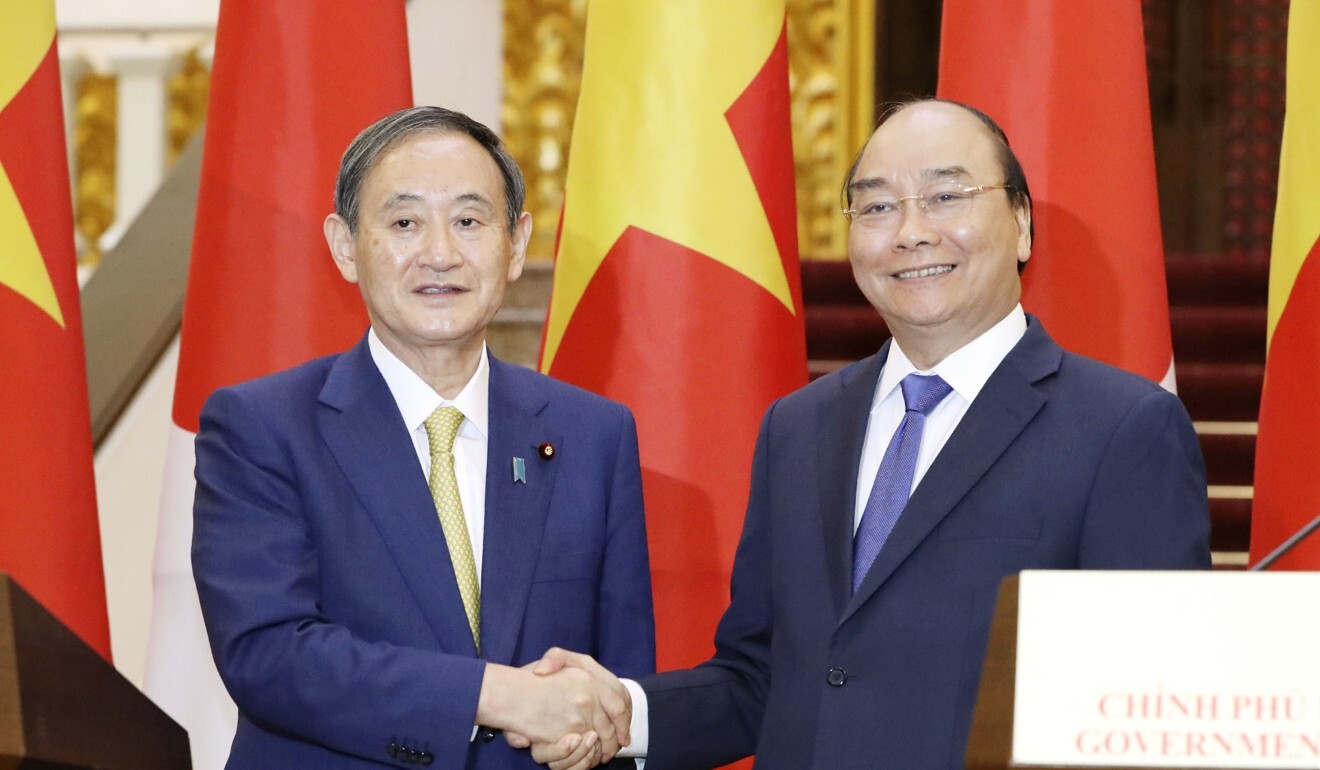 WALKING IN ABE'S FOOTSTEPS
Derek Grossman, a senior defence analyst at the American think tank Rand Corporation, said the agreement sent an implicit signal that Tokyo believed the threat Beijing posed to Hanoi could also impact Japanese national security.
"The fact that Suga is making his first visit abroad to Vietnam and signing this deal is a strong sign that he plans to walk in [former Japanese prime minister Shinzo] Abe's footsteps by strengthening security ties in Southeast Asia to assist hedgers, such as Vietnam, from succumbing to China's coercive military activities in the South China Sea," he said.
Grossman added that Hanoi was "fully comfortable" with committing to Japan's Three Principles on the Transfer of Defence Equipment and Technology, which were put in place in 2014 and govern the transfer of arms to a third party.
Suga's visit to Vietnam is seen as Japan's latest effort to walk the tightrope between its ties with China – the largest trading partner for most Asian countries – and Tokyo's formal military alliance with Washington, which has hardened its rhetoric against Beijing in disputes including trade, technology and the South China Sea.
Tokyo has its own tensions with Beijing, including a dispute over the Diaoyu/Senkaku Islands in the East China Sea, while some members of Japan's ruling Liberal Democratic Party have also called on the government to take a tougher stance against Beijing's tightening grip on Hong Kong.
While Suga and Chinese President Xi Jinping in late September pledged to pursue high-level contacts in a bid to promote regional and international stability, Japan has not shied away from promoting its Indo-Pacific strategy alongside the US.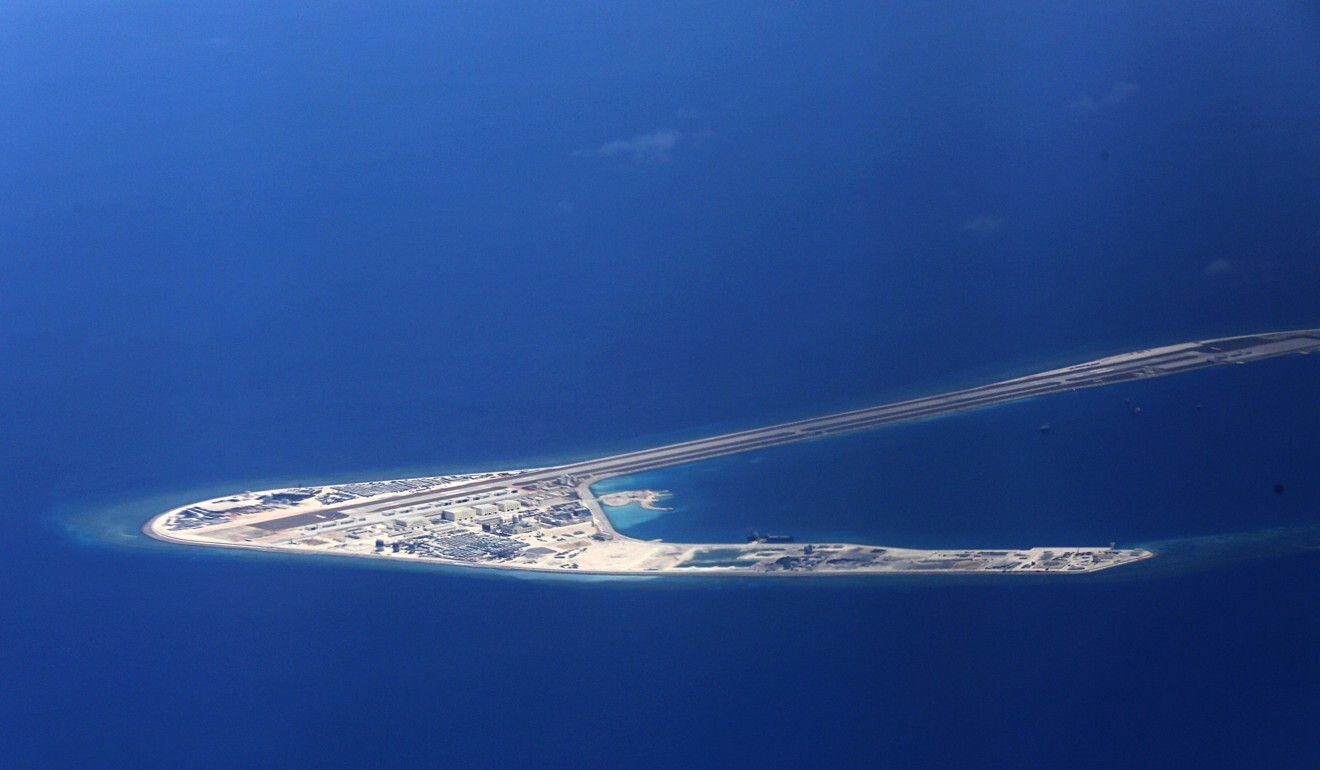 Earlier this month, Tokyo hosted a ministerial-level meeting of the Quad, a group of democracies that also includes the US, India and Australia, which China has criticised as "stoking a new Cold War".
Whether Japan and the US will honour the "Free and Open Indo-Pacific (FOIP) Strategy" that was formally introduced in 2016 by then prime minister Abe depended on the next American administration, said Yuka Koshino, a research fellow on Japanese security and defence policy at the International Institute for Strategic Studies.
She said under President Donald Trump, the two countries had developed the shared vision to cooperatively explore economic issues including energy, infrastructure and digital connectivity in the region. "It is unclear whether a [Joe] Biden administration will continue pursuing the FOIP vision, but it would be Japan's priority to seek increased US regional commitment," Koshino said.
Yoshikazu Kato, adjunct associate professor at the University of Hong Kong's Asia Global Institute, said Japan's strategies towards the
Association of Southeast Asian Nations
(Asean) had been based on rules and values that included "international law and norms, freedom of navigation, as well as ruthless opposition to any unilateral actions which might change the status quo", and that Tokyo should help Asean members stand up to Beijing over disputes in the South China Sea.
"I truly believe it is completely possible for Japan and Asean to share their vision and views. We are actually standing on the same side," he said.
01:56
Diaoyu-Senkaku islands spat deepens as Japan warns China over coastguard ships in East China Sea
Diaoyu-Senkaku islands spat deepens as Japan warns China over coastguard ships in East China Sea
TRADE RELATIONS
After the meeting with Suga, Prime Minister Phuc also said he was ready to support Japanese investment in Vietnam, including by accommodating its real estate and human resource needs.
With Beijing and Washington imposing tit-for-tat sanctions since the US-China trade war began in 2018, there has been a movement of production and supply chains away from China – benefiting several Southeast Asian countries, including Vietnam.
In April, the then Abe administration earmarked 220 billion yen (US$2 billion) of its Covid-19 economic stimulus package to subsidise its firms' efforts to move production back to Japan, and another 23.5 billion yen for those seeking to diversify into Southeast Asia.
The first beneficiaries of the subsidies, announced three months later, included 57 companies opening factories in Japan and 30 others seeking to expand production to Vietnam, Thailand, the Philippines and other countries in the region.
Vietnam was the most popular destination, as it was chosen by half of the latter 30 companies, ranging from manufacturers of medical gowns and disinfectant wipes to car engine parts, according to the Japan External Trade Organization (Jetro).
Dr Le Dinh Tinh, director general of the Institute for Foreign Policy and Strategic Studies under the Diplomatic Academy of Vietnam, said the pandemic presented an opportunity for Japan and Asean to work together in the fight against Covid-19 as well as in their economic recovery efforts.
"Vietnam [as the Asean chairman in 2020] has kept all the channels open between Asean and its partners, including Japan. The successful partnership between Vietnam and Japan might serve as a good example for other Asean member countries to step up their relations with Japan," said Tinh, who stressed that his views did not represent those of his organisation.
Since Vietnam and Japan established diplomatic relations in 1973, their trade relationship has flourished. As of last month, Japan was Vietnam's No 2 source of foreign direct investment out of the 138 countries and territories investing in the Southeast Asian nation, with almost US$60 billion in registered capital – or 15.7 per cent of the total, behind South Korea's 18.4 per cent – according to Vietnam's Ministry of Planning and Investment. Japanese firms mainly invest in manufacturing, and have a growing presence in retail and banking.
Last year, Vietnam's exports to Japan reached US$20.4 billion, up 8.4 per cent from 2018, while Vietnam's imports from Japan reached US$19.5 billion, an increase of 2.5 per cent from the previous year, according to the General Department of Vietnam Customs.
In Japan, Vietnamese are the fastest-growing group of foreigners, totalling 410,000 in 2019 – an increase of 24.5 per cent from the previous year. Many of them are participants in Japan's Technical Intern Trainee Programme (TITP).
Launched in 1993, the programme aims to transfer skills, technologies and knowledge to nationals from developing countries through employment opportunities. However, it has been repeatedly criticised for its reports of many trainees suffering from abuses like excessively long working hours, unpaid wages and even work-related deaths.
Additional reporting by Associated Press
This article appeared in the South China Morning Post print edition as: Japanese leader Suga agrees arms deal with Vietnam