Thailand protests: is Milk Tea Alliance stirring global support?
The online grouping of pro-democracy supporters from Hong Kong, Taiwan and Thailand has been standing in solidarity with the Thai anti-government movement
But while the hashtag allows activists to lend 'online moral support' and share tips on organising protests, observers say it's not likely to spark a political shift
The day after
Thailand
's military government shut down Bangkok's
rail system
to restrain the growing
anti-government movement
last week, a message supportive of the campaign was graffitied on a bridge 1,550km from the kingdom.
The hashtag #StandWithThailand was sprayed onto a bridge in the middle-class neighbourhood of Taikoo in
Hong Kong
. It remained unclear who did it, but pictures of the message quickly appeared on social media.
Hong Kong's former lawmaker Raymond Chan Chi-chuen was among those who took a photo and shared it on Twitter. Within a few days, it was retweeted 35,000 times and drew an outpouring of gratitude from Thai protesters.
"There isn't too much we can do in Hong Kong, except to share some posts about the protest and to show our support," said Chan of the People Power opposition party.
"In the face of their authoritarian government, the Thais have defied the rules banning gatherings of more than five people," he said. "Here in Hong Kong, we have also been banned from organising large-scale gatherings. But the Thais have still been coming out and they are very courageous."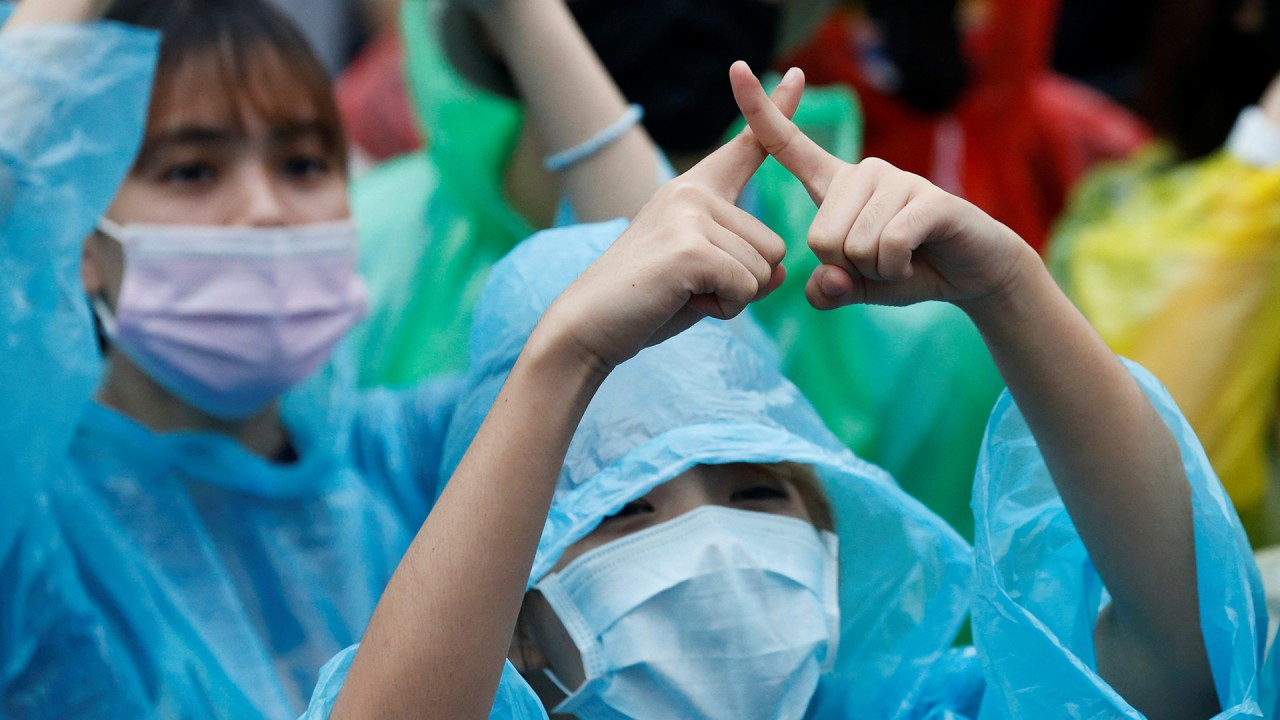 03:29
How demonstrators in Thailand marshall anti-government protests with hand signs
How demonstrators in Thailand marshall anti-government protests with hand signs
Shared interests
Hong Kong is a member of the Milk Tea Alliance, an online pro-democracy
coalition
comprising people from Thailand and the self-ruled island of
Taiwan
. The name was coined because of their shared passion for the sweet drink.
This grouping first emerged in April over an online saga involving Thai actor Vachirawit Chivaaree and his girlfriend Weeraya Sukaram. Weeraya had retweeted a post that claimed a virus lab in Wuhan – the initial epicentre of the Covid-19 outbreak – had many bats used by Chinese researchers to conduct medical tests.
Vachirawit "liked" the retweet, prompting a backlash from Chinese netizens who vowed to boycott his television dramas. An online war erupted as people from Hong Kong, Thailand and Taiwan put up a fight against Chinese users, coining the hashtag #MilkTeaAlliance.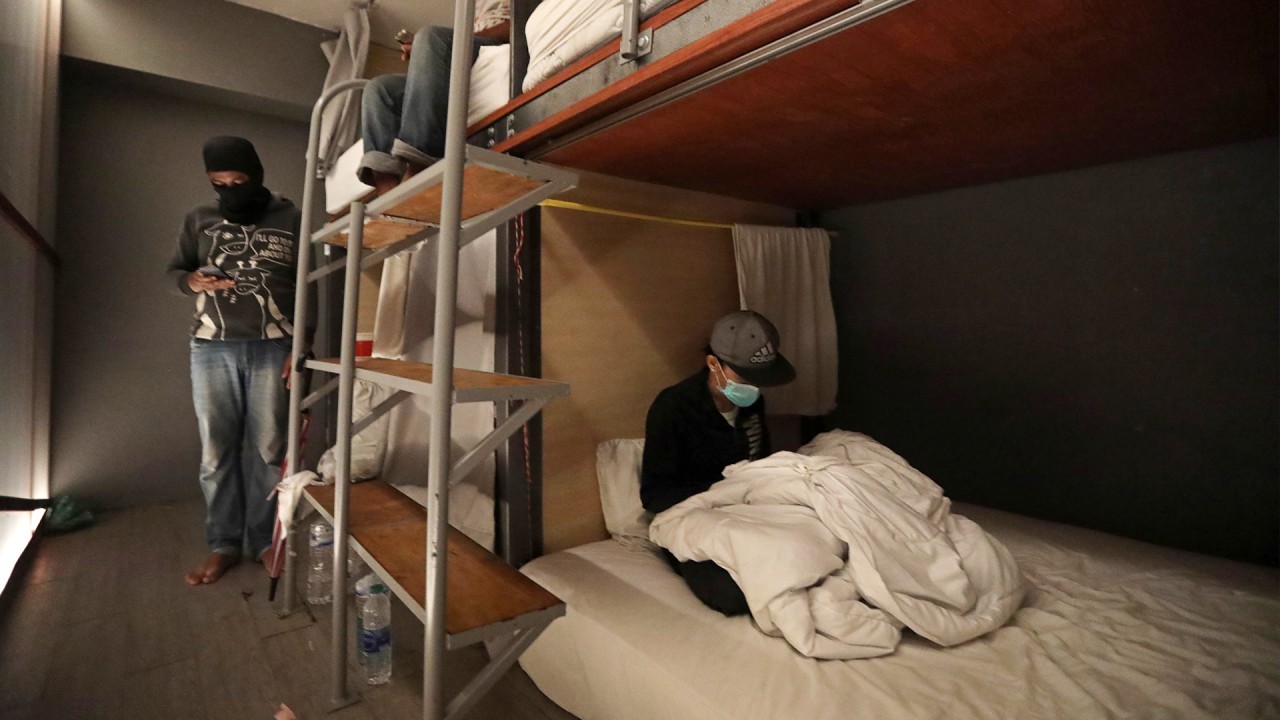 02:34
Hostels in Bangkok offer secret refuge to Thai protesters
Hostels in Bangkok offer secret refuge to Thai protesters
But support from Hong Kong on Thailand's protests has been lukewarm in recent months and only grew significantly last week, after the Thai police used water cannons to disperse protesters, in scenes similar to what happened during
anti-government protests
in Hong Kong last year.
A group of Hong Kong activists this week launched online petitions to call for global support of the Thai movement. About 10 of them, led by the poster boy of the city's protest movement Joshua Wong Chi-fung, protested outside the Thai consulate in Hong Kong on Monday.
Thai protesters have been learning from the Hong Kong protest playbook, using umbrellas to shield themselves, forming human chains to pass protective gears during clashes, and adopting the
"be water"
motto to be fluid in organising spontaneous rallies across Bangkok.
"We have been watching what you have been doing so courageously for a very long time. We admire you and know that someday we will learn from you," Netiwit Chotiphatphaisal, a well-known Thai student activist, told This Week in Asia, referring to the Hong Kong protesters.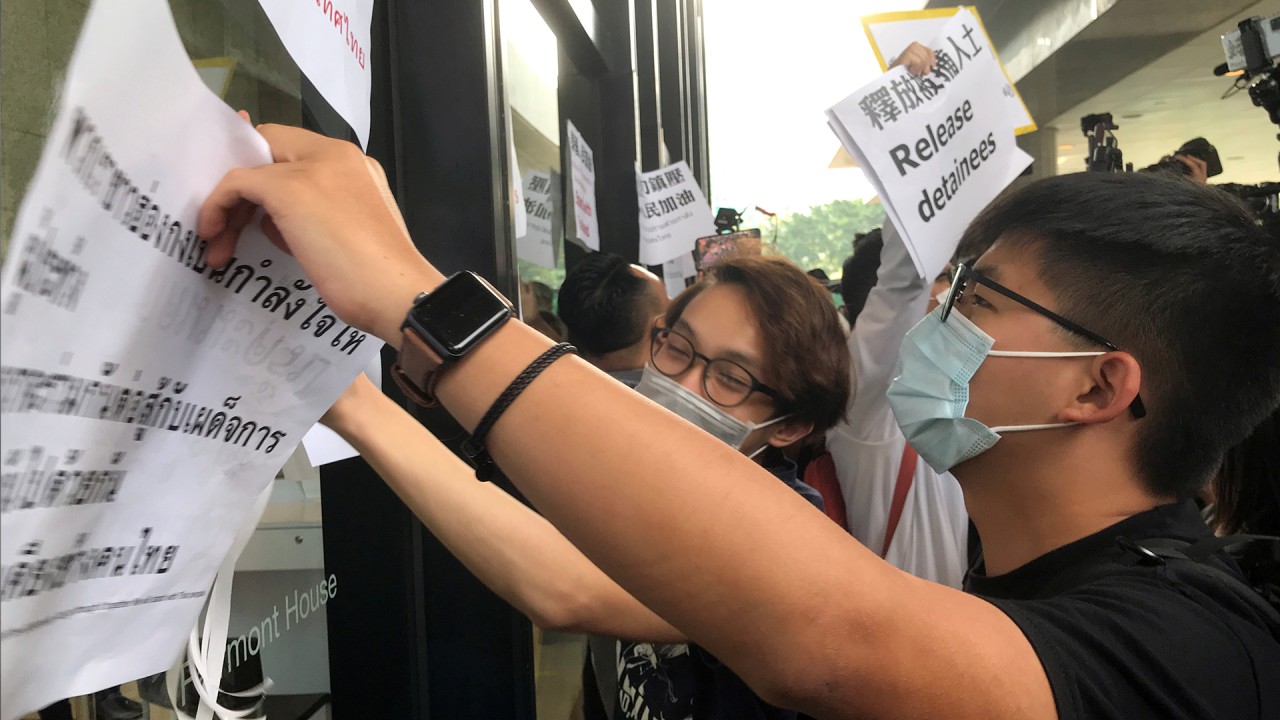 01:32
Hong Kong activists including Joshua Wong rally in support of Thai pro-democracy protests
Hong Kong activists including Joshua Wong rally in support of Thai pro-democracy protests
Lessons from Hong Kong
Last week, exiled Hong Kong activists Nathan Law Kwun-chung and Sunny Cheung Kwan-yang started an online petition on Change.org to drum up international support for the Thai movement. In four days, more than 23,000 people added their signatures.
"We believe the wind of change is inevitable. Democracy shall prevail over the authoritarian regimes that creep in shadows. We call on every freeman to voice out against tyranny, as of duty and belief," the petition says. "End the tyranny. Democracy now."
The Thai government last Friday blocked access to Change.org after it hosted a petition calling for Thai King
Maha Vajiralongkorn
to be banned in Germany, where the monarch spends much of his time.
Wong, the Hong Kong activist, and many netizens from the city shared the petition online and said that if Thais could not access the site, their brothers and sisters from Hong Kong would do so for them.
Social media platforms have increasingly been flooded with images and videos that draw parallels between the protests in Hong Kong and Thailand.
One of the videos shared was of Thai protesters calling for autonomy for Hong Kong during a recent rally.
Lawmaker Ted Hui Chi-fung from the Democratic Party, one of the activists who staged a protest outside the Thai consulate in Hong Kong on Monday, said overseas Hongkongers could also support the Thai movement by protesting at the Thai consulates in their cities.
"With the national security law, Hong Kong people can hardly speak up and speak out. It is important for the Thais to speak for themselves and for democratic values," he said. "In a way, they are speaking for us all suffering under authoritarianism."
Netiwit, the Thai student activist, said protesters in Thailand had learned from their Hong Kong counterparts how to make use of the internet to organise demonstrations.
"The digital and real worlds are so connected," the 24-year-old said. "Hong Kong is the first to consolidate the two worlds together to fight against China. Thais are learning from you slowly via graphics, memes and social media."
Thai activists also learned to announce the time and locations of the rallies on social media only shortly before they began, putting themselves one step ahead of the police.
"Now the situation is going to be more tense," Netiwit said. "I hope Hong Kong and Taiwan will use the resources you have to support us internationally. For Taiwan, I hope you will organise big marches to show solidarity with us."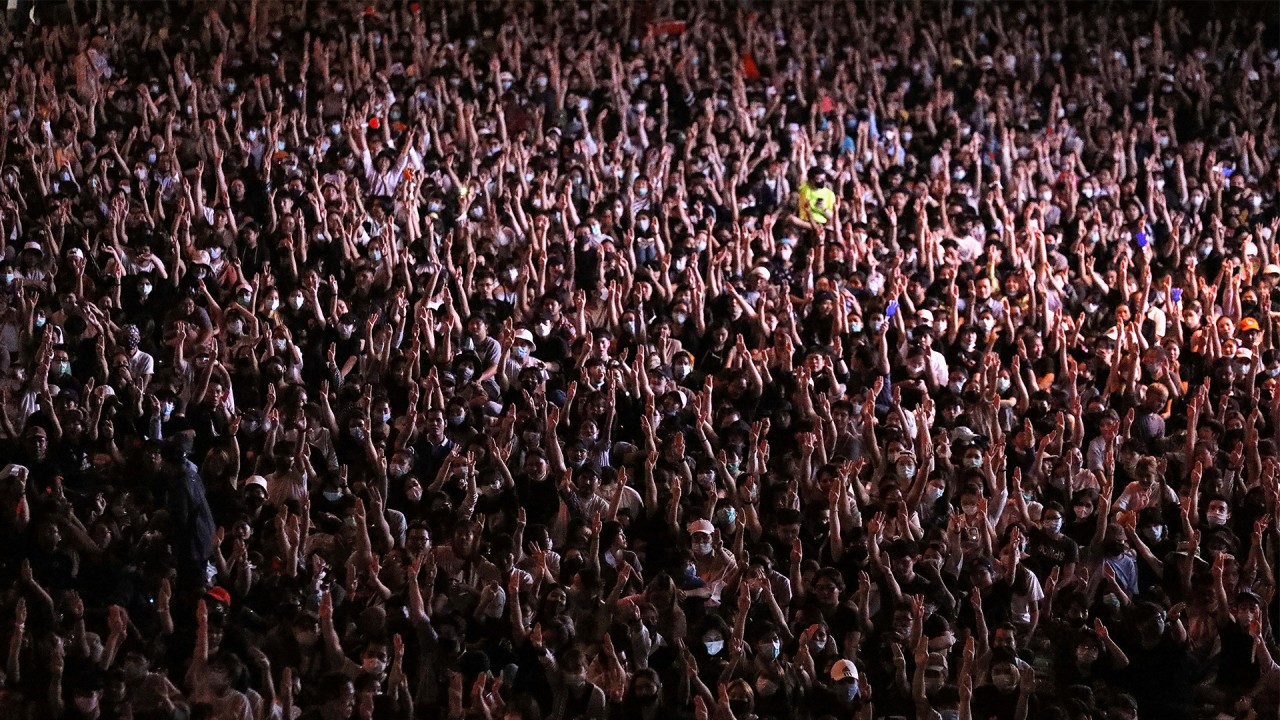 02:55
Thousands defy gathering ban to attend pro-democracy protest in Thailand
Thousands defy gathering ban to attend pro-democracy protest in Thailand
Support from Taiwan
The Taiwan Alliance for Thai Democracy, a group formed in August by Thai students studying in Taiwan, is one of the most active groups that has been calling for global support for the movement. It has organised protests in Taiwan and shared daily updates of the latest developments in Thailand on its Facebook page, which has about 9,000 followers.
Last Sunday, it held a protest near the Thai government's office in Taipei, with about 150 people showing up. More than half of them were Taiwanese, the group said in an emailed reply.
"As overseas pro-democracy Thais, although we cannot physically protest in Thailand, we seek to send our solidarity and show support to the pro-democracy protesters in Thailand, and also tell the democratic world to pressure the Thai authoritarian government not to use violence against protesters," the group said.
"The Milk Tea Alliance does not belong to one country but emerged out of a Twitter hashtag back in April 2020 showing pro-democracy solidarity between Thailand, Taiwan, and Hong Kong and now unites all who fight against authoritarianism," it said.
"You do not have to be a certain ethnicity or from a certain place to use the term for your movement. The term is inclusive and suggests that one always has their support when it comes to the fight for democracy."
Roy Ngerng, a Singaporean political blogger based in Taiwan who has been supportive of the Thai movement, said the protests in Thailand and Hong Kong had a profound impact in the region.
"The perseverance and bravery in places like Hong Kong and Thailand do inspire citizens in other parts of the region," he said. "While it has not led to protests in
Singapore
, Singapore's election saw a
record loss of seats
from the ruling party of 60 years, and people became more emboldened to speak up on the inequality, poverty and injustice in Singapore."
The Milk Tea Alliance reflected the youthfulness of the movement, Ngerng said, with digital natives mobilising protests in ways that had been underestimated.
"Taiwanese are very proud that their democracy is possibly one of the more safeguarded ones in Asia under President Tsai Ing-wen, and the rising threat from China over the last few years … has heightened the awareness among Taiwanese of the threat of authoritarian regimes in the region," he said. "This sense of threat and solidarity has been extended to Hong Kong, and now Thailand."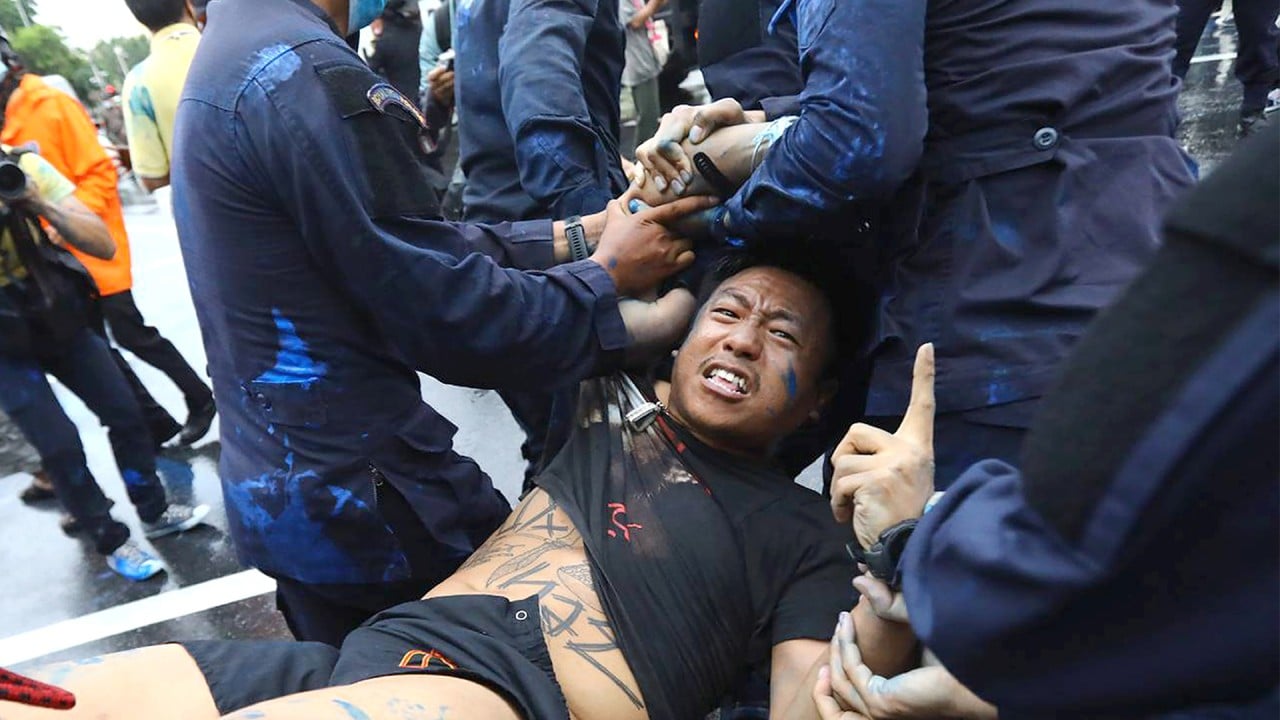 03:05
Thai police arrest 21 at pro-democracy rally, drawing chants against royal motorcade
Thai police arrest 21 at pro-democracy rally, drawing chants against royal motorcade
IS THE MILK TEA ALLIANCE WORKING?
Sitthiphon Kruarattikan, an associate professor and director of the Institute of East Asian Studies at Thammasat University in Bangkok, said the Milk Tea Alliance was only a form of "online moral support".
"[The alliance] could not pressure Thai PM Prayuth, whose policy is protecting the interests of the elites and leaning towards [China]," he said.
Sitthiphon added that, to some extent, the Thai government cared about international pressure and that was why it had not again mobilised the water cannons during last weekend's protest, after first using it on Friday.
"However, I hold a pessimistic view that if the protests still continue with an increasing number of participants, the Thai government would be ready to use harsh measures against them," he said.
A 26-year-old Taiwanese student in Bangkok, who has been active in sharing the latest Thai developments on her social media pages, said she did not think the military government was concerned about the international perception on how it handles the protests.
"The Thais are touched that the people of Taiwan have been supporting them," she said. "But you see that the Thai government does not even care about the demands from the Thais, why would it care about what foreigners think?"