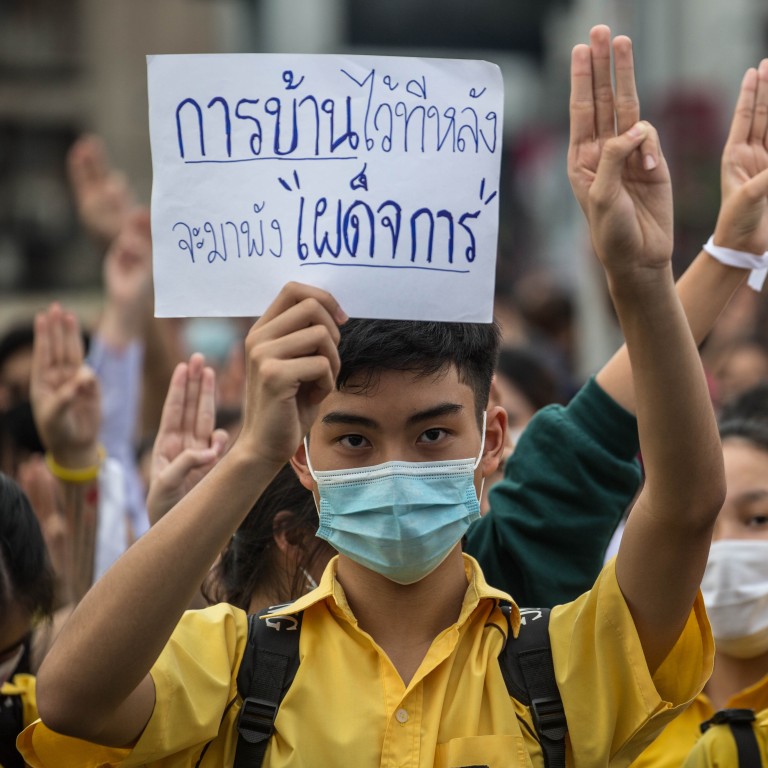 As Thailand's protests snowball, rattled royalists would rather blame a hidden foreign hand than look inward
The kingdom's desperate old guard cannot – or will not see the government's muddled handling of the economy, and growing dissatisfaction with the monarchy
But while the protest movement's roots are internal, Thailand's relationships with the US and China still have a part to play in its future
But to the thousands of young protesters taking to the streets over the past few months, those are just desperate attempts by a desperately out of touch old guard to deflect from reality.
Since its establishment as a constitutional monarchy in 1932, Thailand has failed to settle the question of just who should run its politics, with royals, elected officials and military juntas all weighing in to different degrees. The resulting turbulence has taken the form of endless rounds of coups, weak civilian governments as well as mass protests, and has left a residue of suspicion and recrimination that is now amplified by fake news and disinformation.
Warong Dechgitvigrom, leader of the arch-royalist Thai Pakdee group, suggested last week on Facebook that the monarchy was the target of so-called conspirators. "Today there's a group of Thai people who are conspiring with foreigners to destroy the foundation of being Thai," he said, without providing details to back up his claims as he called for Thais to "stand up against them".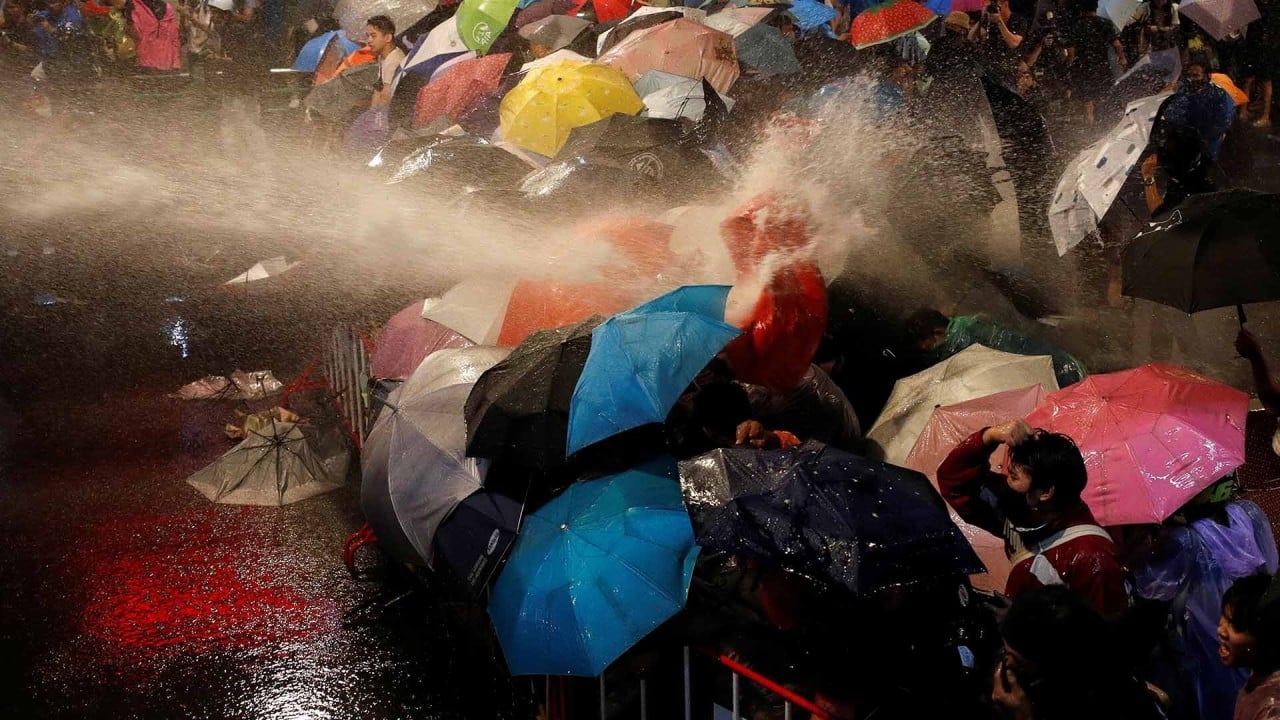 04:40
Thailand protests: How it all started
Thailand protests: How it all started
He has also previously cited the support of Joshua Wong, the Hong Kong opposition activist who regularly tweets encouragement to Thailand's young protesters, as proof of politicians with "foreign backing" conspiring against the country.
Warong's recent post appears to be linked to a press conference from October last year when then army chief Apirat Kongsompong showed a photo of Wong alongside a silhouette clearly identifiable as Thanathorn Juangroongruangkit – the political figurehead of Thailand's pro-democracy movement – and railed against alleged "communist" plans to destabilise Thailand.
To Michael Montesano, visiting senior fellow and coordinator of the Thailand Studies Programme at Singapore's ISEAS-Yusof Ishak Institute, there is a simple reason for this approach. "It is easier to blame a foreign hidden hand for unrest in Thailand than to look hard at the structural problems in the country itself that have caused that unrest," he said.
The proliferation of disinformation, or even information used out of context – such as a 2016 photograph of former US ambassador to Thailand Glyn T. Davies meeting a current leader of the protests Parit "Penguin" Chiwarak– has ramped up the belief that a foreign hand is stirring the cauldron of Thai politics, an old accusation that gets an airing during times of political tension.
This time, it is circulating "because they are running out of ways to respond to our demands", Tatthep "Ford" Ruangprapaikitseri, the 23-year-old leader of Free Youth, one of the kingdom's main protest groups, told This Week in Asia.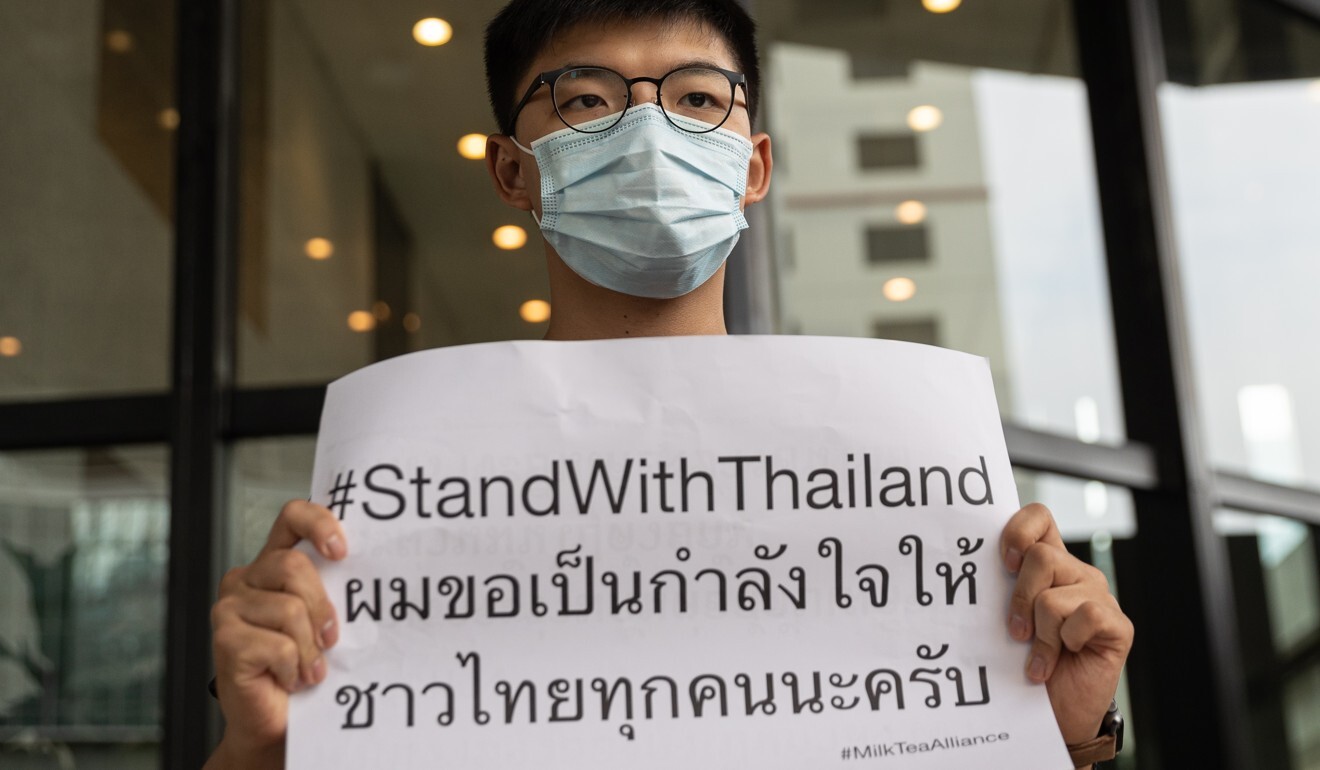 Internal roots
Few royalists tend to look inward for the causes of the Thai political crisis: the unpopularity of Prime Minister Prayuth Chan-ocha's government after six years of its muddled handling of the economy and curbs on freedom of expression, as well as the widening chasm between Thailand's rich and powerful King Maha Vajiralongkorn and his younger subjects.
Instead, there is only shock and anger at the protesters' taboo-busting attacks on the role of the palace and calls for root-and-branch reform of the country's political and social order.
"In the past 15 years … growing criticism of Thai royalism in the foreign press has pushed a number of people in Thailand toward xenophobia," said Montesano.
That fits with a view that the
United States
, a security treaty ally of Thailand's, is influencing pro-democracy protests and trying to destabilise the government of Prime Minister Prayuth Chan-ocha, which has in recent years become closer to Beijing.
"The old view of US imperialism is still strong in pro-establishment circles," said an exiled Thai dissident from Europe, who spoke on condition of anonymity.
Suspicion of interference from afar has a storied history in Thailand: many pro-democracy figures live in self-exile from the country after court cases and coups, the most prominent of them being former prime minister Thaksin Shinawatra.
His emergence in 2001 shook up the political landscape, but the billionaire has lived in London and Dubai for the past 12 years to avoid a conviction for corruption in Thailand that followed the 2006 coup which booted him from power.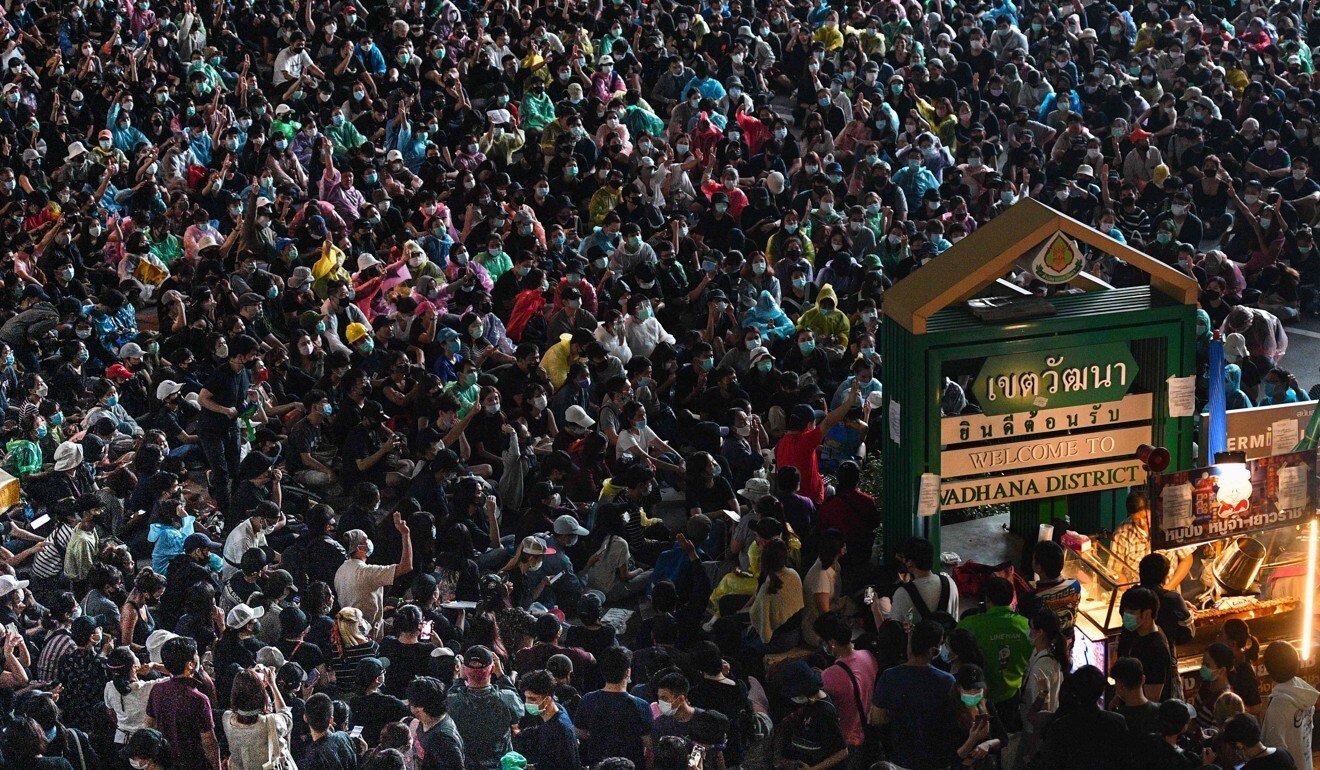 Shinawatra remains the only elected Thai prime minister to complete a full term, and has steered Thailand's main opposition from abroad, appointing family members to top roles and calling key members of his vast political network – which until recently dominated the pro-democracy movement – to Dubai, Singapore and Hong Kong for meetings. His sister Yingluck was toppled in the 2014 coup which brought the current Prime Minister Prayuth to power, at the time as junta leader. Prayuth was elected last year when the country held polls for the first time since the coup, but his opponents say the system was rigged in his favour.
But Thaksin cannot be blamed for this year's protests, which are led by young Thais who are not loyal to him. Instead, a smattering of other exiles wanted for crimes ranging from skipping junta-era arrest warrants to royal defamation are getting the finger pointed at them thanks to their active Twitter and Facebook pages.
They include Somsak Jeamteerasakul, a former history lecturer, and Pavin Chachavalpongpun, an academic and Thaksin-era diplomat who has garnered a large following for his stinging social media critiques of the army, Prayuth and the monarchy. His "Royal Marketplace" satirical Facebook page has attracted 1.9 million members.
Based in Kyoto, Japan, Pavin has become a colourful hero of the protest movement, with demonstrators holding aloft flamboyant images of him in the ornate frames usually reserved for members of the royal family.
As they scrabble to find explanations as to the strength and longevity of the protests, Thailand's old guard are tossing around the well-worn allegation of "not being Thai" at anyone proposing reforms to the monarchy – long held up as the touchstone of Thai life.
"The establishment are against democracy," the Europe-based Thai dissident said. "They will say anything."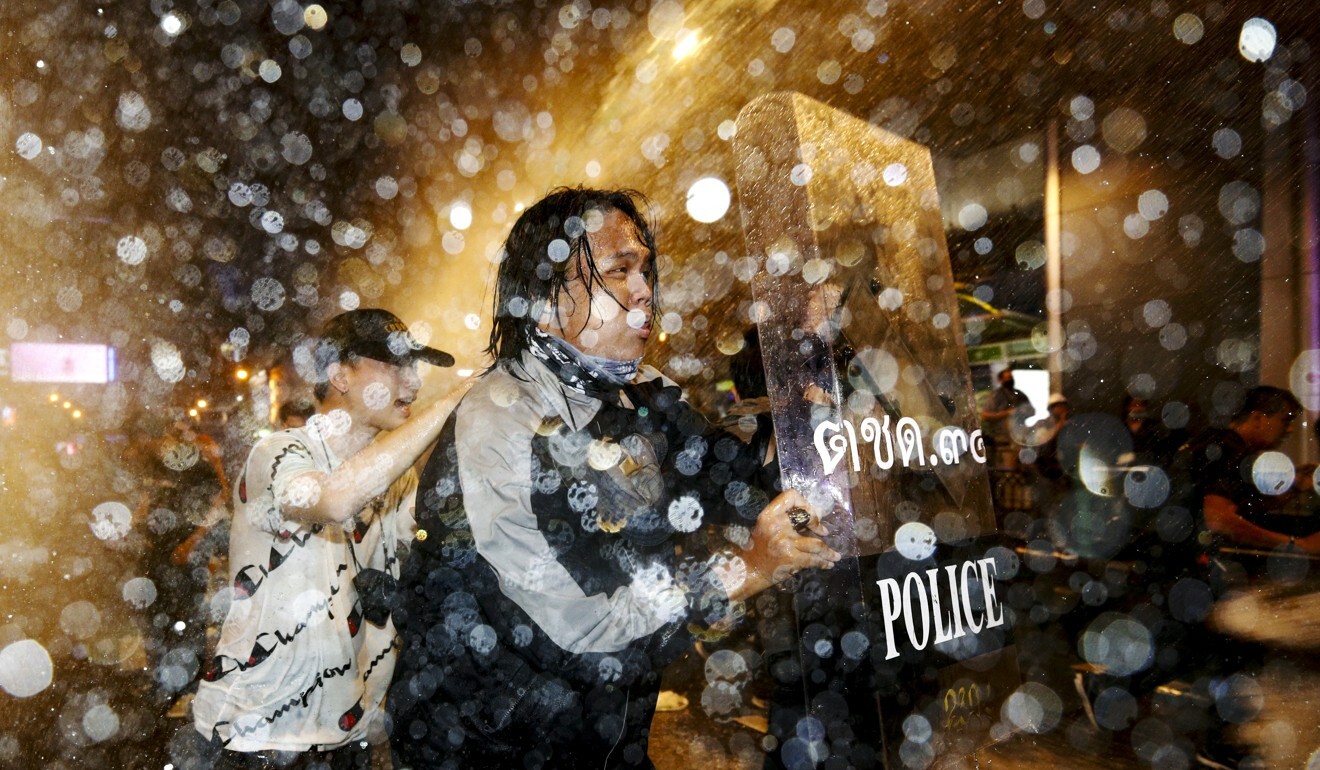 China ascendant
As the protests have snowballed into an existential threat to the government, riot police have been deployed on Bangkok's streets. On October 16,
water cannons were used against the protesters
, some of whom were just teenagers. But unlike western condemnation of police tactics on last year's Hong Kong protests – sparked by a move to introduce an extradition bill that was later withdrawn – international scrutiny has so far been noticeably absent in a country where pro-democracy movements often end in bloodshed.
"The US under Trump, through its embassy in Bangkok, has focused more on commercial interests than democratic values," said Thitinan Pongsudhirak, director of the Institute of Security and International Studies at Chulalongkorn University.
"This is in line with Trump's broader posture, even at home where he has been accused of undemocratic practices. The silence is more surprising from other Western countries who are seen as pro-democracy bastions."
Thailand has been a key US ally in Asia, its strategic value cemented during the Cold War when communist insurgencies raged from Vietnam and Laos to Cambodia.
In exchange for allowing the US to set up bases that were essential to operations in Vietnam, as well as a large CIA station, Thailand's establishment – especially its monarchy – was showered with support and prestige, while its army still receives arms and training from American experts.
But there is a collision of values taking place that is also changing diplomatic relations.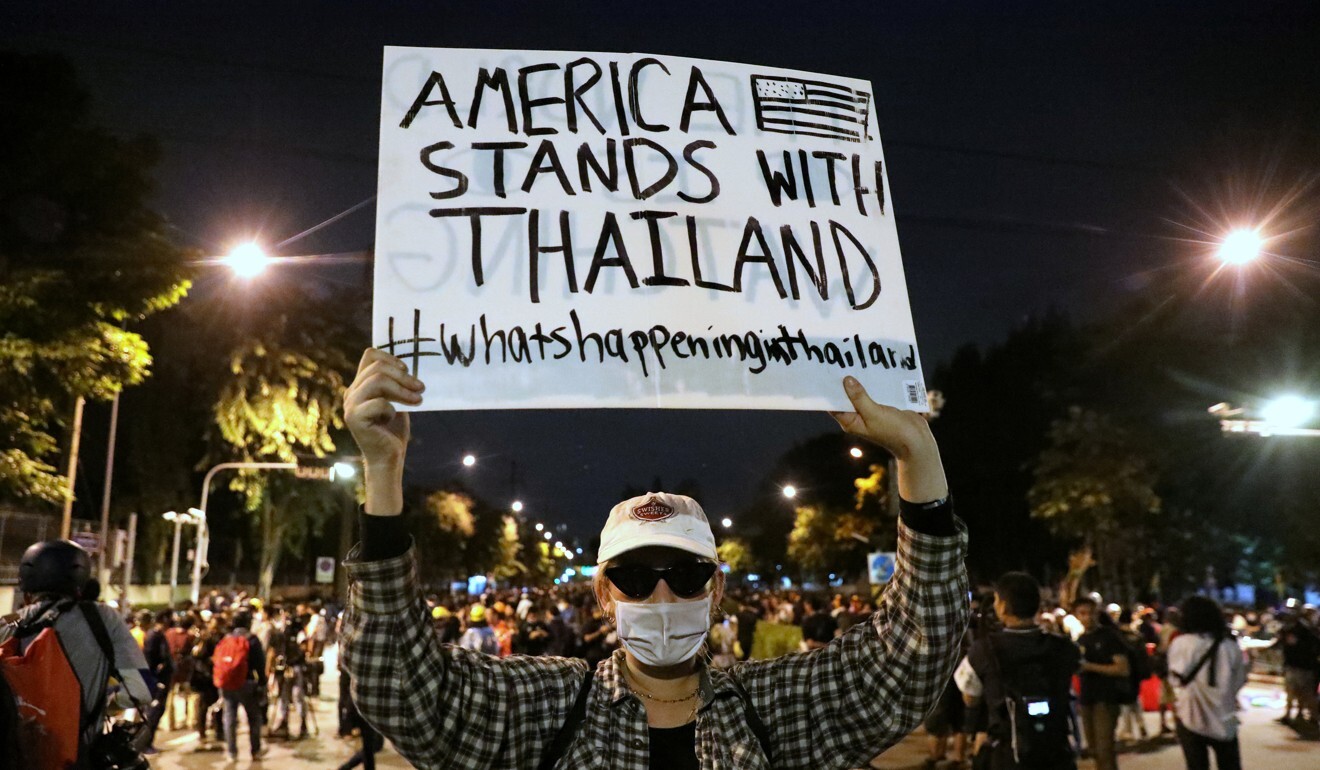 The older, royalist establishment insists Thailand is a unique country – underpinned by the three core pillars of nation, religion and monarchy – that is ill-suited to Western-style democracy and therefore needs the stewardship of the army in its politics.
The young protesters want the army out of the political arena and to recalibrate the country's relationship with the monarchy, putting the king's powers firmly within limits defined by the constitution.
China, meanwhile, has offered Thailand no-strings-attached friendship, with investment under the aspirations of its Belt and Road Initiative for the kingdom's ports, rail and road links continuing despite any internal political unrest.
Beijing also stands against the Milk Tea Alliance – a social-media-fuelled link between the youth-led pro-democracy movements in Hong Kong, Taiwan and Thailand. A cartoon published on Chinese state news agency Xinhua's Twitter account this week portrayed Hong Kong activist Wong as a marionette, his strings pulled by a hand covered in the stars and stripes.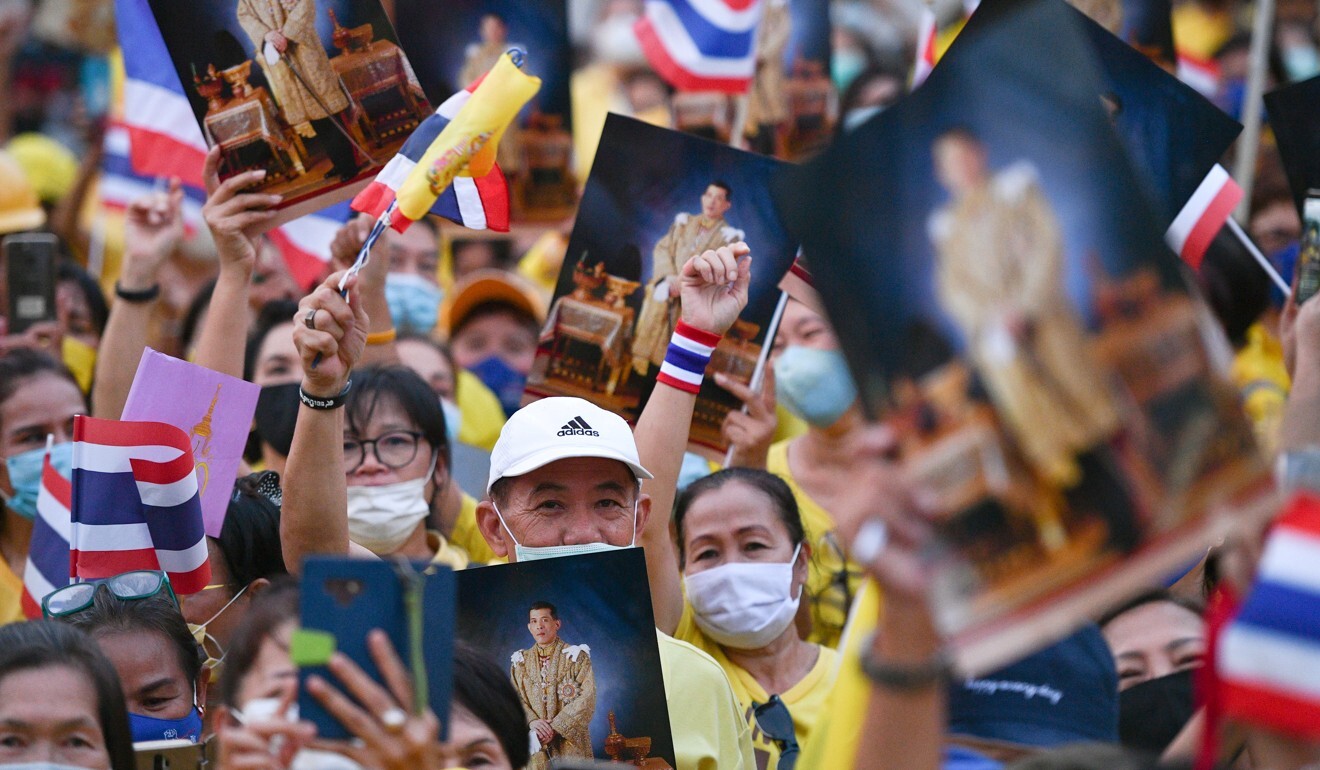 While regional analysts said Beijing would have a close eye on the changing political landscape of a strategic partner – more so after years of Thailand edging away from US influence – Alfred Wu, associate professor at the National University of Singapore's Lee Kuan Yew School of Public Policy, said the Chinese government "has not actually paid substantial attention" to the Thai protests.
He pointed out that there was little buzz over the protests on Chinese social media platforms, and that "very few people in China discussed it".
Said Li Mingjiang, coordinator of the China programme at Nanyang Technological University's S. Rajaratnam School of International Studies: "The official ties between Thailand and China have been stable and strong, partly because of the challenges that Thailand has encountered in its relations with the US in recent years." "There are some negative views in Thai society towards China, but they don't fundamentally undermine official relations with China."
Under a government dominated by former generals, Thailand has looked to China's money, tech and authoritarian model for a guideline on how to grow the economy without expanding freedoms.
"If the tide turns and democratic forces get the upper hand, China will have a deficit to make up, having provided succour to the Prayuth-led regime," said Chulalongkorn University's Thitinan. "But no Thai government of any orientation can turn China away completely."