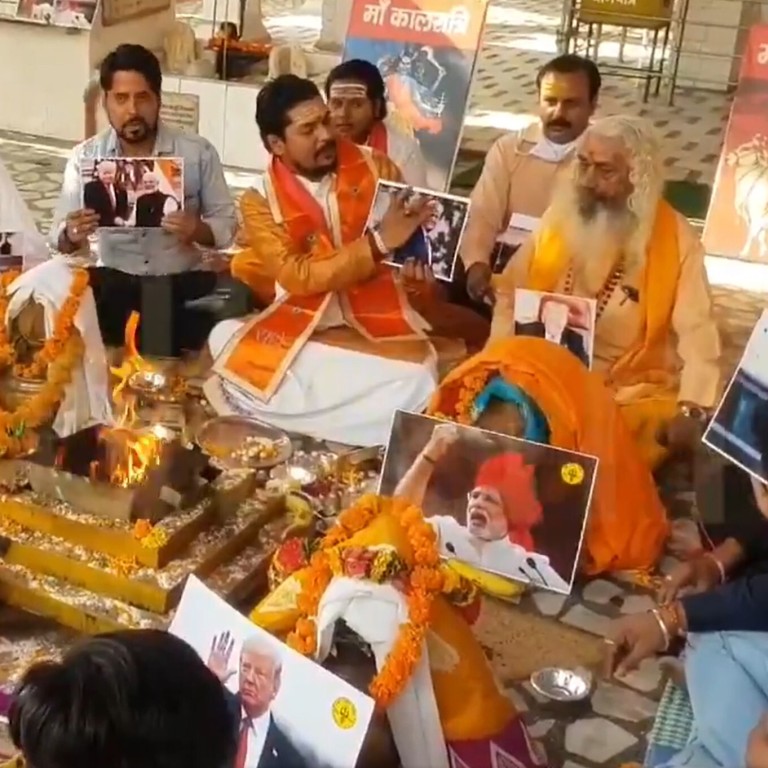 US presidential election: sacred flame for Trump in India, bars back Biden in Indonesia, Korea as Asia watches drama unfold
With the US presidential election too close to call, viewers across Asia – expats and locals – have been transfixed by a day of high drama
Right-wingers pray for Trump in India, bar patrons toast Biden in Seoul and Jakarta, and in Thailand 50,000 votes are up for grabs – if they get counted
The proceedings have gripped both expatriates and locals across the region as they await the results of a vote many experts believe could prove pivotal for America's relationship with
Asia
.
And with some battleground states warning it could be days before mail-in votes are counted, the excitement looks set to continue for some time yet.
Several countries in Asia would be expected to welcome a second term for Trump if he wins – Japanese leaders for example, tend to prefer the Republican presidential nominee even if the Japanese public leans more towards Democrats. ISEAS-Yusof Ishak Institute researchers Ian Storey and Malcolm Cook, in an essay last month said Vietnam, which agrees with the Trump administration's tougher line on
China
, especially in the
South China Sea
, and Thailand, which normalised relations with the US after Trump took office, would likely welcome a second Trump term. "Southeast Asian states will be less enthusiastic about a Biden administration if it adopts a strong rhetorical stand on promoting democracy and
human rights
, as previous Democratic administrations have done," they wrote.
In the case of South Korea, analysts believe the liberal Seoul government would probably lean towards Biden, as the Trump administration has pressed South Korea to pay more towards the costs of stationing US military troops there. An opinion poll this month showed South Koreans prefer Biden over Trump by am margin of 59 to 24, with pollsters attributing this to Trump's stance on military costs.
In India, right-wing fans of Prime Minister Narendra Modi often back Trump for his tough stance on China and synergy with Modi. However, Trump's plans to clampdown on visas for skilled workers has made him unpopular with many Indian professionals.
Here's a snapshot of how the region has been watching the drama unfold so far: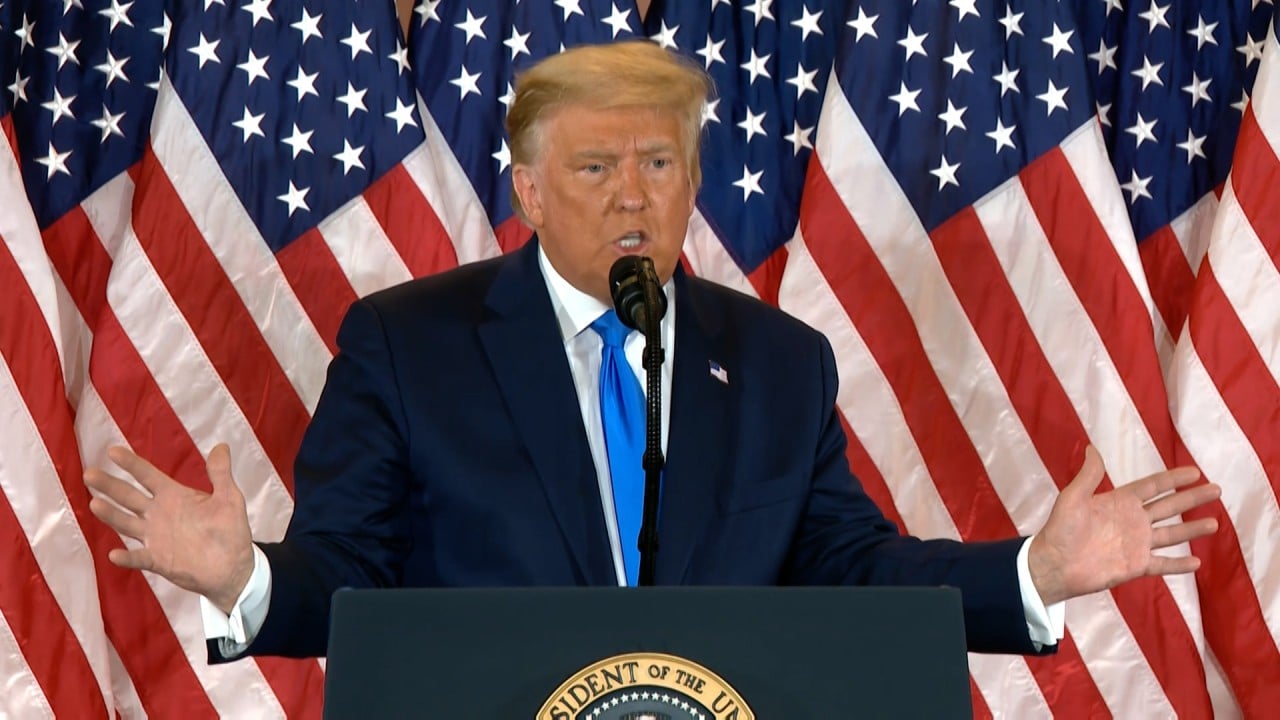 01:00
Trump claims he has won the 2020 presidential election, with millions of votes still to count
Trump claims he has won the 2020 presidential election, with millions of votes still to count
GOOD MORNING VIETNAM
In
Vietnam
, major news outlets have been broadcasting election coverage live on
Facebook
, where many posters have been backing Trump to win another four years.
Trump-themed Facebook groups, including one called "People who love President Trump and are loyal to American Country [sic]" which has 18,000 users, have been inundated with posts.
Meanwhile, on the Facebook fanpage of a state television channel a comment by user Xuan Hang wishing the Republican "success and victory" has gained 1,000 likes.
But not everyone's so enthused.
"What I'm most worried about is that Trump is very anti people of colour," says Van Ly, an American citizen with Vietnamese and Chinese heritage who is also a member of Democrats Abroad in Ho Chi Minh City. "My parents in the US would be victimised one way or another by the way that he engages with angry white men."
HEAT'S ON BIDEN IN INDIA
The Indian right-wing group Hindu Sena has been busy praying for Trump's re-election with the same Yagya sacred fire ritual it used in 2016 and believes it could once again give the Republican the edge.
"We bestowed trust upon Donald Trump when nobody in the world thought that he would be the US president in 2016. Clearly, our prayers helped him then and they will help him this time too," says Vishnu Gupta, 36, president of Hindu Sena. The group, which boasts more than 5 million members across the country, also made the news three years ago when it celebrated Trump's birthday with a 7.1kg cake.
Whether it's a coincidence or not, only a couple of the young men in the latest video appear to be wearing face masks, a gesture of which Trump himself may approve.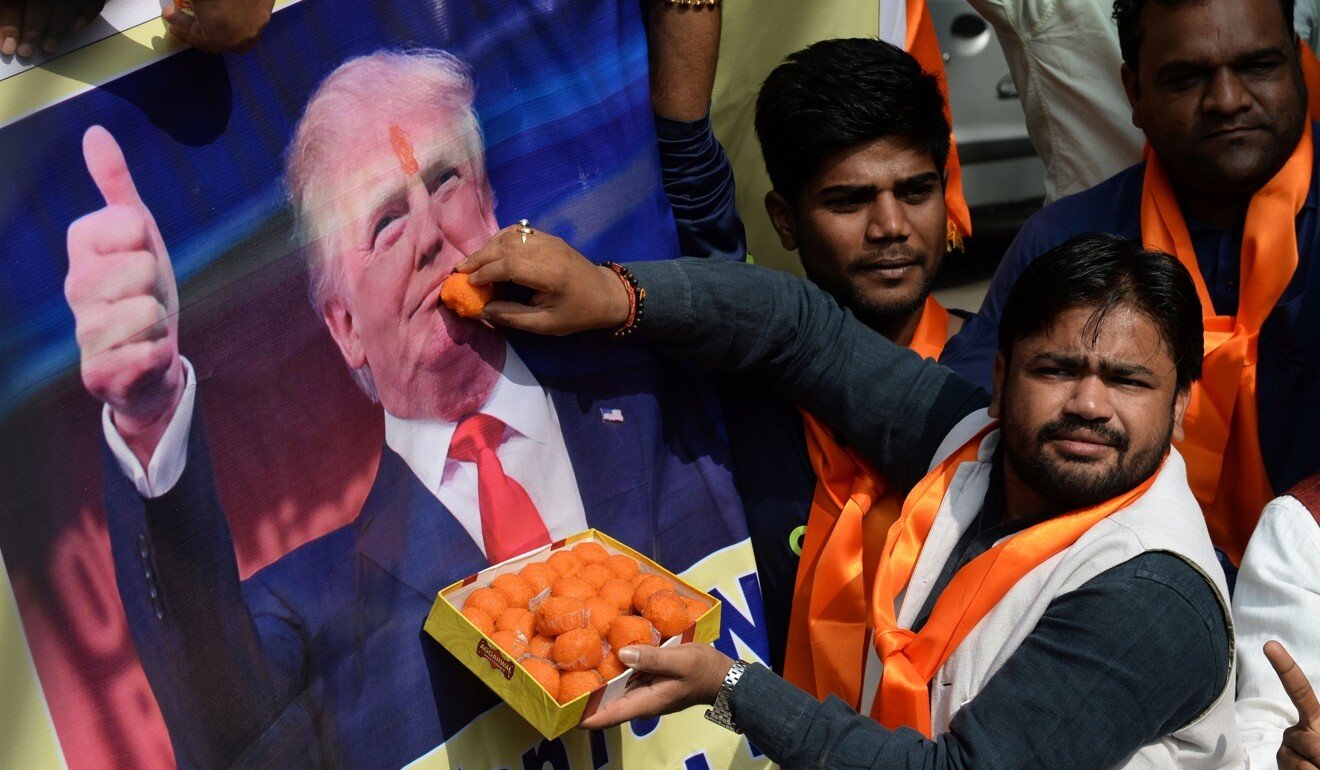 NERVE-RACKER FOR THAILAND POSTAL VOTERS
David Streckfuss, a US citizen and member of Democrats Abroad who has been living in Thailand for more than 30 years, believes the Republican Party is "using every trick in the book to steal the election" and says his own experience of postal voting was "nerve-racking".
"I sent in an postal vote for Nebraska and I traced my ballot, which I submitted electronically. Unfortunately, the tracking only told me that my ballot was 'received'. It did not tell me if it was 'accepted'. In some states, the postal votes are examined and they contact you to come and fix any issues. In Nebraska, they don't. So I'll never know if it was accepted."
DID CHINA 'VOTE' DEMOCRAT?
Donald Trump Jr has come under fire for posting a world map on
Twitter
that was meant to show how his father is headed for victory – but has angered Indians who complain it has distorted their country's borders.
The map shows most countries shaded in red, the colour of the Republican Party, while
India
and
China
in Asia are shaded in blue, the colour of the Democrats.
The map also appears to have cut off the north-eastern part of the country and Indian-administered
Kashmir
.
Former Chief Minister of Kashmir, Omar Abdullah, tweeted: "Someone needs to take his colouring pencils away."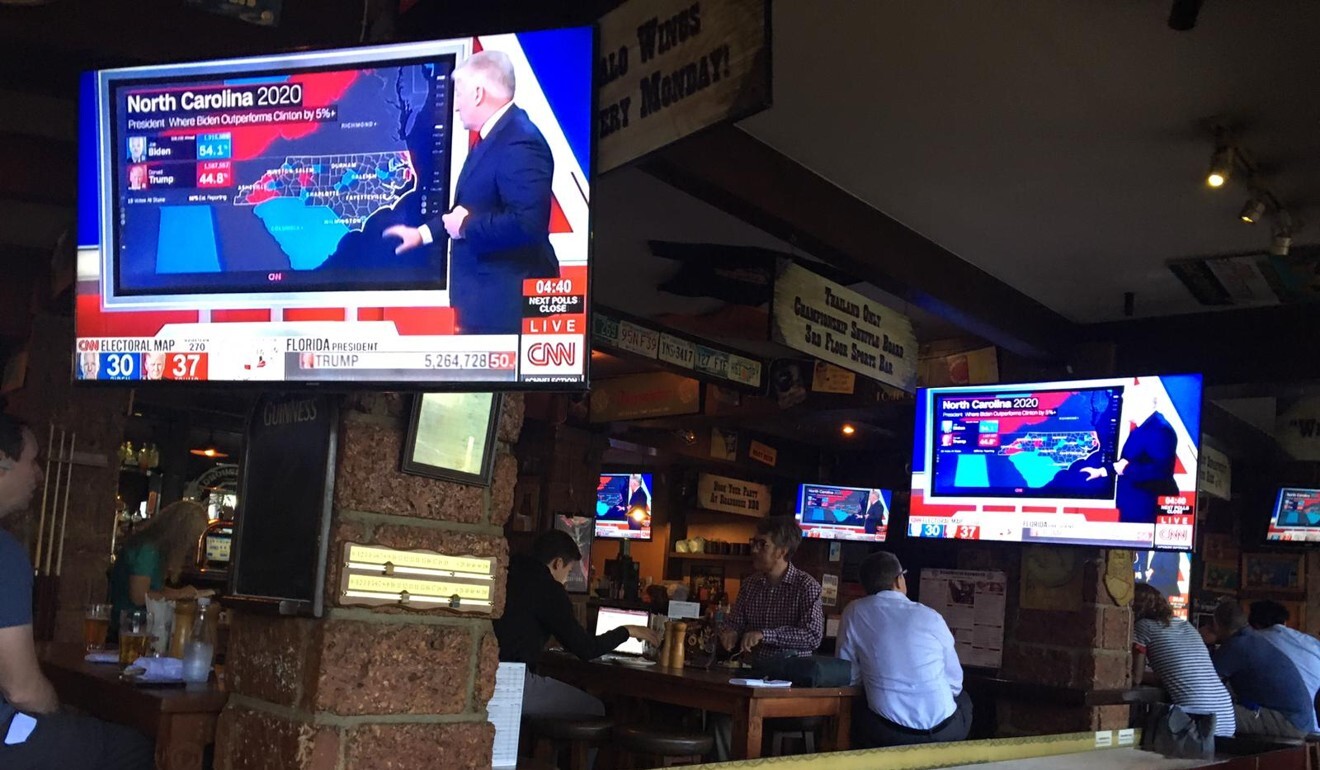 THAI BREAKER?
Back in
Thailand
Tony Rodriguez, the chairman of Republicans Overseas Thailand who is holding an election event with around 15-20 guests, says there are 50,000 American expats in Thailand. This year's turnout of voters in the country is five times higher than four years ago, he says, because people are "passionate" about a contest between "capitalism vs socialism".
But Rodriguez's opposite number at Democrats Abroad Thailand is confident Biden has this wrapped up.
"Americans in Bangkok and across Thailand are pumped up for a Biden-Harris victory and a new start for our country after four disastrous years of misrule by Donald Trump. At long last, we will elect a leader like Joe Biden who will be the adult in the room and lead our country out of crisis," says Paul Risley.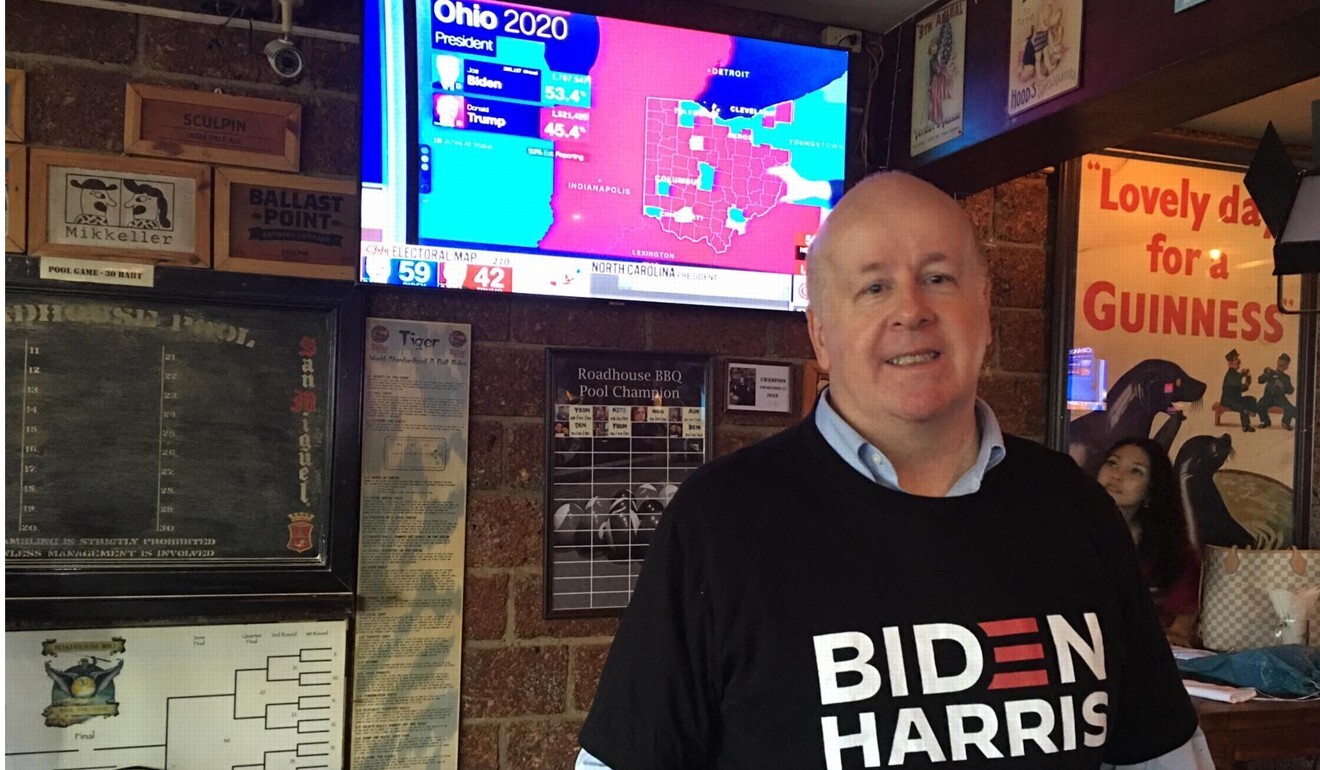 DEMOCRATS ABROAD IN BARS BACK BIDEN
Democrats Abroad
South Korea
have been hosting a viewing party at The Local, a wine bar in a quiet neighbourhood of Seoul.
Only six people have attended as it is the middle of the week in the hard-working country but even so chairman Cory Lemke is "really excited".
Lemke thinks the high turnout will prove pivotal for the Democrats as will overseas voterrs.
"Every vote counts as it comes down to the wire. It's our goal in Democrats Abroad to get the nine million Americans living abroad to vote. That's more than some states. That really can be the difference."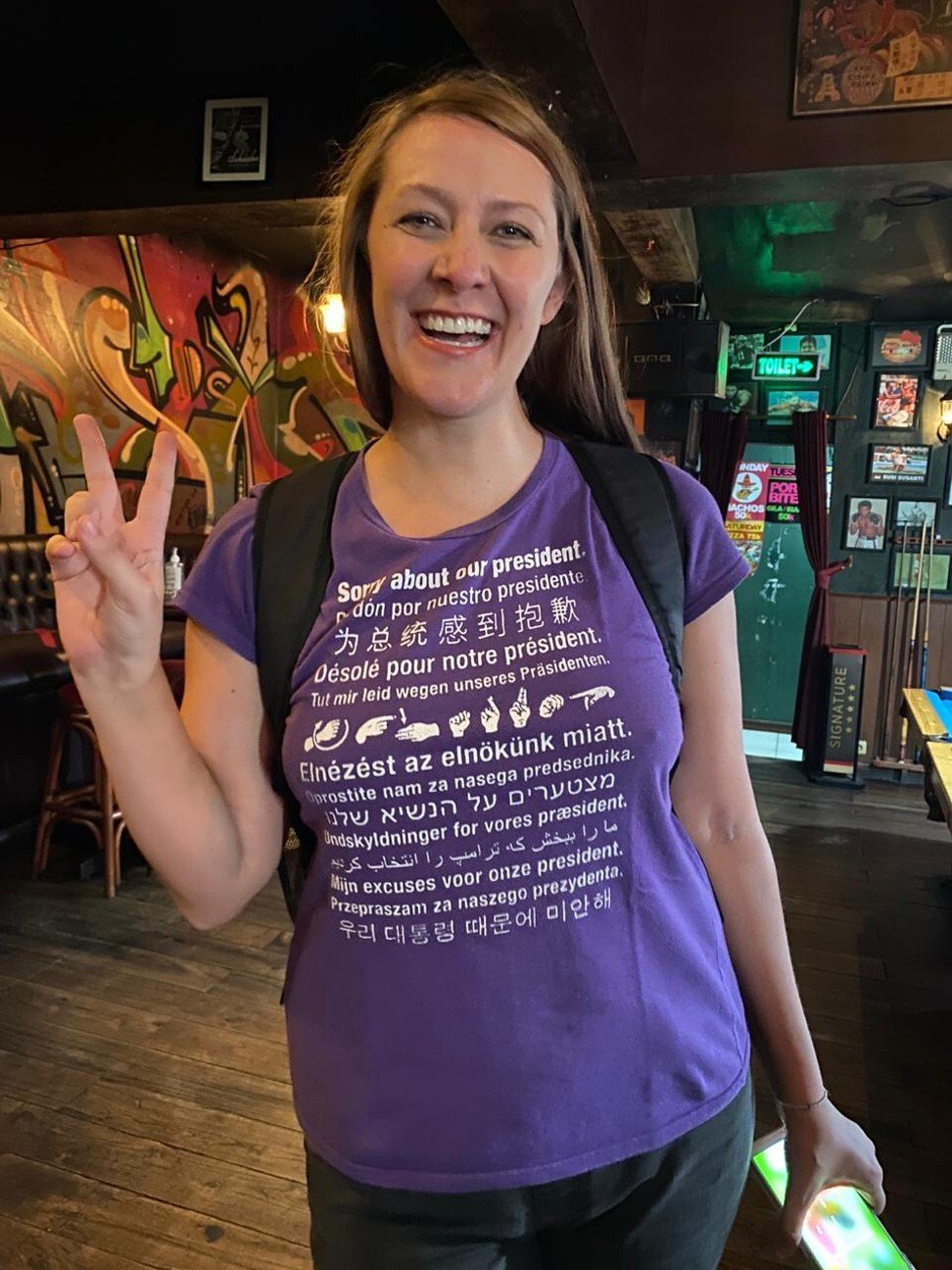 Another bar, this time in south Jakarta,
Indonesia
, is playing host to a group of American expatriates because neither the American Chamber of Commerce nor the US embassy are holding official election events due to the
coronavirus
pandemic.
Kate from Hillsdale, Michigan, says she's "anxious" and has been trying to ignore
social media
and phone notifications from people in her hometown because most of them support Trump.
She and her brother are the only Biden supporters in her Republican-leaning family.
"I feel for my brother now, he's going to have to try not to talk about politics during Thanksgiving otherwise it's going to turn into an argument," she says, adding she'll probably cry if Trump wins.
THE VIEW FROM AUSTRALIA
John Blaxland, professor of International Security and Intelligence Studies at Australian National University in
Canberra
, says the early results do not look "sufficiently compelling" for a Biden victory to be declared and proceed unchallenged, raising the possibility of a long-drawn-out contest.
"That means there is a real concern that the lack of clarity will be used to trigger further violence inside the
United States
," says Blaxland.
"The prospect of a cliffhanger is deeply unsettling – both in terms of the prospect of domestic destabilisation within the US and the knock-on effects of such destabilisation on the delicate balance of security affairs in several parts of the Indo-Pacific, not the least of which concerns the question of
Taiwan
and other regional flashpoints," he adds.
Opposition leader Anthony Albanese has issued a thinly-veiled warning that any attempt by Trump to subvert the election could undermine the US-Australia alliance. The leader of the centre-left Labor Party says he's concerned about "any questioning which occurs of democratic values and democratic processes. They are precious, they should not be undermined by any leader".
Australia's shadow foreign minister Penny Wong tweeted that "the democratic process must be respected, even when it takes time".
Former prime ministers Malcolm Turnbull and Kevin Rudd have also raised concerns about Trump refusing to accept the result.
But US Ambassador to Australia Arthur Culvahouse Jr says the alliance is bipartisan and will continue whoever won the election.
INGLORIOUS AMERICANS ON KOREAN TWITTER
Things have taken a personal turn in South Korea, where the term "American Bastards" is trending on Twitter.
Also trending is the term "Trump reelected", despite no official result having been declared. The state-run Yonhap News has run the headline: "Trump claims victory in presidential election with vote counting still under way".
Woo Yeon-han, a 34-year-old police officer in Seoul, says he doesn't personally like either candidate this year. Still, he thinks a Trump victory could boost his position in the stock market as he has invested in several FAANG (Facebook, Amazon, Apple, Netflix and Google) stocks.
"Biden will increase taxes while meddling with the operations of major corporations like Google and Amazon. This is not good for the stock market," he says.
Reporting by Sen Nguyen, Sonia Sarkar, Jitsiree Thongnoi, Resty Woro Yuniar, David D. Lee, John Power
This article appeared in the South China Morning Post print edition as: Republican and Democrat divisions spill across borders